10 Best Buy Smartwatch You Should Consider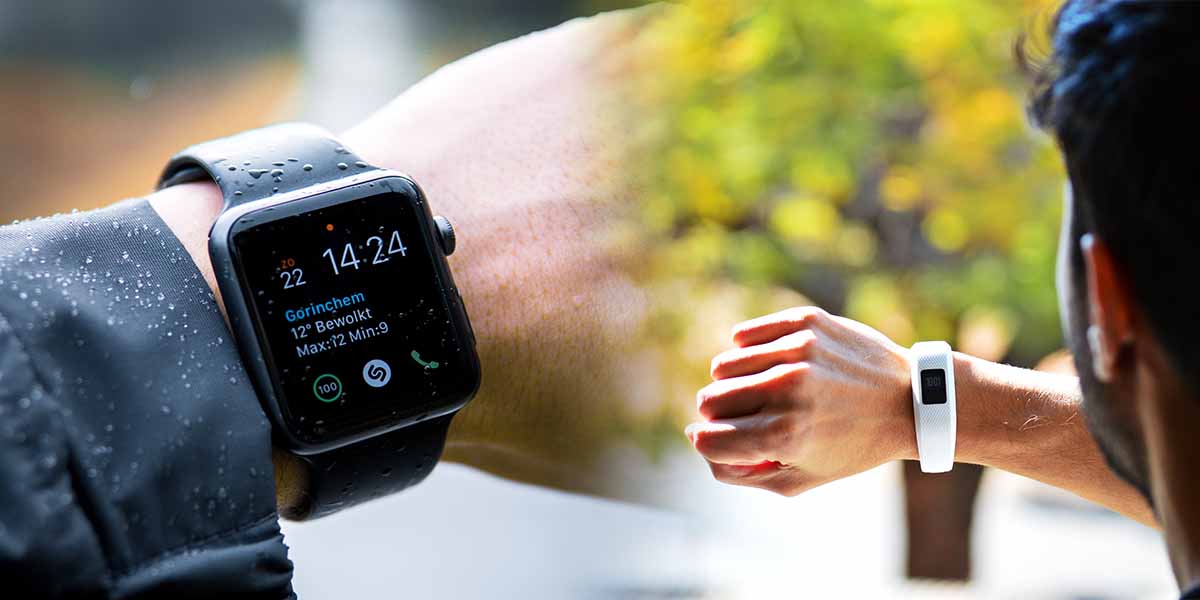 In this world of smart people, everyone needs a smartwatch which will help them in their daily activities.
To help them, many watchmaking companies have come forward with their products. But the problem is nowadays at every alternative month a brand new smartwatch is getting launched with a new design and features, moreover, most of the features are the same in every smartwatch.
However, if you are investing your money in something, then you think, your product will remain in trend for a while, but you know that this is not going to work.
To help you with this, we have created a list of best buy smartwatches that will help you to get the trend on your wrist.
In a Hurry? Check out these products:
10 Best Buy Smartwatch to Consider
1. Samsung Galaxy Watch Active 2
*Star Product*
Samsung Galaxy Watch Active 2 is one of the best smartwatch for Android users, and to a lesser extent, works with iOS.
Galaxy Watch Active 2 has a comfortable & sleek design, it is light enough to wear anywhere comfortably. This watch has got stainless steel or aluminium body, and it comes with a variety of watch faces and bands, so it goes with anything.
It also features a GPS tracker, heart rate monitor, and LTE (for a premium). Moreover, it also can automatically track your activity and sleep. This Galaxy watch proudly comes with other useful features such as Samsung Pay, onboard music via Spotify, and many health features.
The Galaxy Watch Active 2 comes with a long-lasting battery life that can go for more than five days on a single charge, and you can always get a quick boost from your Galaxy phone with the help of wireless power share.
Key Features
Better insight to reach your fitness goals
Comfortable, sleek design
Level up your downtime
Keep Your beat
Long-lasting battery life           
Understand your health
Available Colors
2. Letsfit Smart Watch
Letsfit is a fantastic smartwatch with a lot of fitness features, which can overtake your expectations. It has a 1.3-inch large screen which is very responsive and accurate, helps you better understand your health. This watch has IP68 water standard requirements, meaning you can wear this smartwatch while swimming.
This buddy, has a wide range of features, including music control, climbing, yoga mode, and even stress training.
It comes with features to receive and read messages and SNS notifications straight to your device. You can even decline the incoming phone calls straight from your wrist. Moreover, this smartwatch also has the features to track your step, calories burnt, sleep quality, and much more, all this information you can get in their official app named as VeryFitPro.
VeryFitPro requires Android OS 4.0 or iOS 8. 0 and above or Bluetooth 4. 0 and above, suitable for smartphones only.
Key Features
Call & SMS notifications
Music controllers
10-Days Battery Life
Waterproof up to 50m
Available Colors
Black
DBBK
Emerald
Green
PLRG
Pink
3. Fitbit Versa 2
*Best Buy Smartwatch Looks wise*
Fitbit Versa 2 is a polished upgrade from the original Fitbit Versa. This watch has lots of features, including built-in Alexa, advanced sleep-tracking monitor, especially now Fitbit has updated its software, which enables the function to monitor blood oxygen saturation levels. 
Besides, it can work with android and iOS, and you also control music playbacks from your wrists. You can get a battery life of a maximum of 5 days with one charge, which I think is pretty good at this price range.
Now, talking about its features, this smartwatch has all the features that a regular smartwatch has, such as calorie tracking, step monitoring, shows notifications, and a lot more. Still, this smartwatch has some functions that the daily smartwatch doesn't have, such as swim tracking, and you can pay your bills by using Fitbit Pay, etc.
 Key Features
Amazon Alexa built-in
Sleep Score And Smart Wake
Music Control
Always On Display 
Fitbit Pay Apps and Notification
6+ Day Battery Life
Available Colors
Black/Carbon
Bordeaux/Copper Rose
Navy & Pink Woven/Copper Rose
Petal/Copper Rose
Smoke Woven/Mist Grey
Stone/Mist Grey
4. Garmin Vivoactive 4
Talking about this smartwatch, Garmin took the best features of Garmin Vivoactive 3 and put it on the Vivoactive 4 with some additional features. 
This smartwatch comes in two sizes, 40mm and 45mm, to offer a better fit for most people. This watch has some great features such as Garmin pay and music storage mode, which is insane. 
Along with all the advanced features, this watch comes with a new pulse ox sensor, which measures your blood oxygen level and gives you more detailed sleep insights. All of that will provide you with seven days plus battery life which makes the Vivoactive 4 an excellent smartwatch for fitness freaks.
Key Features
Smart notifications
Music
Safety and Tracking Features
Garmin Coach
Connect IQ Store · Garmin Pay
Available Colors
Black
Light Gold with Light Pink Band
Rose Gold with White Band
Silver with Gray Band
5. Fossil Sport
*Best for Fitness*
Fossil Sport is a fully loaded wear OS watch at an affordable price. This smartwatch is powered by a Qualcomm's Snapdragon Wear 3100 chipset, which also powers the flagship Fossil gen five smartwatches. 
It is the best smartwatch for those who give more importance to fitness over style, talking about fitness; this smartwatch has all the fitness-related features, starting from calorie monitoring to heart rate monitoring.
For battery life, it lasts up to two days in a single charge, thanks to the latest update. Besides, you also get notifications on your wrist and it is easy to reply without even taking out your phone from your pocket.
Key Features
Google Pay
Untethered GPS Support
Heart-rate tracking
Google fit
On-screen notifications
Customizable dials and straps
Available Colors
Smoke/Black
Blue Blue Transparent
Smoke/Black
Hot Coral
Hot Pink Transparent
Mint Green Transparent
Red
Rose Gold/Blush Transparent
Rose Gold/Grey
Silver/Green
Yellow 
Hot Coral
6. HUAWEI Watch GT 2e Sport
Huawei Watch GT 2e is an all-rounder smartwatch. Along with all the fitness tracking features, it also serves staples like viewing notifications, watches faces, weather reports, music controls, and a lot more exciting features.
This watch has a 1.39 inch AMOLED color screen, a long-lasting battery life which will last upto two weeks on a single charge. It also has GPS and heart rate monitoring features.
It is an excellent watch for fitness freaks, but if you are not into fitness, then I don't think you should go for it.
Key Features
Play Music on the Go
Sleek and Stylish
Play for 2 Weeks
SpO2 Monitoring
Real-time Heartrate Monitoring
Release Your Stress
Start as You Move
85 Custom Workout Modes
15 Professional Workout Modes
Wear Your Everyday Look on the Wrist
Raise Your Hand for a Quick Shot
Available Colors
Graphite Black
Lava Red
Mint Green
7. Withings Steel HR Sport
Withings Steel HR Sport is a hybrid smartwatch, a combination of traditional smartwatch and new generation smartwatch. There is no such touch screen feature, but it does its job by smartphone connectivity for notifications and fitness tracking.
This watch has a delicate balance between classic analog-style and modern features. It comes with a size of 40mm, there is a small LCD that shows the health metrics at the top of the analog watch face.
It measures heart rate, step count, calories burned, and more.
There's also connected GPS tracking and support for VO2 Max, which estimates the oxygen you use during exercise.
If you are looking for a smartwatch that looks more like a traditional watch well then, this is the watch worth trying.
Key Features
Battery life up to 25+ days
Heart rate Monitoring
24/7 tracking
Water Resistant up to 50m
Sleep Tracking
Smartphone Notification
Available Colors
White – 36mm
Black – 36mm
Blue – 36mm
Blue and Rose Gold
White – 36mm
White, Blue Leather – 36mm
White, Grey Silicone – 36mm
8. TicWatch S2
This TicWatch is certified by US military standard, which means the best smartwatch for outdoor activities.
You can track your workout without your phone, using Google Fit. It is waterproof up to 50m with both open water and pool mode.
It has a built-in GPS with three satellite systems, and it also allows you to use thousands of watch faces.
Key Features
US Military-Grade Durability
Swim-ready Up to 50m Underwater
Built-in GPS with 3 Satellite Systems
The Power of Google Play
Thousands of Watch Faces
Health and Fitness Assistant
Available Colors
9. Amazefit Bip
Amazefit Bip is one of the best buy smartwatch at an affordable price. One of the things that you are going to love about this smartwatch is its design. It looks much more similar to Apple watches.
It works with both iOS and Android smartphones. And it also comes with a heart rate monitoring feature.
The fitness features are pretty well accurate, and the transflective colour display is good enough and doesn't drain the battery. Talking about the battery, it will give you a battery life of around 45 days, Yes you read it right it's 45 days. And I don't think that any other smartwatch brand will give you this much battery life at this price range.
But the problem with this smartwatch is that the functionality and features are limited. You can only select anyone from five different watch faces, and you cannot respond to notifications from the watch itself. 
But if you're in the market for a smartwatch that costs less than $100, then this is the smartwatch to get.
Key Features
Getaway with the trouble of charging
Connect your phone and get going
Built-In GPS & compass function
Monitor heart rate, Sleep, calories, etc
Waterproof
The ultimate outdoor device with four sports mode
Check messages on your phone
Available Colors
Cinnabar Red
Cloud White
Kokoda Green
Onyx Black
10. Amazfit GTS
*Best in Budget*
As the Amazfit Bip, the Amazfit GTS has a fabulous design, which looks the same as the Apple Watch. This watch has a superbly thin, smooth metal body with a squared curved display, which shows more information than a rounded screen display of the same width.
This watch comes with an always-on display. With all the features turned on you will get the battery life of around one week, which is more than enough at this price point.
This smartwatch has Huami-PAI Health Assessment System, which helps in understanding your physical state more effectively.
This smartwatch is water-resistant to a depth of 50 meters and supports multiple swimming scenarios. It is capable of automatically recognizing your swimming position and record data like pace or calorie consumption and enables an accurate analysis of the data each time you swim.
Key Features
Take control of your health
Designed for comfort
In-built GPS
Compatible with both Android & iOS
5ATM Water Resistant
Monitor your heart health
Customizable watch faces
Available Colors
Final Verdict
Overall, these are some of the best buy smartwatches that wear going to work for you daily. And every smartwatch has its advantages. But if you ask us personally, then we will suggest, you should go for the one that fits your requirements.
For instance, if you are on a hunt for a smartwatch which is excellent for sports and physical activities, then we will suggest you the Fossil Sport.
And if you are searching for a great smartwatch with all the smart features with a great look without considering the money, then you should go for the Samsung Galaxy Watch Active 2.
And if you have a limited budget but you want all the features, then you should go for the Amazfit GTS or Amazfit Bip.
If you are looking for a watch with great looks, then Fitbit Versa 2 is one for you.
Read More
Hey! My name is Ranjeet. I am the co-founder of 'SmartwatchAdviser'. With one of my friends, I started this website out of a passion for writing and exploring different wearable tech. Currently, I am using Mi band 4 as my primary fitness tracker and own a Noise Color Fit Pro 3 to match my style on various occasions.