10 Best Smartwatch Under $100 For 2021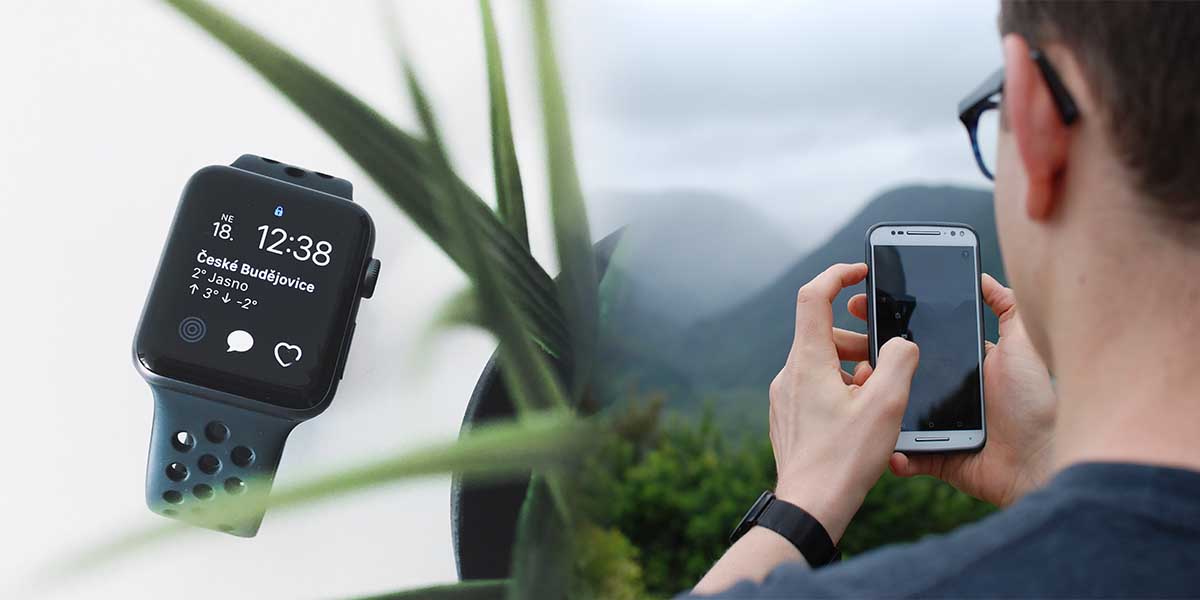 Smart people prefer smartwatches rather than traditional watch because smartwatches are quite convenient and provide precious information such as number of steps, heart rate, calories burned, etc.
As demand for smartwatches is increasing, many companies are competing to provide people with the best smart buddy at a reasonable price.
Therefore, we have spent little time doing some research and have found a few smartwatches that will give you exciting features and functionality like expensive models, under $100.
Best Smartwatch Under $100
1. Fitbit-Versa Lite
Fitbit Versa Lite is a product of the most reputable brand in America. The smartwatch looks premium and feels very good on the wrist but you will find it way too big.
You will love every aspect of this watch, whether it's the colour, design, responsiveness, and fish. At first sight, this smartwatch will look similar to an apple watch. So on can quickly get confused.
The device has all the necessary features like it keeps track of your steps, monitors your sleep, and records your heart rate throughout the day. Moreover, it automatically records your workout, or according to your preference, you can pick one mode over 15 available modes to track your exercise. The device has a sleek design with a swim-proof body to easily use it as your swimming companion.
You can send quick replies from the watch, so no need to take out your phones to reply. You can also view all the notification from the watch's screen (calls, text, and all other apps on your smartphone).
We will recommend this Fitbit Versa lite smartwatch under a $100 budget. To be honest, the price of this watch fluctuates sometimes. So sometimes you will find this watch crossing the $100 budget.
Battery Life
The battery can easily last up to 7 days with regular usage.
Key Features
Premium look
Corning Gorilla Glass protection
GPS Compatible
Tracks exercise (15 exercise mode)
Tacks steps, monitor heart-rate
Water-proof/Swimproof
Monitors sleep
On-screen notification
Available Colors
Charcoal/Silver Aluminium
Lilac/Silver Aluminium
Marina Blue
Mulberry
White/Silver
2. Amazfit Bip
The Amazfit Bip fitness smartwatch is one of the best cheapest smartwatches you can consider in a tight budget. You don't have to worry about compatibility as it supports both Android and iOS devices (Connect it through Mi Fit App). The smartwatch has superior features that include sleep monitoring, heart rate/activity tracker, GPS support, etc. Activity Tracker helps you to track your cycling as well as workout.
Connecting this smartwatch with your smartphone has its benefits. By connecting, you will get notifications for emails, phone calls, SMS, and social media platforms. Unfortunately, the amazfit cannot be used as your swimming companion as it is not waterproof. However, it can tolerate drops or splashes of water.
Battery Life
You will get pretty impressed with the battery life. It lasts for 4 to 5 weeks in a single charge.
Key Features
Compatible for both Android and iOS
GPS Compatible
On-screen Notifications
All-day activity tracker
Steps and Calorie Tracker
Sleek Design
Great battery life
Available Colors
Black
Blue
Cinnabar Red
Kokoda Green
Pink / Warm pink
Red Orange
White Cloud
White Rock
3. Fossil Sport
Another budget-friendly smartwatch under $100 on our list is the Fossil Sport Smartwatch.
The smartwatch looks beautiful because of its minimal design. The body of the watch is plastic and has silicon watch straps. One thing I love about this watch is its OLED display. The display makes things much more manageable. The pixels are pretty impressive as it is bright and crisp.
The smartwatch is WearOS compatible with android 4.4 (above) and iOS 9.3 (above). The integration of Google pay makes it easier for cashless transactions. And Google's assistant is like a cherry on the cake.
Essential functions like steps tracker, activity tracker, stopwatch, music control, alarm, and more is included with this smartwatch.
Battery Life
To be honest, you are not going to like its battery life.
Battery life is a little disappointing. You will find this watch's battery life getting depleted within 12 hours of heavy usage. If you are looking for a fitness-focused smartwatch, then this one is undoubtedly not made for you.
Key Features
Minimal looking smartwatch.
OLED Display
WearOS compatible
Compatible with both Android and iOS
Steps tracker, activity tracker and more
Average Battery life (not suitable for fitness freak)
Available Colors
Dark Red
Navy Blue
Smoke/Black
Smoke/Blue
Spruce Blue
4. Garmin Vivofit 4 (For Women)
If you are health conscious and want a smartwatch that keeps track of your health, Vivofit 4 will be a great choice under $100. This smartwatch is specially designed for women and looks pretty good in terms of design and overall appearance.
This smartwatch has a slim style and comes with capacitive touch buttons on the bottom that help you navigate various menus. Additionally, you will get to see a music controller, weather information, and more.
The Garmin vivofit 4 is capable of detecting the oxygen level in your blood and monitors your heart rate through a sensor. This sensor is called a pulse ox sensor. It gets activated during your sleep.
As it is waterproof, you can use it as your swimming partner without worrying about anything.
Battery Life
The battery life is decent. You can expect it to last for a week with regular usage.
Key Features
Compatible with both Android and iOS
OLED Display
Pulse OX Sensor
Waterproof
Decent Battery Life
Available Colors
Gold w/ berry band
Midnight w/ black band
Rose gold w/ grey band
Silver w/ azure blue band
5. Pebble Time
The Pebble Time is a very simple looking smartwatch made up of plastic and a giant metal bezel. The rounded corner seems fascinating and is very comfortable to wear. The silicon straps are slim, soft, and easily stretchable on the wrist.
Talking about the display, it has an ePaper display. So if you were expecting for OLED or LCDs, then you are going to be dissatisfied. However, the display has the protection of corning gorilla glass, which I think is a useful add-on. The watch comes with its app store known as the Pebble app store. You can download and install 8000+ apps through the smartphone.
You will find notifications on the screen. These notifications may include text, calls, event reminders, emails, and other notifications from various apps. You can also track activity, sleep, and monitor your fitness with a variety of fitness and health apps.
This smartwatch is water-resistant, not waterproof. So it can only tolerate splashes and water drops.
Battery Life
Like Garmin vivofit 4, this watch also has a battery life of up to 10 days.
Key Features
Compatible with both Android and iOS
Corning Gorilla Glass protection
Steps tracker, Compass and Accelerometer
Water-resistant
Battery life up to 10 days
Available Colors
6. YAMAY Smartwatch
The YAMAY smartwatch is designed especially for kids or someone who needs a basic smartwatch for general usage. It has a bunch of exciting features in an affordable price range.
Setting this device is pretty straightforward. You have to take the help of the VeryFitPro app and sync your smartphone with the watch. If a new firmware update is available, then it will ask you to update it.
This smartwatch is waterproof; you don't have to worry about the smartwatch while swimming.
Battery Life
Battery life is average. It lasts up to 9 to 10 days with regular usage. It will vary according to its use.
Key Features
Touchscreen with HD Colors
IP68 Waterproof
All-day heart rate monitoring
Sleep monitor
GPS Connectivity
Average Battery Life
Included with a female health tracker
Available Colors:
7. Gokoo Smartwatch
If you are looking for an entry-level smartwatch under $100, then considering Gokoo would be worth it. The smartwatch has an attractive look and is included with plenty of features. It is lightweight and specially designed for men.
The device comes with 240*240 pixels IPS touchscreen and is capable of showing notifications on the screen. It can be used as your swimming companion as this smartwatch has an IP68 rating.
Gokoo smartwatch provides you with fast and accurate results of your entire day's activity. And all other essential functions like steps tracker, heart rate monitor, calorie burn tracker, and more is included with this smartwatch.
Overall, it is an excellent smartwatch under $100 you should be considering. If you are looking for a smartwatch for women, then it isn't for you.
Battery Life
It takes about 2.3 hours to get this watch fully charged. And life lasts up to 6 to 7 days in daily mode. Along with this, it can last up to 10 days in standby.
Key Features
Designed for Men
Lightweight
Both Android and iOS compatible.
Real-time heart rate and blood pressure tracking
Fast charging and decent battery life
Great for a fitness freak
Available Colors
The primary color is Black, and the only difference will be in the strap.
Black Grey
Black Green
Black Red
8. Letsfit Smartwatch
Letsfit is a decent looking smartwatch, which has some basic functionality. It looks a lot like an apple watch. Moreover, it is light in weight, smooth, and comfortable to wear. Touchscreen of this watch is very accurate and responsive.
Protecting and monitoring your health becomes easy because of its bunch of features that include music control and stress training. Like other traditional smartwatches, it also has all the necessary features like steps counter, calorie burn tracker, sleep monitoring, etc. Adding on, you can view notifications from the watch's screen itself.
The price of this watch is way too less than $100. The price fluctuates under $50. So if you are in a tight budget, then don't forget to check it out.
Battery Life
You can take this device up to 10 days in a single charge. However, it depends on how often you use it.
Key features
Lookalike to Apple watch
Responsive touch screen
Monitor your health
On-screen notifications
Activity tracker, health tracker and more
Decent Battery Life
Available Colors
Black
Dark Blue
Emerald
Green
Pink
Purple
9. iTouch Sport Round
iTouch is popularly known for its budget-friendly wearable. The brand is committed to producing a high-quality smartwatch at an affordable price.
The rounded display of iTouch Sport looks very much attractive, and the screen on the watch gives you a feel of AMOLED display. Under the budget of $100, you are getting a smartwatch that compares itself with computers.
It comes loaded with excellent features out of the box. Especially if you are a fitness freak, then this smartwatch is perfect for that purpose. By using this smartwatch, you can monitor your pace and distance on cardio exercises. For that, simply start the exercise & complete the route, when you finish it shows up a map of your route to see exactly where you were, Thanks to the GPS support. This watch has got eight sports modes to match according to your routine.
Moreover, it has got a micro-USB rechargeable battery, which makes the smartwatch impressive to use—no need to worry if you love to swim because this watch has got an IP68 waterproof rating.
Battery Life
The iTouch Sports Round Smartwatch comes with a durable battery that can last up to 30days in a single charge. No complaints about the battery life. It does what it promises.
Key Features
Compatible with both Google play store and Apple app-store iTouch app.
Tracks your steps, calories burnt, measures heart rate, and more.
Durable battery.
GPS Compatible
Notification for text messages, calls, and more
IP68 Waterproof
Multi-sports mode
Available Colors
RELATED | Best iTouch Smartwatches
10. Kalakate
The screen of the Kalakate smartwatch is pretty large that has a 1.54-inch full-colour LCD. The touchscreen is very responsive and delivers better operation experience. Display's brightness can be increased to improve visibility under sunlight.
The multi-sports mode and health monitor feature let you track down your activities like steps covered, calories burnt, sleep monitoring, breathing training, and more. You also get 8 exercise modes to record your exercise.
It is compatible with both android and iOS devices and has the on-screen notification feature, which lets you view calls, sms notifications through the screen. It can even help you hang up calls directly through the display & keep you from missing important information.
The watch is IP68 waterproof, so no need to worry about getting it near to water.
Battery Life
The Kalakate smartwatch can last up to 7 to 10 days with regular usage.
Key Features
Large LCD display
Display brightness adjustment
Multi-sports mode
Health monitoring features (steps counter, heart rate, etc)
Compatible with both Android and iOS
On-screen notifications (text, emails, reminders)
IP68 Waterproof
GPS sports watch (GPS through phone)
Available Colors
Black
Grey/Black
Silver/Grey
Which Smartwatch is For You?
Decide your smartwatch according to your need.
Battery Life 

(Min 1 week)
Our top recommendation would be Fitbit Versa Lite & Amazefit Bip because they provide all the necessary features and functions such as battery life, fitness ready features, GPS and more.
Moreover, you can also go for iTouch Sport or Kalakate.

Hey! My name is Manas. I am a tech enthusiast who loves to explore gadgets. I especially enjoy exploring wearable techs like smartwatches and fitness trackers. I am always in search of what's new in the market so that I can provide valuable content that would be beneficial for you to choose the right wearable. I own Kospet Tank M1, which is pretty insane in its price range 🙂