5 Amazing Smartwatch with Camera Support (Built-In)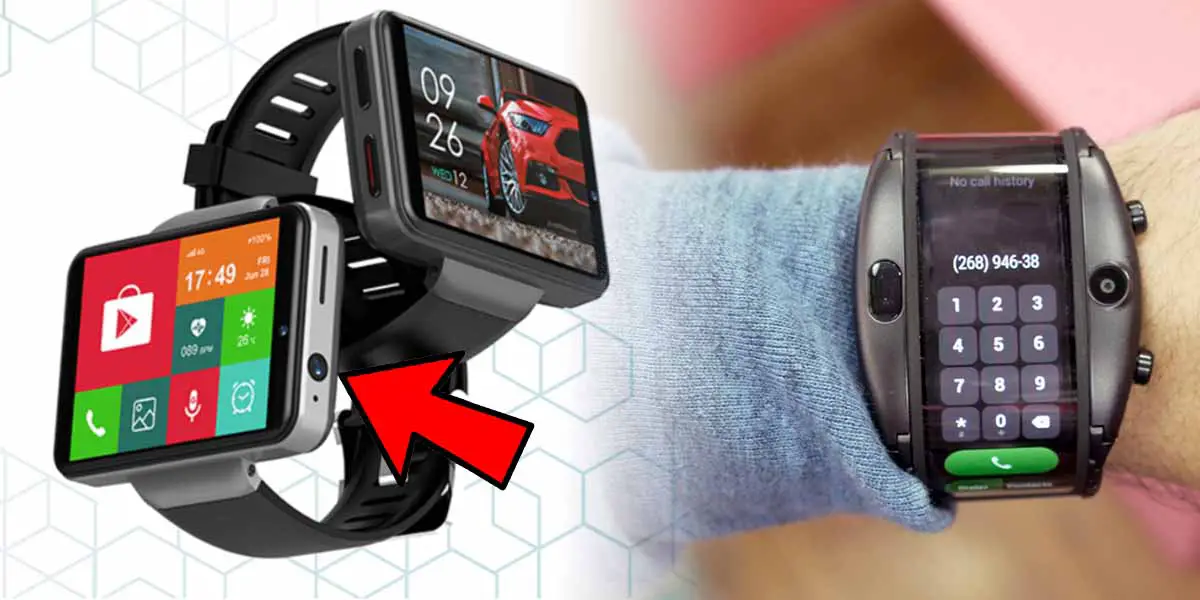 We generally see smartwatches with a remote camera that allows you to capture moments remotely from your smartphone. Finding a smartwatch with camera built-in can be a huge task. It is unusual to see a smartwatch with a built-in dedicated camera. That's why we all end up with nothing.
I have seen few posts including remote camera smartwatches in their list. And people looking for a built-in-camera smartwatch mistakenly purchase the wrong product.
So what is the difference between a remote camera and a built-in camera? A remote camera smartwatch needs to connect to your smartphone. So that you can capture images directly from your smartwatch using the smartphone's camera. In contrast, dedicated camera smartwatches have a built-in camera through which you can independently capture pictures without your smartphone's help.
That's cool. Right?
Watchmaking companies like Garmin, Fitbit, Suunto, Amazfit have never made a smartwatch with a built-in camera because their primary focus is to provide health and fitness-focused devices to a larger audience. Mostly, Chinese watchmaking companies include a camera with their smartwatches; but still, you'll rarely find some good among them.
All the smartwatches shown in this list are standalone, which means you can leave your smartphone at home and walk independently with no fear of losing it. We spent time doing some quality research with so many options available to provide you with the best recommendation.
In a hurry? Checkout these products:
5 Smartwatch with Built-in Camera Support
1. Kospet (TICWRIS Max S) *Recommended*
Product Summary
The Ticwris Max S is one of the best cheapest android smartwatches with a built-in camera on this list. For display, it uses a 2.4-inch retina display, which is perfect for anyone's wrist. Because of the widescreen, looking over the text becomes easy. If you want a bigger one, then there is a model called Ticwris Max, which is relatively larger (2.86-inch) than the MAX S model.
The MAX S supports Android 7.1.1 capabilities out of the box. You will get a complete smartphone on your wrist, so no need to carry your smartphone everywhere you go. The watch is equipped with 3GB of RAM and 32GB of internal storage, which is enough to store & watch movies, play games, browse the internet, etc.
This standalone smartwatch supports a 4G LTE Sim Card that enables it to make and receive calls without your smartphone's help. It has an independent SIM card slot for this reason. For security reasons, the Ticwris Max S allows you to set a password or face id too. The watch is also equipped with GPS/GLONASS, Wi-Fi, 4G LTE connectivity, and Bluetooth 4.0 support.
For battery, the smartwatch comes with a 2000 mAH battery that lasts for 40 hours on typical usage and 60 hours on heavy use, which is enough to watch videos and make calls without a recharge.
Camera Details
In terms of camera, the Kospet Ticwris MAX S does a commendable job. It comes with an 8 Megapixels front-facing camera to capture selfies and make HD video calls along with a 2 Megapixels fixed focus rear-facing camera to capture moments. Both the camera is capable of recording videos, producing sharp and clear pictures.
Front Camera: 8 Megapixels (Focus Mode: Fixed)
Rear Camera: 2 Megapixels
Fun fact: The only smartwatch on the list with dual cameras.
2. Nubia Alpha

*Stylish Smartwatch with Camera*
Product Summary
Want a smartwatch with a stylish look? The Nubia Alpha smartwatch looks extremely attractive, having an ergonomic design and a flexible screen. With such an impressive design, the smartwatch seems futuristic and promising. Moreover, the Nubia Alpha offers an OLED panel producing a crisp and colorful appearance. In any way, it doesn't feel cheap at all; the watch is very sturdy and comfortable on the wrist.
It comes with five sports modes to help you with health and fitness, including indoor running, outdoor walking, outdoor running, and more. Like any other smartwatch, the Nubia Alpha can record your steps, distance, calories burned, mileage walked, minutes of activity, etc.
Under the hood, the Nubia Alpha is fitted with a snapdragon 4-core processor, which is significantly faster and too power-efficient, along with 1GB storage to store files and 3GB RAM. It has a 500mAh battery along with power-saving modes that allow the watch to survive longer.
Controlling the screen with gesture support is impressive. You can control the screen page display just by waving the hand in different directions. It helps in reducing frequent touching of the screen and gaining more operating space. Moreover, you get tons of shortcut keys to make tasks easier. Like checking the weather, making calls, setting alarms.
Additionally, the watch supports Bluetooth calling, which means it allows you to make and receive calls wirelessly. To take advantage of this feature, you need to get connected with your smartphone.
Camera Details
The Nubia Alpha Smartwatch features a 5 Megapixels front-facing camera with an f/2.2 aperture and an 82-degree wide-angle lens. It is pretty simple to use. Open up the camera app you can long-press to record video or tap anywhere to capture images. All of the files will get stored in the gallery app.
There is no rear camera, so it will be awkward for you to take rear-facing images.
Front Camera: 5 Megapixels
Rear Camera: No
3. Refly Smartwatch
Product Summary
If you are looking for a mid-range android smartwatch with a camera, the Refly Smartwatch holds the place. This android smartwatch is equipped with a large screen display size 2.86-inch, resolution 640×480 pixels. The display size is quite large, making it different from other smartwatches. But no doubt, it looks gorgeous out of the box; you won't face any difficulty while browsing or want to see more at once.
It supports Android 7.1 out of the box. Besides, the device is completely standalone, which means you can use it as a complete smartphone as it enables you to download games, apps, movies, and more. Who doesn't want a smartwatch with a calling feature? The Refly smartwatch supports a 4G SIM card that allows you to make and receive calls.
Moreover, the Refly smartwatch comes with two variants; one was having 1GB RAM & 16GB storage and 3GB RAM & 32GB storage. If you are someone, who is going to use to play games & binge movies, then the 3GB+32GB variant will be a perfect fit.
Besides, this smartwatch offers a built-in heart rate monitor, steps counter, breather trainer, and more for health and fitness monitoring. With a 2700 mAH battery, you can experience an extraordinary battery life that eliminates the watch's frequent charging.
Camera Details
The Refly smartwatch comes with a front-facing built-in camera of 5 Megapixels. Unfortunately, there is no rear camera. You can only capture selfies and gossip with friends over video calls. The picture quality is bright, clear, and enhanced, which makes it more compelling.
Front Camera: 5 Megapixels
Rear Camera: No
4. Zeblaze Thor 5

*Best Standalone Smartwatch*
Product Summary
A good thing about the Zeblaze Thor 5 is that it can be used on any occasion because of the design. The design of the watch looks more like a regular Garmin smartwatch. It features a 1.4-inch full circular AMOLED screen having a resolution of 454 x 454 pixels. With this resolution, you will have a great visual experience while watching movies & playing games.
This Chinese device is an android smartwatch, supporting Android 7.1.1 out of the box. You can use it as a standalone smartwatch, which means no need to carry your smartphone everywhere you go. The Android 7.1.1 support allows you to download different apps, games, browse the internet, and a lot of stuff. Its 4G sim card compatibility enables you to make calls directly from the wrist. It is like having a mini-smartphone on your wrist.
For the hardware part, the device uses a dual chipset technology by combining MTK 6739 1.25GHz Quad-Core + Nordic 52840 processors for defining a perfect balance between watch performance & power consumption. The battery life is impressive. It servers for up to 4 days and can be switched to different battery modes for extending the battery time.
The Zeblaze Thor 5 has 8GB storage & a built-in speaker, so now you can save and listen to music from the wrist. Moreover, the watch has GPS, GLONASS, sports modes, activity tracking, weather forecast, and many such excellent features. You must explore the device once.
Camera Details
For the camera, the Zeblaze Thor 5 includes an 8 Megapixels front-facing camera capable of taking high-quality selfies and chatting over HD video calls. There is no rear camera, so you might have to position your hand for taking pictures awkwardly.
Front Camera: 8 Megapixels
Rear Camera: No
Related Post | Zeblaze Thor 6 Smartwatch Review – A Pure Android Watch
5. Padgene DZ09

*Budget Smartwatch with Camera*
Product Summary
Were you looking for a smartwatch with a camera under 50 dollars? Finding the best in this price range was a monumental task. But finally, we noticed it. The Padgene DZ09 is a standalone micro-sim supported smartwatch that can make and receive calls independently. However, even if you don't want to use a sim card, you can connect it to your phone via Bluetooth & make calls through your phone wirelessly.
By looks, the watch looks like a typical old school smartwatch having a rectangular screen. The display is a 1.56-inch LCD touchscreen, which is responsive to touch. You will love to know that it supports a 32GB memory card, which can use to store loads of music and images.
Like every smartwatch, it includes essential activity and sleep monitoring features like recording steps, calories, distance, sleep quality, and more. Although you won't find features similar to an android smartwatch, if you are willing to buy a smartwatch with a camera under $50, then Padgene DZ09 is made for you.
Camera Details
The watch has a 2 Megapixels rear-facing camera. Don't expect much from it. It won't help you get crisp and clear images because the price is what you need to consider here. Under 50 dollars, getting a good camera is nearly impossible, so if you are ready to compromise with the quality, go for it.
Front Camera: No
Rear Camera: 2 Megapixels
Also Read: 10 Best Smartwatch Under 50$
FAQs (Frequently Asked Questions)
1. What are the types of cameras available in a Smartwatch?
There are basically 3 types of camera smartwatch models. Each one's camera placement is different than the other.
1. Front Camera: A smartwatch with a front camera means that the camera is fitted on the top of the smartwatch's display. You can click selfie images and hang out with your friends over video calls. Most of the smartwatch with the front-facing camera is affordable. However, going with the expensive ones can capture quality images.
2. Dual Camera: This type of smartwatch model has both front and rear-facing cameras. For example, the Ticwris Max S is powered by a dual camera. Dual cameras are pretty good because by using them, you can capture both sides. Usually, when trying to capture rear images with a front camera, we have to place our hands in an awkward position making it inconvenient to take pictures. So a smartwatch with a dual camera comes in rescue.
3. Side Camera: You might see a smartwatch with only a side camera (like a rear camera). Basically, they have their camera placed on the side that allows capturing the subject without awkwardly positioning your wrist.
2. Can a Smartwatch make video calls?
Of course, you can make video calls with a smartwatch. For that, your smartwatch needs to have a front-facing camera and an operating system supporting video calling apps. For instance, android smartwatches are excellent for video calling as they support video calling apps.
3. Is there a camera on Apple Watch?
No, the Apple Watch doesn't have a camera on it. The brand has a primary focus to add more tools related to fitness and quick information. But still, you can capture pictures remotely by using the remote camera feature.
4. Can I record video from a smartwatch with a camera?
It depends on the smartwatch whether they support the recording of videos. Most of the smartwatches with cameras can record videos. But still, some of them lack. Ticwris Max S is best at recording videos.
5. Which camera smartwatch is best for me?
If your budget allows you, the Ticwris Kospet Max S is one of the best smartwatches with a camera to consider. It is perfect in every aspect whether its camera, looks, or features. The Android 7.1.1 support, makes it do a lot more than a normal smartwatch. It is like having a mini smartphone on your wrist. And the only camera on our list to support dual cameras.
This can be a bang for the buck.

Hey! My name is Manas. I am a tech enthusiast who loves to explore gadgets. I especially enjoy exploring wearable techs like smartwatches and fitness trackers. I am always in search of what's new in the market so that I can provide valuable content that would be beneficial for you to choose the right wearable. I own Kospet Tank M1, which is pretty insane in its price range 🙂