10 Best Smartwatches for Kids to Make Them Smart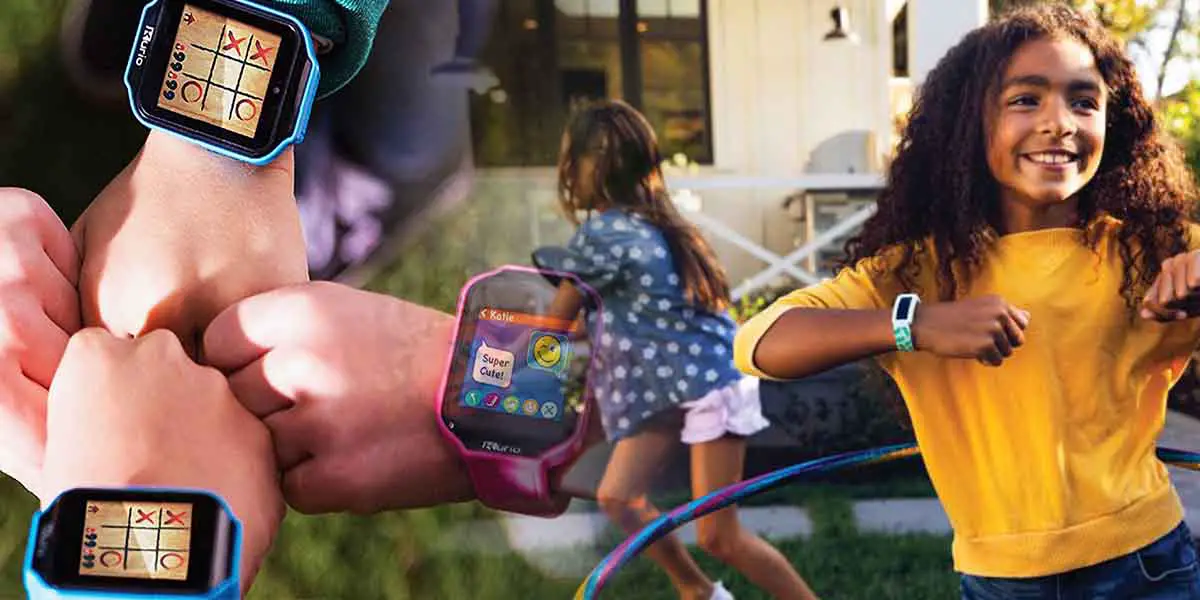 Smartwatches are indeed a great device for kids. Why is it so? Kid's smartwatches is an alternative to a smartphone which means children can have fun as well as learn.
Many watchmaking companies are now offering games and learning apps to make this device more worthwhile for a kid.
If you are looking for the best smartwatches for kids, then you are at the right place. We did some research in finding out some of the valuable smartwatch you can gift your child.
You Might Like: 10 Best Kids GPS Watches to Track Child's Safety
Best Smartwatches for Kids
1. VTech KidZoom DX2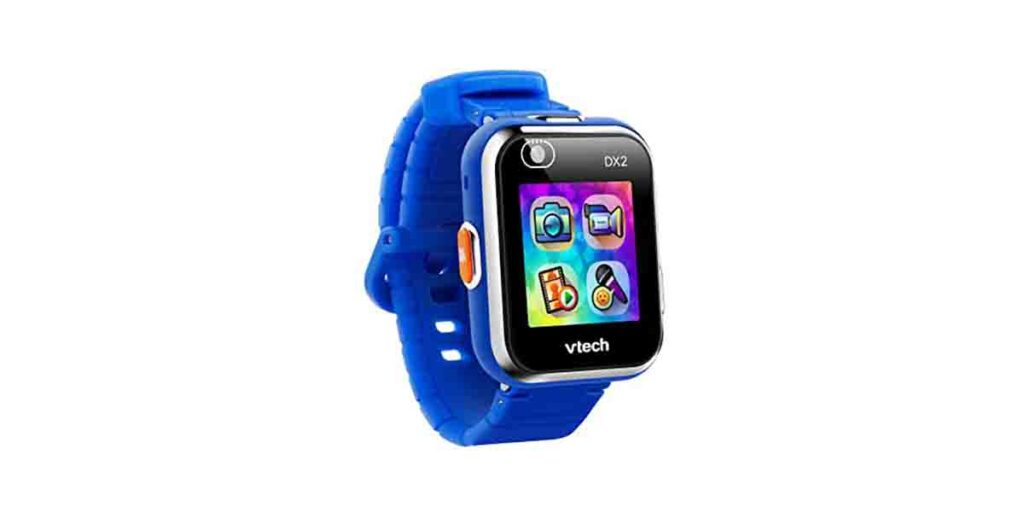 The VTech Kidizoom DX2 is a kid-friendly smartwatch that comes with dual cameras.
One camera is placed on the front of the watch for capturing selfies & the other one is on the side of the watch for action shots.
50+ digital & analog watch faces are going to excite kids.
The best part of this smartwatch is that it comes with in-built augmented reality games that most of the kids will enjoy.
The VTech Kidizoom includes a pedometer to count steps and also a motion sensor for active play challenges.
Parents would love to know that its parental settings allow you to limit the playtime, which I think is a nice feature included in this smartwatch.
The box includes a micro USB cable that can be used to charge of course, apart from that, it can be used to download new games & watch faces. Also, uploading pictures and videos becomes an easy piece of cake via this micro USB cable.
Key Features
Cool design for small kids
Touch Screen
Two Cameras
In-built exciting games, activities & challenges 
Parental control support
Comes with Clock, Calendar, Stopwatch & Voice recorder
Available Colors
Recommended Age: 4 to 9
2. Fitbit Ace 2 Activity Tracker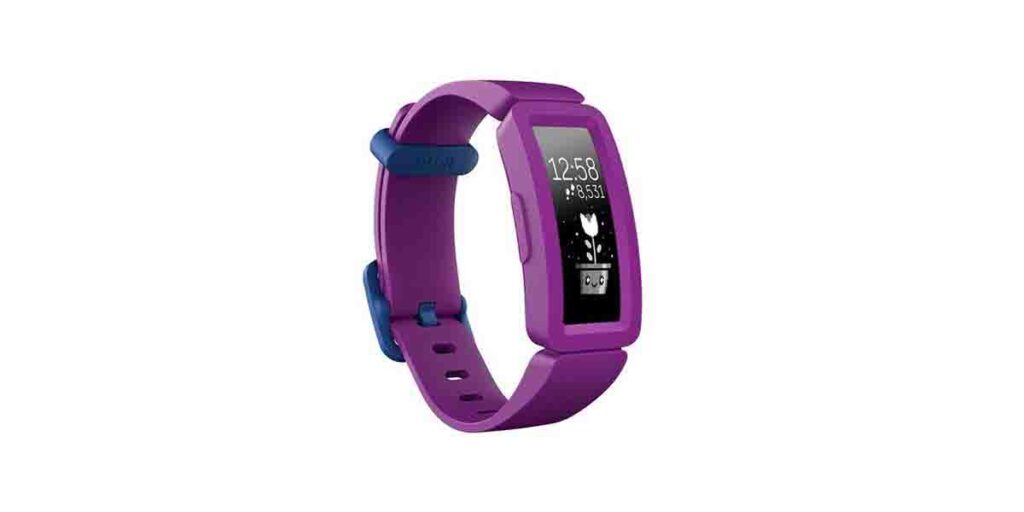 Fitbit Ace 2 is one of the coolest looking smartwatches for kids, specially designed for activity tracking purposes.
Whether your child is skipping, jumping, or moving, this watch helps track down the activities. It shows a virtual badge on the screen when a goal is completed. Ace 2 motivates kids to keep on doing these healthy activities.
As it is water-resistant, you need not worry about getting it wet. As it is swim-proof, it can be worn while swimming.
Its battery life allows kids to enjoy the built-in features up to 5 days, which I think is sufficient. However, it varies depending upon the usage.
Additionally, it comes with sleep tracking, bedtime reminders, and silent alarms features, making it more interesting.
Fitbit Ace 2 can be connected to your smartphone via Bluetooth. If there is an incoming call, then it shows an indication on the screen.
Key Features
Elegant Design
Tracks down activities
Water-resistant up to 50 meters
Swim Proof
Long-lasting battery life
Sleep Tracking
Bedtime Reminders
Silent Alarms
Available Colors
Recommended Age: above 8
3. PUBU Kids Smartwatch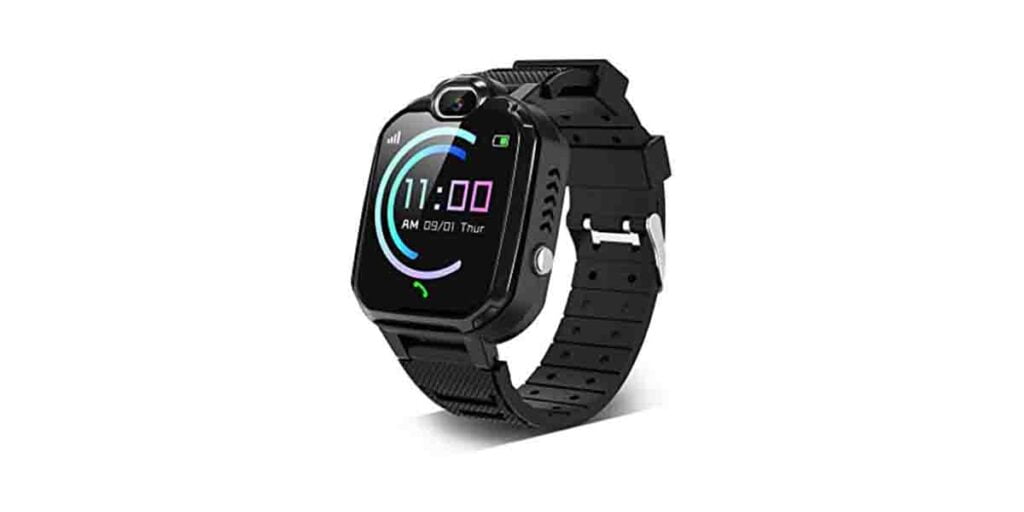 PUBU is a budget-friendly smartwatch for kids that come with a calling feature. This smartwatch is capable of storing ten important contacts in its contact list.
It would be best if you dont had a cell phone to make calls. This smartwatch contains a SIM tray for the SIM cards. All you need to do is add a SIM (No SIM will be provided in the box), and your watch is ready for calling.
The SOS feature is what makes it stand out from other expensive watches. If the child is in danger, then double-clicking the power key makes a continuous call to the parent until they pick up. I think this is something that every kid's smartwatch should have.
You will be surprised to know that this budget smartwatch comes with a camera for capturing shots & 7 in-built learning games. Games in this watch are kind of addictive.
SD card support allows you to transfer all the photos or videos with ease.
Key Features
Call Support without Cellphone
SOS & Two Way Call
In-built Games
SD Card Support
More functions such as Time and date, Quick dial, Alarm clock, Camera, Music Player, Calculator, Record, Phone book, Game, Photo album, Setting> 5 languages English, Spanish, French, German, Italian.
Available Colors
Recommended Age: 4-16
4. UMIDIGI Ufit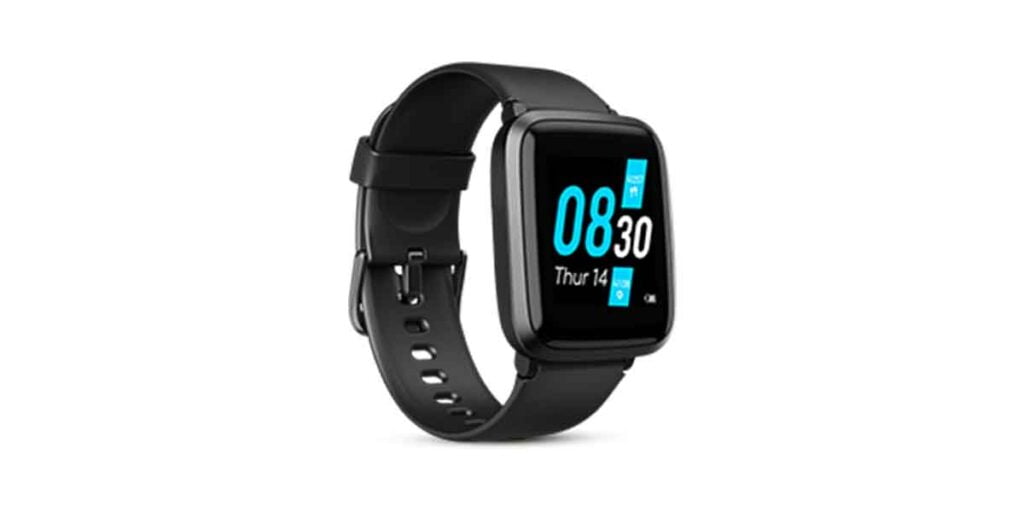 UMIDIGI Ufit is not specifically designed for kids. However, this smartwatch can be worn by anyone of any age. It is capable of monitoring heart rate & measures blood oxygen values accurately.
It has a kind of premium design, and the screen is scratch-free.
If the battery is what matters you the most, then this will be a great choice. The battery life is pretty amazing as it lasts up to 10 days, depending upon the usage.
You need not be afraid of enjoying rain or swimming, as it comes with waterproof features out of the box.
As I mentioned earlier, this is not specifically designed for kids. So we recommend you to purchase this for kids of age 15-18. If you are looking a smartwatch for teenagers, then this one will be a perfect choice.
Key Features
Heart rate & Sleep Monitor
Stainless Steel Design
Super Long Battery Life
Waterproof (Swimproof)
Call/Message alert
Music Controller
Available Colors
Recommended Age: 15-18
5. Yenisey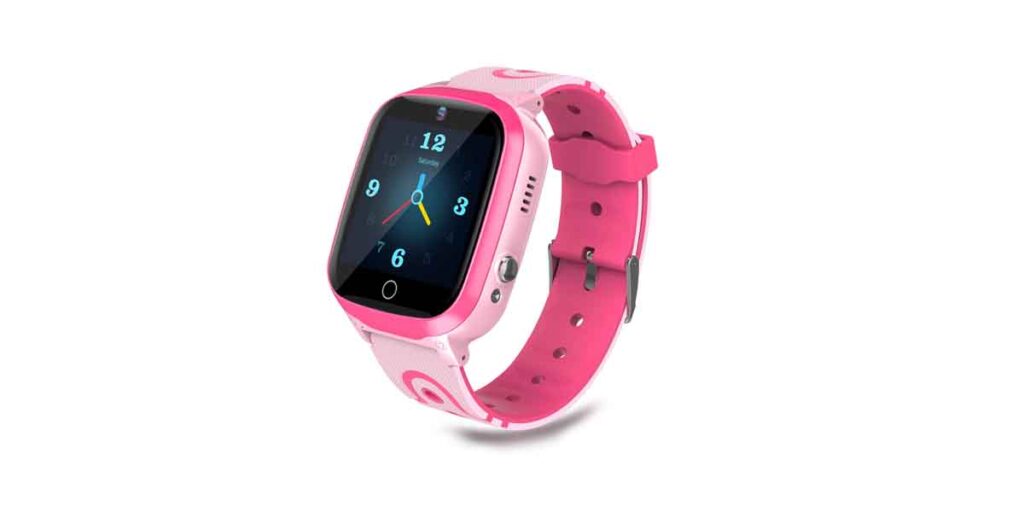 Yenisey is featured with two way call support, games & music player.
It is going to be fun for kids because of the in-built games. You will get around seven in-built games out of the box.
This watch has a camera on the front for taking selfies & the best part is you can use these captured images to customize the screen (set it as wallpaper). Music can also be played in this watch.
There is a school mode. By turning it on, you are no longer worry about any interference in the classroom. And if your child is in danger, then the SOS feature comes into rescue.
Other basic functions like alarm, time & date, silent mode, calculator is also included.
If this watch runs into some problem, then customer support is always ready & will do best to help you.
Key Features
Smartwatch with call function.
Two-way calling
Camera
School Mode & SOS 
Interactive In-built Games
GPS support.
Customer Support
More functions like alarm, time & date, silent mode, calculator, and more.
Available Colors
Recommended Age: 4-16
6. Kurio Watch 2.0+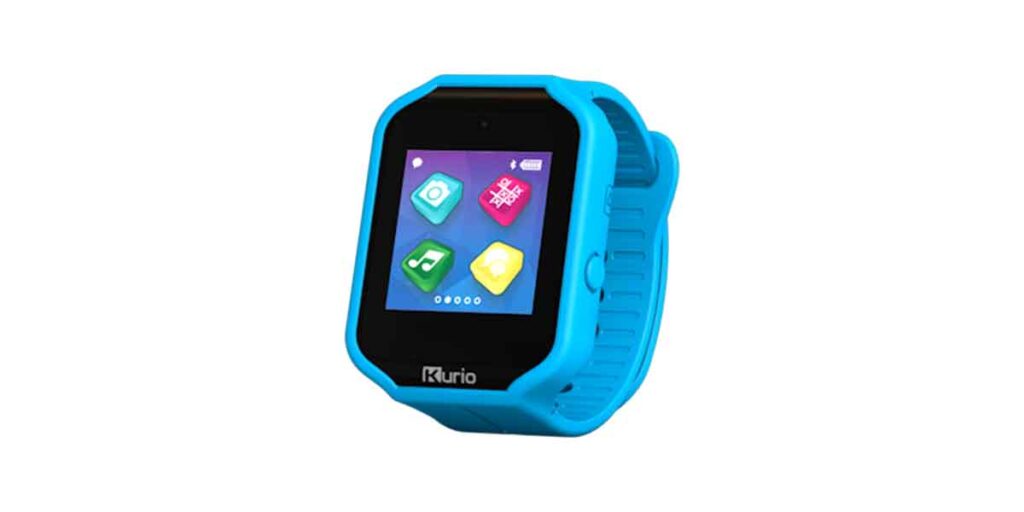 The Kurio Watch 2.0 is a nice looking smartwatch that is attractively priced. This watch comes with games and apps connected with other Kurio watches. It makes it more fun.
It comes with two interchangeable bands (of two different colors) & the device itself looks quite simple and attractive. It comes with two-player in-built games that can be played by connecting one watch with another. For a side note, single-player games are also available.
Sharing texts between watches becomes easy because of Bluetooth. Not only texts but also emojis, doodles, and voice recordings can be shared via Bluetooth.
It has a front-facing camera that is perfect for capturing selfies, and recording can be done using that camera. When a photo is being captured, you can decorate it with beautiful photo filters and frames.
As usual, the basic functionality like activity Tracker, music player, alarm/stopwatch, calculator, calendar, and more comes pre-installed out of the box.
It's pretty durable and has a scratch-resistant coating. It's not fully waterproof but can tolerate splashes and rain (We recommend not to use when swimming).
There's also a really useful emergency app that allows parents to enter any relevant medical information like allergies and an emergency contact number.
Key Features
Bluetooth Connectivity.
Pre-installed Apps & Games
Camera/Video Recording
Has an Activity Tracker, music player, alarm/stopwatch, calculator, calendar, and more.
Emergency App.
Available Colors
Two bands of different colors are present inside the box.
Recommended Age: 6-14
7. Pebble Time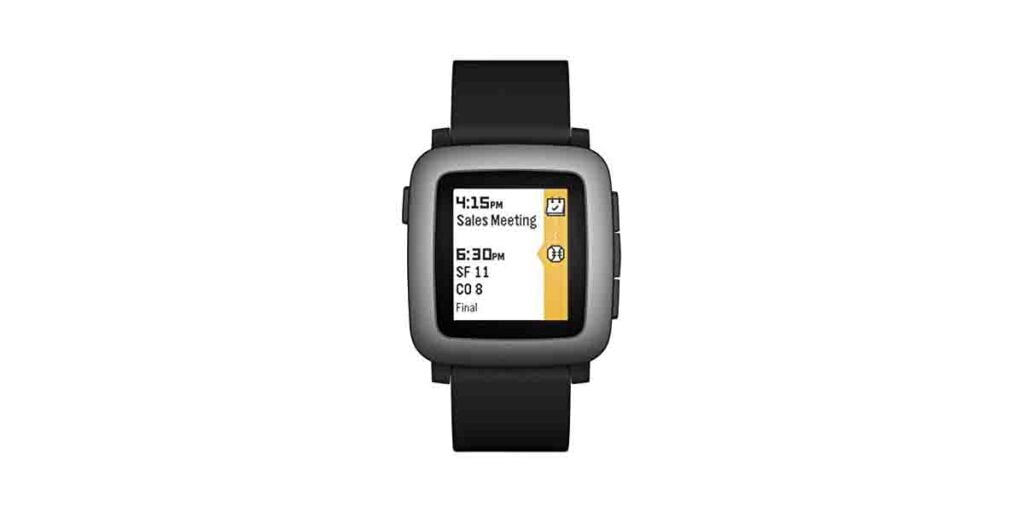 Pebble Time is a well designed and budget-friendly smartwatch.
It is not specifically made for kids, but features seems to be a great option for them. It has a simple user-interface, and build quality is what attracts you the most.
When you will hold it for the first time, you will feel it as a premium piece.
This device is featured with voice chat, notification alerts, and quick replies. And it comes with a built-in microphone and has a discreet alarm clock, calendar, events, and more.
Surprisingly, an app store called the pebble app store contains thousands of downloadable games, apps, and watch faces to customize the screen. It includes 'pebble health' that helps you to track every activity.
It has a decent battery life, which lasts up to 7 days depending upon the usage.
Key Features
Well designed & budget-friendly
Nice User Interface & built quality.
Feels premium
Comes with voice chat, notification alerts & quick replies.
Pebble App Store [download games and apps]
Activity tracker.
Water Resistant up to 50 meter
Decent battery life (up to 7 days)
Available Colors
Recommended Age: 10+
8. Willowwind Smartwatch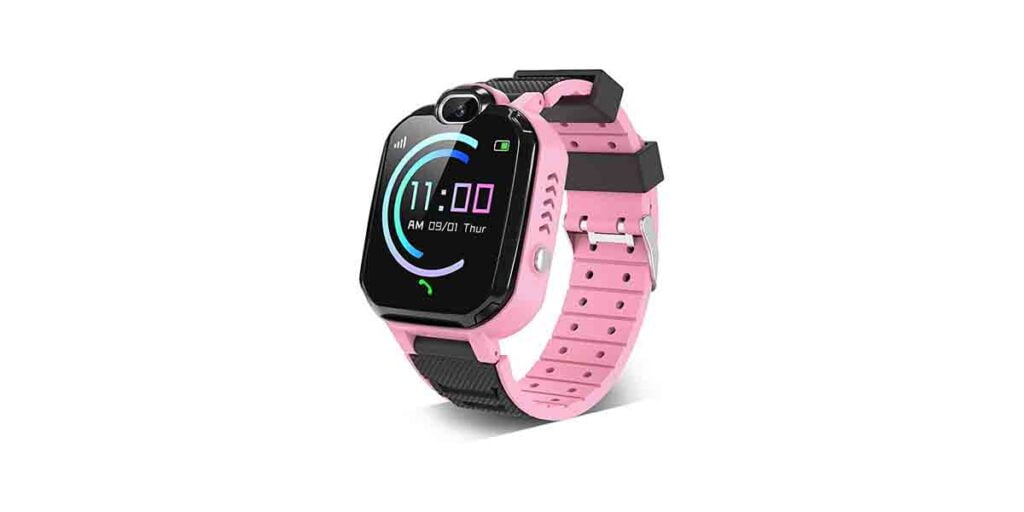 If you are looking for a GPS smartwatch for kids, then Willowwind will be a great choice for you.
This watch is loaded with amazing features that a KID and Parent would love to have it.
It comes with GPS+LBS two locations way, which can be used to record your children's historical footprint to ensure their safety in real-time. And the SOS feature makes me wonder how this watch is having priced very low. Parents can setup up to 3 contact numbers for SOS. If your child is in danger, long-pressing the button for 2sec will call all the three numbers around continuously for two times.
Parents can also set a safe zone from the app. If your child gets out of the safe zone, then it will notify through an alarm message. This is a kind of cool feature.
This smartwatch is enabled with a two-way call feature. However, a separate SIM card needs to be bought for this.
Adding Class mode & DND (Do not disturb) was a nice decision by Willowwind.
Key Features
GPS Enabled Smartwatch
SOS Compatible
Setup Safety Area
Parental Controls
Camera
Two- way Call
Class Mode & DND
Available Colors
Recommended Age: 4-12
9. Karaforna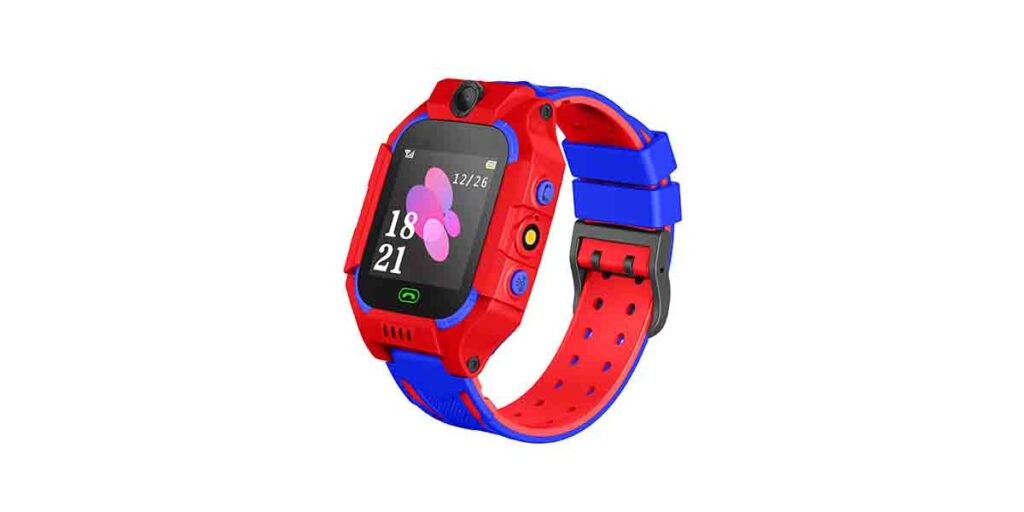 Another option for a kid's smartwatch with GPS is from Karaforna. I will recommend this because of its affordable price.
Parents can easily track their children from the app because the GPS provided in this smartwatch provides the accurate location. It does have the SOS, which is pretty nice because of its price.
To activate the SOS, you have to press the SOS button for around 3 Sec. And then, it will make a call to the contact number set for SOS.
If your child loves to do the math, this watch will be loved, engaging with pretty interesting math-related games.
This watch is included with two way calling feature. However, they don't include a SIM card. You have to purchase it separately. The watch only supports 2G data traffic, so make sure you purchase a 2G compatible SIM Card.
Parental Controls are also included in this watch. For example, if parents want, they can start the class mode from the app itself. This will prevent the child from playing in-class hours.
Karaforna promises you to provide better customer support. If your smartwatch ran into some problem, you can message them and get back to you within 24 hours.
Key Features:
GPS Enabled Smartwatch + LBS
SOS Enabled
Two-Way Calling Feature
Built-in Math games
Parental Control
Class Mode
Alarm & Anti-lost
Voice Chat
Customer Support
Available Colors
Recommended Age: 4-12
10. Garmin Vivofit Jr 2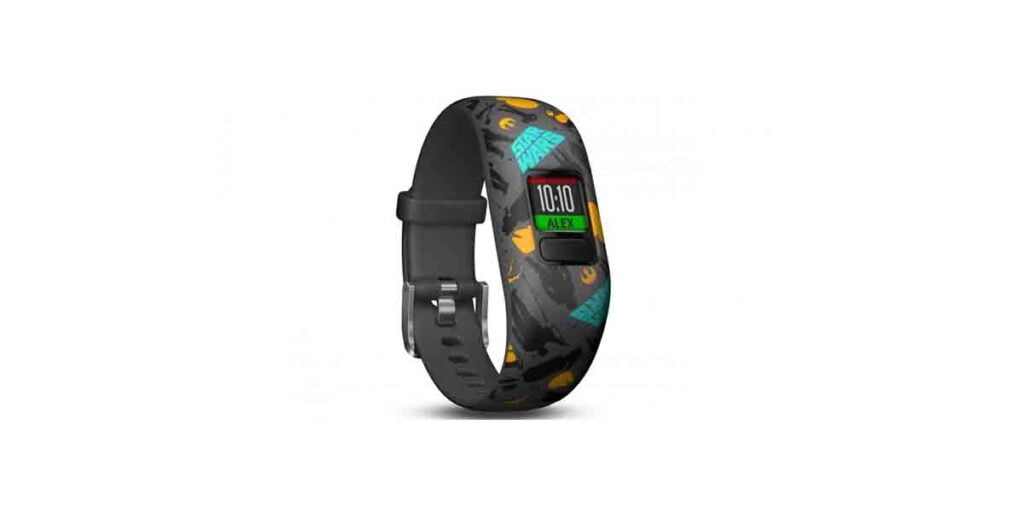 Garmin is popularly known for its quality smartwatches.
Every Garmin Vivofit Jr2 watch is coated with a theme that gives a pretty minimal look. It includes a fitness and activity tracker, which is beloved by the kids.
Each watch is decorated with a specific theme. You will find Spiderman, Captain America & Disney princess themed watches, and more.
Parents can easily manage the Vivofit Jr2 smartwatch with the compatible app. From the app, you can add multiple children and see their steps, sleep, daily activities, and chore data when it automatically syncs with your smartphone.
If your child has not completed his/her homework, you can send an alert message from the app itself.
This watch also encourages friendly competition that makes exercise fun. You can challenge a friend with the watch to a Toe-to-Toe Step Challenge to see who can take the most steps in a timed contest. Pretty cool, right?.
Talking about the battery life, you don't need to worry about it because it comes with a non-rechargeable battery that lasts up to 1 year.
Key Feature
Themed Design & Minimal Look
Long-lasting battery life (up to 1 year no charging)
App to track down activity
Reminder alerts & alarms
Step Challenges (Challenge your friend earn a reward)
Available Colors
*Available in different themes*
Recommended Age: 4-9
Read More

Hey! My name is Manas. I am a tech enthusiast who loves to explore gadgets. I especially enjoy exploring wearable techs like smartwatches and fitness trackers. I am always in search of what's new in the market so that I can provide valuable content that would be beneficial for you to choose the right wearable. I own Kospet Tank M1, which is pretty insane in its price range 🙂