10 Best Waterproof Smartwatches [Swim-Ready]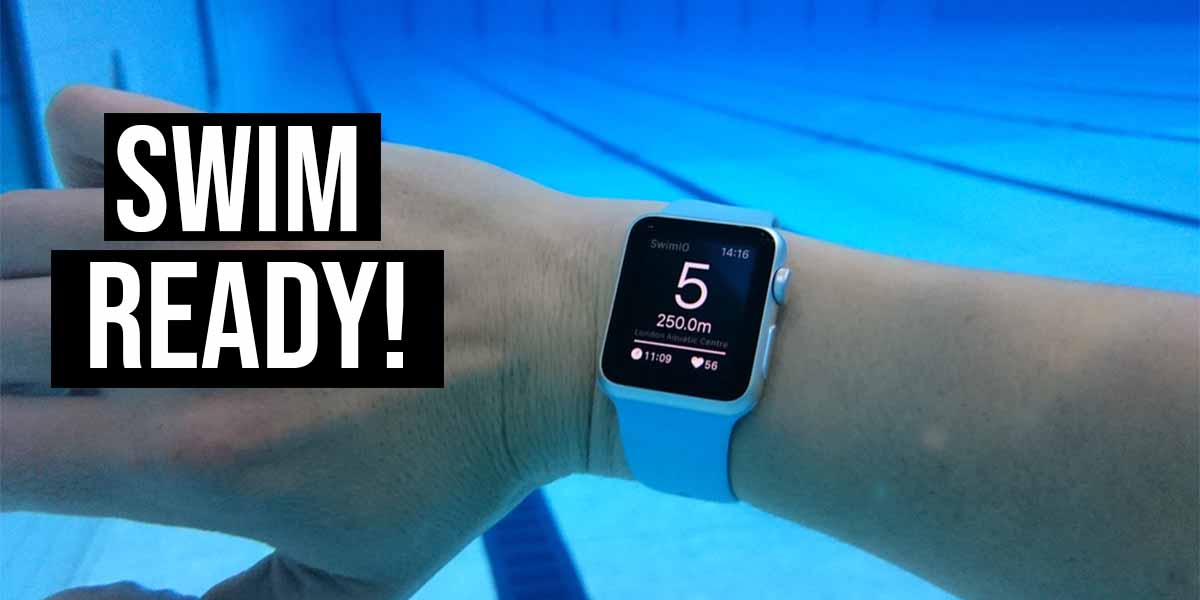 Nowadays, fitness is a priority for many people when it comes to health. When it comes to fitness, swimming is one of the best exercises that help you to burn your calories and stay fit.
If you are a beginner or a professional swimmer and you are in the hunt for a best waterproof smartwatch to track your calories accurately, then here is our list of waterproof smartwatches that will help you in your fitness journey.
Best Waterproof Smartwatches to Consider
1. Fitbit Ionic
Fitbit Ionic smartwatch is one of the best sportier-looking smartwatches that is designed and developed for outdoor activities, especially for swimming.
It has a tremendous rich display letting you view your data in real-time. However, you might be knowing that Fitbit is a brand which makes quite impressive fitness smartwatches.
It offers you with features such as lap counts, duration, calorie measuring and more. Every feature of Fitbit Iconic is very accurate and convenient.
Moreover, we can say that Fitbit Iconic is a dedicated swimming smartwatch as it has a waterproof certification till 50m. Along with this, it is suitable for swimming in both open water & pool water.
Besides all the data and features, you feel super comfortable while swimming. It has got tactile buttons so that you can start and stop workouts while in water – which means you don't have to worry about messing with a wet touch screen.
For battery life, Fitbit Iconic and serve you up to five to seven days.
In short, it's one of the best waterproof smartwatch for swimming.
Key Features 
Dynamic Personal Coaching
Compatible with both Android and iOS
Store & Play Music
Built-In GPS
PurePulse Heart Rate Monitoring
Multi-Sport & Smart track feature
4+ Days of Battery Life
App, Payments & Notifications
Waterproof rating: 50 m | Open Or Pool Water: Both
Available colors: 
Charcoal/Smoke Gray
Slate Blue/Burnt Orange
Blue/Ice Gray/Silver Gray
Blue-gray/Silver
2. Fitbit Versa 2
While the Fitbit Versa 2 and Fitbit Ionic are both built for swimming, but Fitbit Versa 2 is more stylish and good looking. It has got new features that the Fitbit Ionic don't have.
Fitbit Versa 2 comes with a slimmer and smaller design that provides you with the same swim tracking feature as the Fitbit Iconic. Now you can enjoy the same features with a better touch screen display and a better design.
However, the only problem with this waterproof smartwatch is that it doesn't display stroke type. There's no SWOLF data available, so that data-hungry swimmers might find the experience a little underwhelming.
Still, it's a useful swimming smartwatch for beginners or casuals. However, the professional swimmers won't like that Fitbit Versa 2 is not made for open water swimming.
Moreover, the battery life is not as good as the Fitbit Iconic but has a decent battery life of four to five days. Along with this, you are also getting all the essential smartwatch features like Fitbit Pay, Always-on screen display, notifications, and support for Amazon's Alexa on this Fitbit Versa 2.
In short, this watch is good enough for a beginner swimmer.
Key Features 
Built-in Amazon Alexa
Compatible with both Android and iOS
All-day heart rate tracking
Swimproof up to 50m
Sleep Score And Smart Wake feature
Music Control
Always On Display 
Fitbit Pay Apps and Notification
6+ Days of Battery Life  
Waterproof rating: IP68 (50 m) | Open Or Pool Water: Only pool water
Available colors
Black/Carbon
Bordeaux/Copper Rose
Navy & Pink Woven/Copper Rose
Petal/Copper Rose
Smoke Woven/Mist Grey
Stone/Mist Grey
3. Garmin Swim 2
Garmin Swim 2 is one of the Garmin's best waterproof smartwatches, which is designed only for swimming activities.
This smartwatch has a GPS swimming feature for both pool and open water.
The Pool mode offers stroke count, records distance, pace, stroke type, SWOLF, and many more. And the Open-water swim mode uses built-in GPS for swims in lakes, records distance, pace, stroke count, SWOLF, stroke rate, and stroke distance.
The best part of this smartwatch is that you can wear it 24/7 without any comfort issues. It also offers advanced features for staying on pace, logging drills, and many more.
It also includes free online analysis, custom workout creation, storage, and sharing on Garmin Connect online community.
The battery life is up to 7 days in normal smartwatch mode, 13 hours in GPS and optical heart rate (OHR) mode and 72 hours in pool and (OHR) mode which is more than enough.
RELATED | Top 10 Best Garmin Smartwatch (Men/Women)
Key Features 
Wrist Band Heart rate monitoring
Compatible with both Android and iOS
Open water swim mode
Pool swim mode
Track progress of your critical swim speed
Track time and distance for drills
Rest Reminder
Performance Monitoring
Stress Tracking
Body Battery Energy Monitoring
Fitness Tracking features (tracks steps, floors climbed, intensity minutes and more)
Built-in Sports Apps
Waterproof rating: 50 m | Open Or Pool Water: Both
Available colors
4. Garmin Vivoactive 4
The Garmin Vivoactive 4 is currently the best waterproof smartwatch from Amazon, cutting the lines between a regular smartwatch and its best range of sports watches.
Like the older Garmin smartwatches, this device also delivers great swimming accuracy and will remain waterproof up to 50 meters.
The transflective screen ensures that you can view your real-time swim data under the water. Garmin vivoactive 4 doesn't provide an open water swim tracking feature, that you will find in most of the expensive Garmin devices. It is an ideal choice for those who spend a decent amount of time in the pool.
Of course, as like other Garmin smartwatches, the half of your experience is looking through your data after workouts. And in this smartwatch, you will find all those data & stats that you find in other Garmin Smartwatches.
For battery life, it lasts up to 8 days in smartwatch mode, 6 hours in GPS mode with music and 18 hours in GPS mode without music.
So this will be a great pick if you are looking for a mid range waterproof smartwatch.
Key Features 
Wrist Band Heart rate monitoring
Compatible with both Android and iOS
Pulse OX Sensors
Body Battery Energy Monitoring
Stress tracking
Female health tracking
Hydration/Respiration Tracking
Advanced Sleep Monitoring
Supports Garmin Coach
Built-in Sports Apps
Waterproof rating: 50 m | Open Or Pool Water: Only pool water
Available colors
Black
Light Gold with Light Pink Band
Rose Gold with White Band
Silver with Gray Band
5. Fossil Sport
Fossil sport is one of the best waterproof smartwatch with a great design and excellent performance.
This smartwatch is powered with Wear OS by Google that works perfectly with Android phones and to a lesser extent, it also works with iOS devices.
Several waterproof smartwatches are there in the market which comes with Wear OS, but those watches aren't the kind you'd like or want to swim with.
But in case of Fossil Sport, it's different. It is the sportiest looking watch and one of the best waterproof smartwatch among all the smartwatches powered by Fossil Group.
This smartwatch offers swim tracking through native and third-party apps. One of the best things about this smartwatch is that the screen is super bright and vibrant, ensuring that there is no visibility issue in the water.
This smartwatch offers lots of feature, including a response from Google assistant.
One drawback of this smartwatch is its battery life. It gives you a battery life of 24 hours. But the good thing is that it only takes an hour to get fully charged.
If you're all about Wear OS and like swimming, this is the smartwatch for you.
Key Features 
Minimal looking smartwatch.
OLED Display
Wear OS compatible
Compatible with both Android and iOS
Steps tracker, activity tracker and more
Average Battery life (not suitable for fitness freak)
Waterproof rating: 50 m | Open Or Pool Water: Both
Available colors
Dark Red
Smoke/Black
Spruce Green
Navy Blue
Smoke/Blue
6. Withings Steel HR
The Withings Steel HR is a meld smartwatch, which means this smartwatch is a combination of analog classic design with all the essential smart features. As a consequence of this, it does not have a full touch screen but still it offers swim tracking.
The Withings is just not as futuristic as other smartwatches in the list, so it sits lower down our inventory.
The only drawback of this waterproof smartwatch is that you can't take the advantage of the heart rate monitor while swimming in the pool or open water, but the automatic fitness tracking feature does work accurately.
This waterproof fitness smartwatch is packed into a smart analogue classic watch body which is waterproof up to 50m.
All the data are synced to the Withings Health Mate app so that you can track your health. Moreover, it gives you a battery life up to 25-days, which means you can swim as many hours you want until the watch needs to be charged up again.
So, if you are looking for a hybrid smartwatch that looks good and also helps in your daily swimming routine, without offering lots of data, then this Steel HR is worth considering.
Key Features 
Record Battery Life
Smart Notifications 
Water-resistant up to 50m
Data at Your Finger Tips
Fitness Level Assessment
Swappable Wristbands
Waterproof rating: 50 m | Open Or Pool Water: Both
Available colors
7. Huawei Watch GT 2e
Huawei Watch GT 2e is a pretty good waterproof smartwatch. This can be your best partner to track your daily calories count, but the only problem is that it only shows the regular calories active on display.
But if you want to know the detailed workout performance, you can find it on Huawei's own app. Besides, this watch doesn't support any third-party application. This is the only problem that this GT watch suffers, but you are good to go if you are okay with it.
Moreover, this watch has more positive sides such as it has a very responsive touchscreen and comes with swim friendly straps and offers you plenty of sports activity features.
After using this smartwatch for a while, I can now say that this watch is made for tracking swim activities.
The Huawei Watch GT 2e can measure both open and pool water swimming. It provides data such as SWOLF, lap count, speed, distance, and calories.
This smartwatch is something that is made for solid swimming. Moreover, this is an excellent waterproof smartwatch that you can consider.
Key Features 
3.53 cms AMOLED Display
15 Different Workout Modes
Play Music on Go
SpO2 Tracking Feature
Remote Shutter
In build GPS
Two Weeks Battery Life
Waterproof rating: 50 m | Open Or Pool Water: Both
Available colors
Lava Red
Graphite Black
Icy White
 8.  Willful Smartwatch
The Willful smartwatch is one of the coolest looking and affordable smartwatches that you can wear it as your daily commute.
Moreover, if you are looking for a budget-friendly smartwatch that can fulfil all your requirements, then you can consider this watch. Also, if you want a nice watch that could go from casual to formal, then Willful will be the right choice for you.  
The full HD touch screen is super responsive and accurate, and also you can adjust the brightness as per your requirements. It also gives you a battery life of 7 to 10 days, which is more than enough, and the battery consumption depends on your watch usage.
Moreover, it gives you the exact data to motivate yourself to walk and exercise so that you can know yourself much better.
It automatically tracks your steps, calories, and distance and gives you accurate numbers. This watch is IP68 water-resistant so that you can wear it while swimming.
The Willful smartwatch also has many more practical features like a female health tracker, breath guide, DND mode, ten vibration alarm clocks, a timer, a stopwatch, and a music controller.
This watch supports 14 different sports modes to give you more detailed outcomes.
Key Features 
Full Touch Screen & Clear Display on Sun
Compatible with both Android and iOS
Stopwatch & Music Controller
Multiple Clock Faces for Option
Heart Rate Monitor
IP68 Waterproof Fitness Watch for Men Women Both
Large Battery Life
Female Health Tracker & Breath Guide
Call Messages Alerts
Sleep Tracker Watch & Silent Vibration Alarm Clock
Waterproof rating: IP68 | Open Or Pool Water : Only pool water
Available colors
9. Elirin Smartwatch 
Elirin smartwatch can be your best partner for outdoor/ indoor fitness fun. It supports a bunch of sport modes, such as swimming, Snorkeling, ball games, walking, running, mountaineering, cycling, and more.
It contains all kinds of detailed data and gives you accurate results. Also, it has a feature of Ultralow power rugged endurance, sleeps monitoring and more. However, the battery life isn't so good, you will only get 13 hrs of battery life. With continuous usage, it lasts for only 4hrs.  
Moreover, talking about its waterproof abilities this smartwatch is only capable for swimming in pool water and has waterproof certification up to 50m.
Key Features 
GPS Tracker
Outdoor Altimeter
The temperature tracker
Hiking Outdoor
Running Sports
Snorkeling
Smart information to remind
Swimming Waterproof Watch
Heart Rate Monitor
Waterproof rating: 50 m | Open Or Pool Water : Only pool water
Available colors
10.  FITVII Fitness smartwatch
FITVII fitness smartwatch is one of the coolest looking smartwatches that are suitable for both men and women. 
It offers 24/7 Heart Rate and Blood Oxygen Monitoring feature. The Infrared sensors are designed to monitor Blood Oxygen Saturation level (SpO2). It can measure how well you sleep and gives you with accurate health-related information.
Furthermore, it also has a PPG green light for monitoring heart rate and can calculate calorie count with a good accuracy. Also, it will send notifications when your heart rate is abnormally high or low.
By using this fitness smartwatch, you can enhance the training routine. Besides, the FITVII fitness smartwatch has 18 sports modes such as swimming, basketball, cycle, dance, yoga, etc. It provide a sports wizard that include various sports data such as HR, calorie burn, distance, etc. 
Timer, compass, and music control function are also available in this fitness smartwatch. You can also control your mobile music system just by tapping the watch to play or pause music and switch songs after successfully connected.
This watch has two swimming modes, that's why it is in our list of the best waterproof smartwatch. First one is Free mode (Open Water) and the second one is Pool mode. It can also record swimming distance, SWOLF, stroke data and more.
It can be submerged in up to 100 feet depth of water and will still be in excellent working conditions once you dry off. Therefore, don't worry about using it in the shower or swimming pool.
Here you also get 10+ days of battery life in a single charge. You can also add your customized watch face with some preloaded watch faces. Besides, you can upload your favourite pictures in the app to customize your dial.
Key Features 
1.3-inch anti-scratch touchscreen display
Compatible with Android and iOS
Health monitor (heart rate, blood pressure, workouts, sleep and steps)
Female health tracker (Period remainder)
Compatible with both Android and iOS
Sports Mode & Message Reminder
On-screen notifications (Messages, Calls, Facebook, WhatsApp)
Reject incoming calls
Silent Mode
IP68 Waterproof
Waterproof rating: 30 m| Open Or Pool Water : Both
Available colors
Final Verdict
Therefore, these are some of the best waterproof smartwatch that we found pretty good for someone who swims daily. But if you are still confused about which watch to choose, then let me clear out your confusion.
If you are looking forward for the best waterproof smartwatch in a low budget and want that, it should have packed with every smart features and with all these, it should be great for swimming, then I think Willful Smartwatch is one for you.
And if you are in a hunt for a best waterproof smartwatch without considering much about money, then I think you should go for the Garmin Swim 2 or Garmin Vivoactive 4.
Every watch is good in its own way, and in the end, you have to decide which smartwatch is suitable for you keeping your needs as the priority.
I hope this list somehow help you in finding out your best waterproof smartwatch.
Read More
Hey! My name is Ranjeet. I am the co-founder of 'SmartwatchAdviser'. With one of my friends, I started this website out of a passion for writing and exploring different wearable tech. Currently, I am using Mi band 4 as my primary fitness tracker and own a Noise Color Fit Pro 3 to match my style on various occasions.