5 Best Emporio Armani Smartwatch Review (TOP PICKS)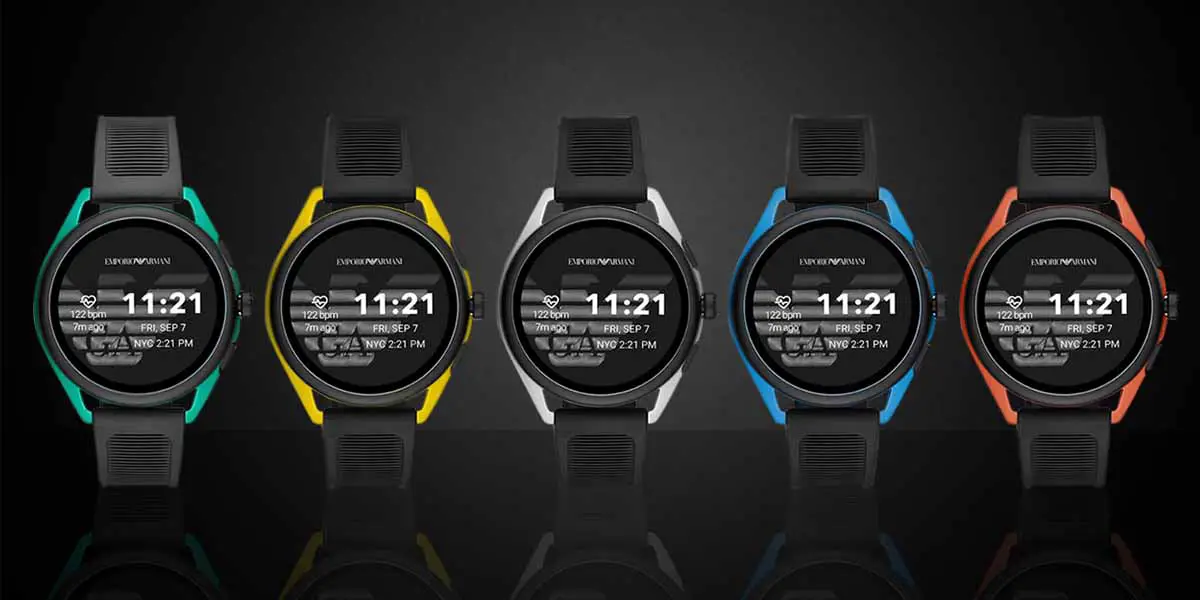 Best Emporio Armani Smartwatch Review: The brand Emporio Armani is committed to deliver high-quality smartwatches with advanced technological features. Most of the Emporio Armani smartwatches feature Wear OS by Google. And come in nice casings, reliable and accurate movements, and so on.
You will mainly see two types, regular smartwatches, and hybrid smartwatches. Hybrid smartwatches look more like a traditional watch with watch hands but offer functionality like a smartwatch. In this post, we have listed out both types of smartwatches, so go through this post to find the right one.
Emporio Armani Smartwatch Review
1. Emporio Armani Smartwatch 3
*Recommended*
The Armani Smartwatch 3 is the continuation of the Armani Connected series having similar highlights as of previous ones, but now it is much more fitness-centric.
The smartwatch comes with a variety of color options to choose from (up to 10 different colors). Along with a metallic bracelet strap in favor of a silicone band, which is much more comfortable in everyday use. The color borders look appealing & the mainframe is black around the display.
For buttons, there is a twist style button & two other buttons present on the right side. And on the left, there is a speaker that can take & make calls. Also, you can play music out loud.
In terms of display, it has a 1.28-inch AMOLED display with a resolution of 390×390 pixels. Also, you get the snapdragon wear 3100 chipset along with 1GB of RAM & 8GB ROM for better performance. It uses Wear OS by Google, so you can expect to get the most out of the Armani smartwatch 3.
The Armani Smartwatch 3 comes with some pre-installed apps such as Spotify, Cardiogram, and more. You also get an NFC feature that can be used at self-service supermarkets during checkouts.
This smartwatch features heart rate/activity tracking, a built-in GPS for tracking distance, and has a swimproof design.
For battery, the Armani Smartwatch 3 can easily get you through a day with no issues using GPS, heart rate, NFC, and other features. By turning on the battery saver mode, disables speaker, GPS, and Bluetooth for boosting battery's performance.
Who is it for?
Overall, if you are looking for a combination of elegance, performance, and practicality, then Armani Smartwatch 3 is the right one for you.
2. Emporio Armani Smartwatch 2
The Emporio Armani 2 is a part of the Emporio Armani Connected series. This smartwatch is powered with Wear OS by Google, compatible with both iOS & Android.
Not many color options to choose from.
The smartwatch offers you with Heart rate activity tracking, built-in GPS for Distance tracking, and has a swimproof design. The design is pretty much similar to the Armani Smartwatch 3. However, it has no internal speakers on the left, so you cannot enjoy playing music from your wrist.
You can receive notifications and alerts, manage your calendar, control your music, download third-party apps, and customize your watch face. The built-in google assistant helps in getting answers & manage tasks on the go.
With Google fit, continuously track your heart rate of different workouts. Moreover, stay updated about the weather as it delivers notification of weather forecasts.
Who is it for?
Overall, if you are on a budget and ready to compromise for Bluetooth calling, internal speakers, and 4Gb extra storage, then you can definitely consider this Armani 2.
3. Emporio Armani ART3001 (Hybrid)
The Emporio Armani ART3001 looks more like a traditional watch but functions like a smartwatch. This buddy has a dial like a regular watch and has some technology hidden in it. The device is compatible with both Android and iOS.
Its case is made up of stainless steel & has multiple strap options to choose from. You get informed about notifications through the dial. And it also vibrates on the wrist when there is a new notification.
There are three buttons on the right to which you can assign a specific function. For example, one of these buttons can be programmed to click photos (remote camera) or control music.
Moreover, creating custom notification is possible with this smartwatch. For instance, you can set this watch's hand to be at 1'o clock when there is any notification from a specific contact.
This hybrid smartwatch doesn't need charging as it is powered by a CR2430 battery that can last up to 1 year with heavy usage.
Who is it for?
Overall, if you prefer regular dial watches but also want smartwatch features & don't want to charge up the smartwatch daily, then Emporio Armani ART3001 is worth considering.
4. Emporio Armani ART5017 Smartwatch
The dynamic style of Emporio Armani ART5017 features the brand's most coveted designs with added benefits of today's wearable technology. This smartwatch is compatible with both Android & iOS, powered with Wear OS by Google.
It comes with Qualcomm Snapdragon Wear 2100 that gives an enhanced wearable experience. Notifications get delivered to your watch & stays in style with a customizable watch face, as well as take a photo with the push of a button.
You can change the straps anytime to match your look. By connecting to your favorite apps to track activities, control music, and more. This buddy features a touchscreen dial with a full display & complemented by a sporty black rubber strap.
For battery, the watch can serve you the whole day. But with heavy usage, it only lasts for 12 hours. Takes two hours to get it fully charged.
5. Emporio Armani ART3030 (Aviator)
Another hybrid smartwatch from Armani, the Emporio Armani ART3030 that uses leather as its band material type. Like other hybrid smartwatches, it also looks like a traditional watch but acts like a smartwatch.
Three buttons on the right side can be programmed to remotely take pictures and control music from the wrist. Moreover, you get all smart features such as smartphone notifications, tracking activities, create a custom goal, monitor your sleep, and more. As it is more like a traditional watch, you have to rely on watch hands to get these informations.
Custom notifications can be created, this means you can set its watch's hand to be at 1'o clock when there is any notification from a specific contact.
The battery lasts up to 6 months and you don't need to charge it up. Once the battery is dead, replace it & you're good to go.
Who is it for?
If you are looking for a hybrid smartwatch with a leather band, then you can go for it.
Frequently Asked Questions (FAQs)
1. Can I Use Armani Smartwatch 3 without a phone?
Yes, you can. However, it is suggested to pair with a smartphone for full functionality and maximizing the full potential of this awesome watch.
2. Does Armani Smartwatches Measure Blood Pressure?
Armani smartwatches doesn't measure blood pressure but has capability to track heart rate.
3. What application is used to pair Emporio Armani smartwatches?
The official app called Emporio Armani Connected is used. You can find it for both iOS and Android.
4. Does Emporio Armani Smartwatch 2 has an Internal Speaker?
It has no speakers. Internal speaker is available only with Armani Smartwatch 3.
5. Can I read notifications on Hybrid Smartwatches?
Hybrid smartwatches only alerts you with a buzz. Unfortunately, you cannot read from the watch.
Read More

Hey! My name is Manas. I am a tech enthusiast who loves to explore gadgets. I especially enjoy exploring wearable techs like smartwatches and fitness trackers. I am always in search of what's new in the market so that I can provide valuable content that would be beneficial for you to choose the right wearable. I own Kospet Tank M1, which is pretty insane in its price range 🙂