Fossil Gen 4 Smartwatch Review: Is it Better than the Gen 3?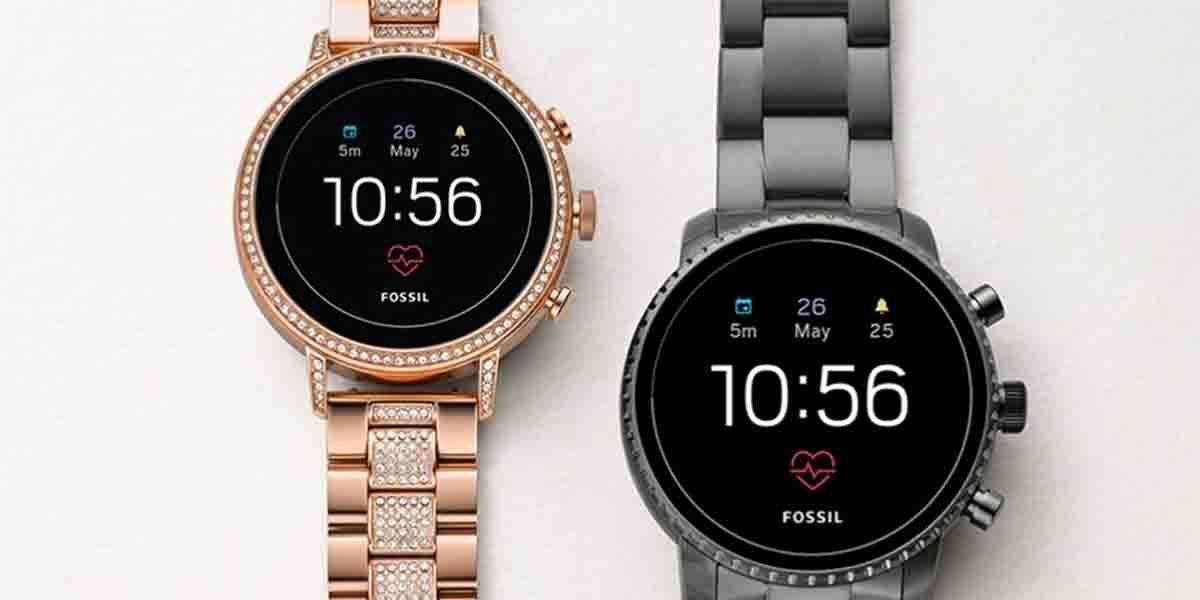 Fossil Gen 4 Smartwatch Review: The release of Fossil Q Explorist Gen 3 was not so impressive. The Fossil Q Explorist Gen 3 dissatisfied us with its features besides its stylish look. Its looks are so impressive that it can magnify anyone's charm with its beauty. However, when it comes to smart features Gen 3 is unworthy for anyone.
But to overcome with all its demerits, the Fossil group of company decided to come up with a new watch of this series and named it as Fossil Gen 4 Smartwatch.
It has its two lineups, one is mostly for men, which is the Fossil Explorist HR Gen 4 and another one is mainly for women which is the Fossil Venture HR Gen 4.
Both the smartwatches have all the features that the Fossil Q Explorist Gen 3 smartwatch don't have. Besides, the Gen 4 series have a more stylish look.
Read our Fossil Gen 4 Smartwatch Review to know more about the Fossil Explorist HR Gen 4 and Fossil Venture HR Gen 4.
Quick Opinion
The Fossil Gen 4 is way more better than the Fossil Gen 3. It has got great features, such as great screen, waterproof certification of IP68, ability of great fitness tracking with a perfect accuracy.
Moreover, it comes with a circular dial design, built-in Google Assistant and GPS features.
Along with, it comes with a decent battery life, but nevertheless Fossil solves the battery problem by providing a smart and fast magnetic charger in the box.
Fossil Gen 4 Smartwatch Review
Design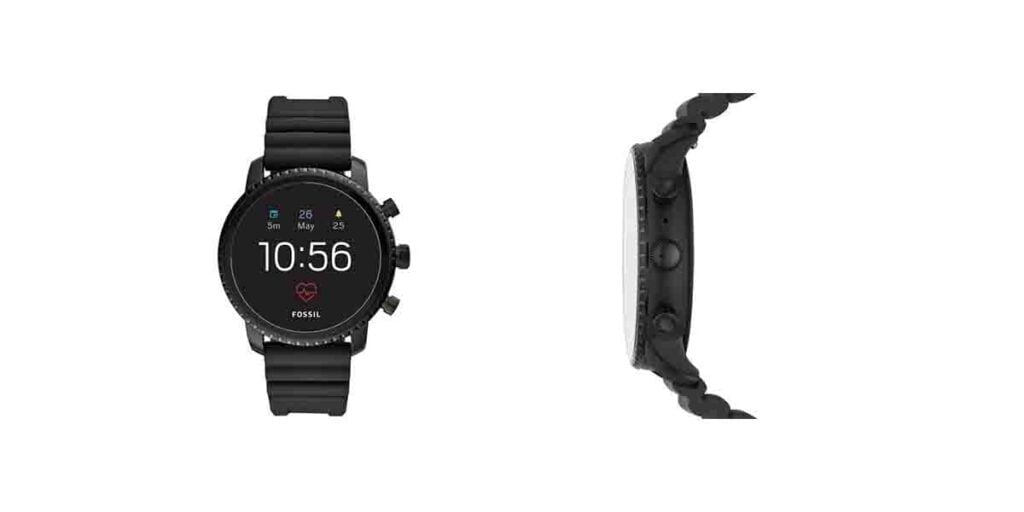 This Fossil Gen 4 smartwatch has a very classic and stylish design. Both the smartwatches the Venture HR and the Explorist HR comes with a circular dial face.
The case size of the Explorist HR is 44mm and for the Venture HR is 40mm. Along with, the thickness of both HR smartwatch is only 13mm, which means the smartwatch is large and thick enough to make the wrist look more aesthetics.
Moreover, the Fossil Gen 4 smartwatch comes with three physical buttons. The top and the bottom button can be assigned with any function you like. And the middle button is used as a home button or Google assistant button. Also, it can act as a crown which you can use to scroll through the menus on your smartwatch.
While I like the crown design, the buttons are sensitive and it happened a couple of times when I accidentally activate the Google assistant by bending my wrist.
Besides, the Explorist HR is compatible with any 22 mm watch strap which means, you can change the appearance of your watch depending on the occasion and same goes for the Venture HR, but the size of its strap is 18mm.
The Fossil Gen 4 smartwatch comes in a variety of cases with different colour options along with different straps colours. Moreover, you also get to change the silicon straps with leather or metal-chain straps.
Display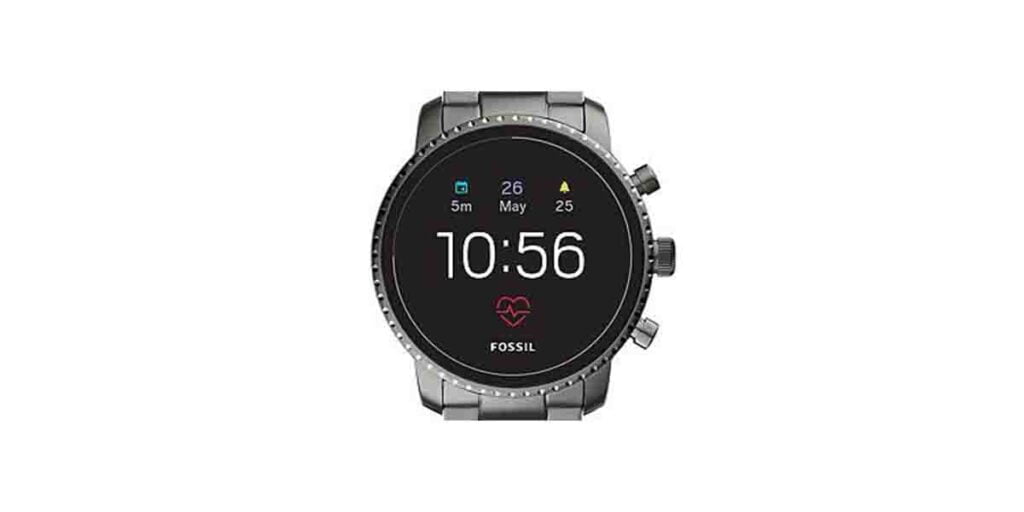 The Fossil Gen 4 smartwatch has an AMOLED screen with a pixel resolution of 454 x 454 that hasn't been changed since the previous generation smartwatch.
The touch screen is 42 mm in diameter and it also features an ambient light sensor which means it will automatically adjust the brightness of the watch depending upon the lighting condition of the environment. Moreover, this feature also helps in preserving battery life.
A smartwatch is a waste of money if that watch doesn't have a different watch face, that's why the fossil has introduced a lot of free watch faces which you can use to change the appearance of your watch.
There is nothing much to say about the display because the display is not upgraded from the previous generation. Otherwise, both the Gen 4 smartwatch are very good in terms of features and design.
Software
Both the watches the Explorist HR and the Venture HR comes with Wear OS powered by Google. Moreover, they have the same chipset the Qualcomm Snapdragon Wear 2100. Although, this processor is a very old processor, but fortunately this watch doesn't even lag a single time.
A good thing that fossil did this time is by giving us a smartwatch with an internal memory of 4 GB which is excellent. Internal memory helps in storing your favourite music and apps. Along with, it includes a RAM of 512 MB, which is quite enough for a smartwatch.
Activity Tracker & Features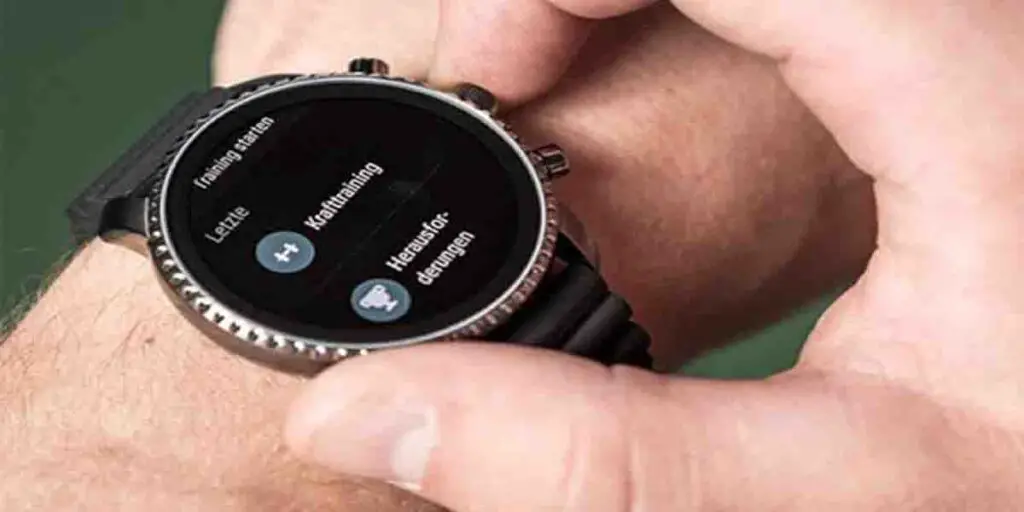 The Fossil Gen 4 is way better than the Fossil Gen 3 in terms of features.
The Fossil Gen 4 has several nice features which are worth mentioning. It supports NFC which means, you can do contactless payments. Even though it has a fashionable look, it will be suitable for sports enthusiasts.
The Fossil Gen 4 smartwatch supports GPS, heart rate tracking, and also has a 3 ATM water-resistant rating which means that it is rainproof and splash-proof. Fossil claims that you can use it as your swimming companion, but I don't recommend to do so.
If you are willing to buy this smartwatch only looking at its activity-tracking features, then there is a big thumbs-up from my side. This watch has plenty of sports features such as steps count, running, cycling, hiking and more.
You have to personally experience it on your own.
Overall, this smartwatch is excellent when it comes to accuracy. It shows you accurate data of all those outputs whether its calories count or heart rate monitoring, it does its job pretty well.
Apart from all these, the Fossil Gen 4 smartwatch has the features of goal setting which will help to accomplish your goals, real-time coaching, stopwatch, and alarm clock to wake you up early in the morning.
Performance And Usability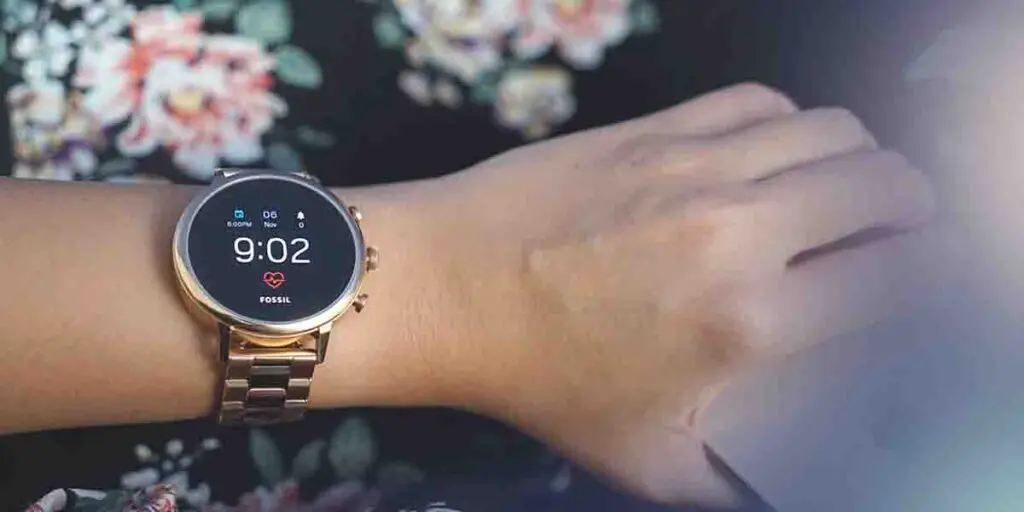 If you are willing to buy a smartwatch, then the first question in your mind should be "Does the performance of that watch is worthy enough?" In this case, both variants of Fossil Gen 4 smartwatches are pretty good.
First of all, you don't need to hassle so much to set up this watch. The UI of this watch is user friendly, which makes it handy, easy to use and navigate.
Moreover, the performance is excellent because the watch comes with Qualcomm Snapdragon Wear 2100 processor and have an internal memory of 4 GB with a RAM of 512 MB. However, the watch faces some lags when it is used heavily.
If you are a heavy smartwatch user then I think this watch is not for you but if you are a normal user like me then you are going to love it for sure.
Connectivity & Remote Features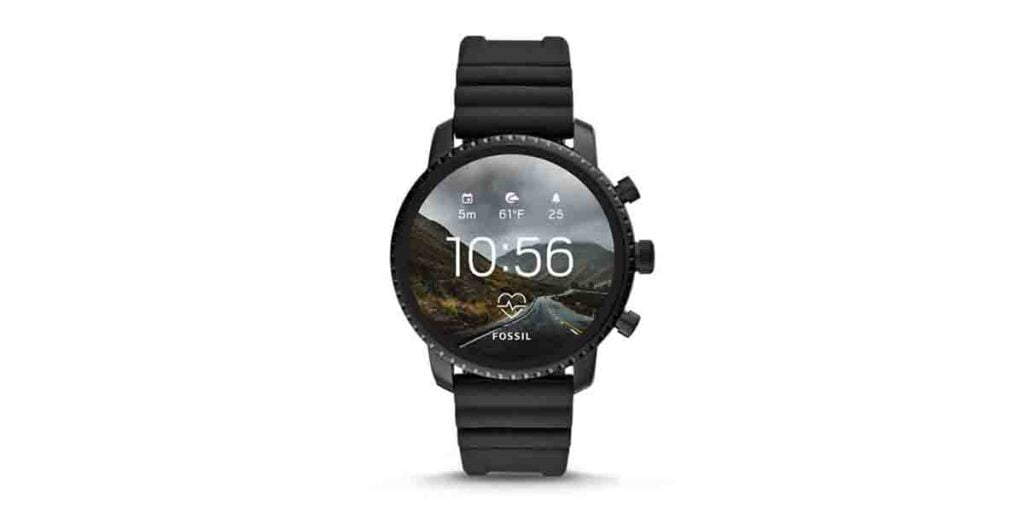 The Fossil Gen 4 has a great connectivity capability than the Fossil Gen 3. It includes a Bluetooth v4.1 which gets connected to your phone without any hassle. This watch has a feature that has been newly introduced in this series that is the navigation.
The navigation feature is quite impressive, this feature is only helpful if you connect your phone with your smartwatch. There is also a Wi-Fi connecting feature which will help you to access the internet or play onboard music directly from the watch.
For remote features, this watch gets five stars as it offers you with various remote feature like, Camera Shutter Control (Take group selfies), Music Control, Location tag and more.
After the watch gets connected to your phone it shows Weather Forecasts, Notifications, Incoming Calls and other essential things like activate timer, alarm and more other stuffs.
Along with, you can answer or decline incoming calls. Also, give replies to your text messages directly from your watch.
Battery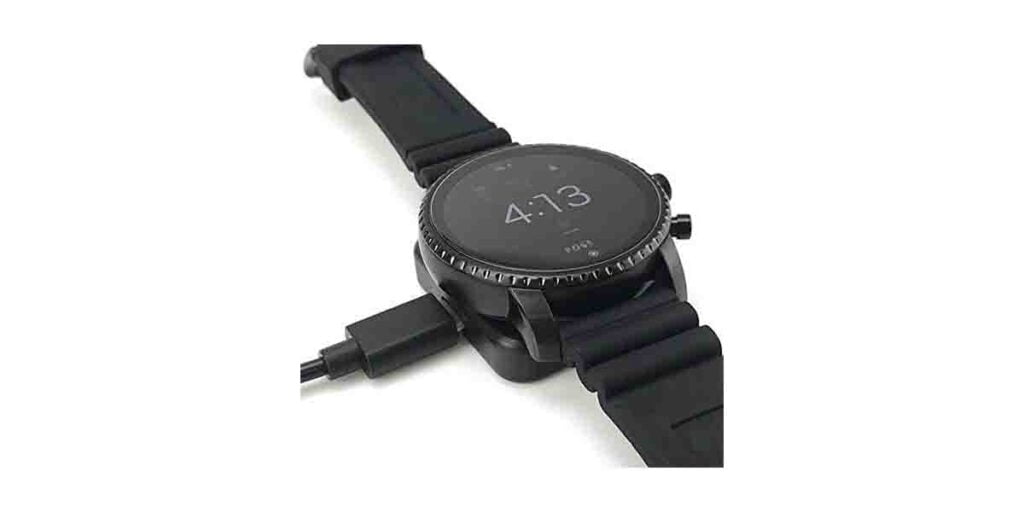 The battery is one of the key features that makes any smartwatch worthy. But in case of Fossil Gen 4, it is not worth considering.
According to Fossil's description, they say that the Fossil Gen 4 gives a battery life of 2 days, but if you ask me I will rather say that the company is partially right. It will serve you a battery life of two days if used with battery saver mode.
After turning on the battery saver mode the watch automatically turn off the Always-On display and sleep tracking features. Also goes to sleep mode while the battery saver is on.
You have to put your watch on charge every single day, if used heavily. Nevertheless, Fossils give a powerful magnetic charger which fill up the smartwatch in an hour or so.
FAQs
1. Can I play music locally on Fossil Gen 4 without touching my phone?
You are not able to play music directly on the Fossil Gen 4 Smartwatch, as it does not have a speaker. There are various music apps that the control feature will work with, including Spotify, Pandora, Soundcloud, Google Play, iTunes and Apple Music.
2. Can Fossil Gen 4 Display Chinese message?
Yeah! Simplified and Traditional Chinese languages are supported in the Fossil Gen 4 Smartwatch.
3. Can I change the metal band with leather band from the same brand?
Of course you can change any band but the condition is the strap size must be 22 mm.
4. Can Fossil Gen 4 work with Android phones?
Definitely, any android phone will work on the smartwatch, as long as it has Android OS 6.0+
5. How can I access GPS on Fossil Gen 4?
To access GPS on the Fossil Gen 4 Smartwatch, you have to start a workout on the watch through the Google Fit Workout App only after that you can access the GPS.
6. Does we get a screen protector for this watch?
No Sorry at this time, we do not manufacture screen protectors for our Fossil Gen 4 Smartwatch.
7. Does Fossil Gen 4 work with iPhones?
Yeah as the Fossil Gen 4 Smartwatch runs on the Wear OS by Google software so it is compatible with iPhones running iOS 9.3+
Final Verdict
From my personal experience after using it for few months, I can say it has a nice design and stands out by its looks from other smartwatches.
The system is responsive and I never noticed lag on this device. I mainly use this smartwatch for looking at notifications at a glance and for a little bit of fitness tracking.
Furthermore, if you are a heavy user this smartwatch may not be suitable for you due to one disadvantage, that's the battery life. For me, at the end of the day, I mostly have around 20 to 30 percentage of battery left on my smartwatch.
This means you have to chare your smartwatch at every single night and if you are a heavy user then probably have to charge it on days. Hope now you got the idea that how much battery life will work for you.
However, the fast charging feature helps in this case because the fast charger solves your mess. It takes minimum 1 hour to charge 80 %.
My final recommendation is if you are not a heavy user or you don't mind to charge the smartwatch every single day. And you want great features like Google pay, GPS, Heart rate monitoring, plenty of sport features inside a nice looking smartwatch then I will definitely recommend this watch to solve your mess.
Hope our Fossil Gen 4 Smartwatch Review was helpful!
Read More
Hey! My name is Ranjeet. I am the co-founder of 'SmartwatchAdviser'. With one of my friends, I started this website out of a passion for writing and exploring different wearable tech. Currently, I am using Mi band 4 as my primary fitness tracker and own a Noise Color Fit Pro 3 to match my style on various occasions.