Garmin Forerunner 745 Review – Best in Mid-Range?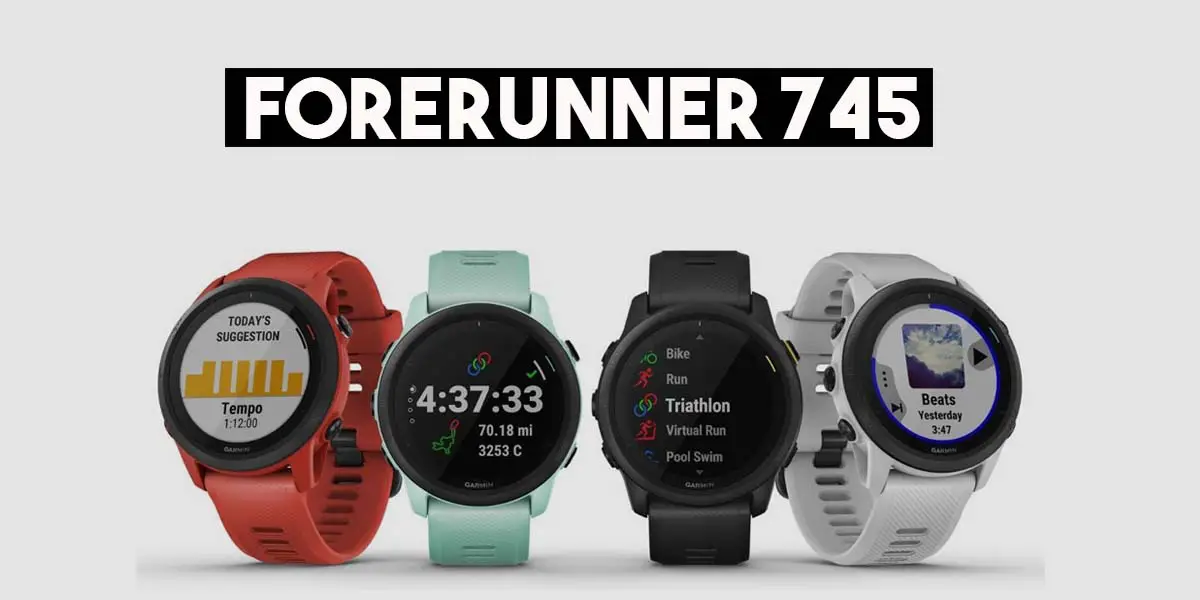 Garmin Forerunner 745 Review: What if I tell you there is a mid-range smartwatch that has nearly all the features that a flagship-level smartwatch serves us. Definitely, you will make fun of me. But that's true!
Garmin has recently come up with its new line up for the Forerunner series, which is the Garmin Forerunner 745. And this is really a mid-range killer smartwatch. I think this is going to replace the Garmin Forerunner 735XT.
If you are obsessed with the accurate data, then this smartwatch will solve your mess.
Check out our Garmin Forerunner 745 Review to know how worthy this smartwatch is.
Quick Opinion
This Garmin Forerunner 745 is one of the best mid-range smartwatch, as it sits above the basic level watch the Garmin Forerunner 245 and then just below the flagship models the Garmin Forerunner 945. After reviewing this smartwatch, now I can say that this watch can replace the Garmin Forerunner 735XT.
It is a perfect watch for someone who wants all the features of the flagship model, except for the battery life and the map. Basically, these features are not emphasized in the Forerunner 745.
The Forerunner 745 has also got some really cool workout tracking feature with the VO2 max integration, which helps in getting the exact data weather you are running, walking, or cycling. Also, it never fails to track down your workout routine.
Overall, the Garmin Forerunner 745 is the best mid-range buster of all time. It gives you a battery life of 16hrs, only if you use every single feature of the smartwatch. For waterproofing, it has got 5 ATM (50 meters) waterproof certification. And too with this, the watch is swim-proof and splash-proof.
if you are looking for a budget-friendly smartwatch & you don't want to compromise with smart features, then you should definitely check out these posts:
Garmin Forerunner 745 Review
Design and Display
Design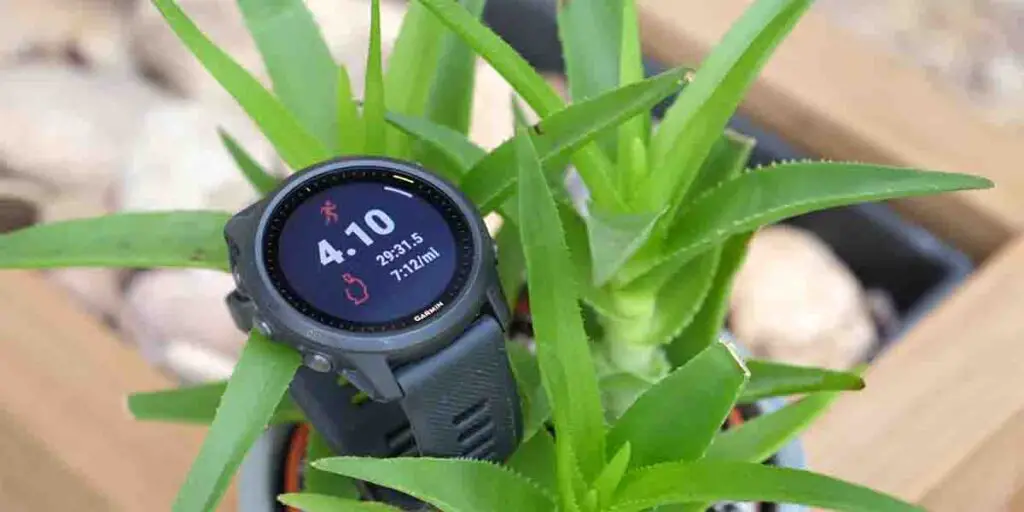 The Garmin Forerunner 745 sticks to the same design pattern that the older Garmin Forerunner series serves us. There is not much difference in comparison to other Forerunner watches in terms of design.
The only difference that I figured out, the Forerunner 945 is a little smaller than the other watches of this series. It has a 30.4 mm diameter and slightly bigger than the Forerunner 245.
You will find this watch to be thicker than other Forerunner watches and weighs somewhere in the vicinity of 47 to 50g. This is light enough, so you can wear it all day long without any discomfort.
The original straps are made of silicone material, and for some people, this silicon material is a bit itchy because their skin type is different from ours. If you have the same problem, then don't worry you can change the straps with any 22mm watch strap.
Here is How to Change the Straps of Garmin Forerunner 745:
Steps to Change the Straps:
1. By using a Screwdriver loosen the Pin from both sides of the smartwatch.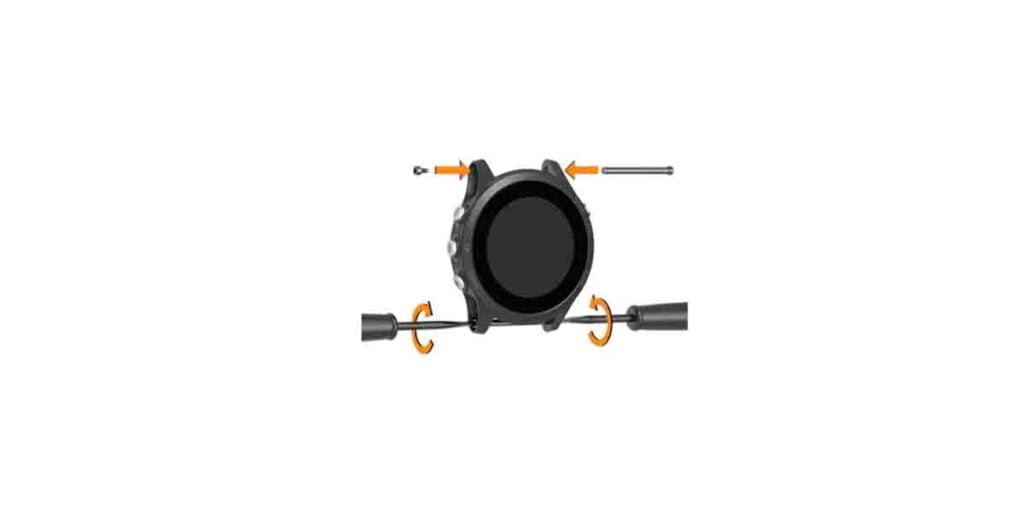 2. Remove the Pins Safely.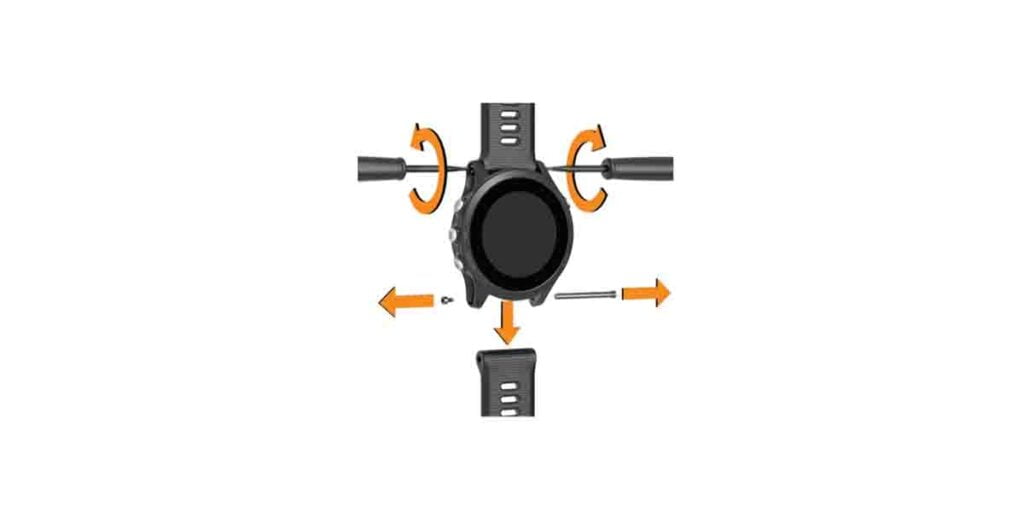 (NOTE: make sure the pins are placed in a safe condition because once you lost or break any one of them it will be very hard for you to find the original ones from the market or online)
3. To install new bands, push the pins into the holes of the straps, and place the straps along with the pins on the watch. After pushing it, check the watch it is secure or not.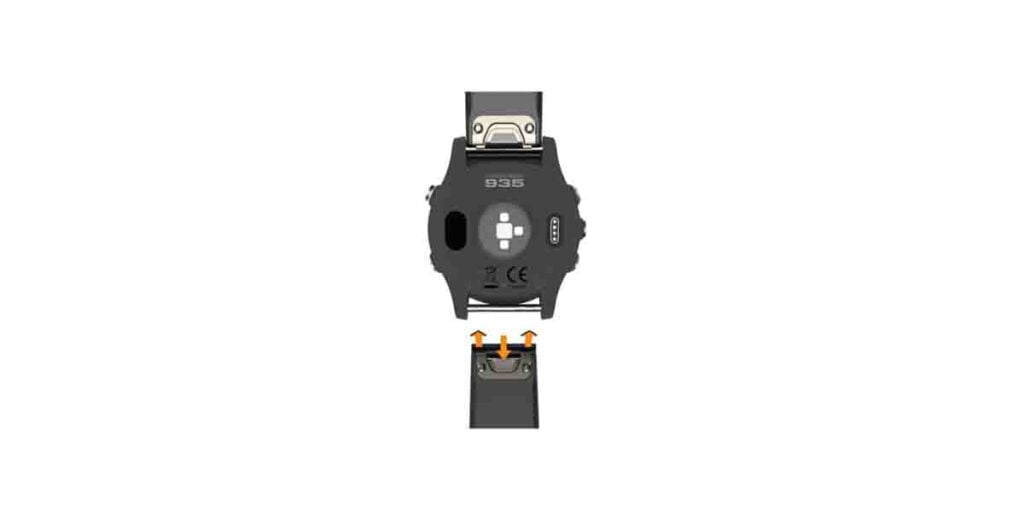 Box Content
Forerunner 745: Obviously, You will get the watch first.
USB Cable: A basic USB cable to give energy to the mighty smartwatch.
Documentations: Some basic documentation and paperwork along with a warranty card.
Available Colors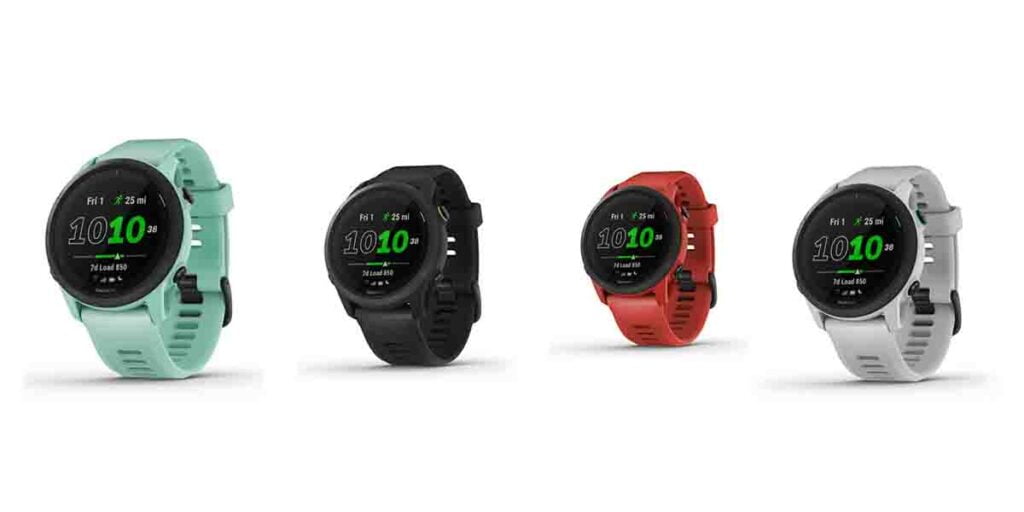 The Garmin Forerunner 745 doesn't comes with plenty of colour option, but for better peace of mind it comes with 4 different colour options to choose from:
Black
Neo Tropic
Magma Red
Whitestone
Display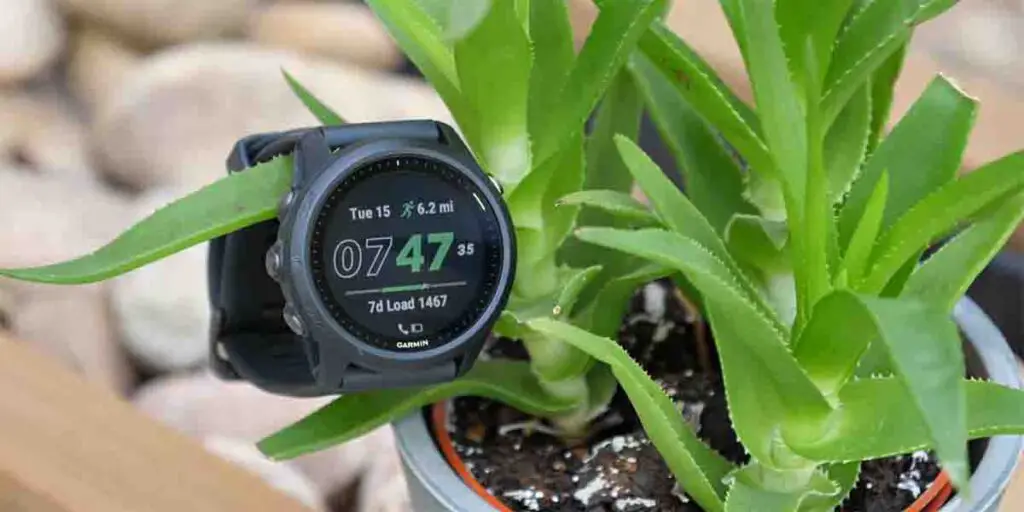 The Garmin Forerunner 745 comes with a colour display which has a resolution of 240 x 240 pixels. You will definitely not going to face any visibility issues on a very bright and sunny day because it has a MIP (transflective memory-in-pixel) display which helps to provide a clear visibility.
Moreover, it has a Corning Gorilla Glass DX protection over the display which helps in protecting the display form the minor scratches.
Activity Tracker & Features
Activity Tracker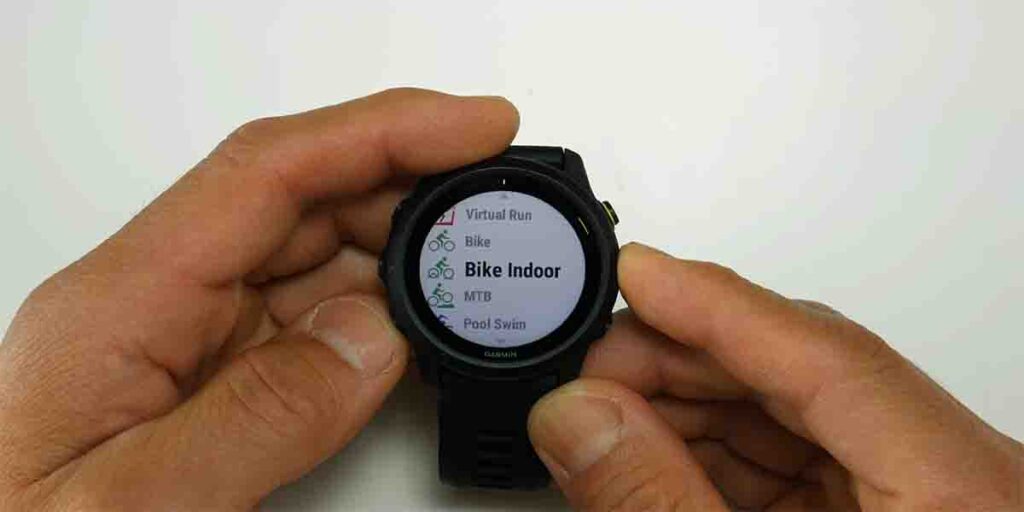 For Activity Tracking, the Forerunner 745 will track your heart rate throughout the day. It will track your steps and will show the graphical format of steps count of last 12 hours, steps over the course of the last seven days, and your average per day. And then it will track the distance over the last seven days as well.
You can also see your daily calories with a breakdown of active calories, calories burned chart of the last seven days and can see floors climbed with accurate data.
The Forerunner 745 can estimate your VO2 for both running as well as cycling. With running, this will be estimated using GPS and heart rate and with cycling, you'll need heart rate along with a power meter.
There is also a race predictor that estimates times that you could potentially attain for some popular running distance and then you'll also get training status which gives an indicator of where you're at in regards to your fitness.
You can then also see your VO2 max history over the last seven days. There is also a feature that gives a breakdown of your effort over the last four weeks of any kind of training.
For Activity Profile, the 745 have tons of activities including a host of running & cycling profiles for both indoors and outdoors, swimming for both pool and open water, triathlon, and multi-sport like hiking, walking, skiing, and many more sport activities.
You have to experience on your own to know it very well.
In terms of accuracy, the Garmin Forerunner 745 stands out very well. I have tested every feature of this watch extremely. In results, the heart rate Monitoring feature works perfectly well. I have also tested the distance tracker while running indoors on a treadmill and the output of the smartwatch and the treadmill showed up the same result.
If you are a gym rat, then you will definitely going to love this smartwatch as it has many activity profiles such as Strength, Cardio and Elliptical Training, Stair Stepping, Floor Climbing, Indoor Rowing, Pilates and Yoga.
Moreover, it also provides an automatic rep counting feature, which I love the most, because I don't have to mumble or have to remember the number of reps. So, I can increase the efficiency of my workout.
In terms of Activity Tracking, this watch won't disappoint you at all. If you are a data hunger like me, then you should definitely go for it.
Features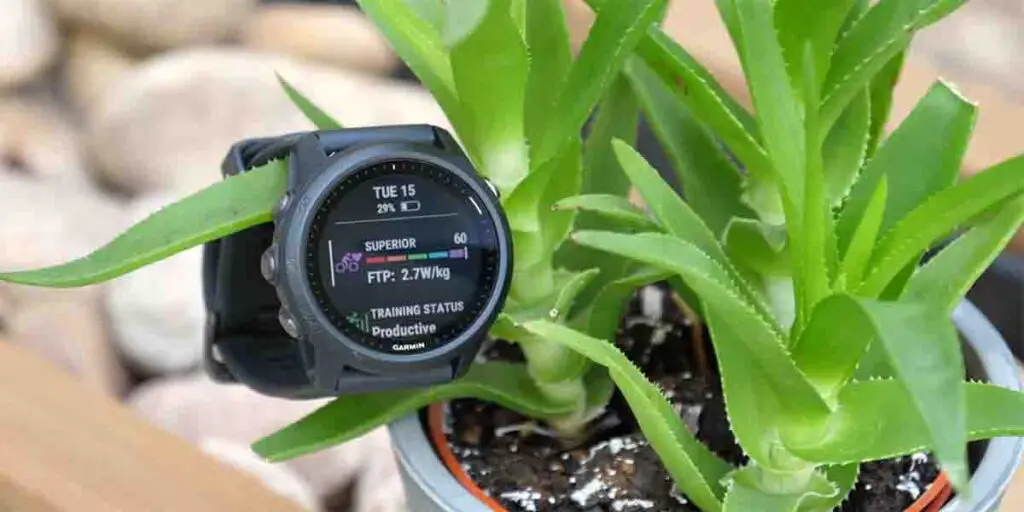 The Garmin Forerunner 745 is loaded with every feature that you see in the Garmin Forerunner 945 which is the flagship model of the Garmin.
You get a sleep tracking with this 745, it'll show you how many hours you slept along with a sleep score and the quality of your sleep for that night.
There's also Garmin's body battery which gives you an indication of energy levels and this is based on the quality of your sleep as well as your energy expenditure throughout your day.
This smartwatch also has a feature to track your menstrual cycle. It helps women to track their period cycle and can adjust their training routine to maximize the potential.
For Sensors, this smartwatch has got some useful ones to make your daily life more comfortable. Like GPS tracking sensor, compass, accelerometer, thermometer, pulse OX blood oxygen saturation monitor and more.
Most of the mid-range smartwatches don't have safety features. However, Forerunner 745 won't disappoint you with this. It has a couple of different safety tracking feature, which will help you in any emergency case. For example, it has live tracking, group live tracking, live event sharing and many more.
But one thing that makes Garmin Forerunner 745 different from others is that it serves as the automatic daylight saving time which helps in saving the battery. And too with this, it also serves as the GPS time sync feature and sunrise & sunset timer.
Overall, this is a great smartwatch with several tracking features with perfect accuracy of data, and has a very muscular look to make your wrist look more aesthetics.
Performance & Usability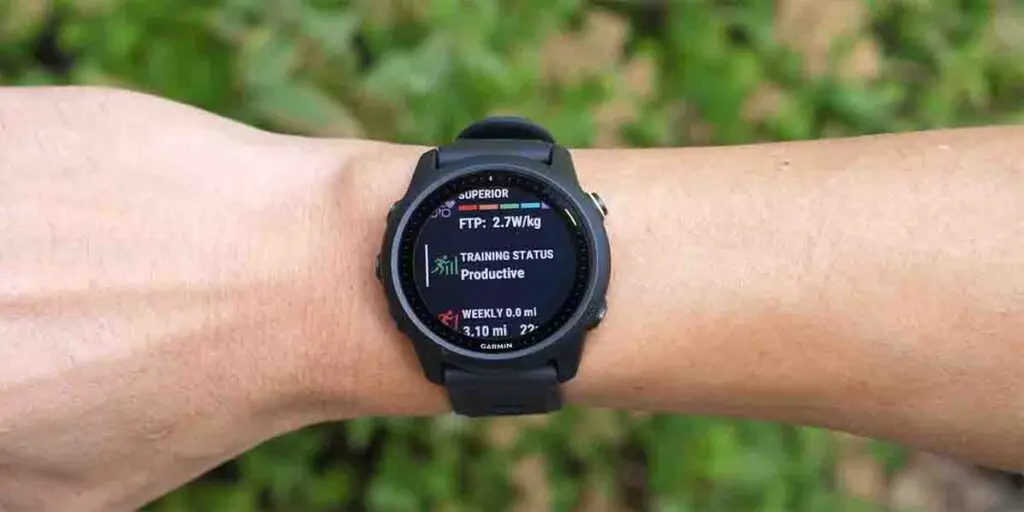 In terms of performance, it is pretty well as it has a new generation Wear OS and it gets connected to the phone easily.
If you ask me to rate I would give 4.5 stars to features, activity tracking, display and design. Besides, 3.5 stars for build quality & battery.
The Garmin Forerunner 745 has a very clean UI to get a better understanding of data. Also, Garmin has given four different buttons on both sides of the smartwatch.
For left-hand watch user (most common), they will find the left side top button to be the select button. But if you are a right-hand watch user, then the right side top button is the select button for you.
Connectivity and Remote Feature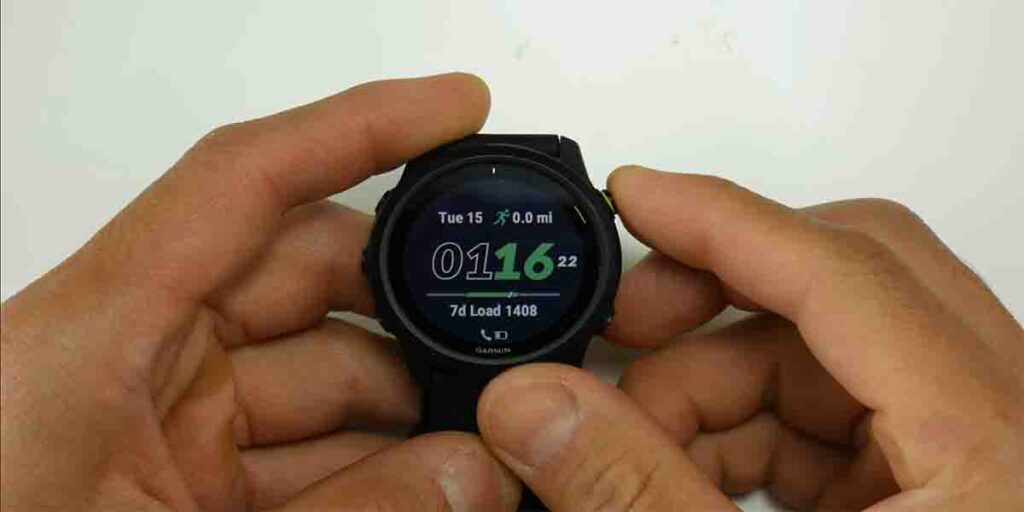 Connectivity
In terms of connectivity, the Forerunner 745 is compatible with both Android and iOS, and both of them have access to every feature that you see in this watch. However, some features like replying to messages aren't available for iOS users.
By pairing with the Connect IQ app, you can get access to some new watch faces which are downloadable and also get access to data fields, widgets and other apps.
Moreover, this watch comes with Bluetooth 5.1 with a new generation Wi-Fi so that it gets connected to your phone & 'Garmin Connect App' easily.
Remote Feature
The Garmin Forerunner 745 has smartphone integration which is an exciting touch. All the notifications that are going to appear on your smartphone will pop up on your wrist first so that you don't have to get your phone out of your pocket every time you receive a notification.
Another nice bonus that runners will like about this watch is that music integration is pretty good. So, you can link it with Amazon Music, Deezer, and Spotify. If you don't use any of these paid subscriptions you can even upload your own music directly to the watch itself.
You can store up to 500 songs which is insane.
So, having these sort of features are really getting to the point where you can leave your phone at home. And one of the main things, people use their phone for contactless payment, Garmin has included Garmin Pay into the Forerunner 745 which is a nice touch.
Above mentioned are offline features, you don't actually need your phone with yourself to use them. But if you have your phone, it will show you a few more other options.
Other basic things like stopwatch, weather forecast, calendar and more is available.
Battery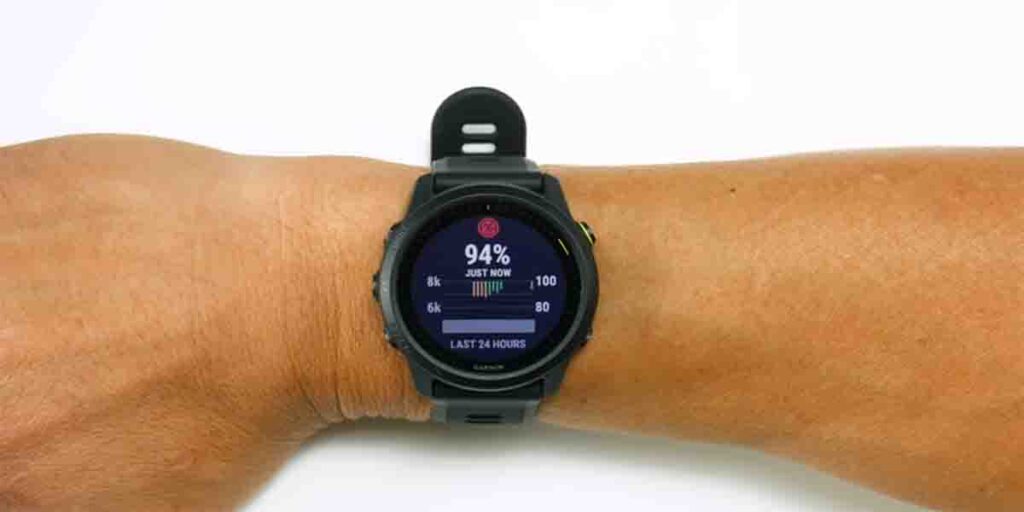 Garmin has done a great job in tracking humans body battery energy. But when it comes to battery life, the Garmin Forerunner 745 lacks a bit.
If you are going to use this watch in full GPS mode & activity tracking, then you are going to get about 16 hours of battery life (with no music connectivity). And with normal daily tracking mode without GPS mode, it should last for about seven days.
So, if you or your family and friends are already invested in the Garmin watches you'll still be able to use the same cable to charge up different watches which is really nice.
Garmin Forerunner 745 in-depth Battery details:
Garmin Forerunner 745 Battery Assumptions
| | |
| --- | --- |
| Number of Notification per Day | |
| Smartwatch Generated Alerts per Day | |
| Display Brightness & Timeouts | |
| Number of interaction per Day | |
| | |
| | |
| | |
| | |
| Number of Timed Activites | |
| | |
Garmin Forerunner 745 Battery Assumptions with GPS and Music Mode
| | |
| --- | --- |
| Number of interaction per hour | |
| | |
| Post Activity Interaction  | |
| | |
| Music with GPS mode Battery Life | |
| Without Music & GPS mode Battery Life | |
Garmin Forerunner 745 vs Forerunner 945 vs Forerunner 245
| | | | |
| --- | --- | --- | --- |
| | | | |
| | | | |
| | | | |
| | | 1.90 x 1.90 x 0.54 inches | 1.70 x 1.70 x 0.50 inches |
| | | | |
| | | | |
| | | | |
| | | | |
| | | | |
| | | | |
| | | | |
| | | | |
| | | | |
| | | | |
| | | | |
| | | | |
| | | | |
| | | | |
| | | | |
Final Verdict
The Garmin Forerunner 745 is a must-have smartwatch, this watch has every feature that a person needs in his day-to-day life. Starting from tracking calories daily to paying money directly from your wrist.
The battery is the only place where it lacks a bit other than that this is a great smartwatch at this price range. There is a big thumbs up from our side, if you are willing to buy this.
We hope you enjoyed our Garmin Forerunner 745 Review.
Read More Reviews
Hey! My name is Ranjeet. I am the co-founder of 'SmartwatchAdviser'. With one of my friends, I started this website out of a passion for writing and exploring different wearable tech. Currently, I am using Mi band 4 as my primary fitness tracker and own a Noise Color Fit Pro 3 to match my style on various occasions.