HalfSun Fitness Tracker Review – Best Inexpensive Tracker?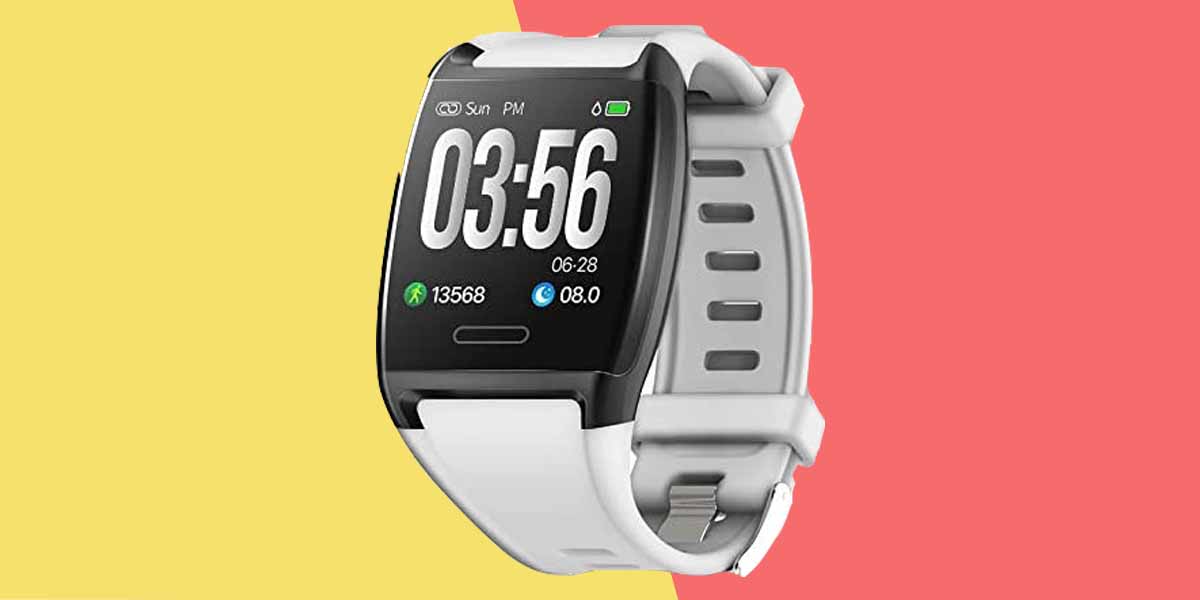 HalfSun Fitness Tracker Review: Looking for a fitness tracker that can show some good blood pressure readings? or a device to track your fitness effectively? The HalfSun fitness tracker is one of the most popular inexpensive fitness trackers that let you effectively watch and record various vitals of your health & fitness.
Currently, HalfSun is the most effective fitness tracker you can get without compromising on looks and features. The device is loaded with every possible feature that will help you in completing your fitness and health goals.
What's Inside the Box?
HalfSun Fitness Tracker device itself
User Manual
Charging Cable
Read out the full review to know what amazing functionality the HalfSun Fitness tracker has got.
HalfSun Fitness Tracker Review
Design & Display
In terms of display, the HalfSun fitness tracker comes equipped with a 1.3-inch IPS display which is capable of producing good color contrast and saturation. The screen is big, making the text clearly visible; you can adjust the brightness to make it visible in direct sunlight. This fitness tracker doesn't have an always-on display, you need to tap the screen to wake it up.
The design is quite impressive. You won't find any other fitness tracker with such an excellent comfortable design. It won't have any comfortability issues, thanks to the skin-friendly silicone bands. Its band size is pretty much similar to the Apple Watch. Unfortunately, the bands are not detachable so you won't find any replacement bands for the HalfSun fitness tracker.
Not many color options available. You will get to see four available colors to chose from.
The White
Black
Gray
Green (Don't know why they added green)
Suitable for: Both Men and Women
Fitness, Health & Activity Tracking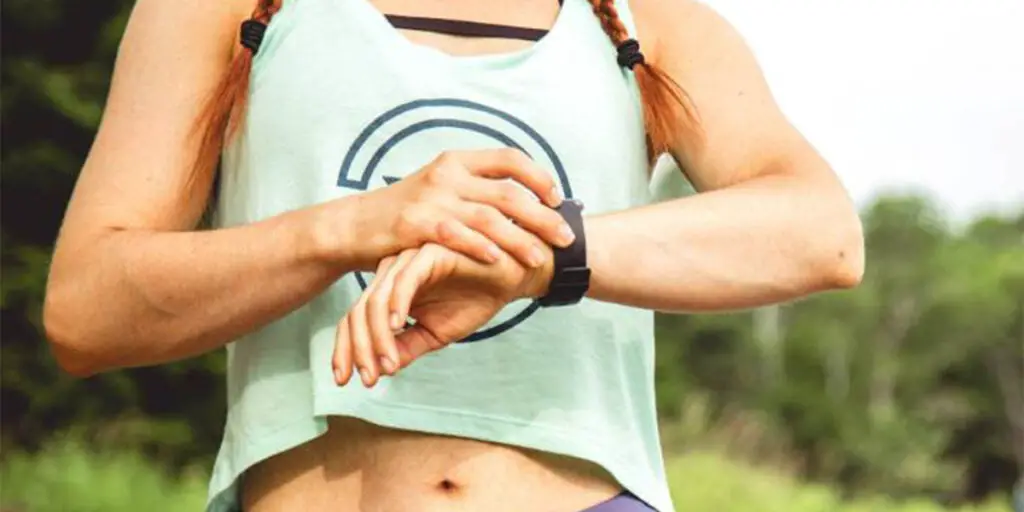 Like every other smartwatch or fitness tracker, this HalfSun device keeps you updated on wellness data like steps, distance, calories, sleep, etc. The counting of steps is accurate thanks to the 3-axis step's algorithm. Once you complete a goal, it awards you with some virtual trophies to keep you motivated.
Besides, the watch is capable of tracking your heart rate throughout the day.
One thing I liked the most is the Heart-Rate Alert feature; this feature alerts you with a vibration when your heart rate goes up or down than the setup value for 30 minutes. It keeps on displaying the alert message on the screen until it goes back to normal. I think it is quite good for heart patient or one who wants to keep track of heart rate while working out.
This multifunction watch can analyze your sleep like a pro; You get to know your sleep quality, sleep duration, shallow sleep, deep sleep, and light sleep that helps in improving your living style.
We generally feel like sitting all day in one place. Sitting at one place throughout the day and not working can invite many health problems. To deal with this, the HalfSun fitness tracker has got sedentary reminder feature that reminds you when it's time to walk.
Blood pressure monitoring on the HalfSun fitness tracker is like a cherry on the cake. You won't find a cool looking device with blood pressure monitoring, the HalfSun fitness tracker is capable of automatically tracking blood pressure in real-time. All the data related to heart rate, blood pressure, steps, etc get synced up with the app, where you can find a detailed report.
How good is Halfsun fitness tracker's blood pressure accuracy?
Considering the price, the HalfSun fitness tracker does decent work, when monitoring blood pressure. I won't say it's completely accurate, but it is accurate enough to get you a rough idea. Under the 50 dollar budget, this device is offering a fair bp monitoring that makes it stand out among others.
Note: While monitoring blood pressure keep your wrist steady for more accurate readings.
Recommended | 10 Best Fitness Tracker with Blood Pressure Monitor
HalfSun Tracker Features & Functionality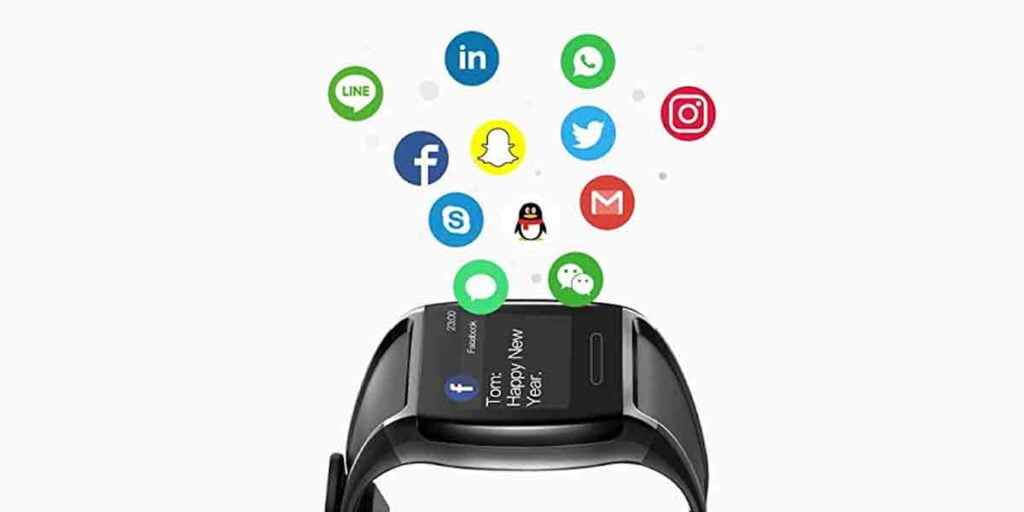 1. Waterproofing
With IP67 waterproofing, the company claims it to be suitable for swimming in pool water. However, you have to be careful if you are planning to wear this fitness tracker while diving because it isn't suitable for that purpose. And it is recommended not to wear it under high-temperature water.
There is no problem with rain drops and water splashes.
2. Notifications & Reminders
Like any other smartwatch or fitness tracker, this device can keep you updated with missed calls, texts, and social media notifications so that you never miss any important details. This feature is very much handy because you don't have to take out your phone from the pocket to check.
On the other hand, this fitness tracker is a great reminder as well. A female can use it to get a timely reminder about the menstrual cycle and pregnancy. This makes it fitting for a woman.
3. Connected GPS
Most of us want a device with a built-in GPS feature. But considering the price point, we cannot expect a fitness tracker with a dedicated GPS under the budget of $50. For that, connected GPS comes in rescue; With connected GPS, you can pair your smartwatch with your phone to get the advantage of recording GPS data such as location, distance, speed, workout route, pace, and more.
4. Sedentary Reminder
If you ever feel lazy you end up sitting at one place throughout the day, then this can lead to many health-related problems. To avoid this, the HalfSun fitness tracker has got a sedentary reminder that reminds you to get up and go for a walk. An exceptional feature for students and white-collar workers because it helps them to live a healthy lifestyle.
HalfSun Fitness Tracker App Preview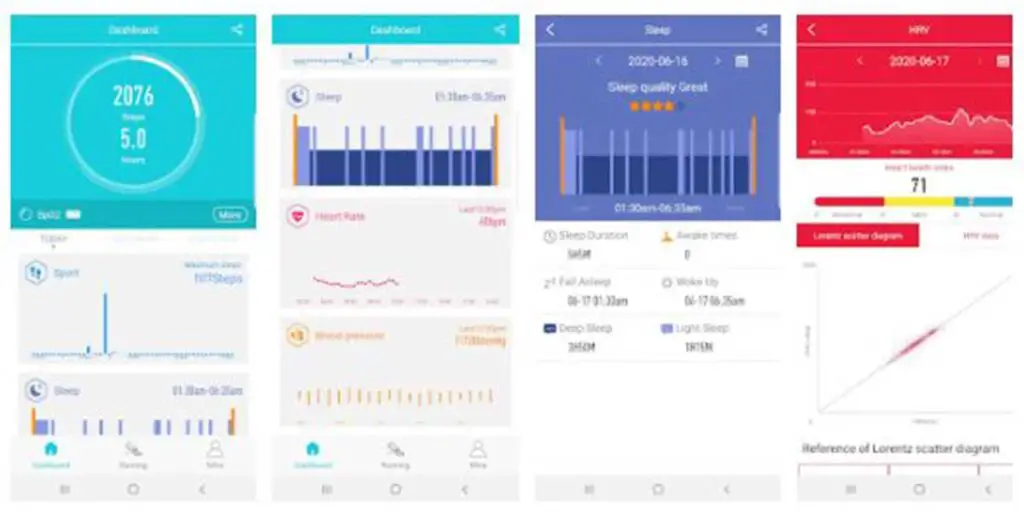 The HalfSun Fitness Tracker uses the H-band app to pair it with your smartphone. You won't be facing any compatibility issue, the app is available for both Android and iOS. Must say, the synchronization process is pretty fast.
By using this app you can:
Track all your activities like steps, distance, calories, etc.
Get a detailed overview of your past exercises.
View all sports-related data in one place.
Get a detailed sleep analysis report. Shows the quality of your sleep.
Monitor BP, heart rate, and other health metrics & give a brief report.
Take advantage of connected GPS.
Battery Life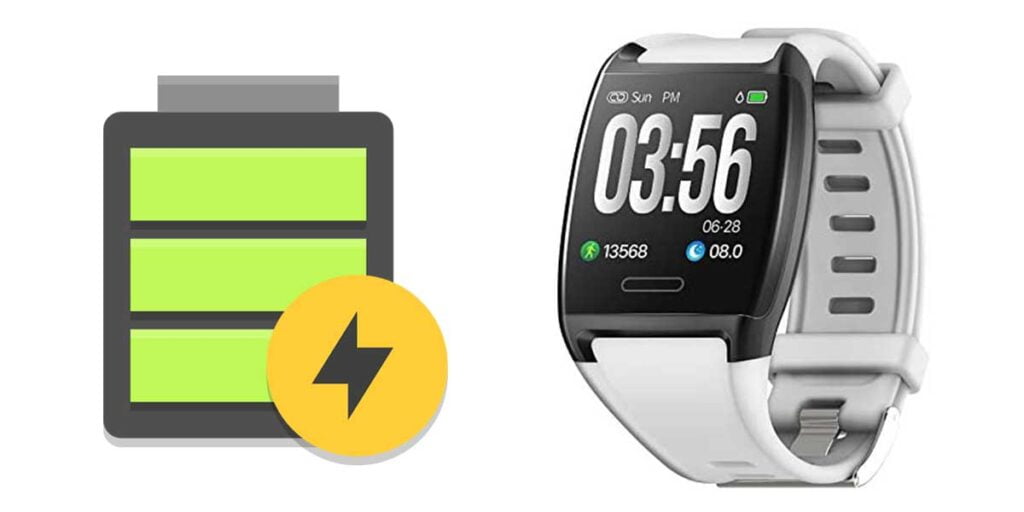 With a 260 mAh rechargeable built-in li battery, the HalfSun fitness tracker lasts up to 4 to 5 days in normal usage. Heavy users can expect it to last for 2 to 3 days, which is enough to keep going. For charging, it uses a normal USB Port charger and gets charged within 1 hour, charging time is pretty fast than other fitness trackers available in this price range.
Battery Summary
Battery Type: Rechargeable
Power: 260mAH
Normal Usage: 4 to 5 days
Heavy or Excessive Usage: 2 to 3 days
Charging Method: USB Port
Charging Time: 1 hour
How to Pair HalfSun Fitness Tracker with iPhone or Android?
To pair the smartwatch, you need to download and install the app called H band. Link can be found above.
Open H Band app and make sure bluetooth is turned on.
Connect it by searching for the nearby device.
When device name is found tap on it and it will get paired.
Complete the profile information from the dashboard.
Enjoy!
FAQs (Frequently Asked Questions)
1. What is the HalfSun Fitness Tracker's Official Website?
Unfortunately, HalfSun brand don't have any official website. This product is only listed by sellers on the e-commerce sites.
2. How to Set Time on HalfSun fitness tracker?
For setting date and time, the HalfSun fitness trackers requires to pair it with smartphone. You won't have to manually setup the date and time, it gets automatically updated with correct information once synced with your phone.
3. Are there any replacements for HalfSun fitness tracker bands?
Unfortunately, the bands are not detachable so you won't find any replacement bands for the HalfSun fitness tracker.
4. Can I pair this fitness tracker with my iPhone?
Yes, the HalfSun fitness tracker is compatible with both Android and iOS. So no issues pairing with iPhone.
5. How to turn on the notification & reminder feature?
In-app click on Settings > V2 > Start Settings, then enable any specific notification or reminder option.
6. Can it fit with a small wrist size?
This device comes with adjustable bands, so yes it fits with wrist of any size.
7. Does it comes included with a timer and stopwatch?
Of course, every smartwatch and fitness tracker comes with all the basic tools. So same goes for this fitness tracker.
Related Fitness Tracker's Review

Hey! My name is Manas. I am a tech enthusiast who loves to explore gadgets. I especially enjoy exploring wearable techs like smartwatches and fitness trackers. I am always in search of what's new in the market so that I can provide valuable content that would be beneficial for you to choose the right wearable. I own Kospet Tank M1, which is pretty insane in its price range 🙂