Haylou LS02 Smartwatch Review – A New Budget Smartwatch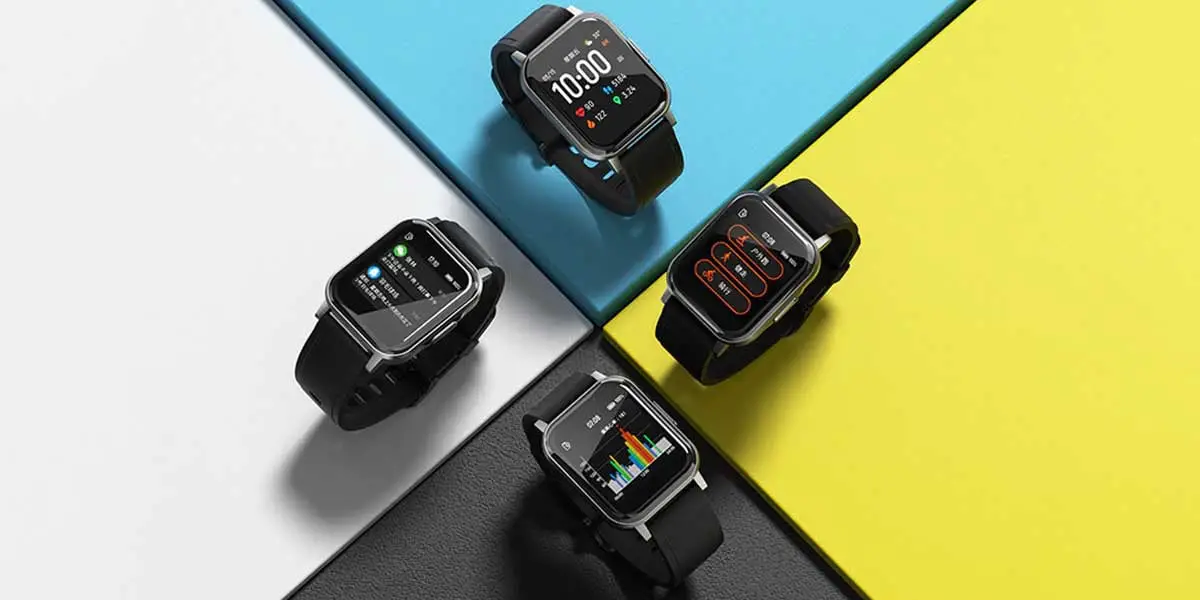 Haylou LS02 Smartwatch Review: What do you expect from a smartwatch? In my view, a good smartwatch is one that matches your needs. Needs can be anything such as tracking activity/health/fitness, monitoring heart rate, sleep data, text & call notifications, and could be anything.
The Haylou LS02 smartwatch is the successor of the LS01 model. The LS02 comes with plenty of exciting features that a budget-friendly smartwatch needs to have. The smartwatch is loaded with a bunch of sports & fitness tracking features that is enough to draw someone's attention.
Read the full review of Haylou LS02 smartwatch to know more.
What's inside the Box?
Haylou LS02 (device itself)
Magnetic charging cord
User-manual
Quick Overview
The Haylou Smartwatch 2 or LS02 is a cool looking smartwatch which has an Apple watch-like design. The build quality is solid, using high-quality material that makes it durable. It has a 2.5D curved tempered glass display, sizes 1.4-inch with 320 x 320 resolution display. The screen is bright enough to make it clearly visible in direct sunlight.
This smartwatch has an IP68 waterproof certification that means it can be worn when swimming. It comes installed with a bunch of useful apps that help you with your fitness & daily activities. Track heart rate in realtime, get insights to sleep data, track calories burned in a day, and more. It comes equipped with 12 different sport modes to help you with your exercise & fitness journey.
It uses Bluetooth 5.0 for the connectivity and pairs very quickly. The battery life is amazing. With a full charge, the smartwatch can last up to 20 days straight with heart rate tracking turned ON.
Overall, looking at its features, this budget smartwatch is amazing. It is perfect for both men & women of any age. You won't feel any comfortability issues while using it & suitable for any occasion. Battery life is like the cherry on the cake. You can expect it to perform its best in terms of battery.
So, A Big YES from our side.
Haylou LS02 Smartwatch Review
Design & Display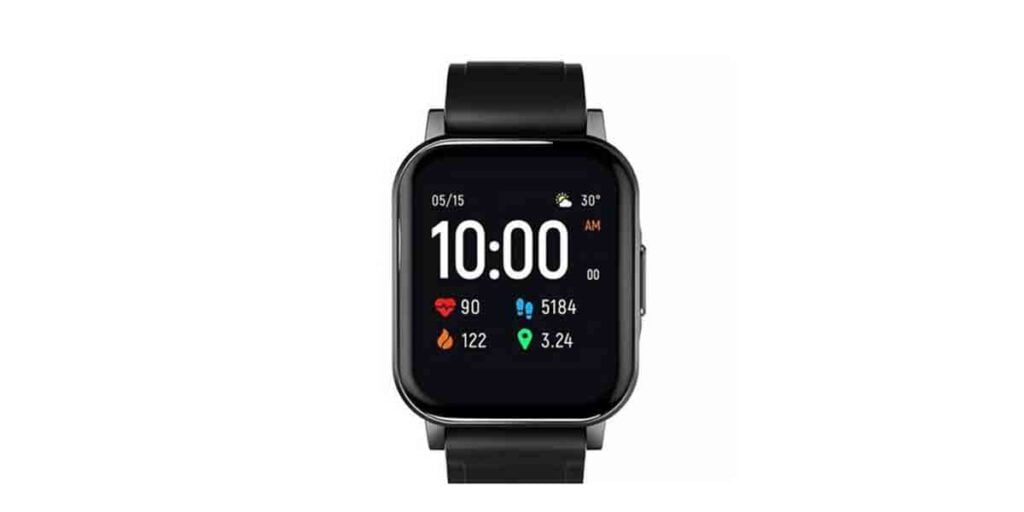 From design, the Haylou watch looks very much attractive as the design is inspired by apple watches. However, this design is common nowadays. You will find companies mostly preferring to build apple watch lookalike.
The Build quality is impressive. This Chinese smartwatch is using high-quality material & doesn't feel cheap in any way.
The display is covered with a 2.5D glass which is a flat glass that curves towards the edges. The screen is touch supported, 1.4-inch display & has a resolution of 320 by 320 pixels.
As it has an LCD screen, you will surely notice some bezels on the top & bottom when looking from side angles.
There is a button on the right to turn on/off the smartwatch and also can be used as a back button. On the back, there is a heart rate sensor & magnetic charging pins for charging the device.
It uses a very high-quality silicone strap, which is anti-allergic & dustproof. With a small tap, you can easily detach & replace it with any 20mm third party strap.
Mostly, people don't prefer washing their watches because they might end up damaging the device itself & the strap, but here you can wash the entire unit as it is IP68 water-resistant and the straps are washable.
Fitness, Health & Activity Tracking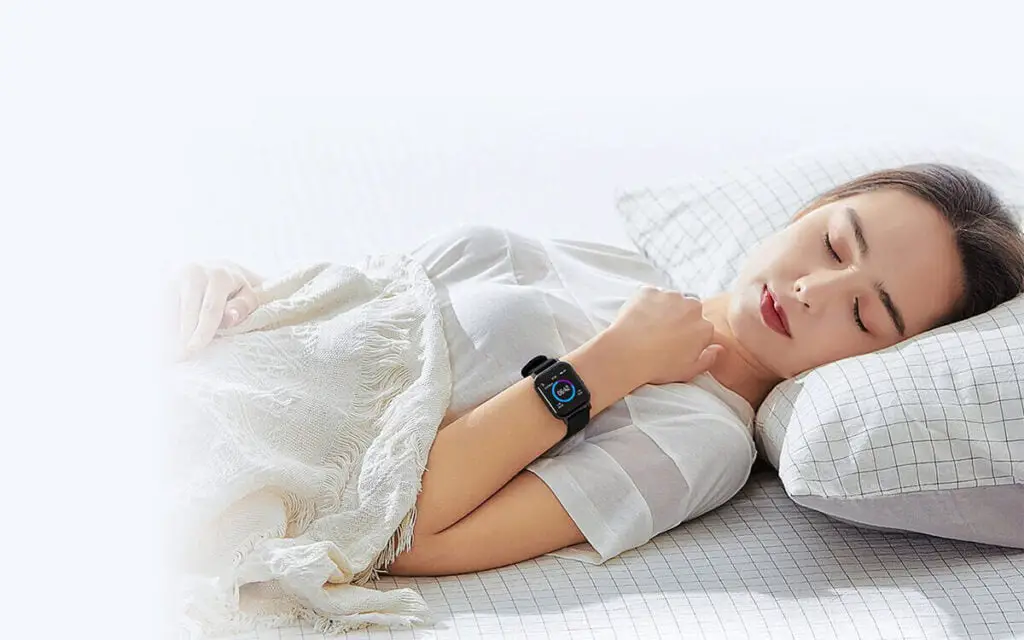 The Haylou LS02 watch comes with plenty of great exercise apps that help you with your fitness journey. This includes a step counter app to track steps, a BPM & HR app to track blood pressure & heart rate in realtime, sports app with plenty of exercises that gives you insights into health vitals when doing exercise.
Surprisingly, this watch also supports breath training. This feature is usually found in apple watches & the same is here too. With this feature, get to know when to breathe in & out, which will help you with your breathing training.
With automatic sleep tracking, better understand about your sleep. This Haylou smartwatch 2 can automatically monitor your sleep & records various insights such as deep sleep, light sleep, and wakefulness, etc. This is pretty useful as you can improve the quality of your sleep & wake up in a healthy & fresh mood.
Haylou App Preview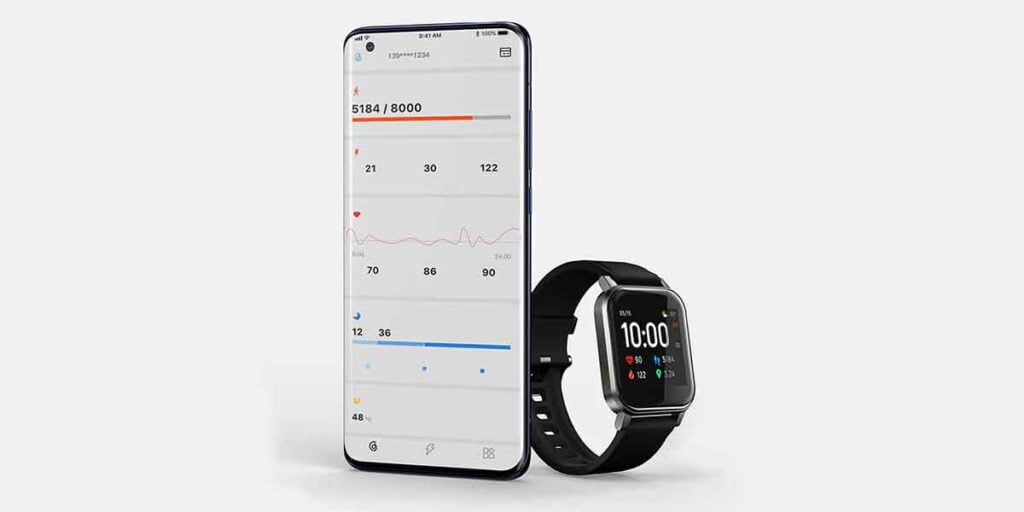 To pair Haylou smartwatches, you need to install Haylou official app available in both google's playstore & apple's AppStore. This application gets the raw data of your activities that you can take a look on.
By using this app you can:
Know how much steps taken in a day.
Know total calories burned for excercises.
Get insights to sleep data.
Check on call reminders, SMS reminders, APP reminders, etc
Track heart rate data.
You Might Like | 10 Best Smartwatch Under 50$
Haylou LS02 Features & More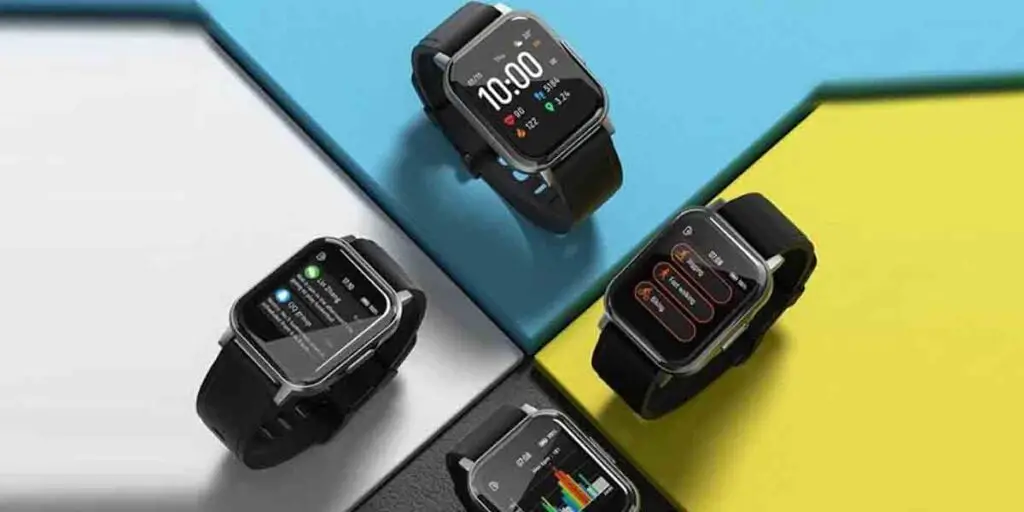 Sport Modes
The Haylou LS02 Smartwatch comes with 12 different sports mode that records various data points of different sports including Jogging, Fast walking, Biking, Climbing, Spinning, Yoga, Indoor running, Integrated training, Gymnastics, Basketball, Football, and Rowing. The accuracy of these data is pretty good, thanks to the sensors.
Daily Apps
By granting the location permission, you get the current weather data on its weather app.
Besides, there is a sleep app to check sleep data such as sleep time, how much light & deep sleep you have had, and more.
Then, there is a app called notice. This application shows all the past missed notifications.
A music controller app to control music playback directly from the wrist.
Other useful tools such as stopwatch, timer, reminders, countdowns & more are also available in this smartwatch.
Find My Phone
The find my phone feature comes in handy to locate your phone if lost somewhere in the room. By double-tapping, the watch sends a signal to your phone & the phone starts vibrating, making a sound.
Watch face Customization
The Haylou smartwatch 2 has preloaded watch faces. To customize, you need to long-press on the default watch face and that will show all other watch faces to choose from.
Waterproofing
The Haylou smartwatch maintains an excellent waterproof ability. The sealing is superb, you can wash the entire smartwatch anytime. With IP68 waterproofing, this smartwatch becomes suitable for swimming and can easily resist splashes of water.
Battery Life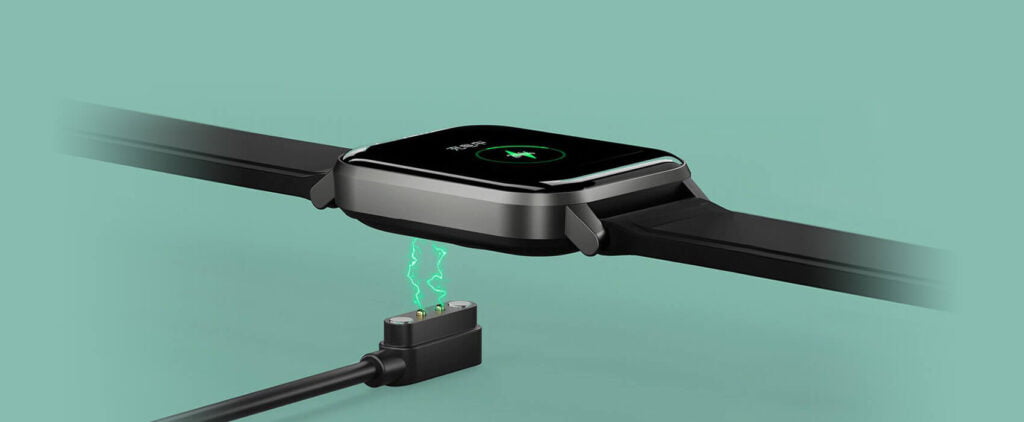 The Haylou LS02 features 260mAh battery. The battery life is excellent. The company claims to provide 20 days of battery life with all the features including heart rate monitoring always turned on.
It can last up to 30 days with heart rate tracking OFF. This is possible due to its high performing battery. The next-generation low Energy circuit design and anti-short circuit chip keeps you watch stay in power for a long time.
Heart rate tracking OFF: 30+Days
Heart rate tracking ON: 20+ Days
Charging Time: 2 hours
FAQs (Frequently Asked Questions)
1. What is the material used in the watch case & lens?
Watch Case: Polycarbonate + ABS
Lens: Curved Tempered Glass
2. How thick is Haylou smartwatch 2?
3. Can I replace the strap?
Yes, the default strap is removable. You can replace it with any 20mm watch strap.
4. Is Haylou Smartwatch 2 suitable for women?
The smartwatch is suitable for both men and women of any age.
5. Can I see received calls & text messages?
Yes. It does show you all the calls & tex message notifications on the screen.
I hope you found this Haylou LS02 Smartwatch Review to be helpful!
Read More Reviews

Hey! My name is Manas. I am a tech enthusiast who loves to explore gadgets. I especially enjoy exploring wearable techs like smartwatches and fitness trackers. I am always in search of what's new in the market so that I can provide valuable content that would be beneficial for you to choose the right wearable. I own Kospet Tank M1, which is pretty insane in its price range 🙂