How Much Are Fossil Watches Worth? (Explained)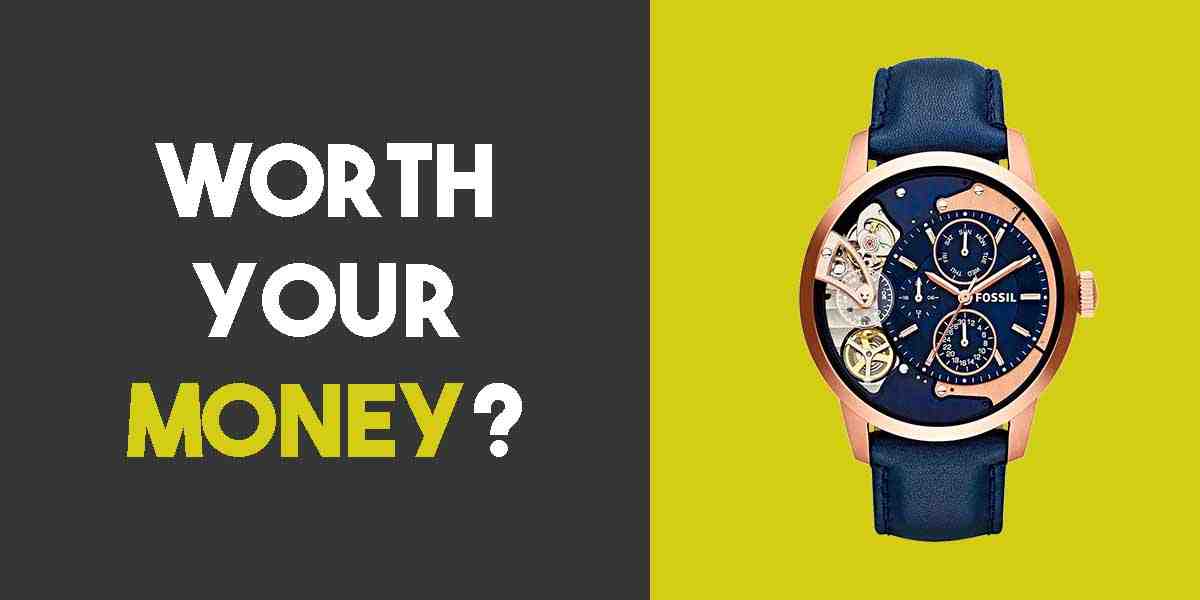 Fossil watches are one of the most popular brands in the world of fashion watches. They are famous for offering a top-notch balance of quality and affordability components- this is an aspect that cannot be found with ease. These watches are often elegant and incorporate a sleek design that allows them to stand out from other less expensive watches.
Although they incorporate some of the best designs, Fossil watches are relatively affordable than luxury brands such as Heuer, Rolex, and Cartier, ensuring you always get a top-notch design at a highly affordable rate. However, how much are Fossil watches worth? Well, let's find out.
How Much Are Fossil Watches Worth?
As stated earlier, Fossil watches are very affordable as opposed to luxurious brands. In fact, the most expensive Fossil watch goes for approximately $1000 while the most affordable one is for less than $70. And the best part is that these rates apply to both men and women. Therefore, if you are on the lookout for watches with outstanding design and made from high-quality material, the Fossil watches will best suit your needs.
Ask any Fossil fan out there if Fossil watches are expensive, and they will definitely scoff. However, not everyone is a Fossil enthusiast.
While there are lots of relatively affordable and long-lasting watches available in today's market, finding one that doesn't look cheap, cool, and long-lasting can be a challenge.
Therefore, if looks and style are your things, then Fossil watches will be best for you, especially if you are working on a tight budget.
Who is Best Suited to Wear Fossil Watches?
Fossil watches are designed to suit a wide range of people, from men to women. This watch company offers an array of watches, each with a unique and outstanding design to appeal to a large number of watch enthusiasts out there.
If you are looking for a product that is a bit flashier, then you should give Fossil watches a try. These watches are best suited to individuals who want high-end watches but are tight on budget.
With your small budget, you can always get a luxuriously designed Fossil watch for a fraction of the cost of Heuer or Cartier watches.
Since they incorporate top-notch designs, you can wear a Fossil watch anywhere. However, you will need to note that some of their designs are not water-resistant.
If you want to present a professional image like in a business meeting or make a first impression, Fossil watches will help you do the trick.
Are Fossil Watches Worth Your Money?
Fossil is a mind-range and not a high-end watch; however, they offer top-notch designs that you might find yourself having. In the early 2000s, Diesel, an Italian clothing company started selling high-end watches; however, these watches were licensed Fossil timepieces.
Fossil also has a similar license deal with several designers, including Burberry, DKNY, and Marc Jacobs, to name a few. For this reason, you might actually be overpaying for the same watch fitted with a prestigious brand name.
Irrespective of the name on your watch face, you should always consider doing your research before making any final decision. However, some Fossil reviews stated that their watches weren't long-lasting and underperformed in control functionality. This is a risk that you might face when purchasing non-luxurious watches.
Generally, whether or not Fossil watches are worth your money will depend on your reason and circumstances for purchasing one. If you are looking for a watch that will one day be your family's heirloom, you will need to look somewhere else. However, if your main goal is to have a stylish and practical watch, Fossil watches will be best.
Final Verdict
Fossil watches have an array of advantages for anyone who is on the lookout for a new timepiece. From its affordable rates to modern styles, top designers, and reliable constructions, you are guaranteed to receive a product that will work best for you.
Additionally, you will get something that will best suit your needs irrespective of your gender, making it one of the best middle-range watches. As a result, if you are in the market for new timepieces and working on a tight budget, you should give Fossil watches a try- they are cost-effective and incorporate sleek design.
Read Reviews
Hey! My name is Ranjeet. I am the co-founder of 'SmartwatchAdviser'. With one of my friends, I started this website out of a passion for writing and exploring different wearable tech. Currently, I am using Mi band 4 as my primary fitness tracker and own a Noise Color Fit Pro 3 to match my style on various occasions.