7 Smartwatch Gift Ideas for Christmas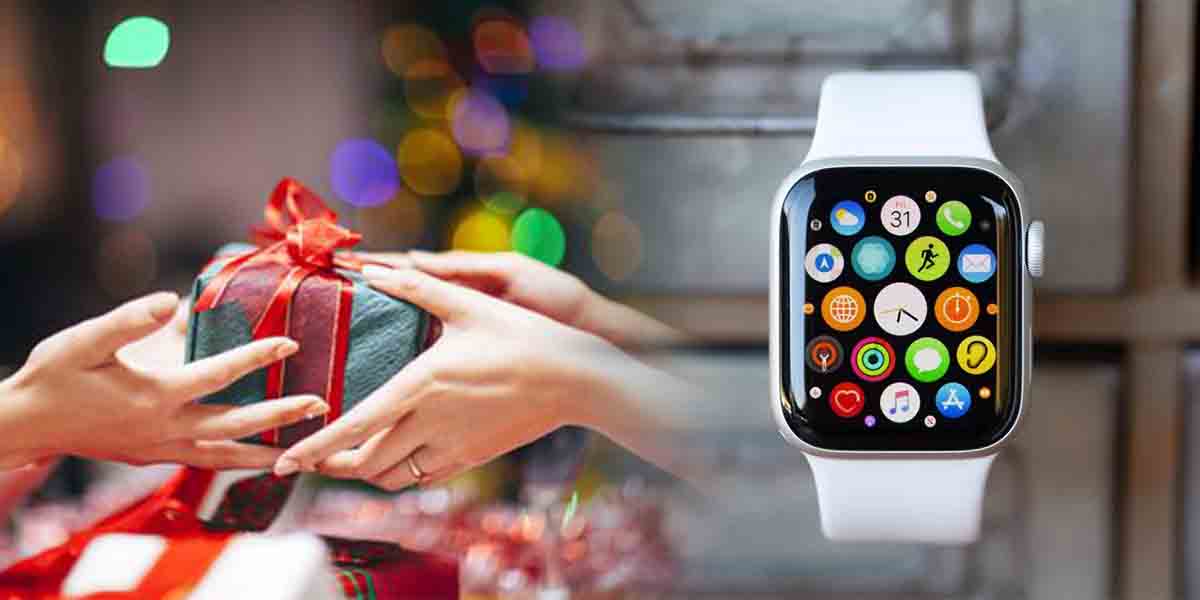 Smartwatch Gift Ideas for Christmas: Looking for gift ideas to present your loved ones this Christmas? A smartwatch is a perfect gift to present because they don't just tell time, but also offers smart features to make tasks easier. A good smartwatch can help one with fitness, health, travel, and overall simplifies our life and saves time.
Presenting a smartwatch as a gift will surely make one happy because it's a tech that has the capability to do wonders right from the wrist. We did some research in finding out the best smartwatch that you can gift your friends and family members & put a smile on their face.
Smartwatch Gift Ideas for Christmas
1. Apple Watch Series 5
*Star Product*
Apple Watch Series 5 is a perfect gift for Apple addicts. Its unisex design makes it suitable for both men and women. However, that doesn't matter because it fits on anyone's wrist.
As the product is from Apple, you can expect it to have heaps of exciting features & functionality. The watch offers you advanced workout metrics to crush fitness goals. And tracks activities, so that it keeps you motivated to move & exercise.
Accept & reject calls directly from the watch without even reaching out to your phone. It shows notifications of text, calls, and other apps. Besides, stream favorite songs on the go with music streaming apps and also serves as a storage to store music.
Overall, If your budget allows you, the Apple Watch Series 5 is the one-stop solution.
2. Amazfit GTS
*Best in Mid-Range*
The Amazfit GTS comes with a square-shaped display, looking more like an Apple watch. Its display sizes 1.65-inch with a resolution of 348×442 AMOLED screen. The display has got enough space to show content that matters.
When it comes to features, the Amazfit GTS is packed with exciting ones. Offering 12 sports mode to keep up with your exercise, PPG Sensor & Realbeats AI-Based Engine to monitor your heart rate better, editable widgets to customize screen, and more.
Connect with Bluetooth to control music playback directly from the wrist. Besides, shows notifications from smartphone, which makes effortless to keep eye on important text, calls, emails, and more. 14 days of battery life is enough to avoid frequent charging.
Altogether, a nice product to make someone's day.
3. VTech KidiZoom DX2
*Gift for Kids*
VTech KidiZoom DX2 is one of the popular kid's smartwatch that most parents love to gift their children. The watch has a camera on the front to take selfies. Images captured with this watch can be customized by adding effects, stamps, frames, and filters to make pictures look more creative.
The device is loaded with 50+ digital & analog watch faces that help kids to learn about time management. Kids can play augmented reality games, learning games, and brain teasers to make their minds sharp. Along with it, the Kidizoom DX2 has a built-in motion sensor that lets kids play active challenges and motion-controlled games to keep them active.
Moreover, the watch offers parental control with time limits, the capability to resist splashes of water, and more. Overall, a great smartwatch to gift your child on the day of Christmas.
4. Samsung Galaxy Watch Active 2
The Galaxy Watch Active 2 provides reliable performance with a beautiful display & has a form factor that suits anyone's wrist. Comfortable to wear throughout the day because of the sleek design. Get to choose between two options – stainless steel or lightweight aluminum body design. With a wide variety of watch faces, match your outfit and seize your look.
Stay fit with its fitness features that include movement tracking, automatic swim tracking, seven exercise mode, and serves as a real-time coach to guide your actions. Live a stress-free life by tracking down stress levels, heart rate when feeling tensed. Altogether, it can be the best companion in your health and fitness journey.
Store music and stream your favorite songs with the popular music streaming app Spotify on the go. In general, a great piece of tech for gifting your loved ones at Christmas.
5. HalfSun Fitness Tracker
*Best for Elderly*
If you are looking for a smart device to gift your elders, then the budget-friendly HalfSun fitness tracker will be a perfect fit for them. As it primarily focuses on tracking fitness and health, you will find a bunch of exciting features to monitor different vitals.
Elder person may have heart complications. So tracking down heart rate becomes easy as it records the data in realtime. Not only heart rate, but also monitors blood pressure automatically. With sleep tracking, get various insights to analyze and improve your sleep.
Record all-day wellness data such as steps, distance, calories burned, sleep quality, active minutes, and more. These data automatically get synced with the app, which you can analyze later. The sedentary reminder support reminds you to walk rather than sitting all day.
We recommend this HalfSun fitness tracker for those concerned about health & fitness instead of smart features. Elder people don't need those advanced features like music control, contactless payment, etc. So gifting this on Christmas will help them to live a fit and healthy life.
6. Garmin Instinct
*Best Gift for Travellers*
Garmin Instinct is a perfect fit for fitness enthusiasts and basically some who loves to dwell outdoors. The rugged design can withstand the toughest environment and has a military standard of 810G that means the watch can easily resist thermal, shock, and water.
Built-in GPS, 3 Axis compass, barometric altimeter, Glonass, and Galileo support makes this smartwatch great for trips like hiking and trekking. The trackback feature helps to navigate back through the same route from where you have started.
Other features include monitoring heart rate, stress, and activities. Get notified of text, calls, emails, social apps, and more with a vibration.
7. Fossil Gen 5 Carlyle
If you are looking for a smartwatch that suits your brother, dad, or someone you love, then Fossil Gen 5 Carlyle is a perfect pick. The watch features Wear OS by Google, which is a wonder in itself. The watch looks minimal and packed with great features, including on-screen notifications, answer calls from the wrist, and more.
With Google fit, conveniently track heart rate and daily activities. The Built-in GPS helps in tracking the distance accurately. Besides, the watch has a swimproof design of 3ATM, which can withstand splashes of water while washing your hands or getting caught in the rain.
The bands are interchangeable, so you get an option to replace the stainless steel with leather or silicone band for a more classic look.
Overall, a nice Wear OS watch to gift on the day of Christmas.
Summary
So these are some of the smartwatch gift ideas for Christmas. Add one into your cart to put a smile on the face of your loved ones. 😊

Hey! My name is Manas. I am a tech enthusiast who loves to explore gadgets. I especially enjoy exploring wearable techs like smartwatches and fitness trackers. I am always in search of what's new in the market so that I can provide valuable content that would be beneficial for you to choose the right wearable. I own Kospet Tank M1, which is pretty insane in its price range 🙂