Suunto Core Review – Best Outdoor Smartwatch?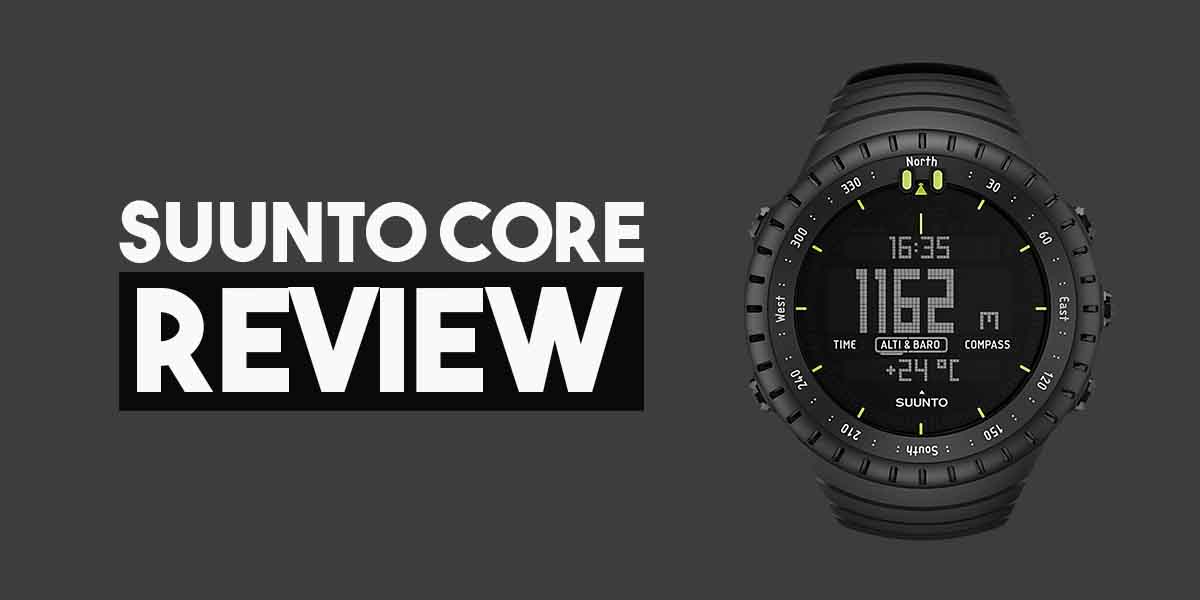 Suunto Core Review: Suunto is one of the finest watchmaking companies. If you are an outdoor enthusiast and looking for a smartwatch, particularly for outdoor activities such as hiking, biking, or camping, then Sunnto Core All Black Military Watch is an excellent companion.
Suunto Core is made to work in harsh conditions where the normal smartwatches lack. That's why Suunto Core is listed as the best military watch on Amazon.
Check our Suunto Core Review to know more.
You Might Also Like|10 Best Smartwatch for Hiking
Quick Opinion
The Suunto Core is a perfect watch for those who are looking for a smartwatch mostly for outdoor activities. This smartwatch is designed, keeping hikers, skiers, and snorkelers in mind. But the GPS feature is something that is missing on this watch.
It can resist water up to 30 meters, which means the watch can withstand splashes of water & suitable for snorkeling and shallow diving.
The accuracy of altimeter & barometer functions seems to be pretty good. And the interface of the watch is clean and easy to use. Other than this, the watch has ABC features (Altitude, Barometer, Compass) that helps you during your outdoor trips.
There are very few downsides of the Suunto Core, as this is military, watch you shouldn't expect much from it. There is no GPS feature present, which means you cannot measure the distance you cover.
You will find the display to be a little dim, that doesn't mean the watch has some visibility issues. However, the display needs some contrast color to look better.
Suunto Core Review
Design & Display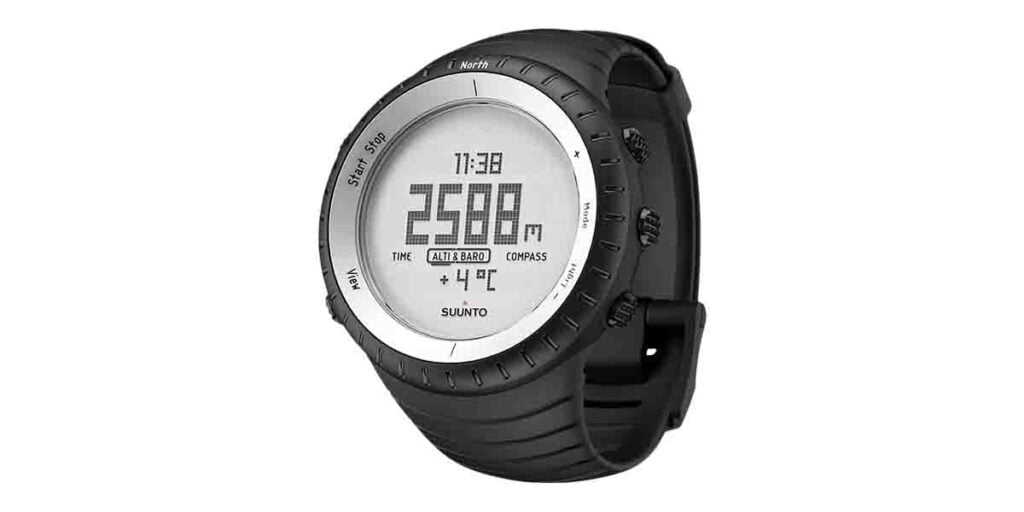 The overall design of the Suunto Core is exciting and stylish. The case size of the watch is 44mm and the material used for the case is composite and durable. With this, Elastometer is used as the material type of the strap.
The Suunto core is light enough so that you can wear it all day long and the average weight will be somewhere around 64g which is 2.26 oz.
Talking about the display, the display type is the matrix, and the material in which the display glass is made up is Mineral crystal. Ans it also has an electro-luminescent backlight which, enhances the visibility of the watch.
And it also has a rotating bezel that shows the direction, and the rotating bezel is made up of aluminium so that in a long run the bezel will work perfectly fine.
Activity Tracker & Features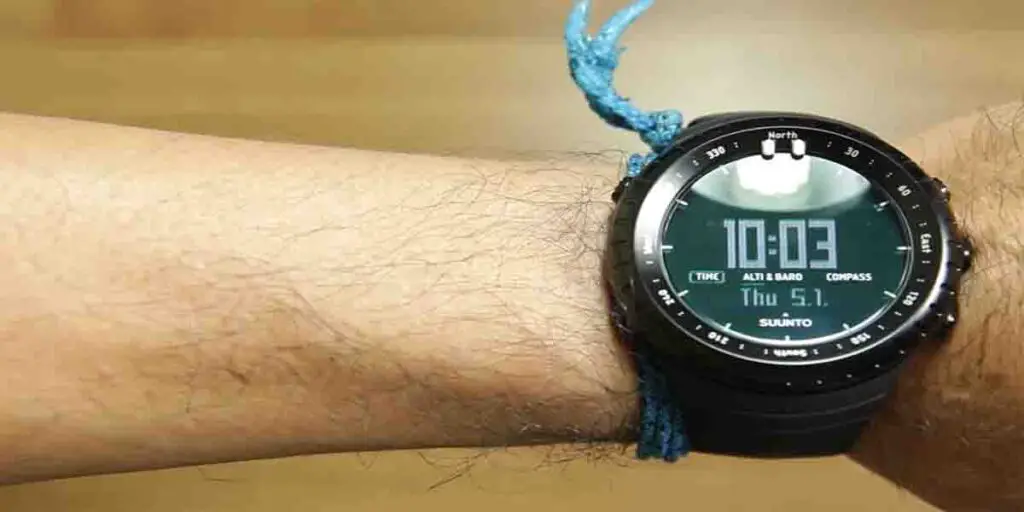 The Suunto Core doesn't have any smart features to track activities and calories burned, but instead of this, the company managed to give plenty of outdoor features. I am sure you gonna love it.
Altimeter
An altimeter is an instrument for determining altitude gained when you go above sea level. Especially a barometric device is fitted in most of the devices which are capable of measuring the altitude.
And as the Suunto core is a kind of military watch so, you get to have a barometric altimeter measuring feature. Which automatically tracks both altimeter and barometric profile based on the outdoor air pressure.
Moreover, the Suunto core is capable of showing the barometric altitude output in graph format too. So, now you don't have to worry about the altitude air pressure if you want to go out for outdoor camping or hiking.
And too with this, the Suunto core also measures the log recording rate. This means the log recorder stores all the movements in altitude between the start and stop times.
And by any possibility, if you are engaged in any kind of psychical activity in which your altitude range differs, then you can record that altitude and can view the stored information later.
Weather
Suunto Core also has some cool features to know about the weather in detail. As it is a military watch, it should be able to track the outdoor weather condition in detail.
It has several features to track the weather condition such as measuring sea level pressure which is also known as Atmospheric pressure. Besides this, it shows the output in graphical format.
Along with this, it also has an indicator that shows the weather trend report 24×7. And this is quite interesting. It also has a Strom Alarm feature to aware you when the air pressure decreases by 4 hPa drastically within a 3 hour period. This Storm Alarm feature will work only when you activate the barometer profile in the Alti & Baro mode.
Along with all these, the watch has lots of weather features, and for experiencing all those, you have to buy the Sunnto Core all-black military watch. And yes, all those features can track the weather for 7 days and after that you have to reset the weathering profile.
Compass
The Suunto Core All-Black Military Watch has a digital compass with perfect accuracy. The offers a digital compass, which shows the direction scale in degrees, and the needle is always facing in the north direction.
In addition to this, Suunto Core has a feature of having a lock with an orienting indicator. I have checked the accuracy of the compass and I have to say that this watch shows the perfect outputs.
Water Resistant
The Suunto core watch has an IP68 waterproof certification of 30 meters and is also capable of shallow diving and snorkelling till 10-meter depth.
If your main purpose for buying this watch is diving and swimming, then I will recommend go check out this post – 10 Best Dive Watches Under 500$.
Battery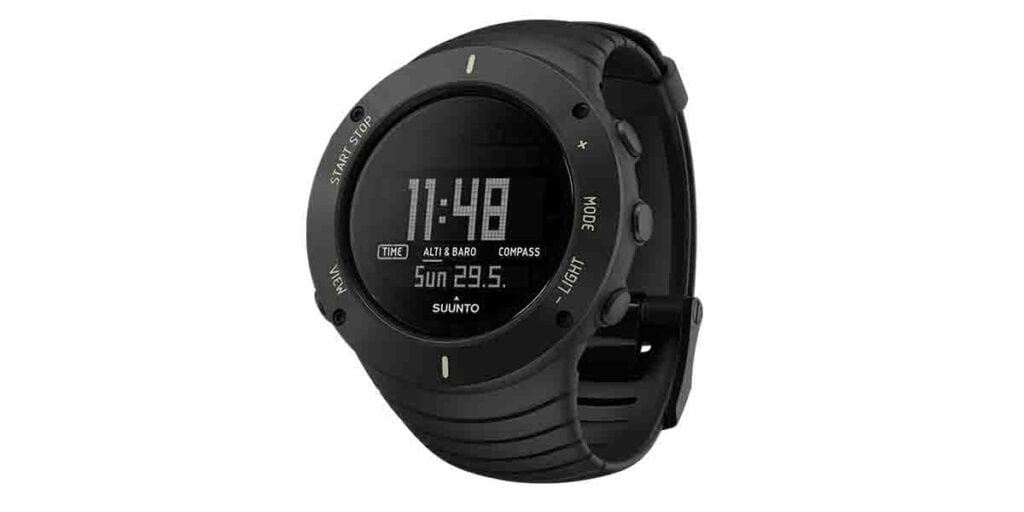 The battery of the Suunto Core is impressive. As it servers, you with a battery life of 12 months means 1 whole year. So you don't have to worry about the battery if you are going hiking, camping, or somewhere where there is no sign of electricity.
And by any chance, if you are concerned about battery life, then don't worry you can replace the battery easily. The watch will notify you by itself when the battery needs to be changed. There is a low battery indicator that will blink when there is no battery left in there. So don't bother about the battery much.
The battery type of this Suunto core is CR2032.
FAQs (Frequently Asked Questions)
1. Is Suunto Core waterproof?
Yes. This watch is waterproof till 30 meters.
2. The pictures show the altitude shown in meters. Can it be changed to show in feet?
Yes, it can be changed to feet.
3. Does it count your steps?
No. This is the big demerit.
4. What's the difference between all black and the ultimate black?
No there is no such major difference between both of these.
5. How do I get it to English Language?
Push the 2 left buttons and upper and lower right buttons at the same time, puts the watch in sleep mode then push the right-centre button and wait for it to turn on, it'll say language, scroll with right upper and lower buttons.
6. Does this track distance?
No, it only shows the ABC feature.
7. How would it look on someone with a small wrist?
Massive. I have a large wrist and it takes up much of my wrist.
8. Does the watch scratch easily?
No. It is very hard to give a scratch on it.
Final Verdict
Sunnto Core is a great watch to consider only if you are engrossed in outdoor activities such as hiking, snorkelling, and diving. And if not, then I will suggest investing some extra money only if that suits your pocket and get a little advance full of features smartwatch.
Hope this Suunto Core Review was helpful!
To help you with your search for a worthy smartwatch, we have listed out some of the best smartwatches below. So make sure to check them out.
Read More Reviews
Hey! My name is Ranjeet. I am the co-founder of 'SmartwatchAdviser'. With one of my friends, I started this website out of a passion for writing and exploring different wearable tech. Currently, I am using Mi band 4 as my primary fitness tracker and own a Noise Color Fit Pro 3 to match my style on various occasions.