Why Fitbit Ionic Won't Turn On? (5 Tips to Fix It)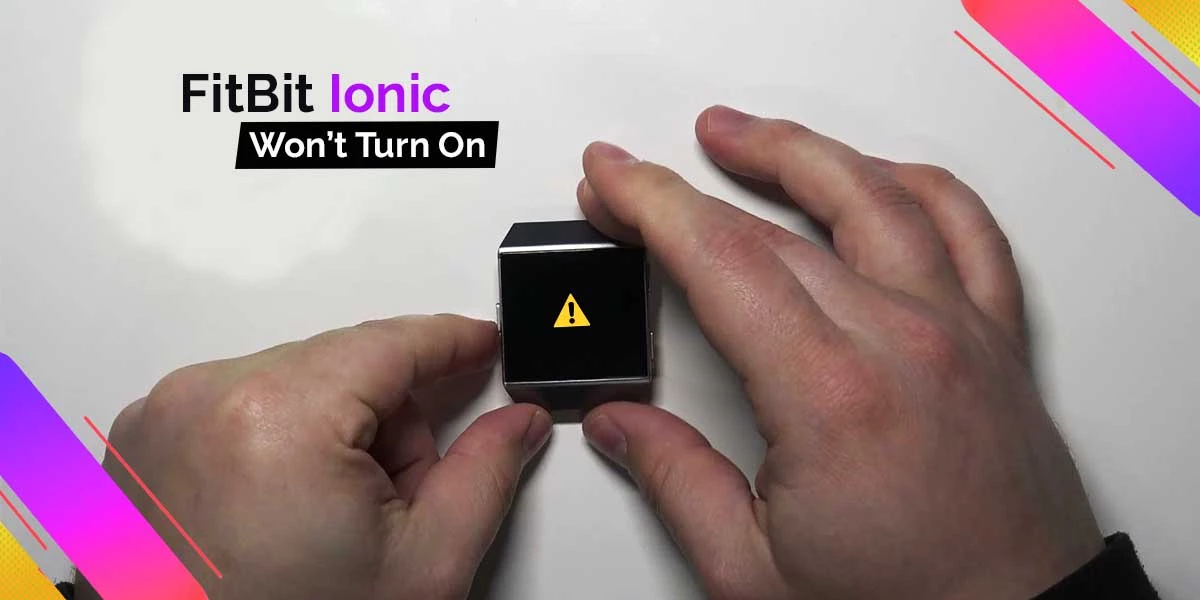 The Fitbit Ionic is one of the best smartwatches in the market today. It is compatible with both Android and iOS devices. The Fitbit Ionic has many features that make it stand out from the rest of the competition in this category.
Although this is a great device, there are some issues with it as well.
One issue is that Fitbit ionic won't turn on even after fully charging for hours. For that reason, this article will go over some of the reasons why this may happen and how to fix it.
Why Fitbit Ionic Won't Turn On?
Here're some common causes of Fitbit Ionic Won't Turn On:
First, the battery may be dead. Fitbit Ionic does not have a replaceable battery, so if the battery dies, you will need to send it back for repair.
The second reason could be that your Fitbit Ionic has been disconnected from its charger for too long. If you don't use your Fitbit Ionic for a long time, disconnecting it from the charger may cause it to shut down.
The third reason is that the Fitbit app may not be installed on your phone or tablet correctly. You can try installing the app again or restarting your phone or tablet.
Some people have also reported having problems with the Fitbit Ionic not turning on because they have worn it incorrectly or too tightly.   
Wearing your Fitbit too tightly will cause the battery to die more quickly and also prevent you from using its features, such as heart rate monitoring or GPS tracking.  
5 Tips On Fixing Fitbit Ionic Won't Turn On
Restart Your Fitbit Ionic
If your Fitbit won't turn on, the first thing you'll need to do is restart it. By restarting, Ionic will clear out all the bugs and errors that are preventing your watch from turning on.
To restart your Fitbit Ionic, Press and hold the Back and Bottom right button until the Fitbit logo appears on the display.
Charge Fitbit Ionic Properly
If restarting your Fitbit doesn't solve your problem, try placing your device to charge. Your Fitbit battery may be completely drained.
If it doesn't show you the charging symbol on the display while charging, don't panic, leave your device to charge for an hour or two. However, if it fails to charge your device, then there might be something wrong with the charger.
I would suggest replacing your charger since several Fitbit users have complained about the quality of it. But before you replace the charger, make sure you clean both the charging cable port and the Ionic's charging port and try charging it again.
Check the Settings
Since it is unlikely that an auto-update on your Ionic would have changed the settings (like display brightness and sleep mode) automatically, check your Fitbit settings in the Fitbit applications before taking drastic measures.
Mainly changes in display brightness and sleep mode settings prevent your watch display from turning on.
Factory Reset
There is only one final option available to you if your Fitbit Ionic problem hasn't been resolved yet. It is to factory reset your watch. But remember that this will remove all previous data from it.
To Factory Reset Fitbit Ionic, follow these steps:
Press & hold all three buttons on your Fitbit Ionic until the Fitbit logo appears.
After that, release the right bottom button. But keep holding the rest of the buttons.
Then, after the device vibrates, release the other buttons
Once the device has finished erasing all the data, you will be able to use it again. And hopefully, the screen wake feature will work as well.
Contact Fitbit Customer Support
If the above methods don't work, then possibly you have accidentally damaged your display. There is no such hack to fix your problem rather than contacting the Fitbit support team. In such a scenario, it would be better to contact them and get your problem resolved.
FAQs: Fitbit Ionic Won't Turn On
Why Fitbit Ionic Won't Turn On After Swimming?
If you have a Fitbit ionic and it won't turn on after swimming, there might be a few reasons why that is happening.
First, if the watch is malfunctioning due to swimming, then the water may have damaged the device. It needs to be completely dry before it can be turned on. You will end up with a waterlogged watch that won't work if you don't dry it.
If this is not the case, then there could be an issue with your watch's battery.
Why Wouldn't Fitbit Ionic Turn On After Shutdown?
There are a few possible reasons why the Fitbit ionic won't turn on after a shutdown.
The first thing to check is if the battery has been fully drained. If so, charge the device for at least 1 hour and try turning it on again.
If that doesn't work, try plugging your Fitbit ionic into a computer or laptop and see if it will charge this way instead of using the charging cable that came with the device.
Still won't turn on after shutdown? Try resetting the device by holding down the side button and tapping the screen for about 10 seconds.
Customer service can provide further assistance if these steps don't work.  
Why Won't Fitbit Ionic Turn on After Factory Reset?
When Fitbit ionic won't turn on after a factory reset, there are some troubleshooting steps that you can take to get the device working again.
Here's what you can do:

Try charging the battery for at least an hour or two. Then, press the button to see if it will power on again. If that doesn't work, try connecting the charger to its USB port and computer simultaneously and see if this fixes the problem.
Unless ensure that you have installed all available updates for your Fitbit Ionic.
Why Wouldn't Fitbit Ionic Turn On After Battery Died?
If your Fitbit ionic won't turn on after the battery died then there are some steps that you need to follow to get it working again. You should put your Ionic back on charge for a couple of hours. Also, make sure the charger and the port you are using are clean, because dirt may accumulate, resulting in charging problems.
Read More
Hey! My name is Ranjeet. I am the co-founder of 'SmartwatchAdviser'. With one of my friends, I started this website out of a passion for writing and exploring different wearable tech. Currently, I am using Mi band 4 as my primary fitness tracker and own a Noise Color Fit Pro 3 to match my style on various occasions.