Zeblaze Thor 6 Smartwatch Review – A Pure Android Watch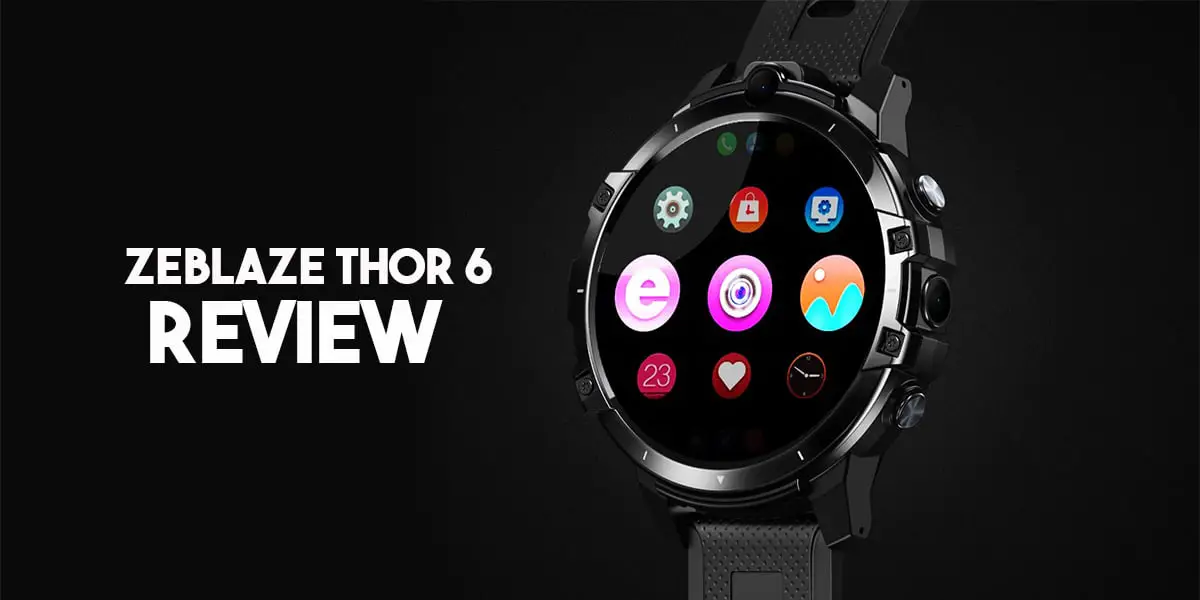 Zeblaze Thor 6 Smartwatch Review: A smartwatch is the best buddy when it comes to making tasks easier. Some smartwatches remain in trend for some time, then get outdated. What is it like to get a smartwatch from the future? Amazing, right!
The Zeblaze Thor 6 is the newest flagship killer smartwatch featuring Octa-core 4G and Android 10 operating system out of the box. If you are looking for a future flagship smartwatch with a set of amazing features and functionality, then the Zeblaze Thor 6 holds the place.
Release Date – November 2020
Read out the full Zeblaze Thor 6 Smartwatch Review to know more.
Quick Overview
The Zeblaze Thor 6 is a full android smartwatch that can do wonders. You get plenty of exciting features such as face unlock, In-built GPS/GLONASS, Google Play, and more. It is powered by the Android 10 Operating System, which is super smooth.
The Google Play support makes it possible to download & install any apps and games that you run on your smartphone. With that, the dual camera makes it possible to take selfies and hang out in video calls. The device can track your wellness data, including steps, distance and calories burned. And also have 9 exercise modes to help you with your workouts.
Overall, the Zeblaze Thor 6 is more like a smartphone, so you can leave your smartphone at home and carry this smartwatch all alone. So if you are looking for a smartwatch with full Android capabilities, then you should definitely go for it.
Zeblaze Thor 6 Smartwatch Review
Box Content
The Zeblaze Thor 6 comes with a nice compact packaging and contains the following:
Zeblaze Thor 6 device itself
User-manual
Sim Ejector
Silicon Strap bands
A magnetic USB charger
Design & Display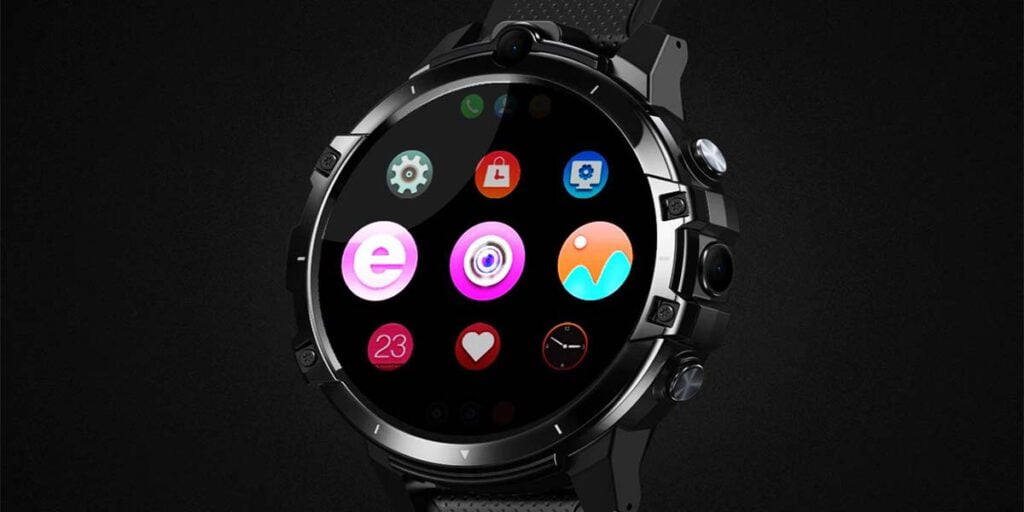 In terms of display, the Thor 6 comes with a 1.6 inch IPS display with a resolution of 400×400 surrounded with bezels. The display has a corning gorilla glass for protecting the smartwatch from getting scratches. For cameras, you get a 5-megapixels camera on the front for video calls & selfies, and another camera is placed on the right side along with a microphone. The excellent display is bright enough to make the screen easily visible in direct sunlight.
The watch looks more like a rugged smartwatch from Garmin. Also, looks more sporty because of the bezels on the front. They have added a round display, which is pleasant because most of the people prefer round displays over the squared one.
For straps, they are made of silicon with a nice texture design. It is removable so you can replace it with any 22mm smartwatch band.
Hardware & Software
The Zeblaze Thor 6 is the first smartwatch in the market to feature 4G-Octacore and Android 10 OS. This device is powered by Helio P20 (MTK6762) Octa-Core 2.0GHz processor making the smartwatch highly power-efficient & giving it an impressive-performance. It is has a Nano 4G Sim Slot to support 4G LTE Connectivity. Along with a 4GB of RAM and storage of 64GB out of the box, enough to store photos, games, music, movies, and more.
The front-facing selfie camera takes decent pictures. You can play around with the settings to manually control the exposure to take better pictures.
Features & Functionality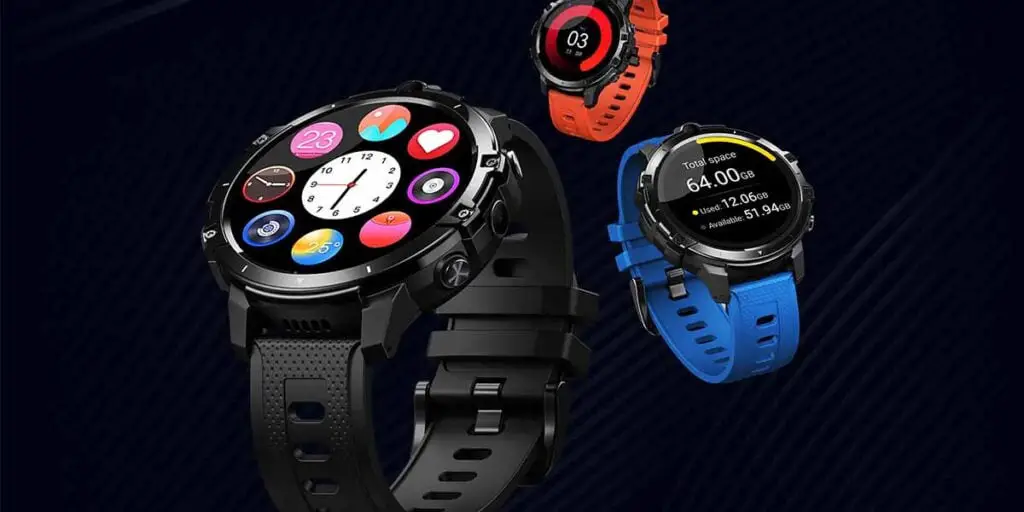 Sim Card, Wifi & 4G LTE Support
Moreover, the Zeblaze Thor 6 also supports 4G LTE connectivity and WiFi with 5 network modes and 22 global bands so that you can browse with faster data transmission & lower data consumption and also get a more reliable connection. The watch supports 4G sim cards, so you can make and receive calls without having a phone connected with it.
Fitness & Tracking Features
Like a regular smartwatch, it can record your steps, distance, calories burned and also monitors your heart rate precisely. With that, the Thor 6 has got nine mainstream exercise modes to track your sports activity effectively. The advanced sensors used in this watch helps to enhance your exercise capacity & provide you with accurate data.
Customizable Watch Faces
The Zeblaze Thor 6 comes with a default analog watch face that can be customized with 1000+ Personalized Watch Faces. Plus, you get the option to capture pictures and use them as your custom watch face. There is a whole library of unlimited watch faces that you can download & use it.
Face Unlock Support
You can secure your smartwatch with the face unlock feature. It detects your face and unlocks the watch within a fraction of seconds. So now you can use your face as a password.
Notifications
The Zeblaze Thor 6 shows notifications of text messages, calls, emails, social media apps, and more. Allowing you to take actions directly from your wrist. For instance, if you get a notification from Twitter, the watch shows some actions like retweet, open, reply, and dismiss so that you can finish up the task from there without even opening the app.
Other Important Features
Voice Searching
Store Music & play it offline
Weather Forecast Report
Auto Light-up Screen
Google Playstore Support – install any apps and games
In-Built GPS/GLONASS support
Battery Life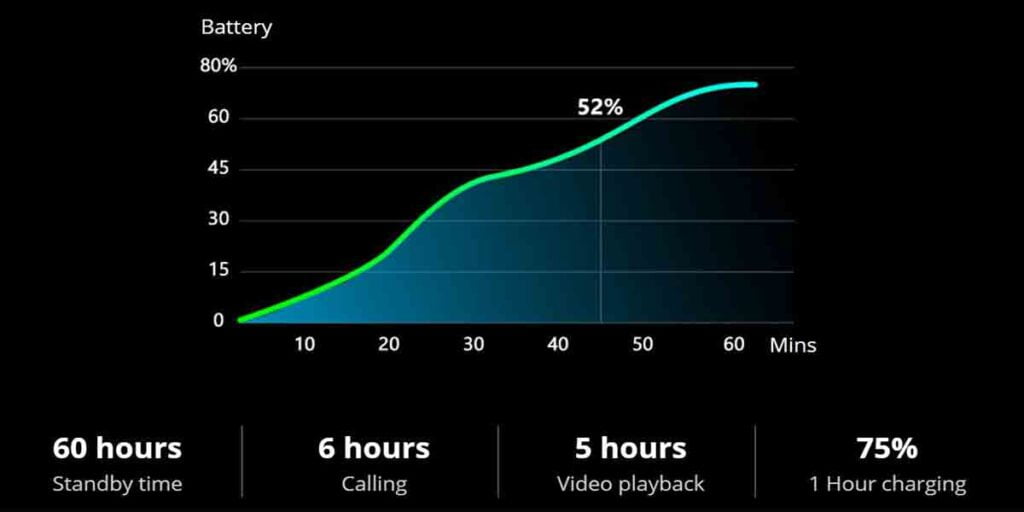 For battery, the Zeblaze Thor 6 is equipped with an 830 mAH battery. Interesting fact, you will rarely find a smartwatch with an 830 mAH battery.
The watch can serve you up to 3 days in standby mode, 6 hours in calling, and 5 hours in video playback. Besides, it takes only 1 hour 30 minutes to get it fully charged.
Final Verdict
In conclusion, if you are looking for a complete smartphone that can be on your wrist and want to enjoy everything that you do on a smartphone, then definitely you can bet on it.
Want More Reviews? Checkout

Hey! My name is Manas. I am a tech enthusiast who loves to explore gadgets. I especially enjoy exploring wearable techs like smartwatches and fitness trackers. I am always in search of what's new in the market so that I can provide valuable content that would be beneficial for you to choose the right wearable. I own Kospet Tank M1, which is pretty insane in its price range 🙂