Zepp E Square Smartwatch Review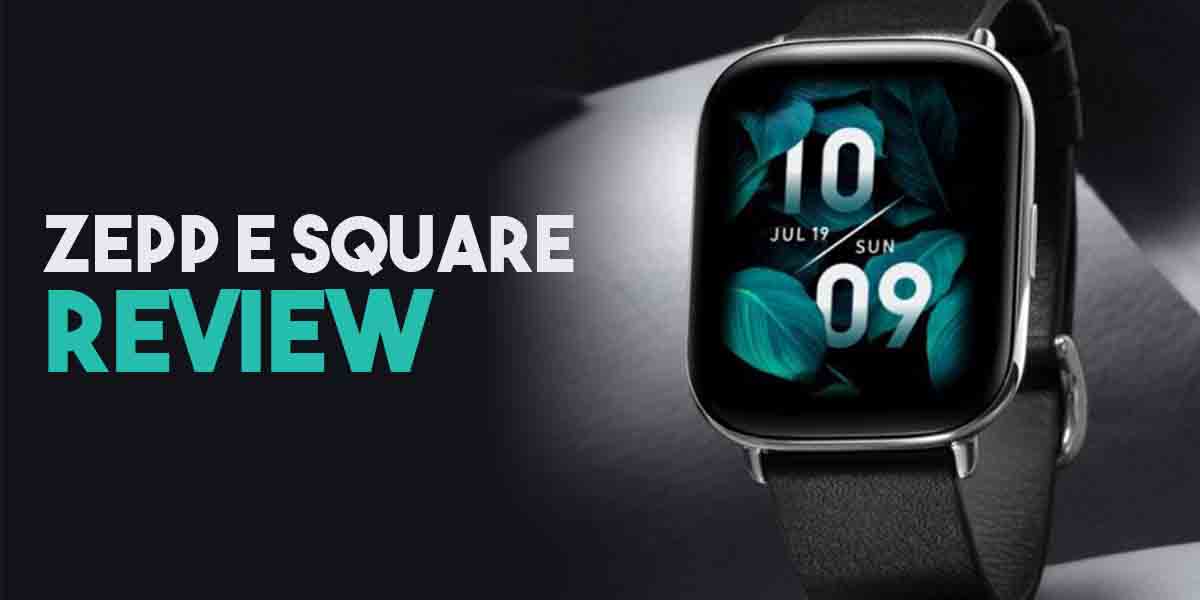 Zepp E Square Smartwatch Review: The Zepp E Square smartwatch recently released with exciting specifications. The gorgeous look & design gives it a premium feel, making it especially comfortable to wear day and night.
Most of the smartwatches promise to provide smoothness with its performance, but they lack in doing so. The Zepp E square's touch response gives you a fluid experience out of the box.
Read out the full review to know more about Zepp E Square Smartwatch.
Quick Opinion
The Zepp E Square smartwatch feels premium out of the box. And from appearance, it gives you a feel of having an Apple watch. The thin lightweight design makes it suitable to wear throughout the day. It comes loaded with several watch faces to choose from, the bright AMOLED screen is bright enough to make it visible in direct sunlight.
This watch does a great job in tracking fitness & health as it comes with advanced health assessment system that helps you keep track of your condition. Besides, monitor your sleep and blood oxygen saturation level with great accuracy. Overall, it does a beautiful job of tracking your health & fitness.
With typical usage, the battery can last up to 7 days. However, if you use this watch in watch mode, then expect it to last for 15 days or so.
Overall, A pretty good device. But I think they should have included an In-built GPS & storage to store music at this price. Other than that, everything seems to be fine with its features & functionality.
REVIEW VIDEO
Zepp E Square Smartwatch Review
Design & Display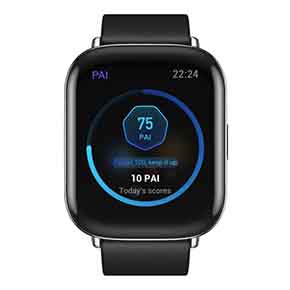 In terms of design, the Zeep E square has a bezel-less design with 3D curved edges. The ultra-thin 9mm metal body gives it a premium look and feels comfortable to wear all day long. At first glance, anyone can guess it to be an Apple watch because the display looks more like that. If you ever want to change the straps, then you can do it with any regular 20mm strap.
The minimal look of this smartwatch can easily attract anyone. Moreover, the square shape display makes it convenient for users to read text as it provides more content in a limited space.
You get six different color options to choose from:
Deep-Sea Blue
Moon Gray
Metallic Black
Onyx Black
Pebble Gray
Polar Night Black
The display sizes 1.65-inch and is an always-on AMOLED screen with a sharp resolution of 348×442. The display is bright enough to take a look at your screen to show time, date, battery status, notifications in sunlight. But note that keeping it on can consume battery.
The screen is customizable with different watch faces that come pre-loaded with this watch. It basically gives you the freedom to control the information on your display.
Fitness, Health & Activity Tracking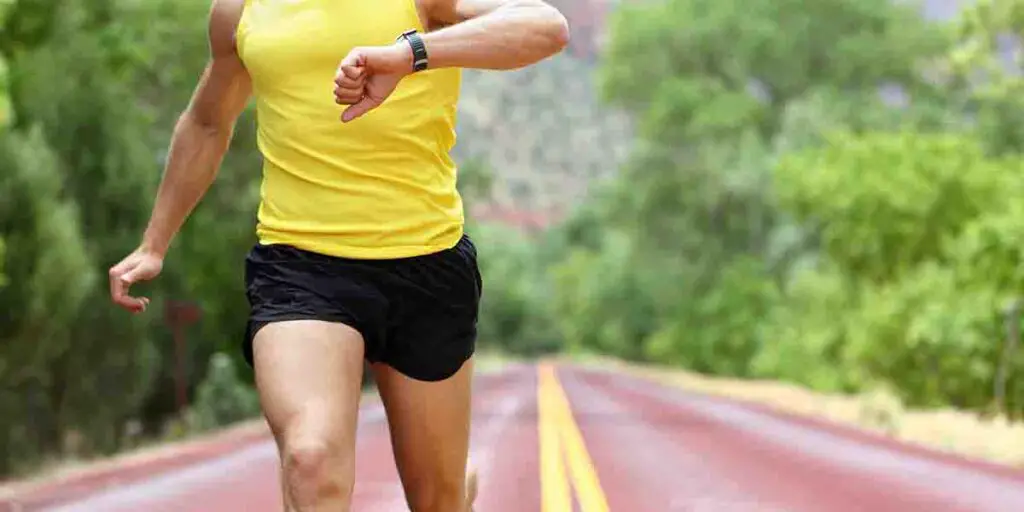 The Zepp E Square features a health assessment system that helps to turn the complicated data on activities & heart rate into a single metric. The system gives you a score to understand the physical state of your body.
The SPO2 feature measures the oxygen saturation and indicates your health when performing high-intensity sports or when in high-altitude and low-oxygen environments. The SpO2 can also detect illness and diseases. Overall, pretty useful because it alerts you about your breathing condition.
For sleep monitoring, the Zepp E Square accurately measures different stages of your sleep including REM (rapid eye movement), deep sleep, light sleep, and awake time that gives you insights to understand your sleeping pattern. When you wake up, this watch gives you a sleep score that defines how well was your sleep.
With stress monitoring, you can measure stress levels anywhere and anytime. By turning on the real-time stress tracking mode, you can measure your stress level throughout the day. Moreover, the watch has got 11 sports mode to help you with fitness. Tracking wellness data such as steps, calories, distance, and more is possible with this watch.
Features & Functionality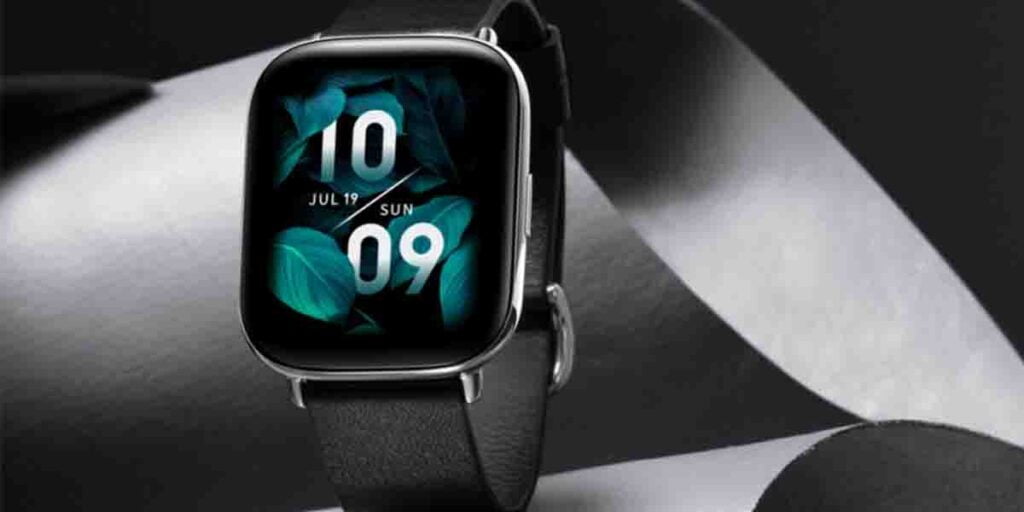 Water-Proof
The Zepp E Square is waterproof to a depth of 50 meters, which makes it suitable to wear for swimming in shallow depths. Alongside, this watch can even track your exercise under the water, which seems to be pretty helpful for swimmers.
Notifications
Like any other smartwatch, the Zepp E can also receive notification of text, incoming calls, emails, and other social media popups. Other than that, it sends you a notification when your heart rate exceeds a certain limit, which I think is pretty nice to have.
Sedentary Reminder
If you have an inactive lifestyle with a lot of sitting, then it could be harmful to your health. The sedentary reminder feature reminds you whenever you are lying down for a long so that you can get up and do some activities instead of sitting with no activity.
Sensors
It has got Biological Tracking Optical Sensor for better health assessment. And Acceleration Sensor, Geomagnetic Sensor, Ambient Light Sensor, Linear Vibration Motor for better tracking of sports activities. Alongside, it uses Bluetooth 5.0 for connectivity.
Other Key Features
Music Control: pair smartphone to control music playback.
Customizable watch face: get several pre-loaded watch faces.
Realtime heart rate tracking
Always-On Display
Supports both Android & iOS
Zepp E App Preview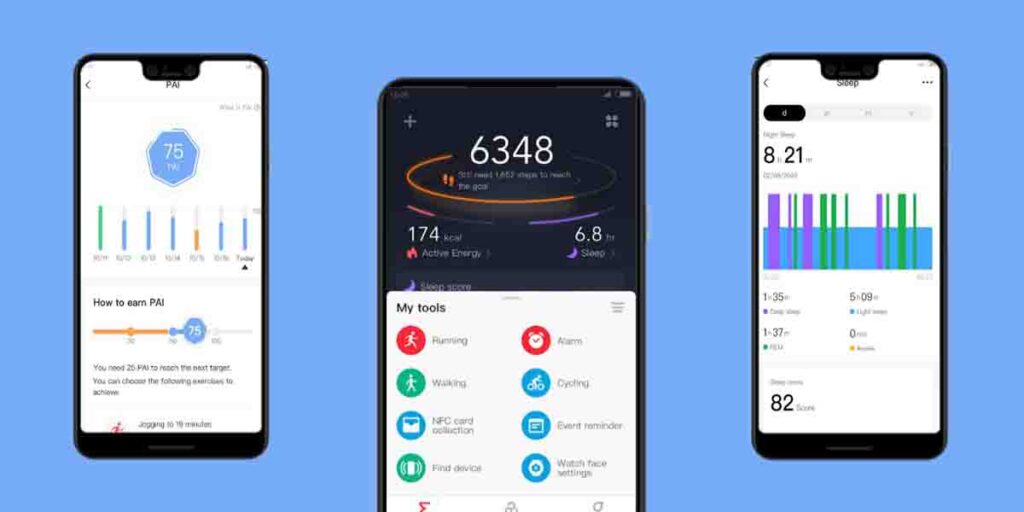 To pair the Zepp E smartwatch with your smartphone, you need to install the official app from Zepp (formerly called Amazfit). As this smartwatch supports both the Android & iOS ecosystem, the application is available on both Play Store & Apple's app store.
By using this app you can:
Get insights into steps, sleep hours, heart rate, calories burned, ECG, and SpO2.
Record your exercise data including detailed route and various exercise data analysis afterward.
Take advantage of PAI.
Download new watch faces and sync it with the watch.
Manage settings such as notification management, watch face replacement, widget sorting, incoming call notification setup, and SMS notification setup.
Battery Life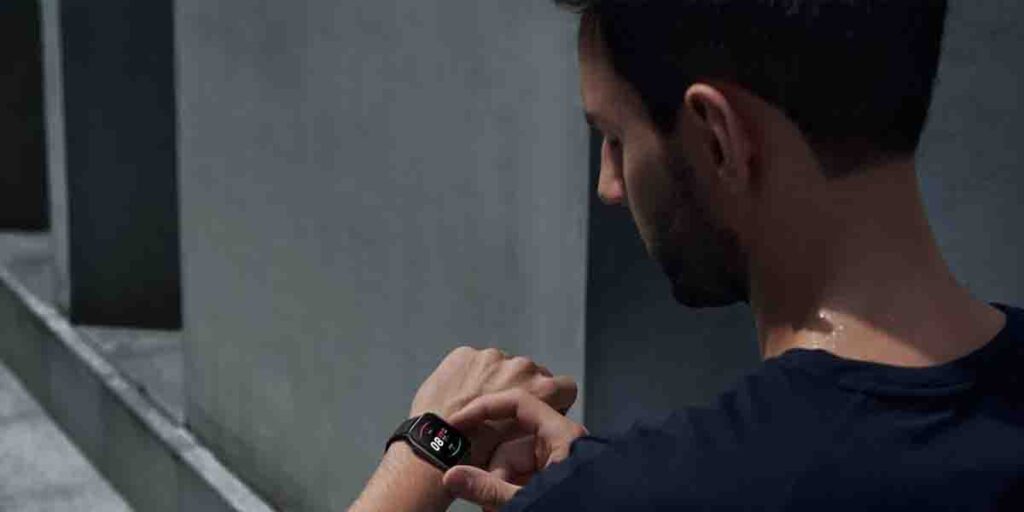 For battery life, the Zepp smartwatch can serve you up to 7 days with typical usage. It can drain the battery much faster if using with Always-On display mode. The charging method includes a Magnetic charging base and two Pogo Pin charging. And usually takes about two hours to get it fully charged.
With basic watch mode, the battery can last up to 15 days or so.
What is the difference b/w Zepp E Square & Zepp E Circle?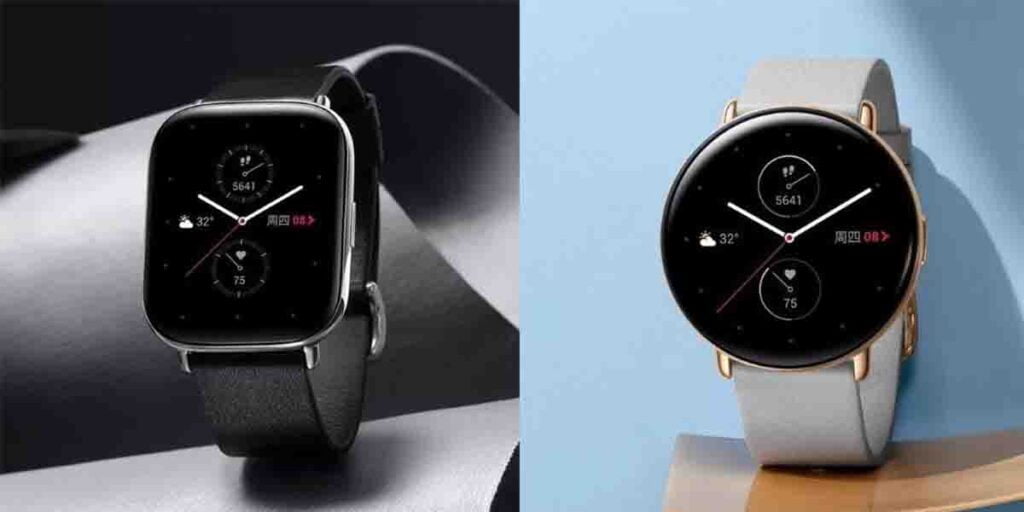 There is no much difference in the features and specifications except the design & display. All other features and functionality remains the same. So you can pick any variant according to your liking.
Polar Night Black: Leather Band
Moon Grey: Leather Band
Deep Sea Blue: Leather Band
Metallic Black Special Edition
Onyx Black: Fluoroelastomer Band
Pebble Grey: Fluoroelastomer Band

Polar Night Black: Leather Band
Moon Grey: Leather Band
Champagne Gold: Special Edition
Onyx Black: Fluoroelastomer Band
Ice Blue: Fluoroelastomer Band
FAQs (Frequently Asked Questions)
1. How is the warranty?
Zepp offers a one year warranty including the device itself and charging cable.
2. Can you Call & Text directly from the watch?
No, you can only mute and reject calls from the watch.
3. Which OS it uses?
Zepp has its own patented OS.
4. Does Zepp comes with a storage to store music?
It has no storage feature. You have to connect with smartphone to control the music playback.
5. Can I pair it with iPhones?
Yes you can. It is compatible with both Android & iOS.
6. Can Zepp show the current weather?
Final Verdict
Although, I am pretty dissapointed with this watch for not having an in-built GPS and music storage. But still, I would recommend this because the Zepp E square features overall great health tracking system and secondly, the premium look & feel will definitely amaze you.
If GPS is a small exclusion for you, then you should surely go for it. Otherwise, check out the below reviews.
I hope you found this Zepp E Square Smartwatch Review to be helpful!
Read More Reviews

Hey! My name is Manas. I am a tech enthusiast who loves to explore gadgets. I especially enjoy exploring wearable techs like smartwatches and fitness trackers. I am always in search of what's new in the market so that I can provide valuable content that would be beneficial for you to choose the right wearable. I own Kospet Tank M1, which is pretty insane in its price range 🙂