Lintelek Fitness Tracker Review – Best Cheapest Tracker?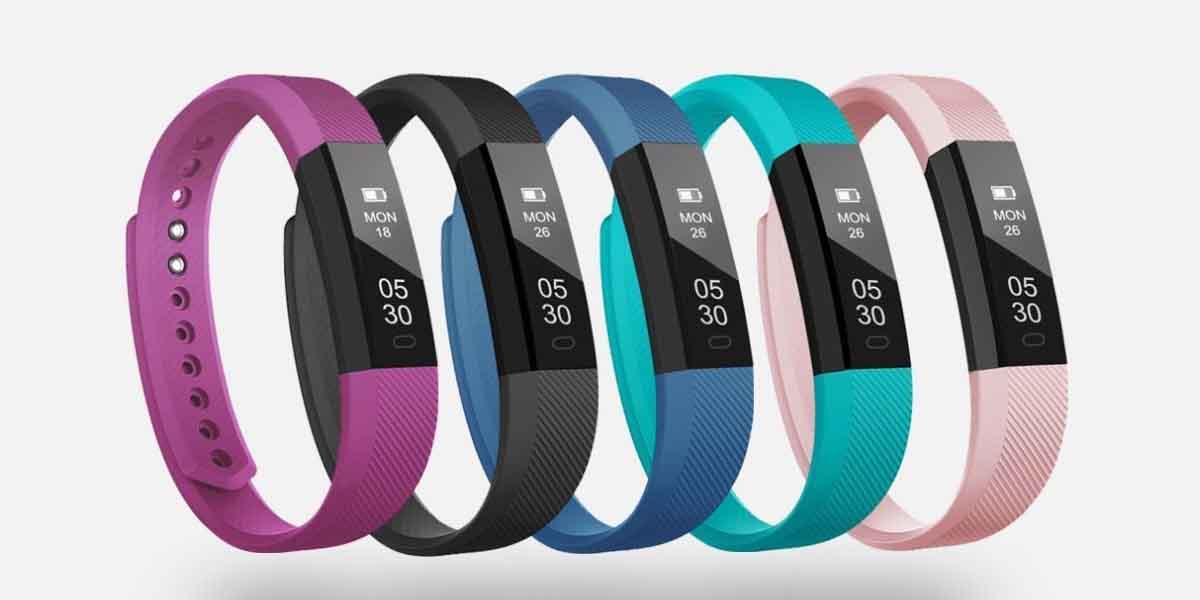 Lintelek Fitness Tracker Review: Fitness Trackers are getting smarter day by day, offering many unique fitness tracking features besides just showing us the time. If you are looking for a basic fitness tracker that serves plenty of useful features, then the Lintelek Fitness Tracker holds that place.
This fitness tracker can measure your heart rate, read your blood oxygen levels, accompany your swimming, and let you have deep insights into your health and body. With so many options in the market, choosing the best fitness tracker for your need can be tricky. And for that, we have come up with a review of the best fitness tracker, the Lintelek fitness tracker.
Check out the full Lintelek fitness tracker review to know more.
What's Inside the Box?
The Device itself
User Manual
Warranty and FAQ Card
Quick Opinion
Lintelek fitness tracker is one of the best fitness trackers that servers all the basic fitness tracking features. Like heart rate tracking, 14 different sports mode, calories consumed, sleep monitoring, and more. The overall design and build quality are up to the mark. This means the Lintelek fitness tracker comes with a colored display that shows everything on the home screen. Moreover, the display brightness and the color contrast are very good, making it properly visible on bright sunny days.
With this, the tracker has all the capabilities to track your workout accurately. All data get synced automatically to the VeryfitPro app as this Lintelek fitness tracker has an auto-sync data feature. However, this fitness tracker is not waterproof but it claims to be dustproof and splashproof. Furthermore, it has a remote camera to click pictures from your wrist.
Overall, this is a great budget friendly fitness tracker that you can consider.
Lintelek Fitness Tracker Review
Design and Display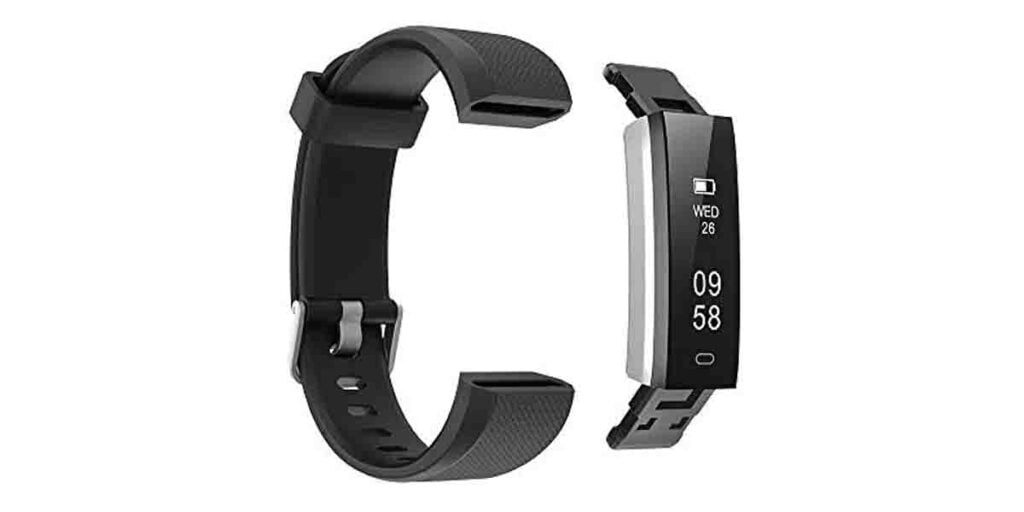 Design
In terms of design, the Lintelek fitness tracker is very elegant and sleek, which will make your wrist look more stylish. Moreover, you can wear this fitness tracker all day long as it is light in weight, and generally light weight fitness trackers are very comfortable to wear. Along with this, the build quality of the band is durable enough for a long run use.
You get 10 different color options for the Lintelek fitness tracker.
Black
Red
Dark Red
Pink
Light Pink
Green
Forest green
Navy Blue
Purple
Violet
Display
The Lintelek fitness tracker has a 0.96-inch big colored display which is bright enough to be visible in daylight.
You will find all the basic information on the home screen like date, time, and day. However, you can customize the watch face according to your preferences. This tracker provides you three different watch faces to set and make your home screen look more attractive. Moreover, there is no visibility issues with this fitness tracker as the display colors are vibrant than any other fitness tracker at this price range.
Activity/ Fitness Tracking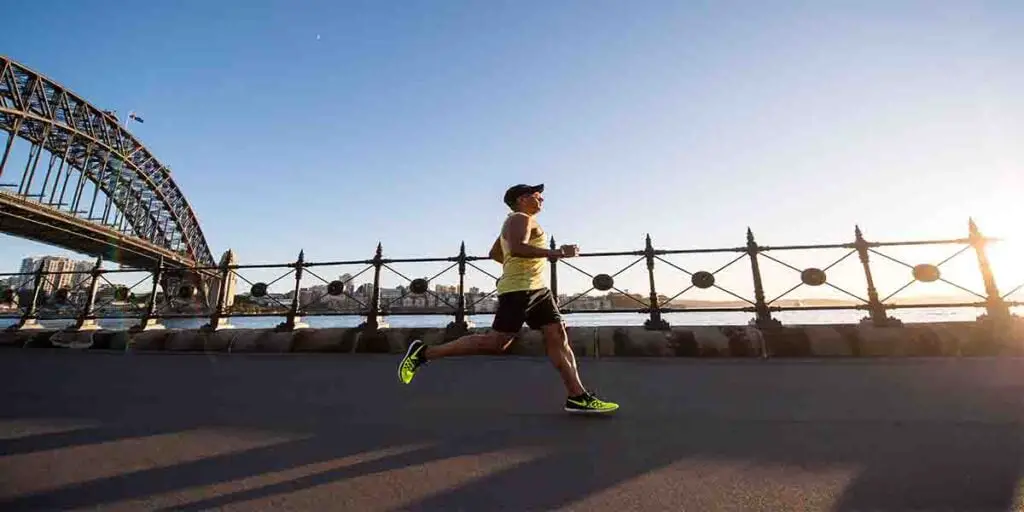 In terms of tracking activity and fitness, this tracker stands out very well. The Lintelek fitness tracker has 14 different sports mode to track your workout and will keep recording workout time, heart rate, distance, and calories burned.
Moreover, this Lintelek fitness tracker will replace your pedometer device (if you have one) and can be a great alternative to track your steps accurately. You will get to have all this detailed information on the VeryfitPro app. If you are willing to start your fitness journey with a budget, then I will highly suggest you go and get one of these to reach your fitness goals.
Features and Functionality
Water Resistant
Honestly, this Lintelek fitness tracker is not fully waterproof. It has an IP67 waterproof certification, which can only prevent dust and splash. And please don't wear this fitness tracker during shower and swimming.
In short, Lintelek fitness tracker is only splash and dustproof.
Call and Message Notification
In terms of messaging and calling, this fitness tracker lacks a bit. It shows message notifications and incoming calls but lacks in giving replies and answering calls.
That's ok with a fitness tracker in this price range.
However, if you do have a busy work schedule rather consider a texting smartwatch.
Sensors
This tracker doesn't have plenty of features but has basic sensors for heart rate monitoring to monitor your heart rate throughout the day. Alongside, it also has an auto-sleep tracking sensor to track your sleep at night. This feature is much more advanced, which means it can track light sleep, deep sleep, and awake time. Moreover, it also has an auto data sync sensor to sync all your data's with the app.
Other Key Features
Alarm clock
Remote Camera
SMS/SNS alert
Customizable Watch Face
Always-On Display
Lintelek Fitness Tracker App Preview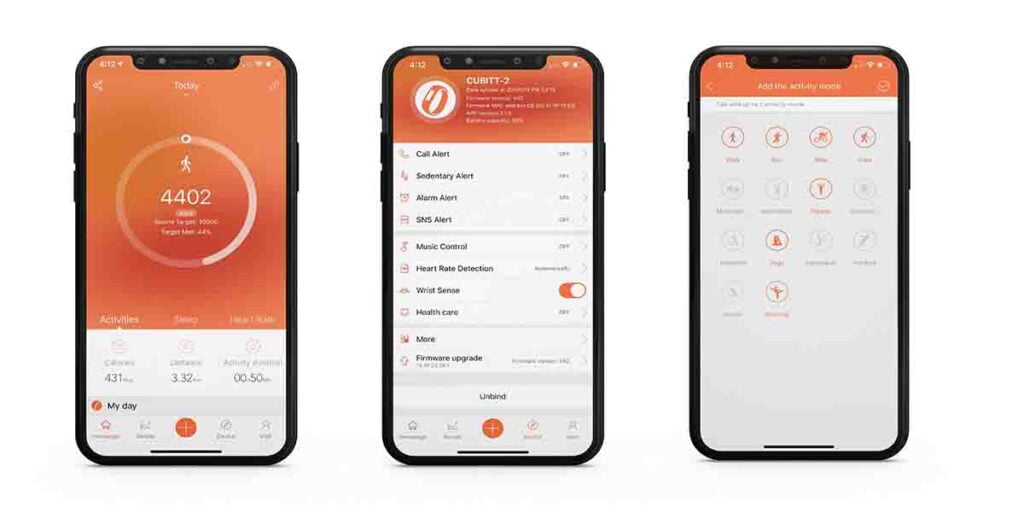 Lintelek fitness tracker uses the VeryfitPro app to pair with smartphones. And this fitness tracker is compatible with both IOS and Android devices.
The app is available in both Google's Play store and the Apple App Store. Its interface is easy to use & simple to navigate through your routines. Moreover, the home page of the app shows you all the basic overview of your performances like sleep tracking, heart rate monitoring, calories burned, and many more.
You can do a lot of cool stuffs by using the Lintelek fitness tracker like:
You can track your whole workout session.
You get to have better insights into your health.
Can track your sleep with DND mode.
And much more.
How to Connect the Lintelek Fitness Tracker with a Smartphone?
First, download the VeryfitPro app on your smartphone.
Place the Lintelek fitness tracker close to the smartphone, then turn on the wireless to get connected.
Then search for the Lintelek fitness trackers ID.
Lastly, turn on all the notifications of the App to get a call and message alert.
Perform these steps to get connected to your smartphone easily, and to have better insights into your health.
Battery Life
Charging this fitness tracker is easy, you don't need those wired chargers to charge the Lintelek fitness tracker. It has a built-in USB port on the device itself to charge the fitness tracker. This is one of the best features that Lintelek has added to its fitness tracker.
The battery backup of this fitness tracker is pretty good. In full charge, the fitness tracker survives for more than a week, which is great. However, the battery expenditure totally depends on your usage, but I can say with excessive usage it is going to last for 4-5 days easily.
FAQs (Frequently Asked Questions)
1. Are Lintelek fitness trackers good?
Every Lintelek fitness trackers are good, they don't cost a lot, which makes them the best fitness trackers in their segment. Moreover, they serves you every basic functions that you need.
2. Is the Lintelek fitness tracker waterproof?
No. This Lintelek fitness tracker is not waterproof. As this fitness tracker has a IP67 Life Waterproof certification, that makes this fitness tracker dustproof and splash proof.
3. How long does it take to charge a Lintelek fitness tracker?
Lintelek fitness tracker barely takes 1-2 hours to get fully charged. The red indicator will turn off when the tracker will get fully charged.
4. How do you charge a Lintelek fitness tracker?
Charging a Lintelek fitness tracker is so satisfying. Just pull the band off and plug it into any USB plug, it will be start charging.
5. How accurate is the Lintelek fitness tracker?
The accuracy of the Lintelek fitness tracker is decent. It counts steps perfectly, but when it comes to showing the output of calories burned, it shows a little over saturated results.
6. How do I reset my Lintelek fitness tracker?
Perform these steps to reset your Lintelek fitness tracker
First, open the VeryfitPro app> tap on Users> System settings > tap on Restart Device.
7. What if the Lintelek fitness tracker not tracking sleep?
If your Lintelek fitness tracker shows issues with tracking steps, then reset the device and you are good to go.
Final Verdict
Lastly, I want to mention here that the Lintelek fitness tracker is the best in this price range. If your budget is very tight, but you want to enjoy every single basic feature that a Fitbit offers, then the Lintelek fitness tracker is made for you.
Check out other reviews in this price segment
Hey! My name is Ranjeet. I am the co-founder of 'SmartwatchAdviser'. With one of my friends, I started this website out of a passion for writing and exploring different wearable tech. Currently, I am using Mi band 4 as my primary fitness tracker and own a Noise Color Fit Pro 3 to match my style on various occasions.