The clip-on fitness trackers market has improved due to competition and the integration of advanced tracking sensors. Hence, they are no longer the basic pedometer we used to think of. Instead, they have become a lifestyle health coach.
It can monitor your heart rate and sleep, track your steps, sync with your phone, etc.
However, due to different brands with advanced monitoring sensors, making a wise purchase decision can be a daunting task for novice individuals.
Don't worry because this article is meant to lift that burden and help you make a wise-purchase decision for the best Clip-on fitness tracker.
After gaining insight into the clip-on tracker's purchase decision, read our recommended review list of the seven best clip-on fitness trackers.
Buying Guide for the Best Clip-On Fitness Tracker
A Clip-on tracker is a fitness tracker with a clip that enables you to attach it to a sports bra, waist belt, shoe, or pocket to keep track of your fitness level.
Due to its lightweight nature and clip-on wearing design, it is ideal for individuals working in a medical setup, production workers, athletes, and discreet individuals who do not like wearing things on their wrists.
Based on the technological advancement, you should opt for clip-on trackers that offer significant functionalities similar to or more than their pricing. That includes; monitoring your heart rate, sleep, calorie count, step count, smart device compatibility, etc.
However, keeping a keen eye and selecting the best one is time-consuming. Depending on your activities, we will help you choose the best versatile and reliable for your needs.
Here is a listicle of factors you should look into to make the right selection, and it includes:
Battery Life
Most clip-on fitness tracker batteries can last for about 4-6 months before replacing the battery, while others can last up to 1 year. Depending on your activities and how important battery life is to you, opt for a battery that can last over 6 months.
However, a single-full charge of a clip-on battery can last a few days because of limited functionality, so they don't suck much juice. Most importantly, the tracker should also have a handy functionality to notify if the battery is low and when to replace the battery.
Compatibility
Unlike smartwatches, clip-on trackers have reduced functionality, but they are also compatible with computers and smartphones. It will help you sync workout data with either your smartphone or computer and get analysis.
If you are interested or intend to sync your fitness tracker to your smart devices, make sure compatibility is your top priority. That's because some may lack syncing functionality or may be designed to be compatible with a specific operating system like iOS or Android.
Moreover, suppose you are an active athlete. In that case, you should also consider if the tracker supports apps to help you have a precise and in-depth workout analysis.
Without forgetting, you need the apps as your fitness coach and make the most out of your tracker by maximizing the benefits of tracking apps.
GPS
Most of the standard trackers in the market are moderately accurate when measuring distance covered and speed. Thus providing inconsistent results that are not reliable in the long run.
To avoid this issue, you should check if the clip-on trackers offer GPS functionality.
With GPS functionality onboard, the tracker will provide the most accurate fitness tracking, including cycling, running, and more.
Suppose you are seeking a sport-specific clip-on fitness tracker. In that case, GPS functionality should not miss as it will help you monitor improvements in distances, speed, and more. You also need GPS functionality to guide you to find direction if you are lost and find a location.
Customization
Most clip-on trackers are not worn in direct contact with the skin. Instead, they are worn inside the silicone holder. However, because the tracking company varies in technology and product designation, they may offer a customizable clip-on that converts into a wrist tracker.
If you get a wrist-convertible clip-on tracker, you can customize it and wear it on your wrist if you feel it is not secure clipped on your body.
That is because the clip-on trackers are lightweight, which means there is a higher chance you might not feel it when it drops while working out. Or you might accidentally forget and throw it in the wash while still clipped on your outfit.
Accessories
Most modern clip fitness trackers nowadays offer a heart rate monitor. However, they constantly provide inconsistent heart rate results because the clip-on tracker is not worn in direct contact with the skin. Therefore, if you are a serious athlete, the clip-on tracker you intend to purchase must have a chest strap.
Because you will be wearing the chest, it will effectively monitor your heart rate and provide accurate data and analysis. Better yet, accurate heart rate data will also help you track your performance and progress.
It should also include sports headphones, smart scales, and other fitness accessories. However, it is worth noting that the included accessories may increase the overall pricing of the tracker.
Waterproof
Most of the old model clip-on trackers offer splash-proof resistance, which is okay if you accidentally go to shower with it. However, it is advisable to have a clip-on tracker that does not limit you from performing water activities like swimming.
It is, therefore, recommended to opt for a clip-on tracker rated IP67 or 68, which offers waterproof ability up to the depth of 50m underwater.
While looking out for this ability, you should be keen on this because some brands are rated IP30, which means it does not offer proper water resistance.
Comfort and Durability
The construction material influences the comfort and durability of your clip-on tracker. For this reason, it would be helpful to read its description to confirm what material is used in making it.
Check if there is a certification number and trademark logo, including a hypoallergenic logo that confirms quality approval and skin-friendly material.
A quality material that has been certified and approved guarantees durability and skin-friendliness using the mentioned certification number and trademark logos.
7 Best Clip On Fitness Trackers Review
Bellabeat Leaf Urban
The first on our list is Bellabeat Leaf Urban, a jewelry health tracker designed for women. Besides offering fitness tracking, it can also track your monthly and menstrual cycles, reproduce health, and remind you to take contraceptives.
It doesn't stop there, as it can track your sleep, calories burned, steps, speed, and distance traveled, monitor your stress level, and offer breathing exercises.
Since it doesn't offer a screen display, it supports the Bellabeat app, available on both Android and iOS. Meaning it will sync with smartphones, including Google Fit and Apple health which grants you access to all the workout information and history.
It is also skin-friendly because it is made out of wood composite and hypoallergenic stainless steel, making it elegant and a piece of fashionable smart jewelry. It makes it versatile to be worn in many ways, including a clip-on, brooch, necklace, waistband, or a bracelet on your wrist.
More importantly, it offers long battery life of up to 6 months, an inactivity reminder if you've been idle, and has IPX grade 6 water resistance.
Garmin Vivofit 3
Garmin Vivofit 3 is a wrist-convertible clip-on tracker with a scroll button that features a 64 by 64 pixels screen display. With the scroll button, you can seamlessly view basic information on the tracker's display, including time, distance covered, steps count, calories burned, etc.
In addition, it can also activate the backlight, start activity using the scroll button, and sync with Garmin connect app via your smartphone.
It will enable you to access all the detailed data, analysis, and history on your smartphone. It provides detailed tracking reports that are seamlessly easy to understand the graphs and charts.
However, it falls short on heart rate because it doesn't have a built-in heart rate sensor. But it offers the ability to connect to the Vivofit app, and you can utilize the app with other monitors using its wireless antenna to monitor your heart rate.
It is also integrated with an accelerometer to track outdoor activities, including cardio and the quality of your sleep.
It would help if you did not worry about skin sensitivity since it is made out of hypoallergenic silicone material. And, you can swim with it as it offers water-resistant up to 5 ATMs.
Garmin Viviofit 3 Compatible Clip-On Accessory
Xiaomi Mi Band 6
Like Bellabeat Leaf Urban, the Mi Band 6 is another fitness tracker that can be worn on the wrist or as a clip-on tracking device.
However, you will have to purchase the clip-on accessories separately. This tracker features an onboard accelerometer to keep track of the calories burned, steps, resting, and distance covered.
Nevertheless, it can utilize its strap-wrist band to monitor your heart rate, track your blood oxygen, and sleep.
It is the latest generation of Mi Band trackers and features a 1.56-inch AMOLED display with a 152 x 486 resolution. This display will be colorful and sharp even under a low-light setting.
It is affordable, offers many tracking modes, is compatible with smartphones, and the battery can last up to 14 days under normal usage on a single charge.
Mi Band 6 Compatible Clip-On Accessory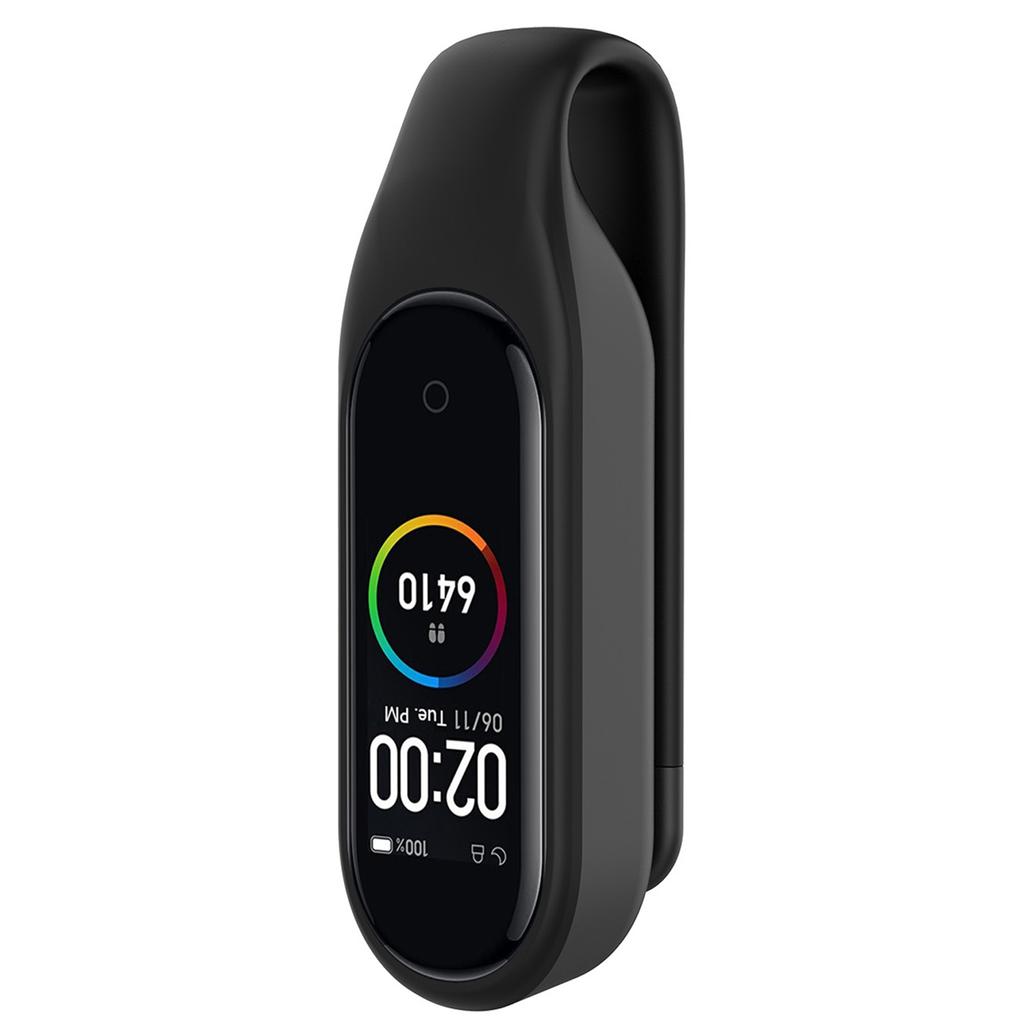 Moov Now Tracker
If you want an accurate clip-on fitness device, then Moov Now is your best choice because it is sport-specific focused.
It offers advanced tracking features to provide accurate tracking information, 8 sports models, real-time audio coaching, water resistance to some extent, 6 months of battery life, and a lightweight design.
You can manage and view detailed tracking information and insights on your smartphone because it is compatible with iOS and Android devices.
This fitness tracker is also integrated with Omni motion 3D sensors to track when you are running, cycling, swimming, boxing, sleeping, hiking, etc.
With 8 sport modes, powerful motion sensors, and audio coaching included, it will deliver actionable insights and guided training plans.
Unfortunately, Moov Now does not offer step count functionality. We recommend using its wristband if you want accurate heart rate data and analysis.
Fitbit Inspire HR
Fitbit is also among the wearable companies at the forefront of providing advanced health tracking devices.
With Fitbit Inspire HR being among the customizable clip-on tracker, it can effectively monitor your daily activities. It also includes heart rates measure, tracking your sleep patterns, calories burned, inactivity, steps, etc.
Unlike Fitbit Inspire, Fitbit Inspire HR is slim, lightweight, designed, and fashionable and comes with a scrolling button and OLED touchscreen display.
It provides 5ATM water resistance, 5 days battery under normal usage on a single full charge, and is made from food-grade silicone making it skin-friendly.
In addition, it features over 15 different tracking modes and offers a smart app that allows you to sync the tracker with your Android devices. It will help you understand and efficiently manage your regular workouts.
Fitbit Inspire HR Compatible Clip-On Accessory
Fitbit Inspire 2
Fitbit Inspire 2 is much better than Inspire HR because it includes; stress management, guided breathing insights, and Active Zone Minute function.
You can monitor your stress level and get precise calorie and fat burn on any activities. Or, more to the point, it features more than 20 pre-installed activities, meaning it can detect various activities, including walking, running, cycling, etc.
It comes with a 1.4-inch grayscale OLED touchscreen display for improved visibility and a powerful battery that can last more than 6 months.
In fact, on a single full charge, it can last for about 10 days under normal usage. It also offers water resistance up to 5ATM and can monitor your heart rate and heart rate variability, and respiration analyses.
Besides offering wrist and clip-on customization fitting, it has an eye-catching and luxurious design compared to the Fitbit Inspire HR.
Fitbit Inspire 2 Compatible Clip-On Accessory
Realalt 3DTriSport
Realalt 3DTriSport is a clip-on fitness tracker with a 3D pedometer and axis sensor technology, making it an accurate tracking device. This device can be clipped on and worn on the neck, waist, tucked in the purse and pocket, or on your wrist with its wrist strap.
The 3D pedometer onboard can effectively track your steps and calories burned and calculate the distance covered.
More importantly, it can track activities and store data for 30 days, allowing you to compare your regular activities and track your progress effectively.
It also features a daily exercise monitor that enables you to monitor time spent on activities, thus motivating your psyche to reach your fitness goals. When it comes to battery, it offers long battery life than any of the above-reviewed products, as it can last up to 12 months.
Furthermore, this device is a standalone tracking device that does not require Bluetooth or another device to work. Therefore, if you want to keep things simplified and autonomous, Realalt 3DTriSport is your best choice.
FAQs On Frequently Asked Questions
What's the best clip-on fitness tracker?
Many clip-on fitness trackers, and determining the best one entirely depends on the brand's technology, budget, and needs.
If you want the best clip-on tracking brand, Fitbit offers the most, including Garmin and Xiaomi. However, for the best purchase decision, you should consider some of the aspects we have shared above.
How accurate is the clip-on tracker on heart rate measure?
Clip-on trackers do not provide 100% data on heart rate measures. Instead, they will provide variable heart rate measures, which may not be reliable.
Therefore, if you want to monitor and have accurate heart rate data effectively, you should opt for a clip-on tracker that can support a chest strap.
Can I clip my fitness tracker to my bra?
Yes, it is the most discreet place to hide it, but it would be helpful to wear it with your sports bra. However, it limits you from seeing your steps while on the move.
Where is the right place to clip a fitness tracker?
The best place to clip your fitness tracker is by hanging it vertically from your waistband while ensuring it is aligned over your knee. It will help in providing an accurate step count.
Furthermore, it can also work if you hang it in a tiny pocket below the waistband of your jeans, provided it is in the right place.
Explore More Fitness Trackers