Healthcare providers, including nurses and nursing students, are restricted from using a cellphone while working and in class.
However, Apple Watch has revolutionized the healthcare department due to its advanced technology that gives nurses a huge advantage while at work.
According to nurses, nursing students, and medical professionals, Apple Watch provides versatile and convenient functionalities that get the job done.
For instance, they can receive messages/notifications, make calls, monitor heart rate, and so on their wrist display without using a cell phone.
Moreover, it gives them the advantage of remaining connected with their loved ones, monitoring their health, and staying informed about the local and outside world.
But the main concern about using Apple Watch in the medical profession is the constant exposure to water and bodily fluid. Both water and bodily fluids can cause damage because they can reduce the efficacy of the Watch's waterproof seals.
In addition, the wrist band can start to have bacteria buildup in the seams and around the buckle. It can cause skin irritation and rashes, and the Watch will start developing a bad smell making it not ethical and healthy in the medical profession.
It is, therefore, advisable to look for an Apple band that is easy to clean, waterproof, durable, and skin-friendly. This article reviewed the best Apple Watch bands for nurses, including a straightforward purchase guide for Apple bands.
Apple Watch Band for Nurses Stepwise Buying Guide
When buying Apple Watch or Apple band, you must consider the Apple band material, the size of your wrist, the type of buckle, and the available design/style.
These aspects are vital depending on the Apple Watch's usability in the medical environment and comfort when fitting, and skin-friendliness.
Band Material
The Apple band construction material has a huge impact on the Watch's overall look, comfort on your skin, and fitting.
For instance, leather and metal straps (Stainless steel and Aluminum) are durable and the most popular option for individuals who want to look stylish for both casual and formal occasions.
But in the medical profession, straps made out of metal material are not ideal because they are heavy to wear all day. Moreover, they contain a small percentage of nickel, which increases the risk of skin irritation and discomfort.
Contrarily, leather bands offer lightweight fitting making them comfortable for all-day wear. However, they are not water-resistant, making them a potential skin-irritant and bacteria buildup environment. Hence, not hygienic for the medical environment.
If you are a nurse or student, we strongly recommend opting for silicone, polyurethane, or woven nylon Apple band. They offer a better fitting, breathable, water-resistant, easy to clean, hypoallergenic, lightweight, and stylish design.
It makes it ideal and comfortable for all-day wear, versatile and hygienic in the medical environment. The best examples of Apple Watch band made out of the above materials includes; the Solo loop, Sport loop, Braided Solo loop, Apple Nike Sport Band, and Sport Band.
Both Solo Loop and Braided Solo Loop offer elasticity and contraction quality, allowing you to slip over your hand.
You should also pay great attention to the buckle and clasp material. Because some straps may come with metal buckles or clasps that are not suited to sensitive skin, don't opt for an Apple band with buckles and clasps that can cause skin irritation or rub your skin frequently.
Band Fitting
The fitting of the Apple Watch band determines its comfort on your wrist, and according to Apple Team, they recommend it should fit snug but comfortably.
With that fitting knowledge in mind, you should know the size of your wrist in millimeters because most Apple bands are expressed in millimeters. If you are not precise about your wrist size, grab a measuring tape or ruler and use it to find the precise measure to ensure a good fit.
In addition, most of the smaller Apple Watch models are compatible with bands sized 1-9 (38mm and 42mm.) The larger models are compatible with band-sized 4-12 (44mm and 45mm.)
But for an error-free measurement, we recommend visiting Apple Store near you and getting an Apple band size that feels best on your wrist. Or, you can use the measurement tool online PDF offered by Apple.
Secondly, you should purchase the Apple band from Apple Store because they offer free returns and exchanges if the band doesn't fit right on your wrist. Also, remember a strap that is either too small or too long is useless. Therefore, opt for a medium-sized strap depending on the size of your wrist for better fitting and easy adjustment.
The Design of Band Buckle and Clasps (Connection and Fastening)
The third aspect to consider after selecting the material and finding the precise size of your wrist is the design of the buckle and clasps. However, it is worth noting that the choice of material influences the type of buckle or clasp the band/strap has.
For instance, metal bands/straps work best with a Milanese loop than a link bracelet. That is to say, the band's design is influenced either by the buckle or clasps, yet certain bands aren't compatible with certain types of buckle or clasp.
Under the design, we have bands with magnetic clasp, without buckles or clasps, with Velcro, and the one with a tang buckle.
The most secure clasp option is the traditional buckle which works as a belt buckle with metal clasps. But if you are a busy nurse or want something that you can quickly get on and off, we recommend opting for a band with a Velcro fastener.
But the downside of Velcro fastener is it shows signs of wear if you get sweaty or wet regularly. Suppose you want a clasp system that can accommodate all wrist sizes without worrying about spacing. In that case, you can go for the Milanese loop.
When it comes to buckles, two types of strap systems connect to the case on your Apple Watch. They include a springbar-style lug system and a lug system.
A lug system buckle is the one that connects directly to the watch case, unlike the spring bar-style lug system, which sits outside the case of the Watch. It will create a more secure setup than the spring bar style.
More importantly, a lug system buckle is interchangeable, which allows you to clean the band and replace it easily. Hence, meeting the medical hygiene policy. However, the disadvantage of using a buckle with a lug system limits the number of straps you can pair with it.
The Source
This factor is not such significant as the above factors, but it influences the durability and friendliness of the band.
For instance, if you purchase directly from Apple, you can get a quality band. You will get a strap that fits the best because they are manufactured with standard fitting consideration depending on different wrist sizes. Moreover, they are licensed and considered consumer health policies making them hypoallergenic.
You cannot rely on the other band/straps manufactured by a third-party company because they may not follow consumer health policy. Nonetheless, there is also a possibility the fitting of the strap may not meet the standard fitting consideration.
But that does not rule. You cannot get a strap that fits you the best. Instead, you should try your luck depending on your fit preference if the manufacturers' strap doesn't offer the best fitting.
7 Best Apple Watch Bands for Nurses
Apple Sport Loop
Apple Sport Loop is ideal for nurses and medical students because it is fashionable and comes in various designs for both men and women. The Apple Sport Loop is made of double-layered woven nylon making it hypoallergenic and breathable.
Besides, the woven nylon material is lightweight, easy to clean, and water-resistant. It makes it durable and ideal for the healthcare profession.
It is designed with dense loops on the skin/wrist side to provide soft cushioning on your wrist for all-day wear. It also comes with a hook-and-loop fastener to help you customize the band to fit your wrist with ease.
Apple Nike Sport Band
If you are a fan of sportswear, Nike and Apple have come together to make sport-focused wristband design. Firstly, Apple Nike Sport Band is ideal for every individual because it comes in small/medium and medium/large straps.
In a simple description, this band is made from a fluoroelastomer (a fluorocarbon-based synthetic rubber) to hold up during intensive activities and offer toughness.
It is integrated with compression-molded perforation to allow your wrist to breathe and enhance comfort for extended-hours wear period. In addition, the fluoroelastomer material also feels soft like silicone material, making it both sweatproof and waterproof.
You can get this band in a range of fun colors that suit your preference and gender.
Apple Sport Band
Like the Apple Nike Sport Band, Apple Sport Band comes in all sizes and is available in 16 colors you can choose from. You can pick different colors that match the particular outfit or occasion.
With Apple being the manufacturer, you are guaranteed the quality and worth of your hard-earned money. The strap of the Apple Sport band is also made from fluoroelastomer, which offers fade-resistance, water-friendly, and easy-to-clean material.
Nevertheless, it is fairly lightweight compared to stainless straps, providing a snug-fitting on your wrist and durable.
Apple Solo Loop
Apple Solo Loop band design was introduced in the market with the Apple Watch Series 6 and is made out of recycled materials. The excellent part of its construction comprises a thread mix of cotton and liquid silicone.
It helps to offer flexibility (Elastic quality) to slip on your wrist and superior wrist comfort for all-day wear. The other advantage of Solo Loop over the above reviewed Apple bands is that it can clean with healthcare-grade wipes.
Furthermore, there is no need to take it off every time because it is both waterproof and sweatproof. However, this band offers no clasp making it not adjustable. Instead, it is offered in twelve sizes, including small/medium and medium/large. It is, therefore, recommended you measure your wrist to help you find a more precise fit.
Since it is elastic, you should also size down your wrist measurement size for perfect fitting.
Apple Braided Solo Loop
Braided Solo Loop also offers similar qualities as Apple Solo Loop bands, including waterproof, sweatproof, elasticity, easy-to-clean material, and available in different colors and twelve sizes. However, it is made from polyester yarn braided around silicone thread.
Most importantly, because it offers elastic quality, it can stretch over time, and thus, it is advisable to size down your wrist measure size for perfect fitting.
Nomad Sport Strap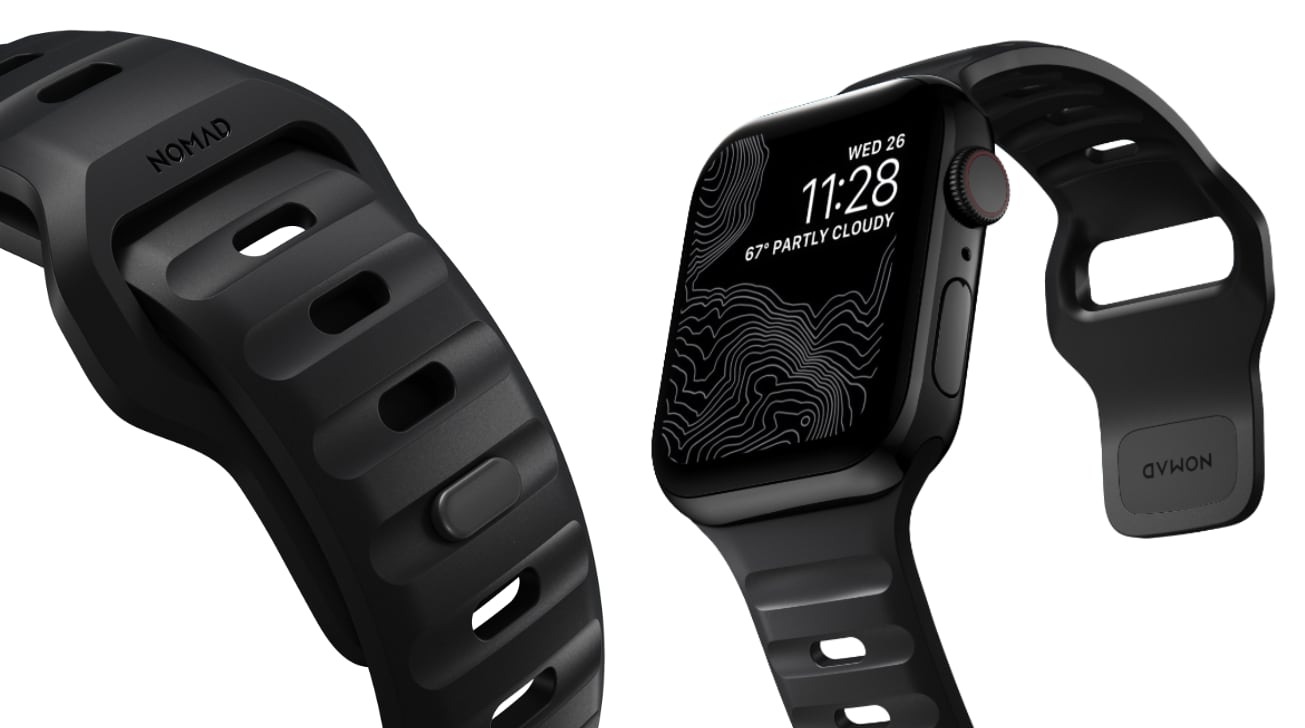 If you want a third-party band that offers standard quality and toughness like Apple bands is Nomad Sport Band. This band is made from standard silicone material that is lightweight and comfortable for everyday use.
Besides, it is designed with a slate-gray finish over the black, making it elegant, classy, and standing out from the crowd. Because it is manufactured from silicone material, it can withstand frequent water and fluid splashes depending on nursing career specifications.
Apple Milanese Loop
Apple Milanese Loop is your great choice if you want an elegant and fashionable Apple band. The band is stainless steel mesh with a wraparound design like the Apple Sport Loop band.
The band is fully magnetic and adjustable for easy and perfect fitting customization and is available in graphite, silver, and gold.
Because the Milanese loop is made from stainless steel, it offers water resistance, and its meshed design offers breathability to enhance comfort for everyday use.
Lastly, it is worth noting that, Milanese loops are available in small and medium sizes. Therefore, you should opt for other Apple bands if you have a larger wrist over 7.8 inches.
FAQs: Apple Watch Bands for Nurses
Why are Apple leather bands not ideal for nurses?
Apple leather bands do not offer resistance against water and body fluids, making them a potential hazard for infection and bacteria buildup. Besides, it is also a potential skin irritant depending on the individual skin sensitivity.
Why is it important to have a snug-fitting band?
A snug-fitting band offers maximum wrist comfort for all-day wear. Nonetheless, it is essential to snugly fit in your wrist so that the heart rate sensor can work maximally.
A tight-fitting band blocks the signal of the heart rate sensor and thus causing it not to monitor your heart health effectively.
Why do Nurses wear Apple Watches?
Nurses wear Apple Watches because it is a hand-free gear that offers significant advantages over a cell phone and regular watches. They include; tracking health and activity, making calls and sending messages using Siri, serving as a reminder, making cashless payments, and more.
Do Apple Watch bands fit all series?
Yes, all the Apple watch bands can fit all Apple watch series, but it would be helpful to consider the size of the particular watch case. That's because they do not have a similar case size.
Explore More Apple Products