It has been a while since I reviewed any smartwatch, but today I am pretty excited to share a new budget-friendly smartwatch on the market, the Kospet Tank M1.
In just a few weeks after its release, the Tank M1 became a favorite for many smartwatch enthusiasts out there, and one of its major highlights is its ruggedness.
When considering investing in a smartwatch, one question may come to mind – Does it warrant the expense?   
Luckily, I was able to get my hands on the Tank M1 and have been using it for a while now. This review will discuss my overall experience with the watch, as well as my thoughts and opinions that will determine whether purchasing the Tank M1 would be worthwhile.
Don't have time to read? Here is the Kospet Tank M1 Video Review:
Kospet Tank M1 Review – My Honest Review
Box Packaging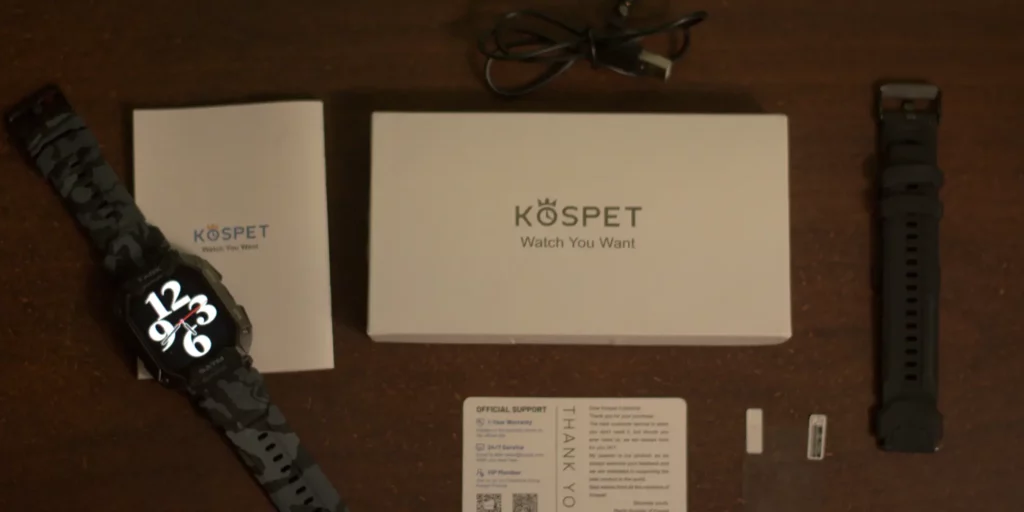 The box looks quite premium in terms of packaging.
On the front, you'll see Kospet branding. And on the back, you'll find the spec highlights that this Tank M1 offers. The packaging didn't feel cheap at all; the company did its finest to make it look as if you were purchasing a high-end product.
On opening the box, you'll find: 
A user manual on the top.
A thank you card from Kospet.
The smartwatch itself along with a silicone strap.
Magnetic cable for charging the device.
An additional screen guard to protect your screen.
I said additional screen guard because the Tank M1 already comes with a protective film applied out of the box; all you have to do is peel off the mask to reveal the screen guard.
Also, I got a camouflage-style strap, which looks much better than the regular strap. If you place an order by March 10, you can also get the camo-style strap. You can check out this camo strap by clicking here if you're here after March 10.
Kospet Tank M1: My First Impression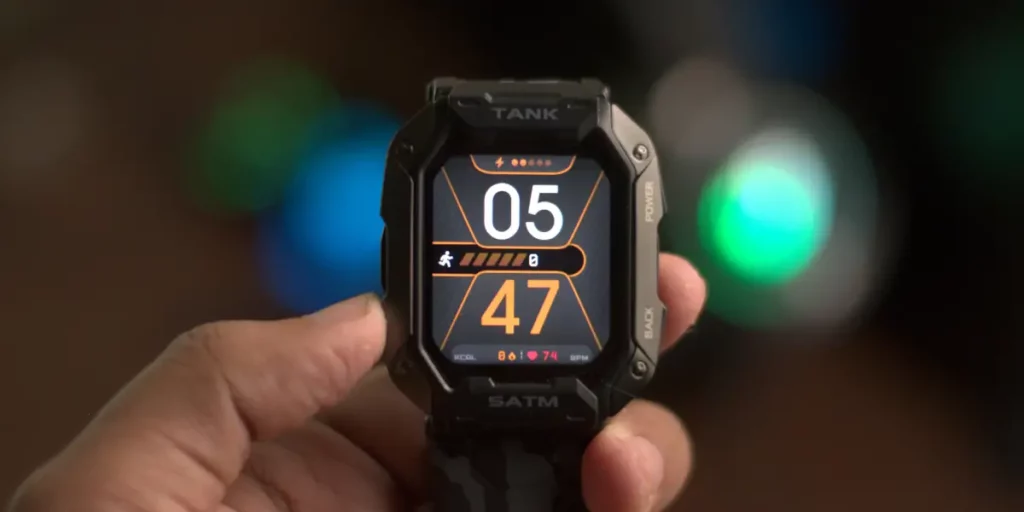 For the first impression, I can say the Tank M1 feels tough, solid, and durable. No doubt, Kospet did its finest to make this watch's design suitable for travel adventurers, sports enthusiasts, mountain climbers, professional athletes, and pretty much any kind of outdoor dwellers.
As I have been using this watch for a while, I can say wearing this watch feels surprisingly lightweight and is quite convenient to carry around on your wrist.
The Tank M1 features a huge 1.72-inch IPS TFT display of 280 by 320 resolution. Its display's color contrast is pleasing to the eyes. Although it may seem saturated to some, setting an appropriate brightness level will work for them.  
The watch has two buttons on the right; the top button is used to power on/off the device and below is the back button for navigation. On the back, there are sensors along with a slot for plugging in the magnetic charger to charge it up.
Software And Features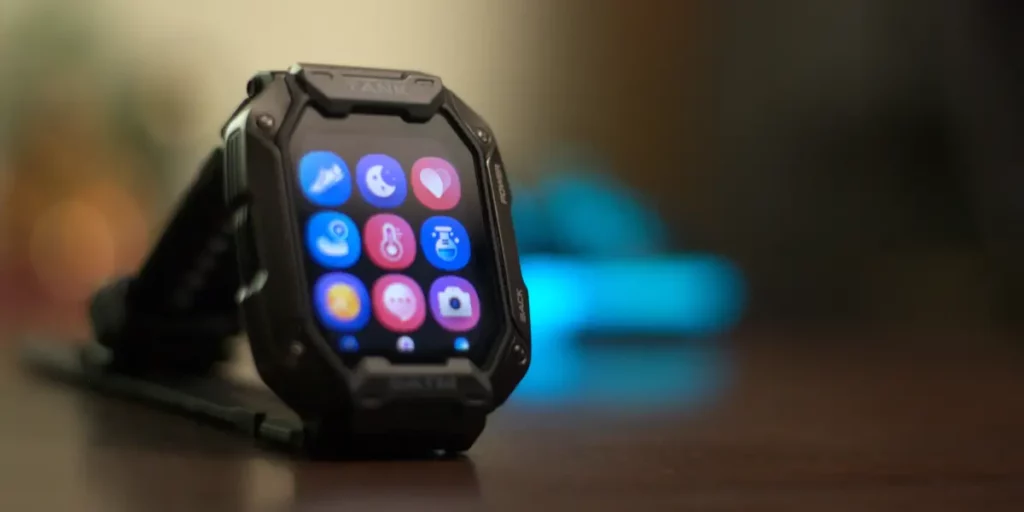 With the Tank M1, you can customize the watch face by long-pressing the screen, showing you a series of watch faces to choose from. The watch comes pre-loaded with up to 10+ stunning watch faces to match your style on various occasions. Even more exciting is you can explore more of such watch faces from the companion app called Da Fit.
Regarding the software performance, this watch has a smooth navigation interface. The responsive touch screen works pretty well in navigating one screen to another.
On swiping down, you get quick access to a menu where you can adjust brightness, enable shake to wake the device, enable battery saver mode, check weather details, and navigate to the settings option to reset or power off the device.
If you swipe right, you'll see a few shortcuts that let you access some of the most commonly used data fields. And by swiping left, you get on-screen insights into your steps, heart rate, SPO2, exercise, and surprisingly blood pressure monitoring is also available on this watch.
A Quick Look At Specifications
| | |
| --- | --- |
| Specification | Description |
| Waterproof | 5ATM & IP69K waterproof, and obtained IP69K certification |
| Shock resist | The watch can withstand repeated rolling by cars over 2 tons. |
| Dust resist | Passed the dust test and is suitable for the mining environment. |
| Battery life | 380mAh big battery, standby time above 50 days, daily using time above 15 days |
| Heart Rate Sensor | With the latest HRS3690 heart rate sensor, the accuracy of the heart rate test is comparable to that of Apple and Huawei |
| UI | Newly designed dynamic UI supports split-screen display |
| Display | 1.72-inch clear display, resolution 280*320, gives you a better visual experience |
Fitness and Health Monitoring: How Accurate Is It?
In general, smartwatch-making companies do not add blood pressure monitoring to their budget-friendly watches. Kudos to Kospet for making blood pressure monitoring affordable.
Honestly, tracking steps wasn't always accurate. I noticed the step count was automatically increasing when I typed something on the keyboard or due to some random hand movements. Other than this, heart rate and SPO2 monitoring were quite accurate.
To measure my sleep, I wore it for the duration of the night. The next morning, all data including light sleep, deep sleep, REM, and awake time were synced to the companion app. Combining these metrics, the app gave me an overall score of 83, which is pretty decent in my opinion.
There is one thing to remember here: those with small wrists may find it difficult to wear it throughout the night, but as far as accuracy is concerned, you won't be disappointed.
When it comes to sports mode, the Tank M1 can track up to 24 different exercises/sports and track details like steps, distance, calories burned, distance covered, and heart rate. Keep a note that, these stats change based on the activity that you're tracking.
Here's the list of exercises/sports that can be tracked:
Walking
Running
Cycling
Skipping
Badminton
Basketball
Football
Swimming
Tennis
Rugby
Golf
Yoga
Workout
Dance
Baseball
Elliptical
Rowing
Trail Running
Skiing
Bowling
Dumbell
Sit Up
Training
Hiking
That's a lot, right?
I'm sure you're wondering how we can organize the activity data for viewing more detailed insights. Well, the tank M1 can be paired with its companion app, Da Fit, just like any other smartwatch.
Paring & Using Da Fit Companion App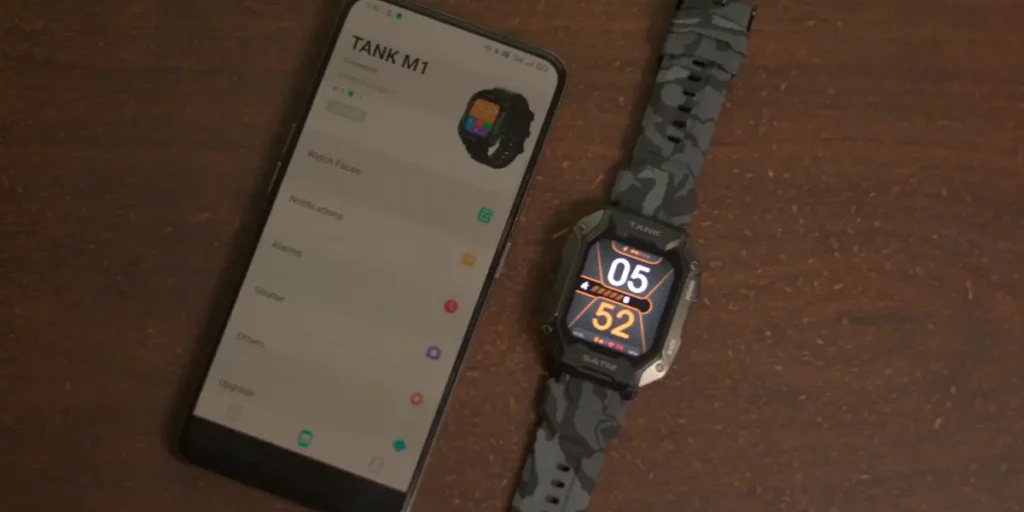 The Kospet Tank M1 uses DA Fit (available on Android & iOS) to sync your activities data to your smartphone. Setting up DaFit is pretty easy.
Install the Da Fit app from the App Store.
Open and Create your profile by entering some information such as gender, birthday, height, weight, and step length. Tap Ok to enter the dashboard.
On the top, you'll then see an option to add your smartwatch. Tap on it and follow the on-screen instructions to set up your Tank M1.
The app unlocks several exciting features as soon as the watch is paired with your phone.
Starting up with the watch face, through the app, you can explore several unique and creative watch faces out there. The list is quite huge so you can set up a new watch face every other day.
Next, you can enable notifications. It will help you stay updated on who is calling or texting. For me, it is quite helpful when I drive or have a busy schedule where taking out my phone from my pocket is not possible.
However, answering calls is not part of this smartwatch, you can only send quick replies if you want. Come on! That's manageable at this price range.
Moreover, you get can set alarms; the device vibrates with the correct intensity to wake you up. Next, you have the basic remote camera feature for remotely taking group selfies.
Here comes the interesting part!
On navigating to advanced options, you get to play around with lots of stuff and set everything according to your preference. Here's what you can do:
Find Device: This makes your watch vibrate to locate if lost.
Time Format: Switch between 12 hours and 24-hours time format.
Unit System: Switch between Metric and Imperial.
DND: Disable Push messages for a specific period.
Reminders: Set reminders to move or drink water.
Music Control: Control music playback from your watch.
Battery Saving: Enable to enter your watch into Battery Saver Mode.
Language: Set your preferred language.
Weather: Sync current Weather details to your Tank M1.
Cycle Tracking: Keep a track of menstrual flow, and manage pregnancy (for females.)
Battery Life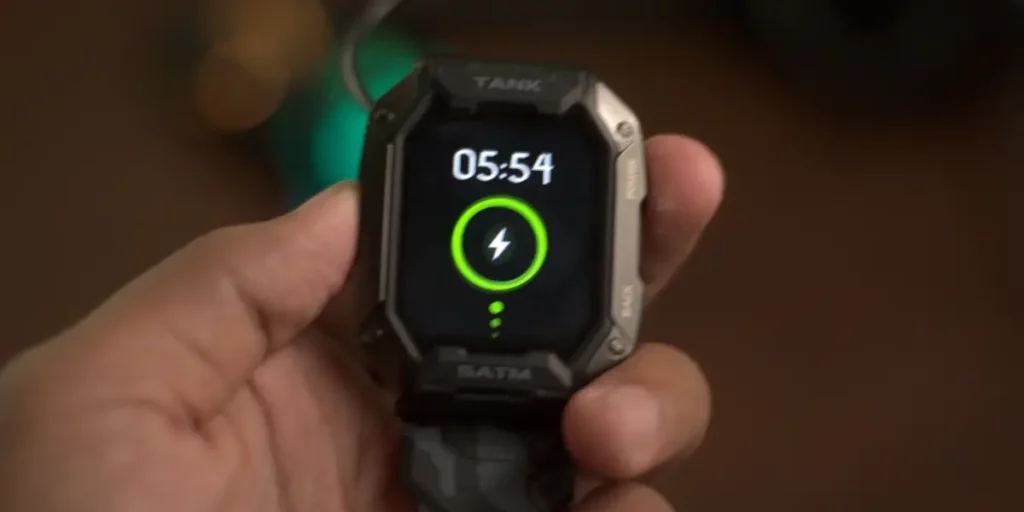 The Kospet Tank M1 comes with a 380 mAH battery and the company claims it to be giving a battery backup of 50 days on standby and around 15 days on regular usage.
In my usage, I didn't charge this device for more than twenty days and it was still running. I am assuming it may be due to usage plus having the battery saver enabled all the time.
You might get a different result if you are a heavy user who gets a lot of notifications or you use your watch for everyday workout tracking.
However, With my current observation, I can say the Tank M1 will keep its promise and give you 15 days of battery backup with regular usage. No doubt about that.
Testing Durability
To test its ruggedness, I ran my bicycle on it, having an overall weight of around 100kg. Thankfully, it didn't cause any damage to it. To step up the game a little bit, I ran an actual vehicle on the watch but again the watch survived and it was fully functional.
I was not satisfied with all of these. So I kept the watch in the refrigerator for almost 2 hours. It again kept its promise and it easily survived low temperatures.
Note: You might get a few dents on the watch body, but it stays fully functional after excessive torture.
Final Verdict
The Tank M1 is an excellent choice if you're looking for a more durable watch that does not compromise on features or looks while being affordable at the same time. For outdoor dwellers who like to hike, swim, climb mountains, and do other things outdoors, it's a lifesaver.
If you have made up your mind to purchase the Kospet Tank M1, then here is an additional 10% discount coupon (KOSPETTM01) that you can apply for some extra savings.