To become fit, we need to cut off that extra fat stored in our bodies. And to burn those extra fats, we need to do exercise regularly and have to eat healthy foods. Doing exercise doesn't refer to going to the gym or hitting hard on weights. Exercises mean any kind of physical activity such as running, cycling, or walking.
It's a fact, low-intensity exercise like walking is more effective than heavy exercise. To stay healthy and maintain your shape, you need to walk more daily. And to help you with your fitness journey, we have created this list of the best pedometer app for the Apple Watch.
With the help of any of these apps, you can get a better overview of your calories burned and the steps taken. Along with this, these apps will make you stay motivated and focused.
Best Pedometer App for Apple Watch
1. Apple Health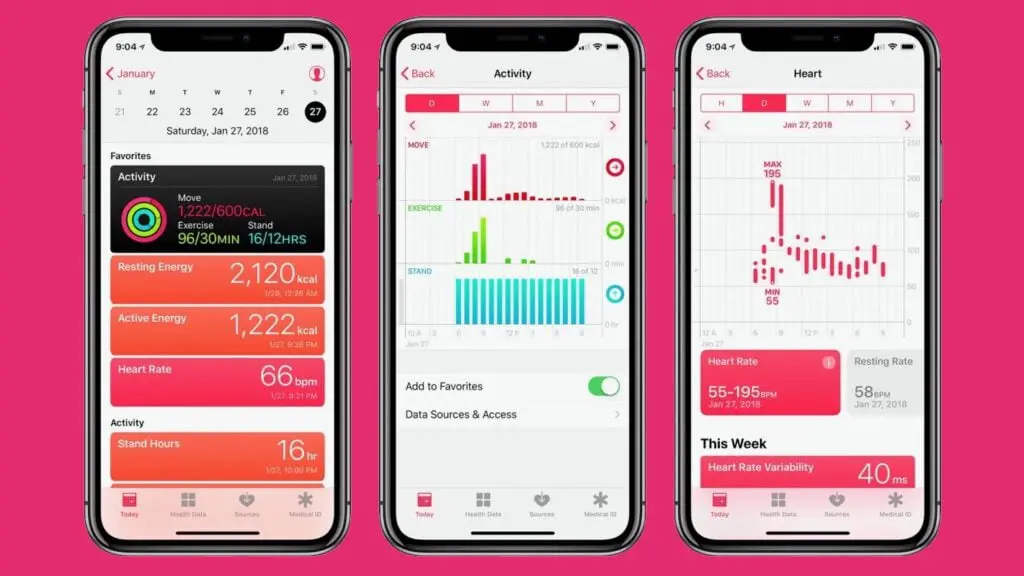 Apple health is the best app for tracking steps and fitness for Apple users. You don't need to download any other third-party application for tracking your steps. Even you can use this app from your apple watch and can go through all your statistics directly from your wrist.
Apple health not only tracks your step but also helps you in your fitness journey. This app offers you every single feature that all other pedometer apps have. In terms of accuracy, this app works perfectly. Overall, Apple health is the best pedometer app for apple watches.
Price – Free
2. Google Fit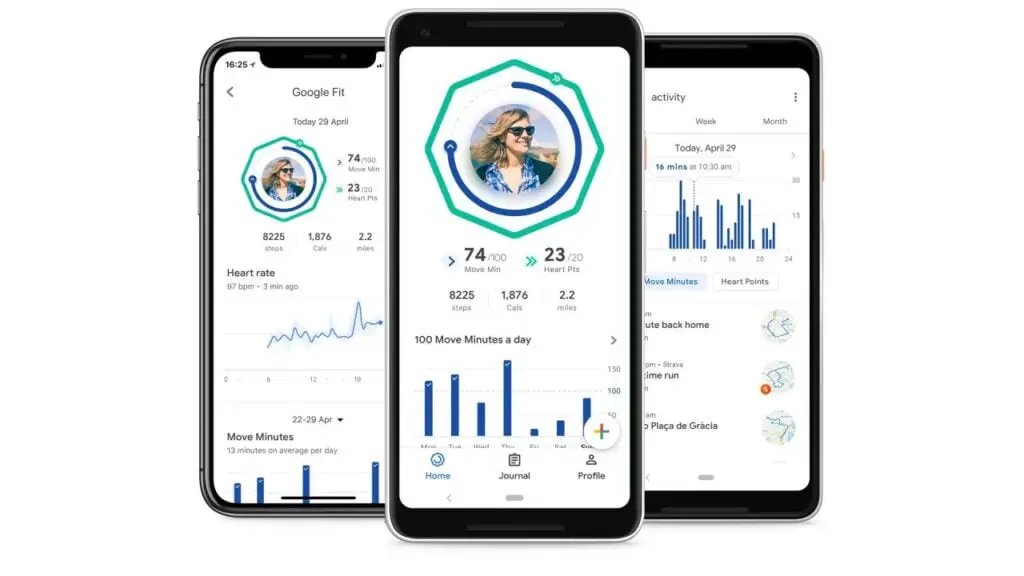 Just like the Apple Health app, Google Fit is also one of the best apps for tracking steps as well as fitness. But the only catch is the Google Fit is an android based application developed by Google, but that doesn't mean it won't work on apple watches.
It works perfectly in apple watches too. It does not just record your steps but also monitors every physical activity, which will help you in your fitness journey. For instance, your heart rate, calorie intake, and expenditure can be monitored with this application.
Price- Free
3. Pacer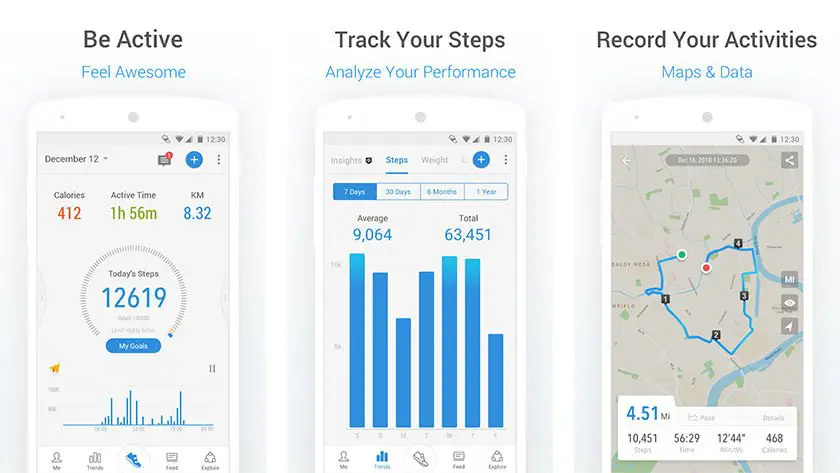 Pacer is not just a pedometer app for the apple watch. It is way more than that. This app allows you to set your personal fitness goal & monitor your daily performance. Pacer has a feature to make personalized fitness challenges or competitions and play with your group and family members. You can also see who takes more steps and burns more calories so that you can stay motivated and focused on your fitness goal.
Moreover, you can do all these things from your wrist too. Pacer also serves you a feature to get connected to Health app or Apple Health to know more about your physical activities. Additionally, it also gets connected to MyFitnessPal.
Price- Free
4. Pedometer++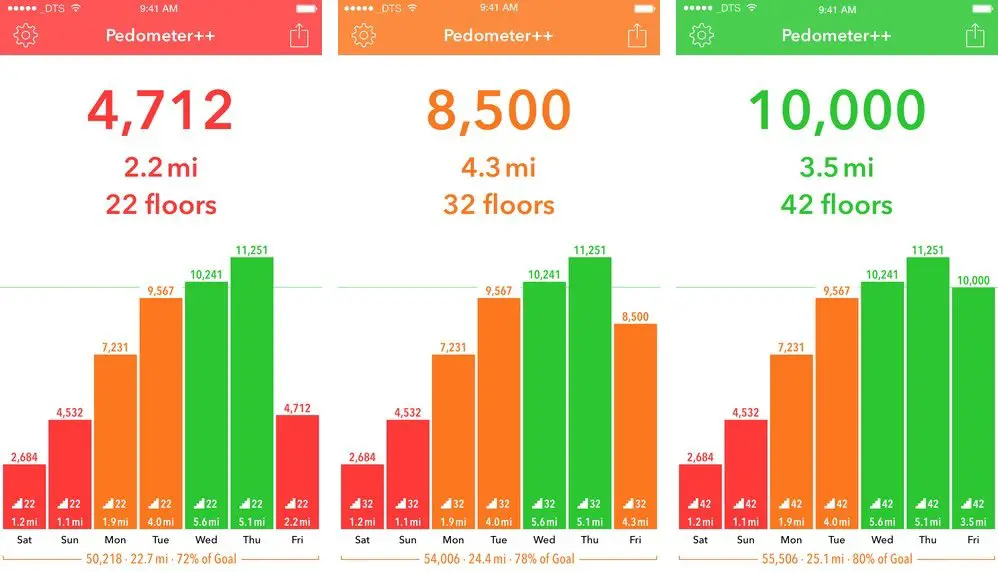 Pedometer++ is one of the best & oldest pedometer apps for the iPhone and Apple Watches. The app gets connected to your apple watch effortlessly. Moreover, it lets you set your daily step goal and shows your overview in three basic ways by using your apple watch app, iPhone, or from the daily view widget.
Additionally, you can also sync the Pedometer++ to Apple Health to get a better overview of your health.
Price – Free
5. Activity Tracker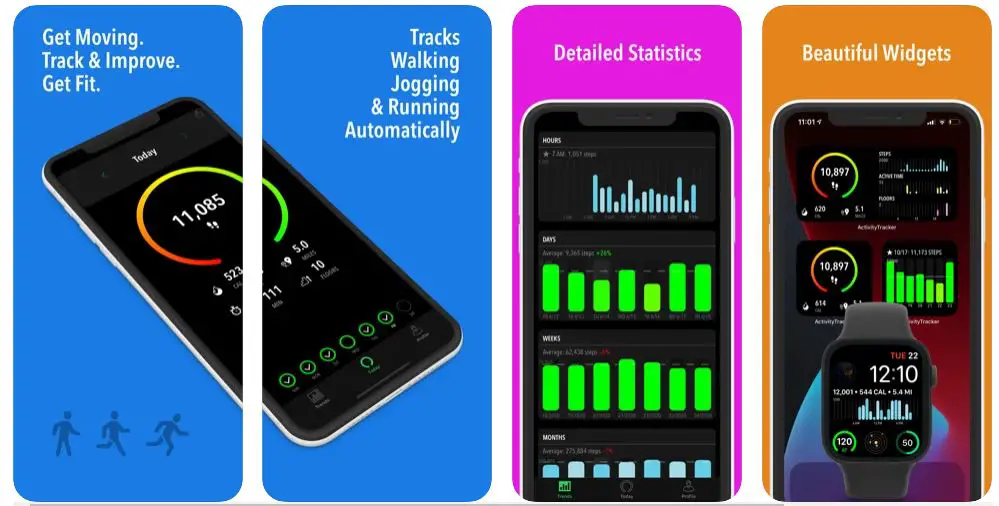 The activity Tracker app is not just an activity tracker it's an all-rounder application that can track all kinds of fitness activities. For instance, it can measure your daily steps, distance covered & checks whether you are walking or running. Besides, it monitors your heart rate and calculates calories burned, giving you a report of how many calories are left for a day.
Activity Tracker also lets you enable your own personalized fitness goal. According to this, the app will remind you to stay active and focused on your fitness journey. Moreover, the UI of the app is neat and clean, making it easy to use and navigate without any complications. Additionally, it gets connected to your apple watch very smoothly.
Even this watch lets you see your fitness statistics of an hour, day, week, and even a month. And you can find all this information from your Apple Watch, iPhone, and your Apple Health too. Along with this, you can share all these stats with your friends. Overall, this is the best pedometer app for Apple watches.
Price – Free
6. Accupedo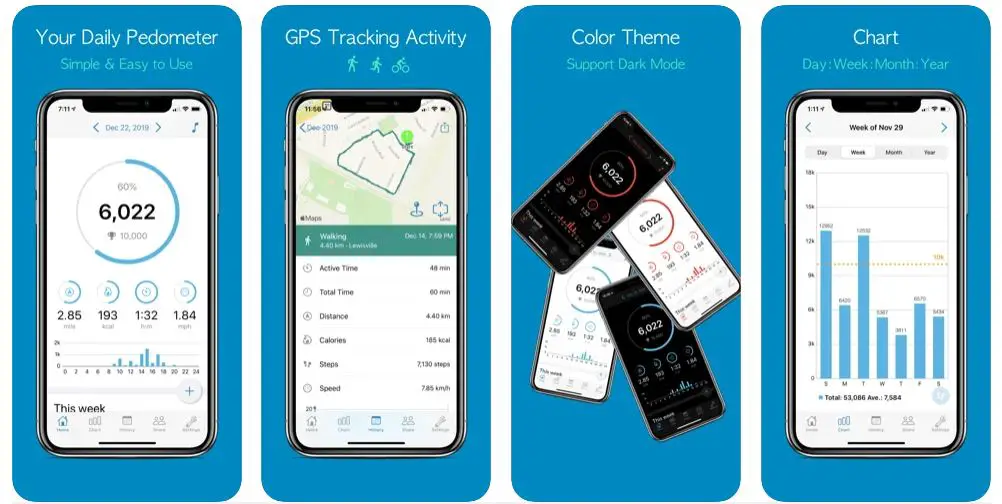 If you are involved in intense physical and sports activities, Accupedo is a great alternative option to look upon for apple watches. This application gets connected to your apple watch through your iPhone without any hassle. Moreover, this app offers you multiple sports modes to track your fitness. For instance, walking, cycling, jogging, and even intense running can be tracked.
Accupedo also offers you to set your fitness goal, and if you want to look at your statistic, then this app shows your whole progress achievement. Additionally, it also lets you know your progress by showing your statics of daily, weekly, monthly, and even yearly activity reports.
Another great thing about this application is that the UI of the app is clean and easy to use. You won't find any complications while using. Moreover, it also tends you to share your progress with your loved ones, on social media platforms, and even through emails.
Price- Free
7. MyFitnessPal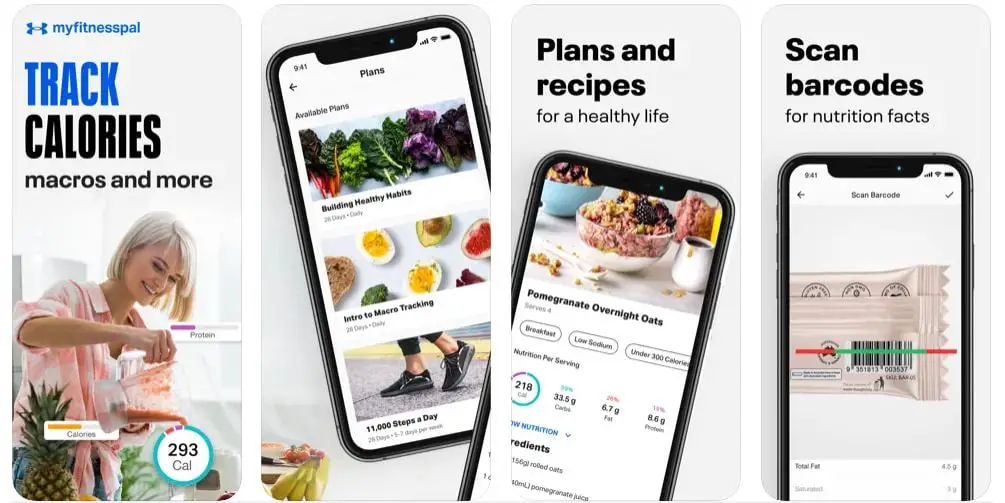 MyFitnessPal app is a kind of one-stop solution for all your quires and questions for fitness. You might don't know that MyFitnessPal also tracks fitness and counts steps as well. This app gives us the exact output of our activities. Moreover, it also tracks our daily calorie intake and gives us the nutrition reports of a food item. Additionally, it gets connected to your Apple watch and lets you do everything from your wrist.
However, there is a paid version available, with the help of which you can customize any fitness plan, and too with this, you get access to free diet plans and workout routines, which are designed and prepared by professionals.
Price – Free & Paid
8. Steps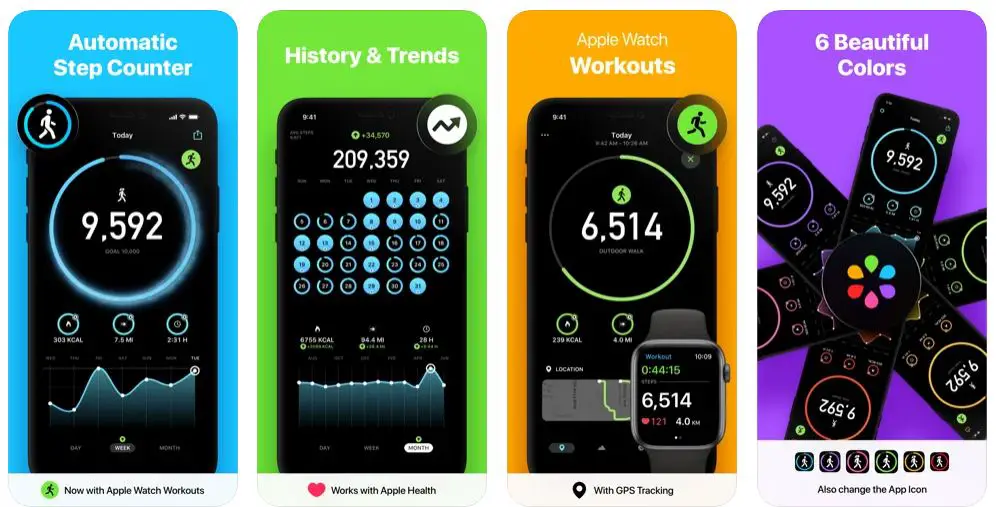 As the name suggests, this app counts your daily steps to keep you fit. This application lets you set your daily step goal and get an overview of your data on your apple watch. It shows you the detailed information of all your numbers such as total distance walked/ran, total steps taken in a day, and total calories burned. Moreover, all this information you can get on your wrist with a neat and clean UI.
Steps app also gives you alternatives to customize your watch face according to your preferences and gets connected to the Apple Heath to provide a more detailed overview of your stats.
Price – Free
9. Stepwise Pedometer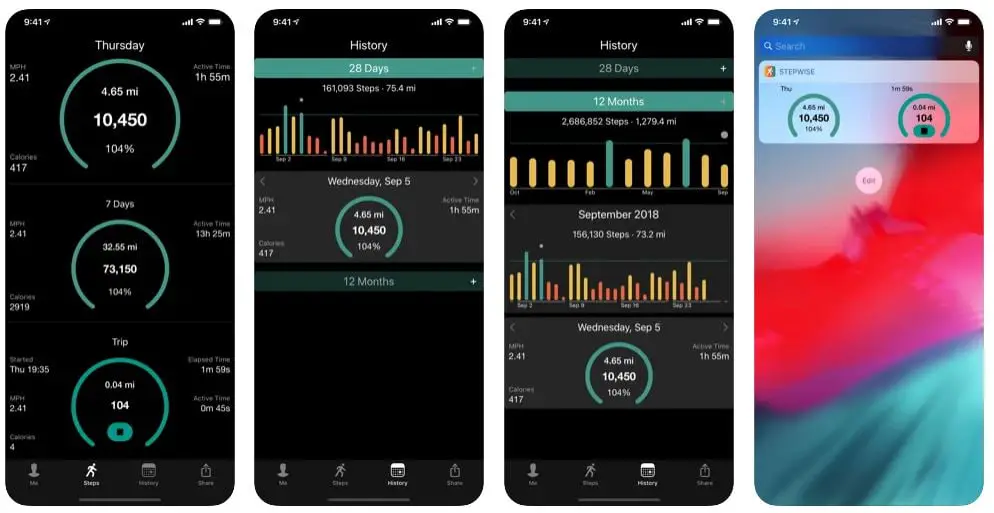 Stepwise Pedometer is one of the best pedometer apps for apple watches. This app is a little different from other basic pedometer apps. It sends you motivational quotes to stay motivated and focused on your fitness journey. Additionally, it allows you to set your customized step goal to stay in shape.
Stepwise Pedometer app shows steps on the apple watch face with other basic stats of your daily calorie expenditure such as total calories burned, total distance covered, total steps, and your active calories. The only thing that makes this app sit below on our list because it is ad-supported.
Price – Free
10. MapMyWalk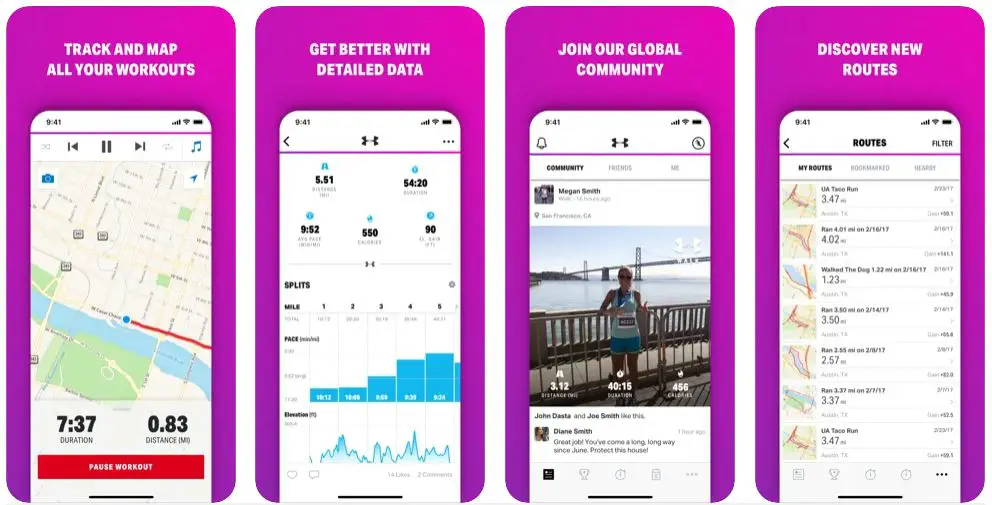 MapMyWalk has nothing much fancy in it, this app is very much similar to other popular pedometer apps for apple watches as it guides you through the routes that you are going to take on a run. Also, tracks your daily steps and workouts then displays the stats on your apple watch effectively.
One thing you should keep in mind while using this application is that it is going to drain your watch's battery a lot. Other than this, the app is smooth to use because of its clean UI, and I find it pretty accurate while testing it.
Price- Free
Frequently Asked Questions (FAQs)
Is my pedometer app not syncing with Apple Watch?
If your pedometer app is not syncing with your Apple watch, then follow these steps: First go to Settings, then go to Privacy, then to Motion & Fitness and Turn on the Fitness Tracking and Health and perform the same steps n your Apple watch too.
How to add the pedometer app to Apple Watch face?
A. Mostly all pedometer app lets you add the app on the watch face, but if your watch is not allowing you to do this, open the pedometer app, open the Sources tab, and then allow you to Turn on all categories. Now you are good to go.
Is there a pedometer app for Apple Watch?
Pacer is the app that you are looking for, it tracks and counts your daily steps accurately, along with this the app gives you a better overview of your health. Moreover, there are plenty of pedometer apps for the Apple Watch, and the best ones are listed above make sure to check them out.
What is the most accurate pedometer app for iPhone?
Pacer and Activity Tracker are the ones. Both the apps track your steps and keeps you motivated and focused. Moreover, both the apps give a better overview of health with a very neat and clean UI.
Does an Apple Watch count steps like a Fitbit?
Absolutely, even the Apple Watch counts steps better than Fitbit. In terms of tracking health from your wrist, the Apple watch tracks far better than a Fitbit.
Can you cheat Apple Watch steps?
The one-word answer is YES. Not only the Apple Watch, but you can also cheat other devices as well. Only if you intend to cheat. By just sitting on a couch and moving your hands, the watch will assume that you are moving and it will automatically count your step.
Does Apple Watch automatically tracks steps?
Yes, the Apple Watch tracks your steps automatically. Only after the watch gets connected to your iPhone and you wear it on your wrist.
Read More Related Posts