Donerton Smartwatch Review – I know you must be looking for a budget smartwatch having all the required smart features, plus efficient enough to track health and fitness accurately. No doubt, Donerton is a decent watch in the price range. But, before making your final decision, I will insist on reading the complete review, so that you will be aware of all its downsides, advantages, and alternatives.
By this, you will get an overall perspective from a consumer's side on whether you should buy this smartwatch or not.
For a side note, every smartwatch has its own pros and cons. Combining every feature in a budget smartwatch is not possible. So only look for a smartwatch that fulfills your necessities.
What's Inside the Box?
Donerton smartwatch itself.
User manual
Magnetic Charging cable
Read this In-depth Review of the Donerton Smart Watch to know whether it fits your qualification or you need to consider something else.
Quick Opinion
In my opinion, the Donerton smartwatch is decent for those looking for a budget smartwatch to track their health and fitness accurately. Unfortunately, it doesn't come with a built-in GPS, but it uses your phone's GPS to navigate and track your data efficiently. Besides, it has a total of 8 different modes to provide variation in your workout sessions.
Along with tracking fitness, it also tracks sleep and heart rate. It provides you an overall insight into your sleep by showing output in three basic formats deep sleep, light sleep, and wake-up time. For heart rate, when comparing this with an actual HR monitor, it showed different results. It is manageable because the difference between the results is negligible.
Also, it offers some basic and advanced features which help in making our day-to-day routine easy. For example, Music Control, Remote Camera, Sedentary Reminders, etc. For detailed information, go through the in-depth review.
In addition to all these, it comes equipped with a touchscreen LCD of 240 x 240 pixels resolution. The screen sizes around 1.4 inches. Even having such a big display, the power consumption of the smartwatch is low, giving you a battery life of 7 days and 30 days in standby mode.
Overall, Donerton is a decent smartwatch for beginners or anyone concerned about their health. The Donerton smartwatch doesn't fail in giving premium features at a low price.
Donerton Smartwatch Review
Design & Display
In terms of design, the Donerton smartwatch looks way better than any other smartwatches at this price range. It is lightweight, weighs somewhere near 31 grams, holding pair of comfortable synthetic rubber straps that have better resistance to aging and weathering.
You can customize the looks by replacing a new pair of 20mm bands of your choice. The one that you get inside the box itself is of excellent quality that will last you long. It sits on your wrist comfortably even with sweats, and I am yet to experience any kind of skin irritation from wearing this watch.
On the back, you can see the heart rate sensor and a magnetic charging port to fuel up the smartwatch while the right frame has a home button that works to navigate different menus and options. You might feel this smartwatch has an edge-to-edge display, but it's not. It has wide bezels with a 1.4-inch touchscreen LCD.
The 240 x 240-pixel density makes the panels look more vibrant and sharpen. However, brightness has been of no concern, as the Donerton smartwatch gets plenty bright even when I'm outdoors. It has anti-reflective properties, so you will not experience any visibility issues on bright sunny days. Surfing around the screen with the touch response is fluid as well.
Technical Specifications of Donerton smartwatch display and design
Display Size – 1.4 inch
Display Type – LCD Touchscreen
Resolution – 240 x 240 pixels
Item Weight – 31 grams
Health, Fitness and Activity Tracking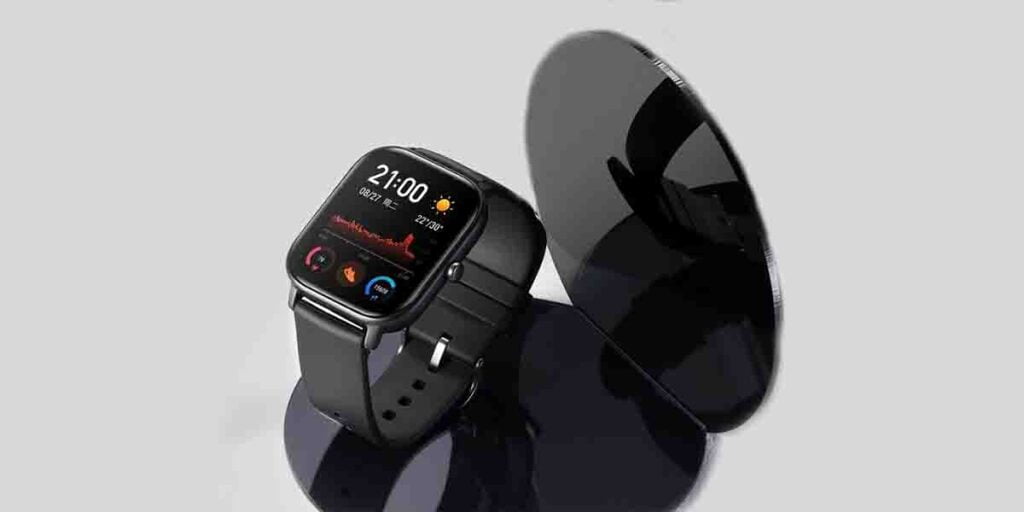 Before buying a smartwatch, the first thing I look at is its health and fitness features, along with how accurate they are. Because we are only paying for these features, without them, a smartwatch is just a normal watch. And that's where this Donerton smartwatch stands out really well.
Heart Rate Monitor
The Donerton smartwatch comes with a dedicated heart rate monitoring sensor that can record electrical activities of your heart accompanied by checking different heart conditions. This sensor has a better reading of heart rate & blood pressure compared to other optical sensors found in most smartwatches in this range. The heart rate sensor glows green while reading the heart rate in real-time.
Sleep tracker
The Hero band III app doesn't require you to manually set a bedtime. Instead, it measures by using the heart rate and motion sensors. The Donerton smartwatch tracks light sleep, deep sleep, and wake-up time to furnish an overall analysis of your sleep cycle. Plus, this helps in a better understanding of your health.
GPS and Accuracy Testing
The Donerton smartwatch doesn't have a built-in GPS, which means when you turn on different sports modes like run or bike for outdoors, you need your phone's GPS to connect the smartwatch for tracking routes and distance covered.
GPS also helps in tracking your workouts accurately. While testing the accuracy of the Donerton smartwatch, I figured out, it's not bad. I've been running and cycling with this watch. And overall, it's fine; it is not like the pinnacle of GPS accuracy, but it's not horrible either.
Activity Tracking
Staying fit and working out every day makes you live a healthy life than 80% of the population. Especially staying healthy in the current COVID situation is much required. That's where the Donerton smartwatch plays an important role in monitoring steps, calories, distance, activity minutes, and more.
The calories tracker shows pretty accurate and detailed insights of calories burned, but it does not show you the calories intake data. While testing, I figured out that the step counter sometimes lacks accuracy. But most of the time, it works perfectly.
Lastly, I can say that activity tracking is on point; neither it's bad nor it is as good as Fitbit.
Sports modes
The Donerton smartwatch comes with 8 different sports modes including running, walking, cycling, swimming, rope skipping, badminton, football, and basketball. You won't need to have your smartphone for taking advantage of these modes, swipe down to the exercise section and activate the one you are starting your exercise with.
Donerton Smartwatch Features & Functionality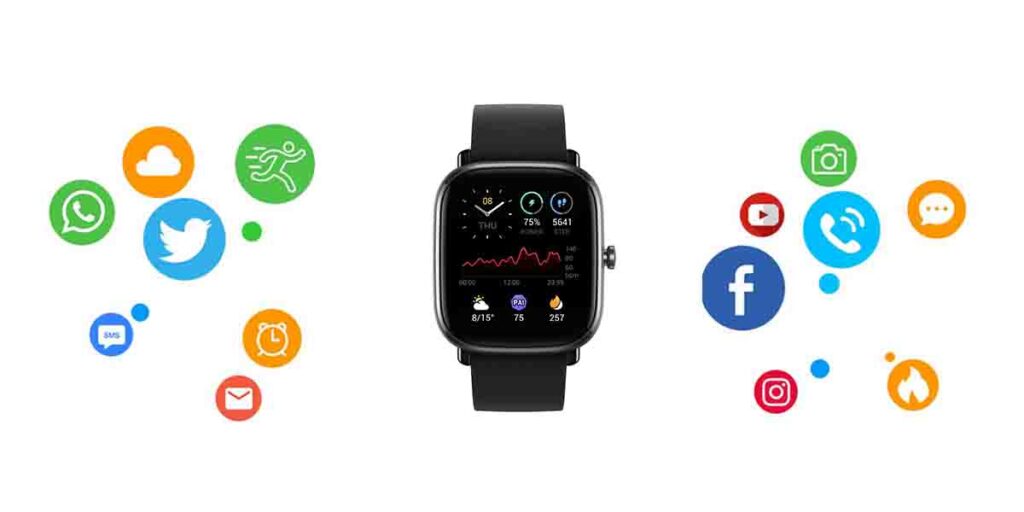 Smart Notifications
A very convenient feature that the Donerton smartwatch has is smart notification, after pairing this smartwatch with your smartphone through the Herobandiii app, you can receive all your notifications, messages, and calls on the watch itself.
A justice-able con of this smartwatch, you can't answer incoming calls. Plus, you can't give replies to messages. At this price range, you shouldn't be hoping to get any of these features. But if you require to give replies to your messages, then it requires a specific texting smartwatch to do so.
Remote Camera
Another convenient feature, Donerton smartwatch has to offer is a remote camera feature. This feature helps in taking selfies or pictures remotely from the watch; you just need to shake your wrist or tap on the screen to capture the moment. For some people, it might be useless. But who cares, you are not paying an extra penny to have it.
Music control
The music control feature is handy, this makes traveling so easy and fun that I don't need my smartphone to enjoy the roads. It just requires a TWS headphone and the Donerton smartwatch, then you are good to go. You can control the music playing on your smartphone directly from the wrist.
Waterproofing
Donerton smartwatch has IP67 waterproof ratings. The company claims that; you can wear this smartwatch while swimming in the pool. It also has a sports mode for swimming, but I will suggest not to wear this to the pool.
I have tried once and faced some minor touching problems. Even though it automatically gets fine, but yes it can lead to any major problem. Although you can wear it in rain and shower, it is highly recommended not to use it for swimming.
Sedentary Reminder
Another cool feature that helps you to live a healthy lifestyle by reminding you from time to time to stand up and go for a walk or a workout session. Believe me or not this feature will help if you have an inactive lifestyle, sitting in one place playing video games and watching tv.
Watch Faces
There is nothing much to say about watch faces. By default, it has only four different watch faces. Even you can't customize them through the HerobandIII app, or neither from any third-party applications.
How to Change the Straps of the Donerton Smartwatch?
Step 1 – Unscrew the pins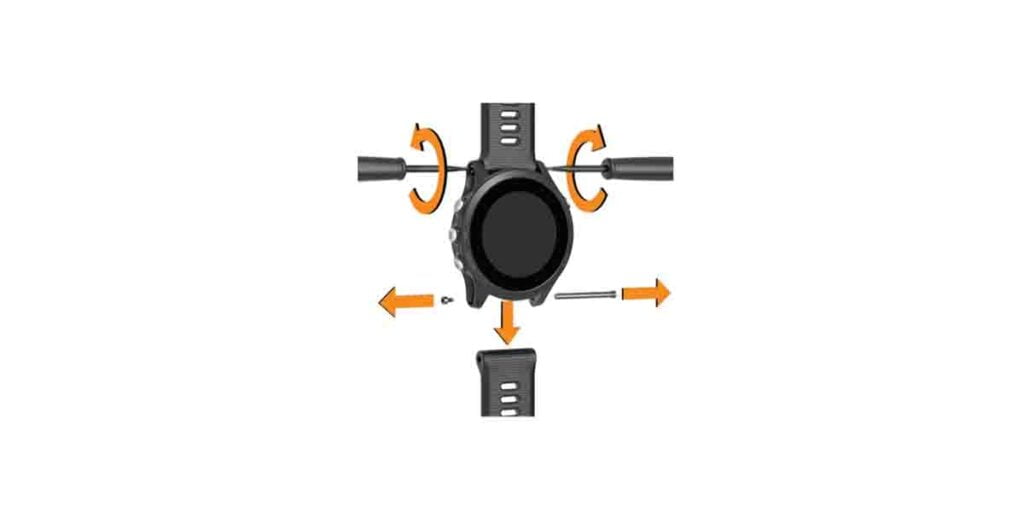 The first thing, you have to do is unscrew the pins from both sides of the smartwatch with help of a screwdriver.
Step 2 – Remove safety pins carefully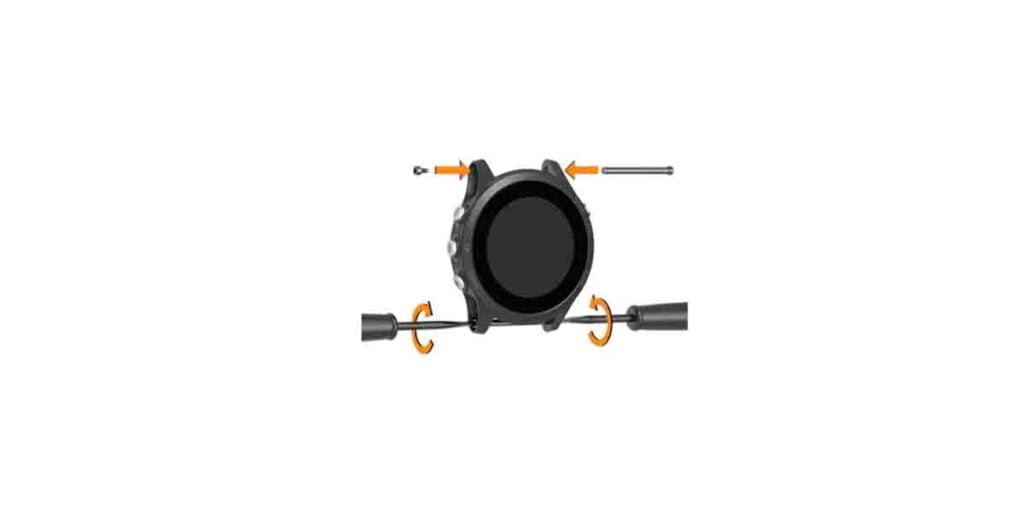 After unscrewing the pins, remove the pins carefully because if once you lost or broke a single pin, it will be hard for you to find another pair of pins in the market.
Step 3 – Change the strap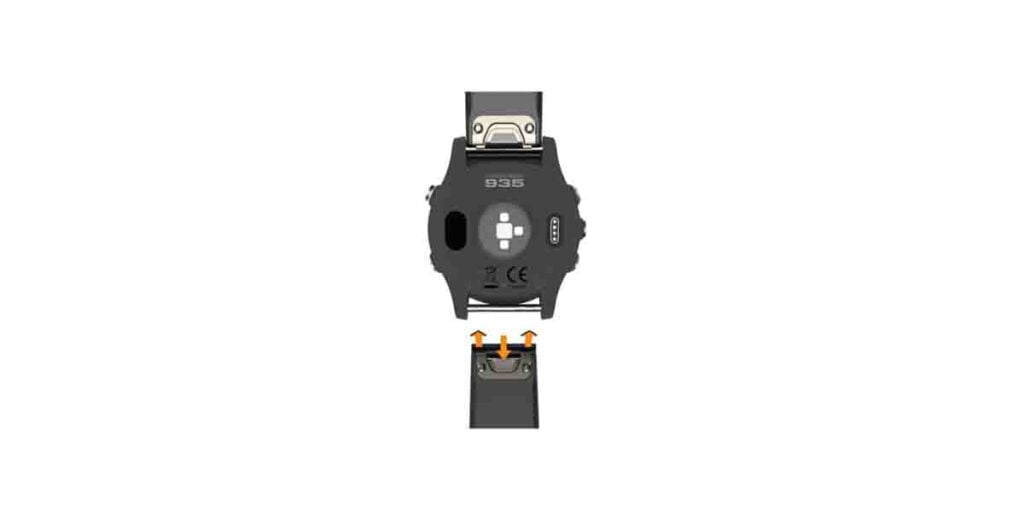 The last step is to place those safety pins on the strap you like push them in the holes of smartwatch.
Other Tools
Find My Phone – Finds your phone if you lost it somewhere
Brightness Adjuster – It allows you to adjust your smartwatch's brightness manually and even automatically.
Stopwatch – Just tap to record every minute of your workout session.
Alarm Clock – It helps to wake you up early in the morning.
Donerton Smartwatch Performance and Usability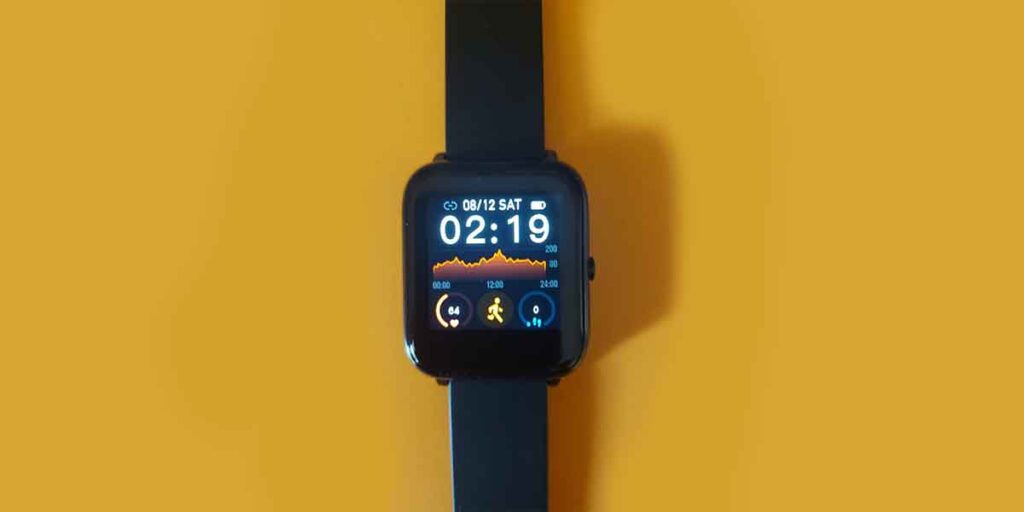 Performance on the Donerton smartwatch has been satisfactory to say at least. Moreover, running the whole show here is the Donerton clever part, with the new generation Wear OS. The user interface feels very well designed snappy, and I noticeably felt it got better after using it for few days.
Also, the sad part is you can't install any third-party applications to take more advantage of the power it got. And one more unfortunate thing is that you can't install any third-party music apps from the play store or app store, you have to manually add your favorite songs to the watch, or by connecting the app with the smartphone.
Donerton Smartwatch Battery Life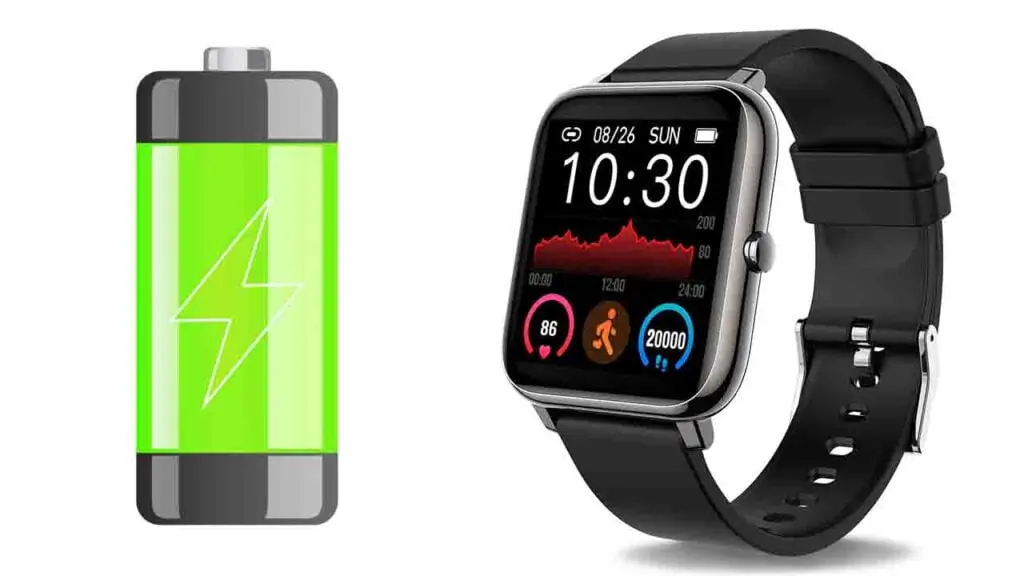 For charging, you get a wireless magnetic charging port inside the box, and because smartwatches are a long-term investment, Donerton has been clever enough to implement a slow charging speed to preserve the battery's health for years. To come with this cooperatively tiny 210 mAh battery takes about 3 hours to fully charge.
Moreover, it lasts up to 5-7 days and 30 days on standby mode. And for a budget smartwatch like Donerton, these numbers are fair enough. Here is the list of total battery consumption in a day of Donerton smartwatch.
| | |
| --- | --- |
| | |
| Number of interaction per hour | |
| Number of Notification per Day | |
| Display Brightness & Timeouts | |
| Number of interaction per Day | |
| | |
| | |
| | |
| Remote Music with GPS mode  | |
| | |
| | |
| | |
Donerton Smartwatch App Preview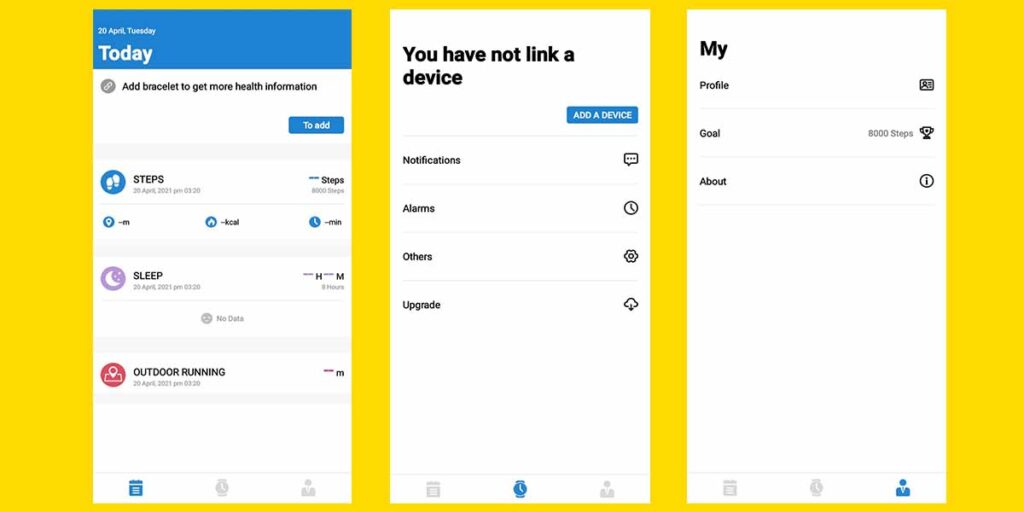 The Donerton smartwatch uses the HerobandIII app to pair your smartphone with the watch. And this app is compatible with, Android 4.4 and iOS 9.0 or later, you can find the links for both Android and iOS devices down here. The advantages of using the app are:
App gives you better and deep insights into your health.
Monitors and tracks accurately your sleep.
Gets notification and call reminders to your smartwatch through the app.
Start your morning with a gentle alarm.
Set the remote camera feature to capture your moments.
How to Connect Donerton Smartwatch to Android/iOS?
Before the pairing process starts, you first need to have the HerobandIII app on your smartphone.
Note- Don't rush while pairing the smartwatch with your phone, give them some time to pair.
Step-1 Turn on Bluetooth

First make sure that you have enabled your smartphone's Bluetooth connection.
Step-2 Open "Heroband III" App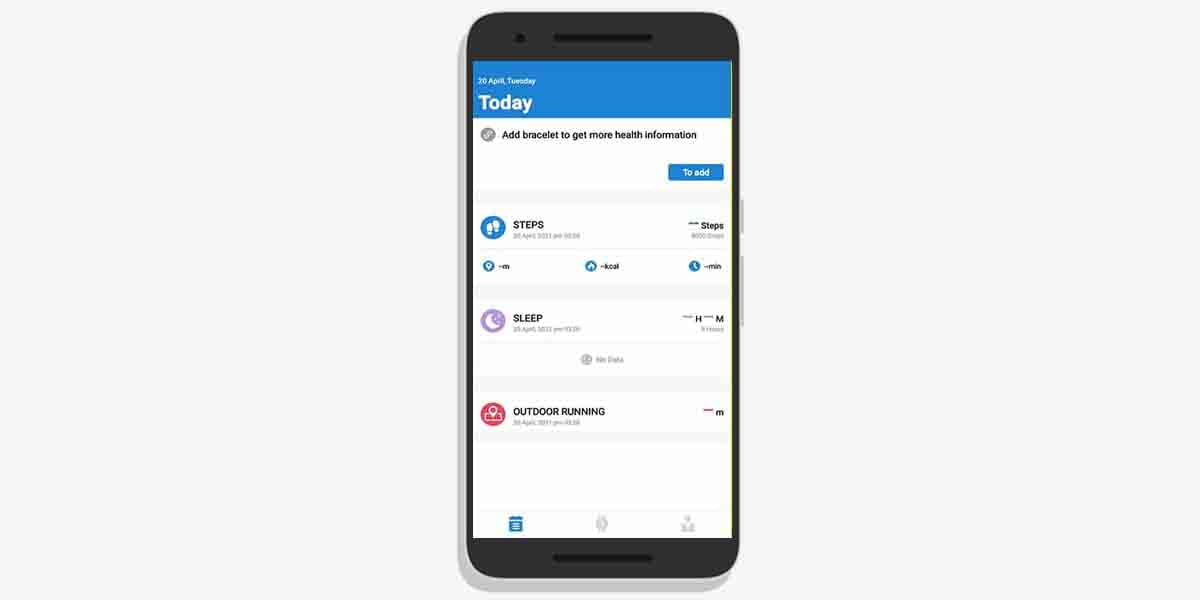 After turning on your Bluetooth, open the Heroband III app.
Step-3 Find your Device and Pair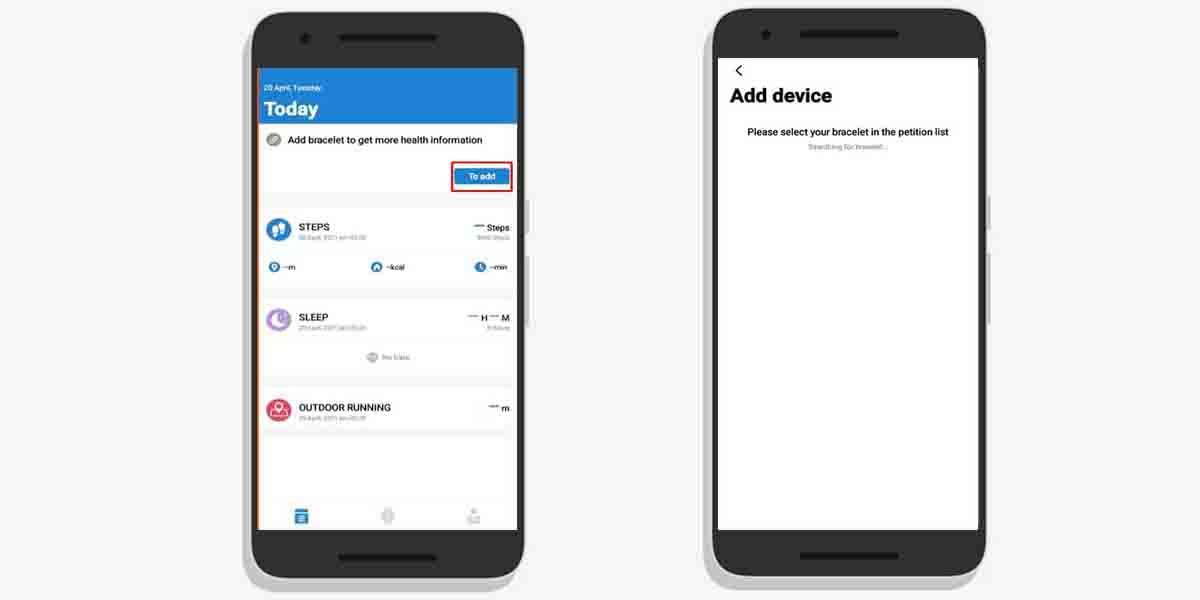 The last step is to, tap on the "To Add" button, and then it will automatically search for your smartwatch. If not, wait for some time, normally it's a bit long procedure.
Compare to Similar Products
| | | | |
| --- | --- | --- | --- |
| | | | |
| | | | |
| | | | |
| | 0.39 x 0.79 x 0.39 inches | | |
| | | | |
| | | | |
| | | | |
| | | | |
| | | | |
| | | | |
| | | | |
| | | | |
| | | | |
| | | | |
| | | | |
| | | | |
| | | | |
| | | | |
| | | | |
Frequently Asked Questions (FAQ's)
How do you get the daily steps counter to reset to zero at midnight?
The smartwatch should automatically reset your steps at midnight but if not try to reset the smartwatch.
How long is the battery life last on Donerton Smartwatch?
Generally, the Donerton smartwatch lasts for 6 to 7 days. However, changing the watch face other than the default can drain the battery.
Is it possible to link the sleep function with the iPhones health data?
Yes, I have linked mine through the app that comes with the watch.
Can you adjust the display time on Donerton Watch?
No, the display time is default according to watch fasces.
I am not getting notifications for text messages. Everything is turned on on the app and my phone?
On the app HerobandIII, you reset the device and try to add it once again, then turn SNS Alert on then pick the apps you want notifications on.
Can you answer phone calls and respond to text messages from this watch?
No. You need to have a specific texting smartwatch to do so.
What to do if the pedometer not working?
Sometimes it lacks tracking steps. You can try resetting the smartwatch, it will be perfectly fine.
Are there any downsides?
Honestly, after using this Donerton Smartwatch for 2 months, I have concluded that this smartwatch doesn't have much of the downsides, rather I will call it certain cons. But when you compare these cons with the price, you will realize that this smartwatch already serves you way more than enough. Nevertheless, here are some of the downsides that Donerton company needs to look upon to improve their product.
There is no raising the wrist wake the screen feature is their.
Step tracker lacks in accuracy sometimes.
Customizations are limited in the watch.
Very limited watch faces
Takes a little time to get connected to app
App desperately needs upgradation.
Final Verdict
To be honest, the Donerton smartwatch has been my closest companion and has been inspiring me to work out and stay fit during the course of 2 months. So, if you want to improve your daily routine and stay fit, I strongly recommend you to get one of these smartwatches.
And, no I am asking you to get the Donerton smartwatch particularly, as there are plenty of great smartwatches. But if your budget is a little tight and you want the best of the best smartwatch, then you should definitely check out this smartwatch.
Checkout other Related Reviews: