One of Apple's most innovative products is the Apple Watch. It is designed to be worn all day long, and the battery life is impressive. In spite of the fact that this is a great device, it has some problems. If you press the power button to wake up the screen, it sometimes won't turn on.
If this happens, there are a few things you can do to fix it.
To get started, you must first understand why your apple watch won't turn on.
Why Apple Watch Won't Turn On?
Even though Apple Watches are considered powerful devices, they occasionally have problems and crash. There are several reasons why Apple Watches do not work.
Some of the common reasons for the watch not turning on include:
The device has been unplugged from its charger and needs to be plugged in again.
The battery is low or dead.
The watch needs to be restarted.
The device has been reset or turned off, and will need to be turned on again.
The watch's Screen Curtain and VoiceOver have turned on.
5 Tips On Fixing Apple Watch Won't Turn On
Force Restarting your Apple Watch
There are ways for you to fix problems with your Apple Watch. If you're having issues, you first need to force restart the device by pressing the side button and the Digital Crown together for at least ten seconds.
Force-restarting the Apple watch will remove all bugs that are preventing your device from turning on.
If this doesn't help, you can also try the following methods to turn it on.
Try Charging the Apple Watch
Place the Apple Watch on charging until you see a green lightning bolt on the screen, then try restarting it. Your device battery might be completely depleted.
After charging your watch, if it still doesn't turn on, then the issue may be with your charger. Try charging your device from another charger if you have one, and make sure both the charging cable and apple watch charging port are clean. Also, remove any plastic wrap from both sides of the charger.
Check the Settings
The Apple Watch has a lot of features, but some of them will cause problems, such as Screen Curtain, which turns off your iPhone's screen even when the watch is turned on.
For now, the Apple Watch can only be navigated through the VoiceOver feature to fix this issue. To activate the VoiceOver feature, open the Watch app on your iPhone, navigate to General > Accessibility > VoiceOver, and turn off the Screen Curtain.
Furthermore, another feature that might be preventing your watch from switching on is the Power Reserve mode. This feature helps your Apple Watch last longer by disabling all of its other features except for the current time.
The Apple Watch generally uses this feature to save battery, but some software issues cause it to turn off completely. So, make sure that this feature is turned off.
Follow these steps to Turn off Power Reserve Mode:
Press the side button and hold it until you see the Apple logo.
Wait for your Apple Watch to restart. You may first need to charge it.
Factory Reset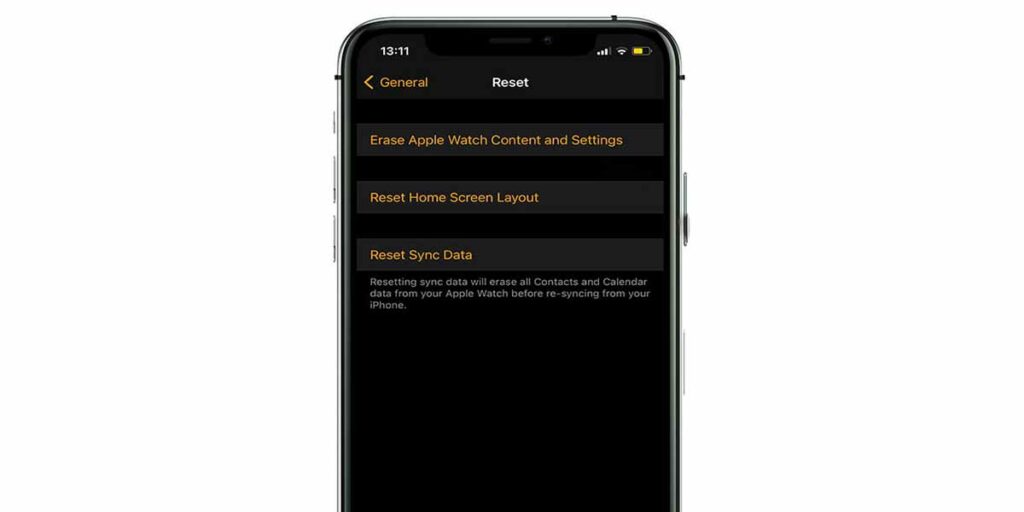 A factory reset may be necessary for your Apple Watch if it has become unresponsive. A factory reset will delete all of the data on your Apple Watch and restore the watch to its original factory settings.
A factory reset will not wipe data from a paired iPhone or iPad, but third-party apps and any stored music will be deleted.
Reset your Apple Watch if your watch won't turn on:
Your Apple Watch and iPhone should be close together while you complete these steps.
On your iPhone, open the Watch app, then tap the My Watch tab.
Then, Tap General > Reset.
To erase Apple Watch Content and Settings, tap it once, then tap it again at the bottom of the screen.
The Apple Watch models with GPS + Cellular offer you the option of keeping or removing your cellular plan. (If you wish to pair your Apple Watch and iPhone again, keep your cellular plan.)
Let the process finish, then set up your Apple Watch again.
Contact Apple customer support
If none of the above troubleshooting methods worked, then you will need to contact Apple's support team for help.
They know how to help you get back on track as quickly as possible so that you can live your best life. All you need is your Apple ID or phone number, and they'll give you a call right away. Call them now!
FAQs: Apple Watch Won't Turn On
How do I fix my Apple Watch that won't turn on?
It is necessary to charge Apple Watch to turn it on since the battery drains quickly and needs to be recharged to work again.
If your watch is fully charged and still won't turn on, you should try pressing and holding the side buttons and digital crown together for ten seconds and then release them when you see the Apple logo.
In case this doesn't work, you can try the tips that I have discussed above in Turn on your Apple Watch again.
Why Apple Watch won't turn on after the battery died?
Users of the Apple Watch often complain that it won't turn on after the battery runs out. It can be due to either a low battery or a hardware issue.
It's recommended that you charge your watch once a day when you're wearing it, especially when using GPS or doing other activities that drain the battery quickly.
If it still won't work after charging, then it has a hardware issue. In such a situation, you'll need to contact Apple customer support or visit your nearest Apple store.
Why Apple Watch won't turn on after swimming?
Usually, Apple watch series one and two might fail to turn on after swimming as they are not rugged enough to withstand longer submersion times.
How do I fix my dead Apple Watch?
Put your Apple Watch on charging for a couple of hours. If it still fails to charge or turn on after this period, try restarting your device by pressing and holding the buttons along with the digital crown for a few seconds. Then, release them when the Apple logo appears.
In case this doesn't work, you might be having some problem with the hardware, contact Apple Support for assistance.
Read More Related To Apple Watch