Green Light On Apple Watches – Are you someone who owns an Apple Watch or planning to buy one soon? If yes, it is always better that you make yourself aware of all its features. Of all the things, there is one thing that freaks out everyone when they get their new Apple Watch, the green light under their watch case. Like many of us out here, if you were also wondering all this time what that green light did for you, then don't hesitate and read on to find out.
What is that Green Light on Apple Watches?
An Apple Watch lover should know that all its models have optical sensors in them, which are used to measure your heart rate. So the green light under your watch is nothing but the led light emitted from these sensors, which illuminates your skin to take precise and accurate heart rate readings. The light will be on only when an app that is running in the background uses it to measure your heart continuously.
There are other sensors in the Apple Watch which don't use the green light to operate, like the ECG sensors in the new Apple Watch Series 4 & 5. These sensors are different from optical sensors, which measures your heart rate.
There is another instance where the green light could be useful to you. It is common for us to keep our watches somewhere and completely forget about them. In such cases where you can't find your watch, you can find it using your phone.
The green light would flash continuously and you can immediately stop your watch in the dark. Even though it doesn't work all the time, it will come to your aid in some situations.
Why is the Green Light on Apple Watch Always On?
Now that you know what purpose the green light serves on your Apple Watch, you might still be wondering why is that always on. It is nothing to worry about. The green light just suggests that there is an app using the optical heart rate sensor to monitor your heart rate. It will keep glowing until you turn off the heart rate monitor completely.
How to Turn Off the Green Light on Apple Watch? (4 Easy Steps)
Whenever you wear your Apple Watch, the heart rate monitoring app will be running in the background to track your heart rate. The green light will be on as long as the app is running, which means it won't be off until you turn off the heart rate monitor itself.
If the green light is bothering you to an extent that you want it turned off, then here's what you can follow to turn off the green light on your Apple Watch:
Step 1: Take out your iPhone and open the Watch app.
Step 2: Select the option "My Watch" from the bottom of your phone screen.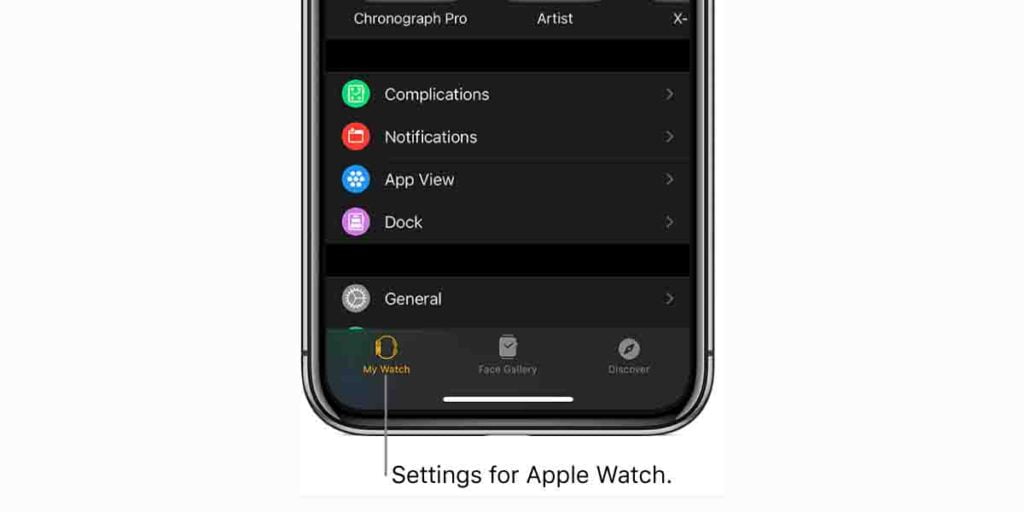 Step 3: Tap on the "Privacy" option.
Step 4: Flip the switch to turn off "Heart Rate".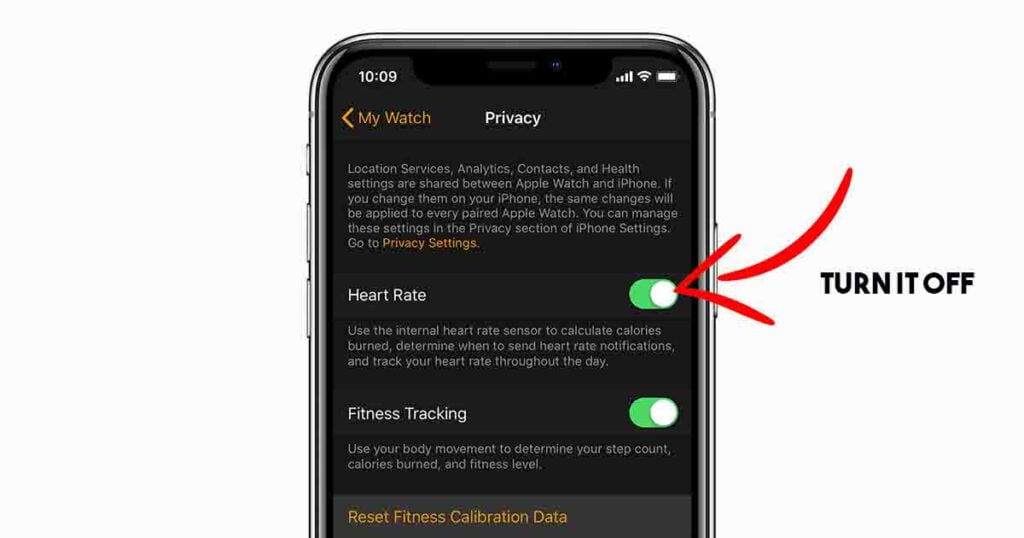 With these four simple steps, you can turn off the green light in an Apple Watch. But even after going through all these procedures, there might be a chance that the light is still on. This happens when an app is using the heart rate monitor and running in the background without your notice. In such a situation what you can do is to "restart" your watch.
To restart your watch, press and hold the side button until you see the "Power off" slider. Drag the slider, and your watch will turn off immediately. Now to switch it on, press and hold the side button until you see the Apple logo. Once the watch is on after the restarting procedure, you will see that the green light is completely off now.
Is the Green Light on Apple Watch safe?
Do you find yourself worrying about the green light in your Apple Watch, thinking that it might harm you in some way? It is normal for us to think that the light that glows above our skin all the time might be bad for us one or the other way.
But is there really anything to be worried about? The straight and simple answer is "No". The green light under your watch is harmless for your skin; it has very low power. You don't have to worry if it will burn your skin because it won't. The watch is also designed in such a way that it will turn off the green light automatically when no app is using it to measure your heart rate.
You might be frightened by how lights are capable of emitting ultraviolet rays. But what you should know is that LED lights don't emit UV rays like other popular bulbs and fluorescent lamps. They also have low ionizing power, which makes them skin-friendly and thus safer to use.
It is rare to no chance that you end with irritated skin because of the green light emitted from the smartwatch. These LED lights just measure your heart rate without ever bothering you about it. But if odds are against you and you experience some kind of irritation or other problem, which you think is caused by the green light, then you consider reducing the rate at which you put your watch on. If this problem persists for a long time, then you should consult a doctor to check if you are suffering from a medical condition known as porphyria.
Since you can completely turn off the green light if you don't want it to track your heart rate, there is nothing to worry about. Also, in newer apple watch models, you can find an alternative to the older optical sensors; an inbuilt ECG sensor electrode, which functions better at monitoring heart rate than its predecessors.
Conclusion
Now that you are well aware of all functioning of the green light under your Apple Watch, don't let it bother you anymore. You now know why it is there in your watch and what it does for you. You have also learned the ways to switch it off when you find it unnecessary. So there's nothing more to feel troubled about "green lights" and their hidden purpose. Let it do its job, while you enjoy wearing your favorite Apple Watch without any worries.
More Related to Apple Watch