Do you own a Garmin smartwatch and looking for the best Garmin watch faces to match your style? Watch faces are a great option to customize the look and feel of your smartwatch. It shows the important metrics that one would wish to get at a glance.
The Garmin watch already has several preloaded watch faces, so what's the point of installing a third-party watch face? Well, various kinds of watch face come with a unique concept because these are developed by hardworking developers out there to give you the best possible customization option.
Therefore, I did some research in finding out the best cool-looking Garmin watch faces to try on the Garmin smartwatches. All of them are available on the Connect IQ store, which is the official app store for Garmin devices. Besides, this list includes some award-winning Garmin watch faces that you should definitely check out once.
Note – It is recommended to check the compatibility before installing any of them on your Garmin device. You can check it on the app downloading page.
Similar Post: 8 Best Garmin Watch Apps to Download (FREE)
11 Cool Looking Best Garmin Watch Faces
1. ClearHex Unlimited – Simple Watch Face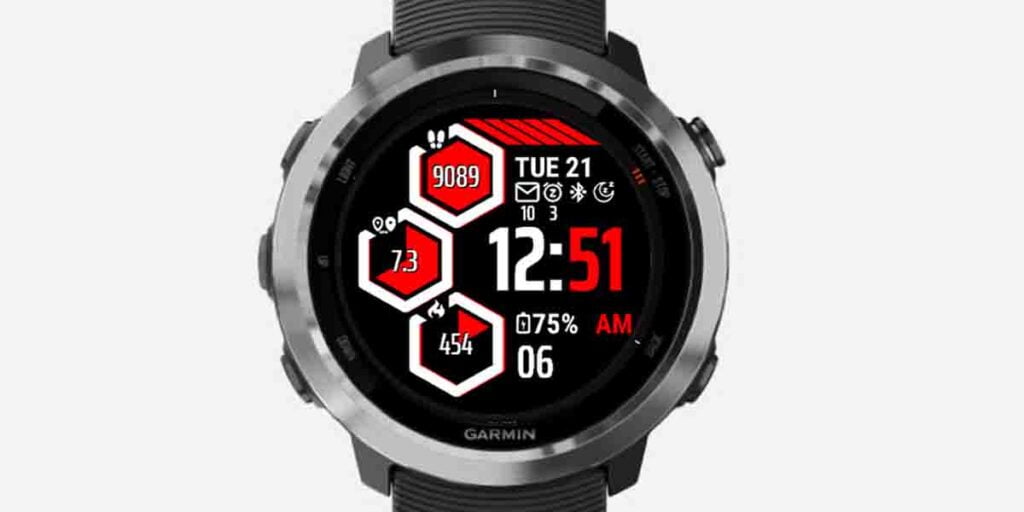 The ClearHex's Watch face UI design looks pretty simple. I like the developer's thought of making it simple as well as stunning. On the right, you get a bold time text that shows the current time as well as the date on the top. And on the left, you get three customizable hexagons to add important metrics such as steps, weather, heart rate, flights, etc.
As it is freemium, you don't need to pay anything to use it. However, if you want some of the pro features that have the ability to change some of the data fields, then there is a pro version available to purchase. The pro version allows you to hide the battery icon, change the colors of data fields, and more. Overall, it's a pretty nice watch face to install.
Available for: Free/Paid
2. Alfa Zulu – Military Style Watch Face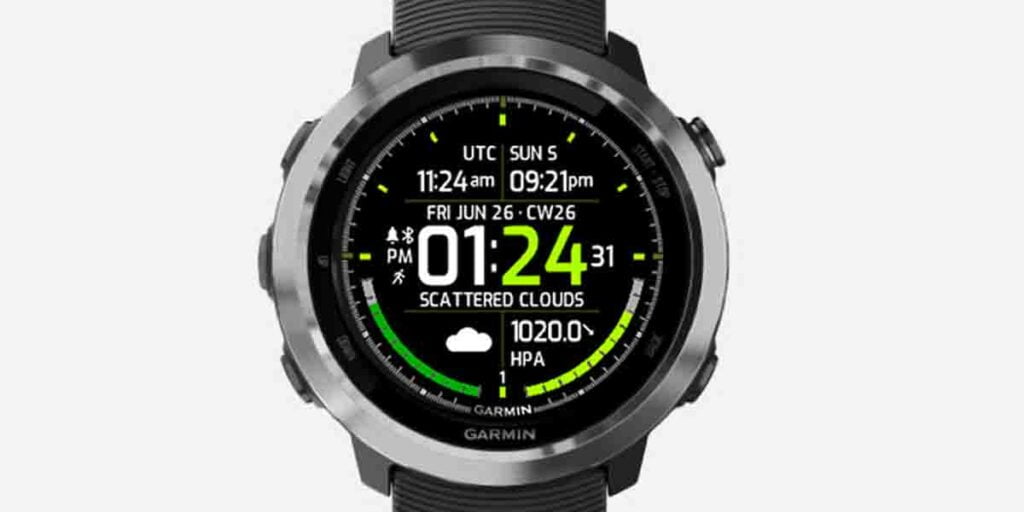 If you are looking for a military-style watch face for Garmin, the Alfa Zulu is the way to go. It is completely free, not compromising with the features. This watch face is split up into quadrants; you will find the top and bottom quadrant containing some information, which is customizable.
You will like the way it has two pages of information. It switches when the watch falls asleep and wakes up. Although it is completely free, it has got many customizable options. Everything here is customizable including colors, data metrics, gauges on the bottom, and many more.
Overall, a great watch face with several customizable options. However, battery consumption might be an issue as it runs in the background.
Available for: Free
3. Speed Watch – Minimal Looking Watch Face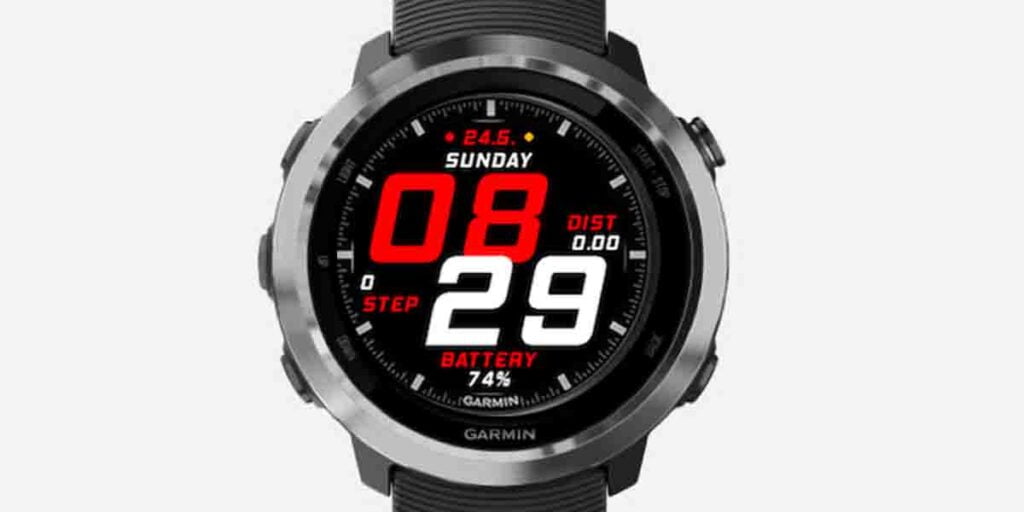 Speed watch is another simple and stylish watch face showing time and other metrics in a much stylistic manner. Maybe you are planning to go out for a dinner and don't want a lot of information on the watch screen. In this case, the Speed Watch shows basic information like time, day, temperature, steps, and battery life.
In speed watch, you get three data fields that are completely customizable. The developer has added a bunch of nice themes to it, so you can change it depending on your mood. Also, you can leave the data fields empty if you only want to show the time. Therefore, the Speed watch face is a nice option if you don't want to be always filled with lots of information on the screen.
Available for: Free/Paid
4. EuroPilotPlusDiet – Regular Swiss Watch Look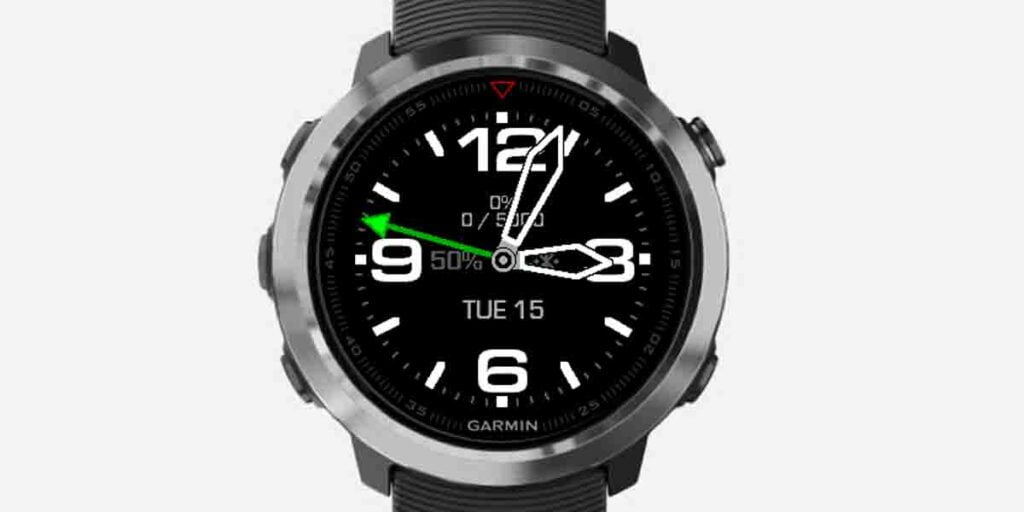 The EuroPilotPlusDiet Watch face is free that gives your Garmin watch a look of a regular swiss watch. There is no second hand included with this watch face; I think there is no need for a second hand until and unless you really need it.
It has a nice bold design and gives you a lot of different data fields. The text on the watch's face is easy to read as it has a decent font size. Besides, this watch face has GMT or Dual Timezone Hand that allows having two time zones on your wrist.
You can set up the data fields on the watch face. By default, it shows battery percentage, steps, distance, and unread notifications. Overall, I really like the way it looks and will highly recommend you give it a shot.
Available for: Free
5. DigiSport – Nike Watch Face Lookalike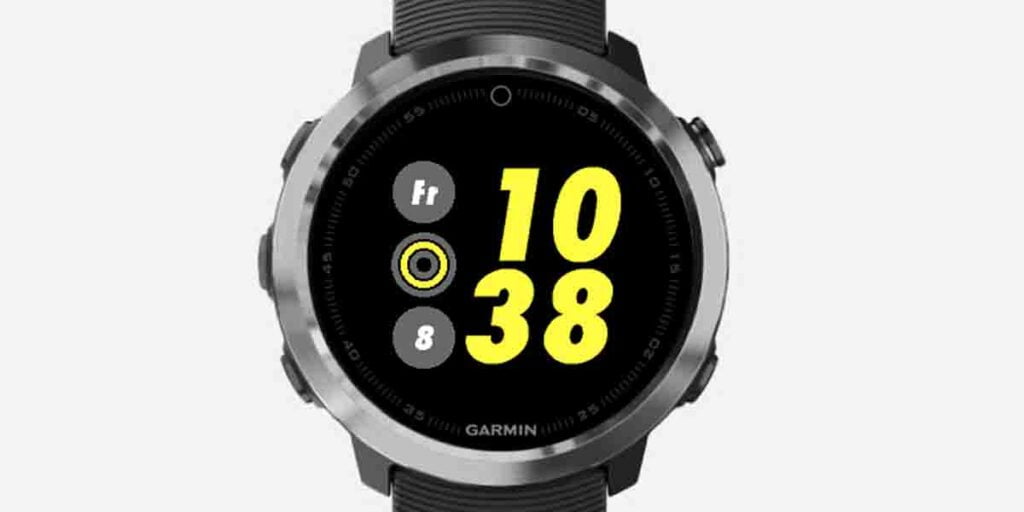 The Nike models of the Apple Watch offer an exclusive modular sport-style watch face that looks stunning. This modular watch face was designed to offer details like miles covered, pace, current time, etc. With the DigiSport Garmin watch face, the developers made it look quite similar to the Nike+ edition Apple Watch face. It displays time on the right and three circular icons on the left with details such as day of the week, current steps, and unseen notifications.
With the free version, you will get to see time, day of the week, date, steps, phone connection status, and unread notifications. However, opting for paid version unlocks the configuration of colors for time, texts, and rings. Along with two configurable data fields and three configurable rings to set information like battery level, heart rate, alarm status, Bluetooth connection status, and more.
Available for: Free/Paid
6. Summit – Analog + Digital Watch Face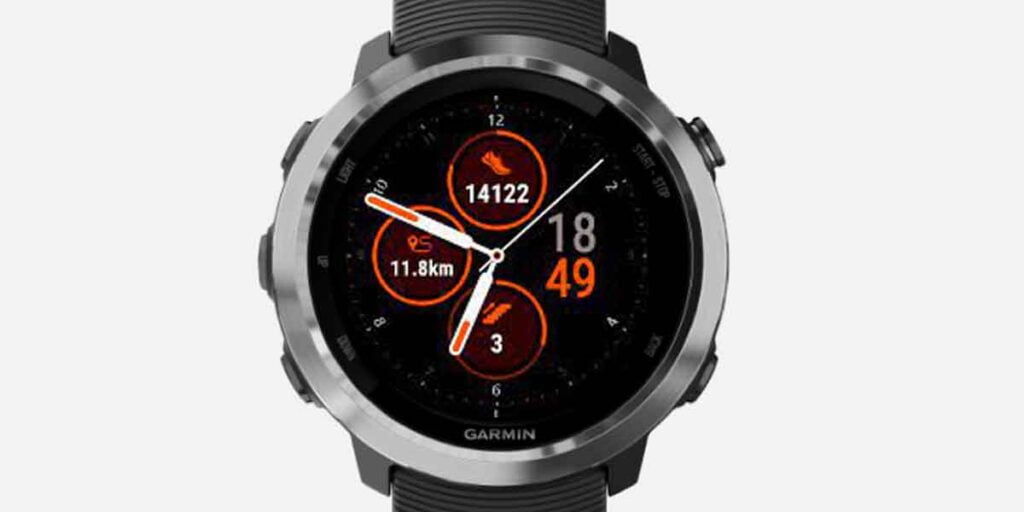 Do you want a watch face with a combination of both analog and digital styles? The Summit watch face has both analog and digital styles integrated into it, so you can enjoy having both looks at a time.
There are three customizable data fields aligned vertically and the digital clock at the right end of the watch face. Just to the bottom of the digital clock, it shows the date, day of the week, and month. Also, you get multiple color customization options available directly on the watch.
Available for: Free
7. Weather Face – Weather Watch Face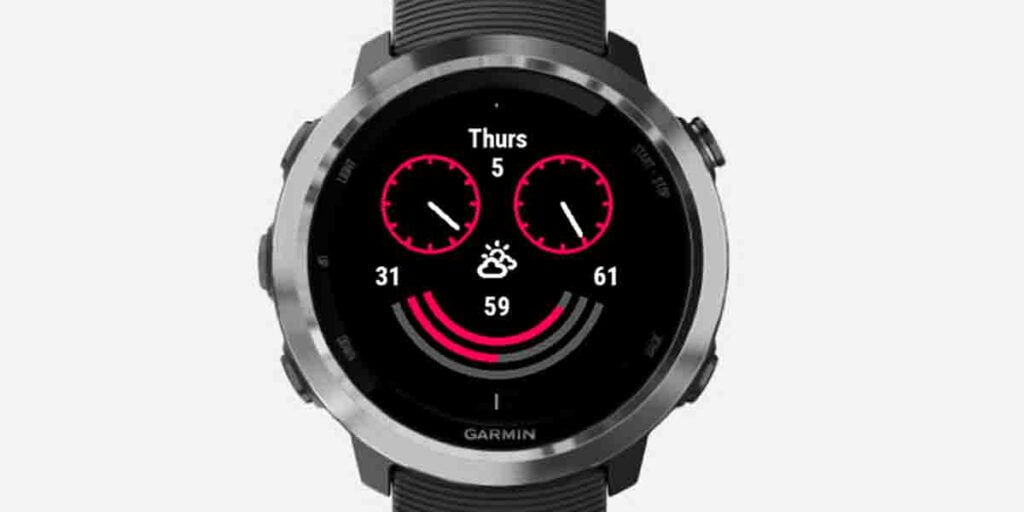 A watch face doesn't always mean to be showing time, dates, and day. It can sometimes be unique having a different concept from the crowd. Keeping that in mind, the Weather face is a unique watch face that primarily focuses on showing weather data on the screen.
If you observe it clearly, you will find this watch face always smiling at you. The two circular icons show the minimum & maximum temperature. Below that, there are three arcs aligned vertically one after another, which shows you the current temperature, humidity, and precipitation chances.
Therefore, you can have this watch face installed on your Garmin smartwatch and enable it when you want to keep track of the weather and temperature details.
Available for: Free
8. Rails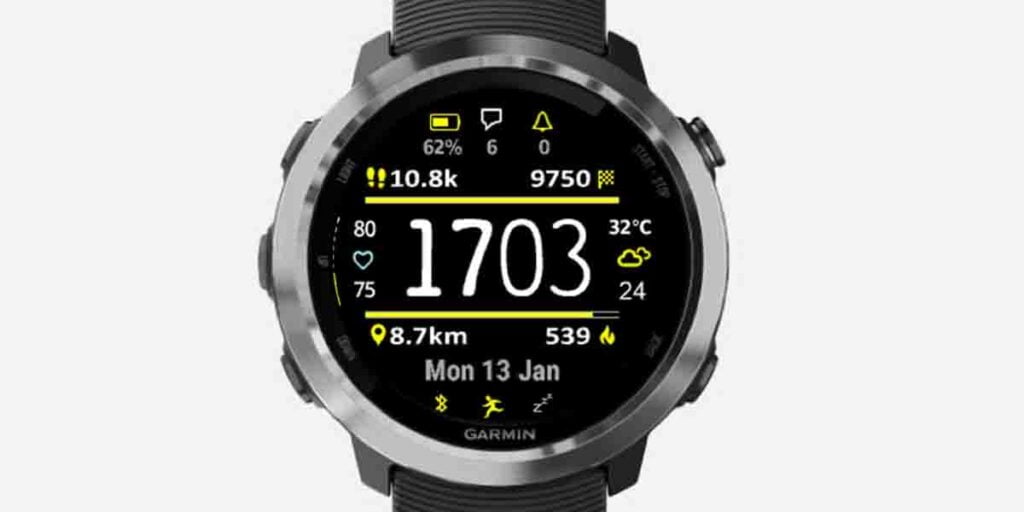 If you like to have loads of data fields on your watch face, Rails is a pretty good one to install. The above and below data fields are separated by a line. Each section has more than five data fields to customize. In the middle, you get the current time whose thickness is adjustable. Along with that, it has four data fields on the left and right.
The Rails watch face claims to be offering more free features than most unpaid watch faces. It comes with both free and paid versions to go with. In my opinion, you can stick with the free one as it does not compromise with the features. It features six customizable color themes, two fonts, six data fields/two gauges, a countdown timer, and many more.
Available for: Free/Paid
9. Actiface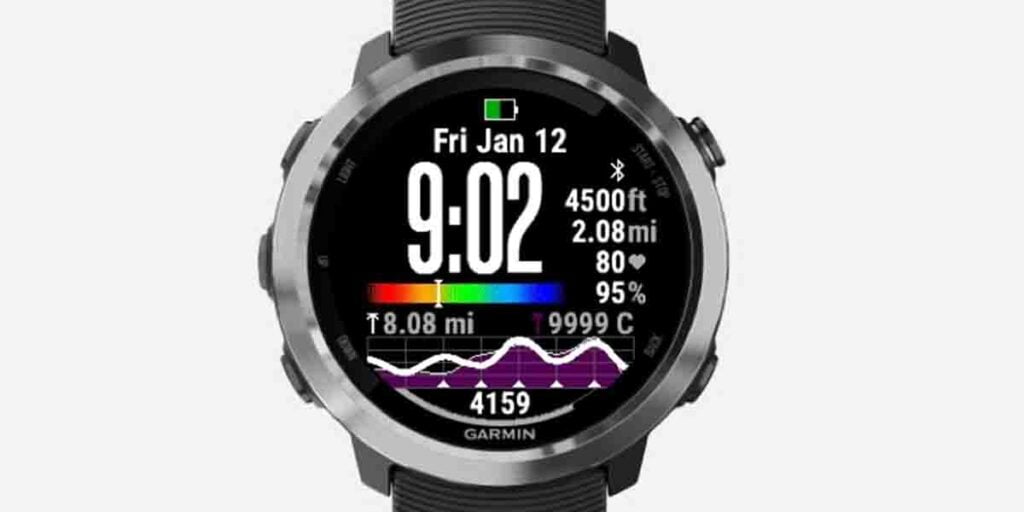 Actiface is one of the most downloaded Garmin watch faces on the Connect IQ store. It is a busy watch face that represents the data in a great way. You can get things like activity history, step count, calories, distance, heart rate, and progress on your goals.
It runs smoothly with no performance issues such as battery drainage, which is really a good thing. This also includes a bunch of themes to choose from. Overall, I will recommend this watch face to have it installed on your Garmin smartwatch.
Available for: Free
10. NoFrills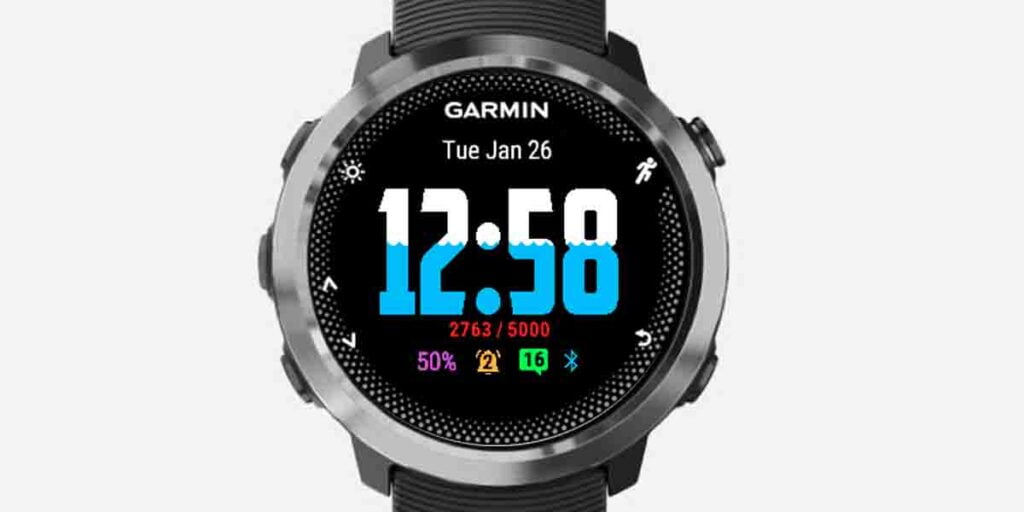 NoFrills is another watch face that features a simple design, helping you with saving battery life. Although, it does not have lots of customizable option but present the data in a very nice way. You will fall in love with the digits on the watch face as it fills up by completing the goals.
In terms of data, it shows data like steps, distance, calories, sunset, heart rate, and temperature. There is a Bluetooth icon on the bottom that indicates your Bluetooth connectivity. Moreover, the watch face can be set to both time formats (12/24 hour time format) from the settings of your watch.
Available for: Free
11. Sky Tracker – Clean Looking Watch Face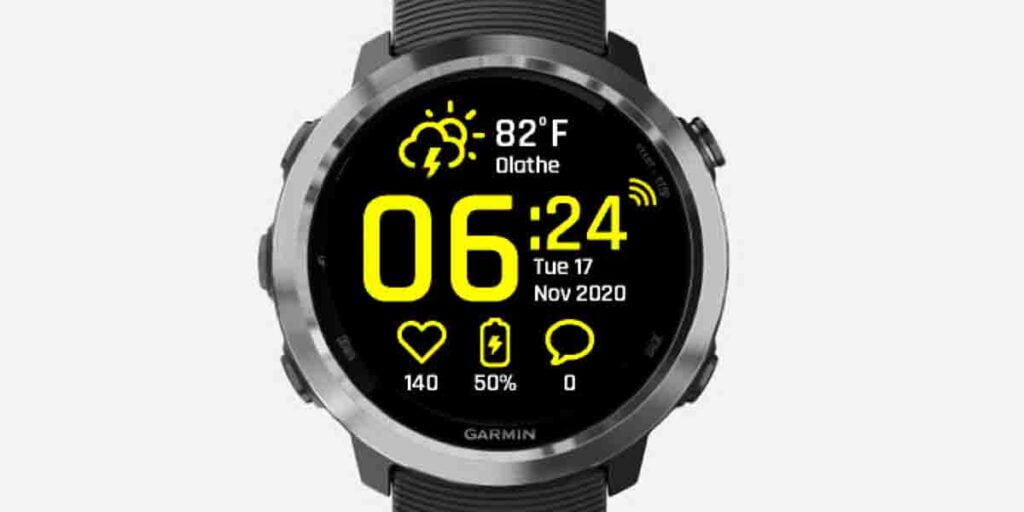 The Sky Tracker is a clean big watch face, letting you have a glance at the time, date, heart rate, and steps. Its user interface is not crowded with loads of stuff. On the top, you get the current weather, and underneath, it gives you a little description of the actual weather.
It supports dynamic fields. Meaning, the data sets at the bottom automatically change on raising the wrist, showing you a different set of data fields other than the primary one. Overall, it is great for use during office hours or at the time of hanging out.
Available for: Free/Paid
Frequently Asked Questions (FAQs)
How to Install a New Garmin Watch Face from Connect IQ Store?
If you don't know, Connect IQ Store is the official app where you will find all the watch faces listed above. Follow these steps:
Step 1 – Download and install Connect IQ app from App Store or Google Play, depending on which device you have; Android or iPhones. Then, log in to your Garmin Account.
Step 2 – Open the app and search for the watch face you want.
Step 3 – Tap on download and it will start getting downloaded.
Step 4 – Now, open the regular Garmin Connect app > tap on your watch > choose Appearance > Watch Faces.
Here, you'll see the watch face below the Not Installed section.
Step 5 – Click on Install.
It will take some time to get completely in sync with your watch. When done, you'll find the new watch face appearing on the screen.
How to Change My Garmin Watch Face?
The method works perfectly with Garmin Forerunner, Fenix, Quatix, Venu, Descent, and Delta series. It might vary from device to device. However, you can always manually search for a specific guide to change the watch face of your Garmin watch.
Step 1 – Hold the up button on the watch. Then select watch face.
Step 2 – A scroll bar will appear with UP and DOWN buttons. Press it to browse different options. You will see some pre-loaded watch face and an option to Add New ones.
Step 3 – Then, Tap on Select when you have found the watch face.
Step 4 – You will have options like Apply, Customize, and Delete. So, Click on apply to set it as your watch face.