After Uwatch 2s, Umidigi has released its upgraded model called Uwatch 3s, followed by two other models Urun and Urun S.
It's been a while we have reviewed any smartwatches. So today, we will be looking at one of the most recent budget smartwatches, the Umidigi Uwatch 3s.
We will discuss, What Uwatch 3s has to offer? For whom is it? Is it worth your money? and a comparison with other new models by Umidigi.
Let's Dive into it.
Umidigi Uwatch 3S Review – Our Honest Review
Umidigi Uwatch 3S Design & Display
For design, the Umidigi Uwatch 3s comes with a round shape display same as Uwatch 2s. It weighs about 30 gm with a strap; you will be having a lightweight feel wearing it.
The straps are using TPU as their build material this makes them extremely – flexible, durable, and smooth to the touch. Besides, its buckle has a gunmetal finish, engraved with a logo on it. Thankfully, the straps are detachable, you can anytime customize with your preferred 22mm strap.
Also, there is no physical button on either side. You get a touch style button, similar to fitness trackers such as Xiaomi Mi Band 5 and Galaxy Fit 2.
Since there is no power button, you will have to plug it into a charger to get it turned on. Because of the magnetic charger, it becomes much easier. In my opinion, it would have been great if considered including a crown button as it powers a watch with an aesthetic look and easy functionality.
In terms of display, the Uwatch 3s features 1.3-inch Squared TFT LCD with a resolution of 240 x 240 pixels. Its touchscreen is using 2.5D tempered glass with an anti-fingerprint coating.
Instead of a full round screen, Umidigi is still using a square TFT screen inside a round case.
A lot of people previously backlashed on Uwatch 2s for not providing a fully round display, but they didn't consider this. In my opinion, this looks quite awful, but what more could we expect from a budget smartwatch.
You get four color options to choose from; Icy white, Rose Gold, Space Gray, and Titanium Gray.
Overall, there is no such major improvement in terms of design and display. It offers you the same look and display comparing to its predecessor but has a slight improvement in build quality.
Umidigi Uwatch 3S Fitness, Health & Activity Tracking
SpO2 Monitoring
The SpO2 blood oxygen monitoring is a new addition to Uwatch 3s.
Its sensors are present on the back of the watch to track oxygen levels in your blood, giving you an idea of how well your body is absorbing oxygen.
I am quite happy with the sensor's accuracy, it showed a 1% difference compared to an actual SpO2 tracker. And that's a good margin of error at this price range.
With this accuracy, it is quite beneficial for people with high-intensity working schedules. Also, elder people can keep a track of their oxygen levels on the go.
Sports Mode
Umidigi Uwatch 3S comes with 14 different sports modes, including, Cycling, Badminton, Football, Treadmill, Basketball, Walking, Running, Exercise, Climbing, Skipping, Training, Dance, Yoga, and Tennis.
You can always turn on a specific sport and let your watch track all data in the background. All the sports data tracked gets synced with its official app, Da Fit. In addition, you can also set goals and complete them.
Activity Tracking
Like every other smartwatch, Umidigi Uwatch 3s can also track basic wellness data like steps, calories burned, and distance traveled. But what about its accuracy?
I found the steps and calories tracking accuracy to be absolutely fine. However, distance tracking seems to be a little off. On comparing with Google maps, it showed a difference of 1.7 kilometers. That was only for the first try, but later it was showing some close results.
I won't complain about this because at this price range what we are getting is manageable.
Heart Rate Monitoring
With 24/7 heart rate monitoring, Uwatch 3S keeps track of your heart rate throughout the day.
On comparing with actual medical equipment, Wellue's O2 Ring; It was surprising to see such results on this budget smartwatch. The O2 Ring was showing 62 beats per minute, while Uwatch 3S got 59 beats per minute. Shocking, right?
The heart rate's accuracy is pretty impressive. No doubt, you can definitely use this device for a reference by enabling continuous heart rate tracking.
It is recommended not to completely depend on this tracker as this is not a medical device. Every watch should be treated as a reference device for tracking health.
Sleep Tracking
With Sleep Tracking, you get insights into your sleep data. Pair it with your phone (using DaFit) and record data such as REM (rapid eye movement), awake time, light sleep, and deep sleep.
All this data gets stored in an organized manner, so you can easily access them day-wise, week-wise, and month-wise.
Let's take a closer look, what's this data is all about:
REM (Rapid Eye Movement): Tracks quick movement of eyes during your sleep.
Awake Time: Tracks how many hours you were awake during your sleeping hours.
Light Sleep: Tracks how many hours you slept but you didn't felt like you're asleep.
Deep Sleep: Tracks your deepest sleep hours where your body had low movements.
Female Health Tracking
The Uwatch 3s comes with a female health tracker often known as a period tracker. It allows you to record your periods and informs about the next menstrual cycle and ovulation period. Overall, a handy feature for a female to better understand their health.
Umidigi Uwatch 3S Features & Functionality
Weather Forecast
Umidigi Uwatch 3S has the ability to check the weather, helping you to know the current weather; so that you can plan before going out. It takes the help of your smartphone to fetch weather details and sync them on this watch. With this, you'll have a genuine smartwatch experience on your wrist.
Tools
Like smartphones, smartwatches offer a bunch of useful tools that are beneficial in day-to-day usage. Likewise, Umidigi Uwatch 3s offers some of the exciting tools listed below:
Music Controller: Control your phone's music playback from wrist.
Camera Remote Shutter: Remotely capture moments from wrist.
Stopwatch & Countdown: Calculate time intervals.
Find My Phone: If lost your phone within a range, this feature helps you to find your phone by making it ring.
Alarms: Set morning alarms that helps to get awake on time.
3-Axis Electronic Compass: Gets you the correct directions with in-built three-axis advanced electronic compass.
Reminders, Message and Call Notifications
It is quite handy to get messages and call notifications on your wrist because this reduces the frequent use of a phone. For instance, on a busy working schedule instead of pulling your phone from your pocket, you can swipe your watch's screen and quickly get a glimpse at unread notifications.
With Uwatch 3S, you can stay updated on who is calling or texting. Also, these notifications include social media updates from WhatsApp, Twitter, Instagram, etc.
Apart from that, there is a feature called Sedentary Reminder. This feature comes in handy if you have a sedentary lifestyle. Usually, people who do not like to socialize and sit in one place watching tv or playing games increase the risk of diseases such as diabetes, blood pressure, anxiety, and more.
Sedentary Reminder reminds you when to get up and do some physical activity like walking so that you can stay away from the harmful effects of a sedentary lifestyle.
Waterproofing
With 5 ATM waterproofing, this smartwatch can be submerged depth of 50 meters for 10 minutes. This makes it suitable for swimming and can withstand splashes, showers. Remember, do not use Uwatch 3s for water sports, poolside diving, or sea diving.
Umidigi Uwatch 3S App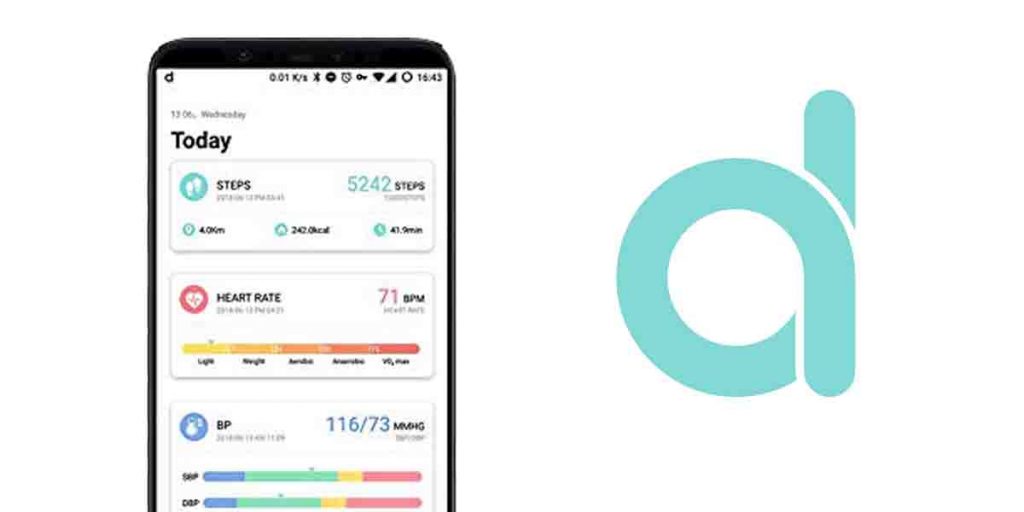 Umidigi Uwatch 3S uses the DaFit app for pairing with your smartphone. The app is available for both Android and iOS platforms. By pairing your Uwatch 3S, you can take advantage of in-app features.
By pairing, you can:
Set Goals and Complete them.
Manually fetch data for a given period.
Monitor and track sleep quality.
Set your watch to vibrate on incoming calls.
Change Time Formats.
Enable DND mode.
Enable Continuous heart rate monitoring.
Change weather units.
Change Language.
Customize different watch faces.
Note –  It is always better to sync all the watch data once in a while because it prevents you from losing important health and fitness data in the future.
Battery Life – Umidigi Uwatch 3S
The best part of this watch is that it comes with a 280 mAh battery that can last for days. Umidigi claims to be giving an average of 15 days battery life in normal usage. It quite holds that to be true; it served up to 12 days in a single charge.
In my assumptions, if we reduce unnecessary watch interactions, then it might reach its 14-15 days mark. The Uwatch 3S supports magnetic plug-n-play charging and takes about 2 hours to fully charge up.
Overall, I have no complaints with the battery life, you get a week of usage without a single charge and that is enough.
| | |
| --- | --- |
| | |
| Battery Life (Company's Claim) | |
| Battery Life (In Real Usage) | 11-12 days (Normal Usage) |
| | |
| | |
| | Magnetic proprietary USB charger |
| | |
| | |
✔️ Reasons to Buy Umidigi Uwatch 3S
Budget friendly smartwatch under 50 bucks.
Impressive build quality.
Detachable straps. It can be replaced with a new one.
Continuous Heart rate Tracking throughout the day.
Heart rate tracking accuracy is great.
SpO2 tracking shows accurate data.
Impressive battery life up to 12 days.
Comes with bunch of useful tools like alarm. music control, stopwatch, camera shutter, and more.
Get weather details on your wrist.
Keeps you away from a sedentary lifestyle.
Get on-screen text and call notifications.
Water resistant up to 50 meters, suitable for swimming.
❌ Reasons Not to Buy Umidigi Uwatch 3S
No physical button on the watch.
UI animations doesn't look appealing.
Distance tracking sometimes shows inaccurate data.
No major upgradation except SpO2 monitoring.
Uwatch 3S Comparision to Urun and Urun S
| | | | |
| --- | --- | --- | --- |
| | | | |
| | 1.3-inch TFT Touch LCD (240x240 pixels) | 1.1-inch TFT Touch LCD (240x240 pixels) | 1.1-inch TFT Touch LCD (240x240 pixels) |
| | | | |
| | | | |
| | | | |
| Monitor Blood Oxygen Tracking (SPO2) | | | |
| | | | |
| | | | |
| | | | |
| | above iOS 8.0 & Android 4.4 | above iOS 8.0 & Android 4.4 | above iOS 8.0 & Android 4.4 |
| | | | |
| Overall Performance (in Comparision) | | | |
| | | | |
Final Verdict – Is Umidigi Uwatch 3S Worth Buying?
To be honest, I don't think they are bad; considering the price, the Umidigi Uwatch 3S offers decent features with decent tracking accuracy. But still, it has got some downsides, such as no physical button and laggy UI animations. I won't enjoy turning on this device by plugging in a charger. Who does that?
Who should consider Umidigi Uwatch 3s? If you are short of cash and want something that tracks your steps, sleep, calories, or other bits of data under the budget of 30 bucks, then definitely give it a go. But don't expect any smooth performance out of it.
You will get a great alternative if you are ready to add a few more 10-20 bucks to your budget. In fact, I have played around with Virmee VT3 Plus and the Tinwoo Eclipse Smartwatch; they are much fluid & versatile. Consider taking a look at them.