We mostly relate a red signal to danger, a warning, or an emergency alert, but what does it mean when your Apple Watch glows red? The red signal display either on the home screen or at the back of the Apple Watch can send a mixed signal to the untrained eyes of Apple users.
If you observe this signal, there is nothing to worry about because it indicates you have a fully functional Apple Watch at your service. All you need is to understand what's happening with your Apple Watch and what to do when observing it.
It indicates different meanings depending on where it displays on your Apple Watch. Thus, we have prepared this article to explain what the red dot or glow means on your Apple Watch.
Related Post to Read | What is Green Light On Apple Watches – How to Turn It Off?
Why Does My Apple Watch Glow Red? (Two Scenarios)
There are many reasons why your Apple Watch may glow red at the back or display, a red dot on the Apple Watch home screen.
1. Red Glow Display On the Back of your Apple Watch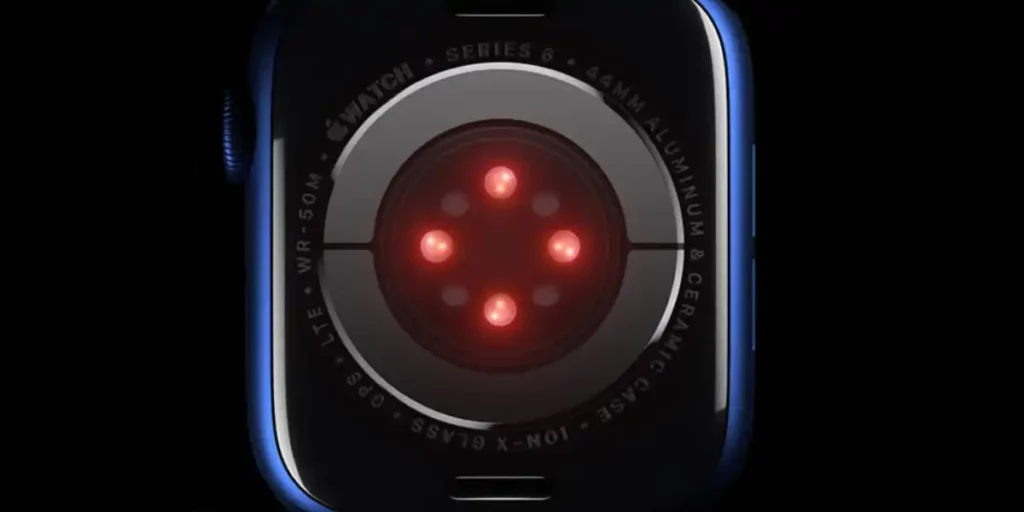 A red glow display on the back is a common functionality of the Blood Oxygen app if you have the latest Apple Watch Series 6 or Series 7.
The optical heart sensor in both Apple Watch Series 6 and Series 7 has been redesigned with photodiodes to measure blood oxygen in humans.
For this reason, Apple Watch integrated a combination of red, green, and infrared lights on the back of the Apple Watch to help photodiodes measure blood oxygen.
In addition, photodiodes can determine your blood oxygen by calculating the color of your blood. That's because it measures the amount of light reflected. For Instance;
A dark red glow means your blood oxygen is less.
A bright red glow indicates your blood oxygen is more or 100%.
Provided you have enabled the Blood oxygen app on your Apple Watch, it will remain active, and the red glow will be continuous until you disable/turn off the app.
If you are uncomfortable or feel the red glow is bothersome, you can disable the blood oxygen feature on your Apple Watch.
How to Turn Off/Disable the Red Glow on Your Apple Watch?
If you want to turn off the red glow on your Apple Watch, you must disable blood oxygen measurement on Apple Watch due to the reason mentioned above. But remember, you won't be able to measure your blood oxygen unless you enable it again.
To turn off or disable the red glow on Apple Watch, follow the steps below:
Press the Digital Crown.
Go to the Settings app and open it.
Scroll down and tap Blood Oxygen.
Then tap the toggle next to the Blood Oxygen Measurements to disable it.
Or you can also disable the Blood Oxygen app using your iPhone through the Watch app. After opening the Watch app, scroll and tap the Blood Oxygen option, then toggle Blood Oxygen Measurement to disable the feature.
2. Red Dot/Light Display at the Home Screen of Your Apple Watch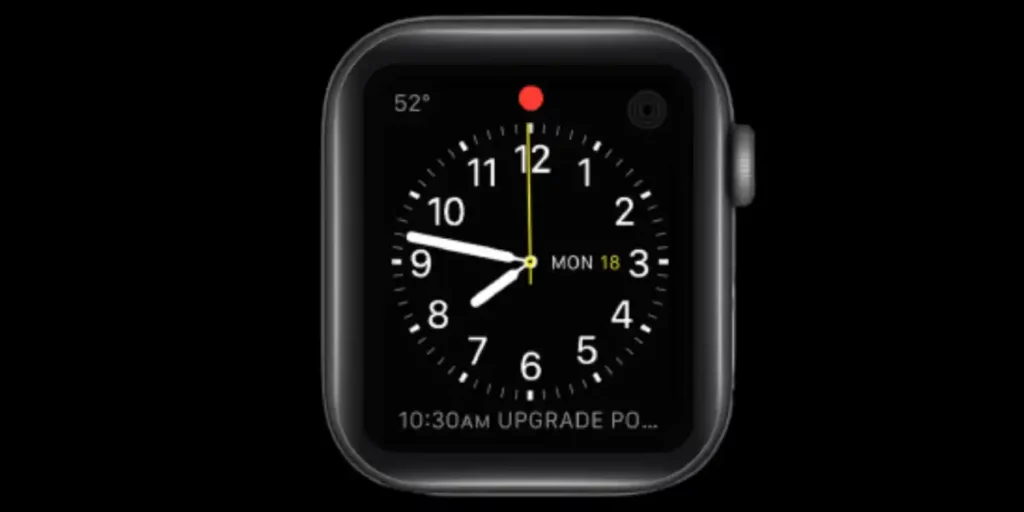 A red dot or light display at the center or top of your Apple Watch home screen indicates that you have an unread notification (s). You will notice it goes off immediately you open the notification.
If you have Apple Watch Series 4, Watch OS 5, Series 6, and Series 7, the red dot will appear in the center of the home screen if you haven't read any notification.
Remember that the red light will automatically turn off once you have opened any notification. But you won't know whether you have read the oldest or latest notification, thus missing more details. Therefore, it is recommended to read all the notifications to catch up with everything.
If you don't want to read any notification, you can get rid of it by simply pressing on the notification, swiping to the left, tap the X icon.
Or, you can scroll the notification page to the top and tap Clear All.
But if you feel uncomfortable with the red dot popping up every time, you can turn off the red dot and still receive notifications alert.
How to Turn off the Red Dot on Your Apple Watch
To turn off the red dot on your Apple Watch, you must disable it through the Watch app on your iPhone. The steps below will take you through the process:
Open the Watch app.
Select "My Watch" at the bottom of the screen.
Tap Notification.
Toggle Notification Indication to disable the red dot.
However, if you want to hide notifications on your Apple Watch, they don't exist; instead, scroll down, tap the Notification Privacy and then toggle to turn it on.
Disabling the notification indicator turns off the red dot. Still, it would be hard to notice if you were waiting for an emergency notification because the notification pop-up light is disabled.
Why you Should Disable the Notification Indicator and Blood Oxygen Measurement?
Disabling both the Notification Indicator and Blood Oxygen Measurement comes with many disadvantages to the user. But it is also helpful depending on the users' preference. Why?
If you feel uncomfortable being bothered by the red light glowing every time.
To enhance your focus while driving because you may be tempted to check a notification or your blood oxygen reading. It is dangerous while driving.
It can draw attention in public places, in a conference meeting, or at work.
Notifications may nag your psyche unexpectedly.
To avoid reading unnecessary notifications at the wrong time and place.
To help you preserve your reserved/introverted personality.
Wrapping Up
If you want to utilize the above features, you have disabled them. You can follow the same procedure to re-enable them by toggling the feature button back on.
We hope this article was helpful to your worry and if you want to add anything or address your issue, let us know in the comment section below.
Explore More On Apple Watch