Looking for some best games for Fitbit to Kill your time? In the past few weeks, I have been exploring different games on the Fitbit store. At the time of writing this post, there are currently 92 games available on the Fitbit App Gallery.
This is quite not a huge number, but installing each game to check If it's worth giving a try is a wastage of time.
Don't worry! I am here to help. To be honest, I haven't played all the 92 games. However, the ones that I will be listing in this guide are worth giving a shot.
Although the games are basic & casual, they can still drain your Fitbit's battery power. I will recommend you to play these games in your spare time to avoid unnecessary battery drainage.
So let's dive in to the list of best Fitbit games to kill your boredom.
Related Post to Read Later
9 Best Games for Fitbit Smartwatches
Flappy Bird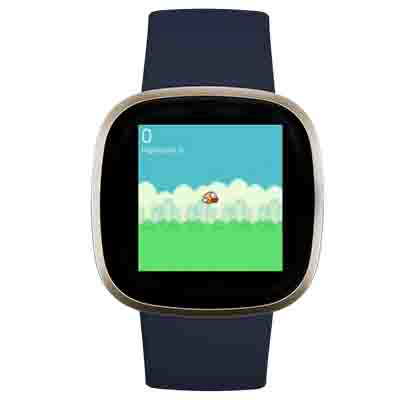 Flappy Bird is one of the most famous games back in 2014, which got 50 million downloads by the end of the year. It was primarily designed for the iOS & Android platforms, but its popularity unlocked many other platforms. This includes Fitbit too.
This game has a simple concept; the player has to control a bird crossing the green pipes without hitting them. Sounds easy, right? But attempting to fly between these pipes can be challenging. For controlling the bird, you have to tap on the screen or press the buttons on Fitbit. Overall, a great game to pass your free time.
Price – FREE
Supported Device – Fitbit (Ioonic, Versa, Versa 2, Versa Lite)
Snake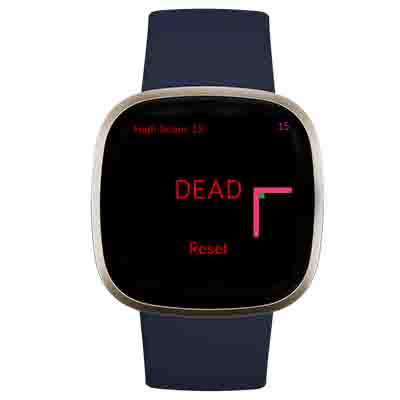 Snake is another popular game that you might have played once in your life. Especially, if you ever got hands-on Nokia classic models, this was the game that most people were playing to pass their time. Thankfully, Fitbit developers did a great job by adding the classic Snake game on Fitbit Store.
Same concept, you have to move the snake on your watch and eat apples, thereby grows larger. It ends on moving off the screen or into itself. So, it needs focus to make high scores. One thing I really love about this game, you can compare your scores with other players around the world and try to compete with them. This makes it more interesting.
Pocket Glider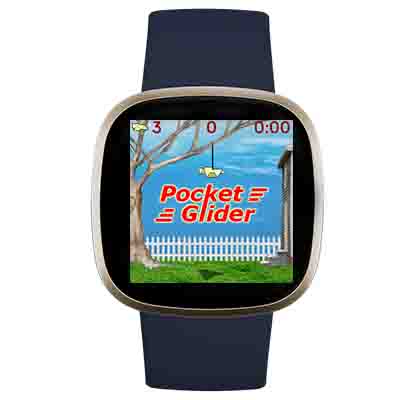 Pocket Glider is another addictive game available for Fitbit devices. The graphics on this game is pretty awesome, including vibrant colors which look attractive.
Basically, you have to control a paper glider flying around the house and protect it from hitting tables, shelves, or landing on the floor. To keep it aloft, use the heating sources present on the floor. As continues this gets exciting, be careful when changing the direction of the flight to collect trophies from various locations.
On the top, you will find details about lifelines, scores, and elapsed time. Besides, this game allows you to customize settings for glider speed & vibration. So you can fully customize it to your preference.
Price – FREE
Supported Device – Fitbit (Ionic, Versa, Versa 2, Versa Lite)
Tic Tac Toe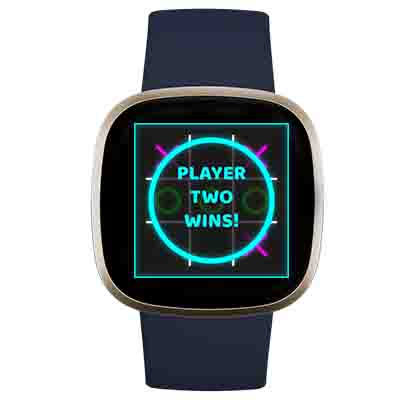 TicTacToe is a classic game that you might have played once with your friends in your spare time. On the Fitbit store, there are six different versions of this game, but the TicTacToe by Stinergy stands out because of the clean colorful graphics, looking pretty attractive.
The best part, it is a multiplayer as well as a single-player game. Meaning, you can play it with your friends around or play against a computer if alone.
If you don't know, the concept has no changes. Here two players will be putting Xs and Os in the cells, and each player tries to get a row or column of three Xs or Os before the opponent wins.
Price – FREE
Supported Device – Fitbit (Sense, Versa, Versa 2, Versa Lite)
Block Rain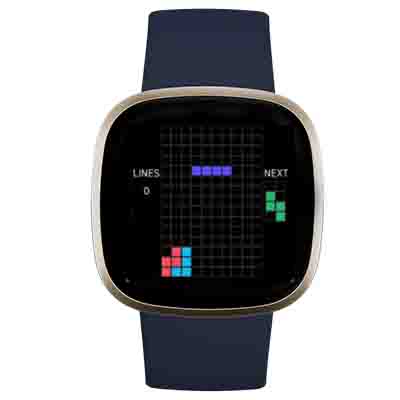 Have you played Tetris before? The Block Rain is a complete replica of the most popular game, Tetris. Playing this on the Fitbit watch made me recall my childhood memories. I used to play this game very often as it was addictive and still is.
In Block Rain, you have to create horizontal lines of the block without creating gaps between them. When you create a complete line, it vanishes and the space gets free to add more blocks again. The main aim is to prevent the blocks from stacking up to the top and score high as much as possible.
Price – PAID
Supported Device – Fitbit (Sense, Versa, Versa 2, Versa 3, Versa Lite)
PingPong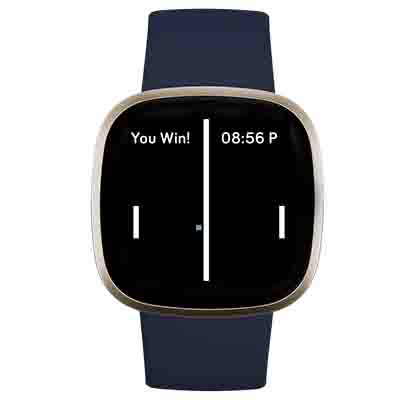 PingPong is another old-school game on our list. The game looks basic and is addictive to play in spare time. This game consists of two paddles and a ball; the main goal is to prevent the ball from crossing the edge of the screen.
Here you will be controlling both the paddles to protect the ball from crossing the edge. Each paddle touch earns you a point, and crossing the edge loses one.
Price – FREE
Supported Device – Fitbit (Versa, Versa 2, Versa Lite)
Sliding Puzzle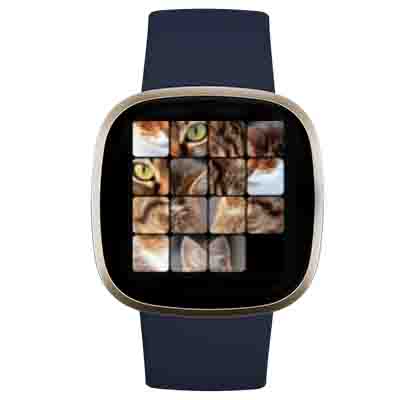 Looking for a Puzzle game for Fitbit? Sliding Puzzle is an addictive puzzle game that can keep you engaged until you solve it. This game generates a random image & divides it into a bunch of blocks placed in random order. You have to tap the tiles to move around until the puzzle is solved.
The generated image could be anything. It could be paintings or landscapes. Your main goal is to observe and reorder the blocks until the picture shapes into its original form.
Price – PAID
Supported Device – Fitbit (Ionic, Sense, Versa, Versa 2, Versa 3, Versa Lite)
Tap Race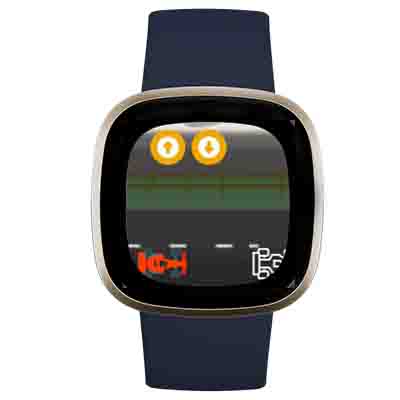 I am a big fan of racing games, so I thought of finding one from the Fitbit Store. To my surprise, there was a game called Tap Race. To be honest, the game is basic and I don't have high expectations from a smartwatch game.
The game starts with a sports car moving along the highway. Here you get five seconds till you encounter your first car, the goal is to dodge the car without getting hit. On preventing your hit, you score points. Nothing more.
In my opinion, this is a too basic concept. The developers could have added few more obstacles to make it interesting. However, if you were looking for a racing game, then you can give it a shot.
Price – PAID
Supported Device – Fitbit (Sense, Versa 3)
BasketBall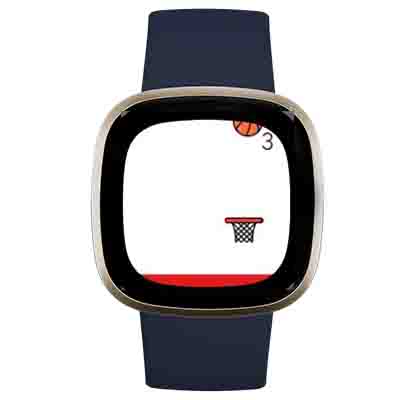 Basket Ball is a perfect game for someone having a love for sports. In this game, you will be given a hoop to catch the basketballs falling from the sky. As the game continues, the pace & speed of the falling ball increase, so you have to quickly move the hoop to catch those balls.
You will have a total of 3 lives. Don't miss the balls or you will lose one. Overall, it's a nice game to kill your boredom.
Price – PAID
Supported Device – Fitbit (Sense, Versa, Versa 2, Versa 3, Versa Lite)
FAQ: Best Games for Fitbit Smartwatches
Can I play games on a Fitbit?
The Fitbit lineup including Sense, Ionic, Versa, Versa 2, Versa 3, and Versa lite supports apps & games. To download and play, visit Fitbit Gallery where you will find a collection of free & paid Games/Apps to explore. In conclusion, you can install and play games on your Fitbit Watch.
How do I get games on a Fitbit?
To get games on Fitbit, Download the official Fitbit app on your phone. The next step is to set up the device by pairing & creating a Fitbit account. After that, Open the app > tap on profile icon > Select Apps > All Apps > Search your game & install.
How to pay for Fitbit Games Subscription?