When it comes to Fitbit watches, they have their official app store called Fitbit's Gallery from where you can explore different apps, games, as well as cool widgets.
In our day-to-day life apps make our life easier, and having them directly on our wrist makes them even more convenient. Fitbit Gallery store has a wide range of apps that you would love to have on your Fitbit watch.
To make your task easier, I have found a few exciting apps that you can download for your Fitbit watch to take your experience to the next level.
Let's dive in!
9 Best Apps For Fitbit Watch (Free / Paid)
1. Tip Calculator+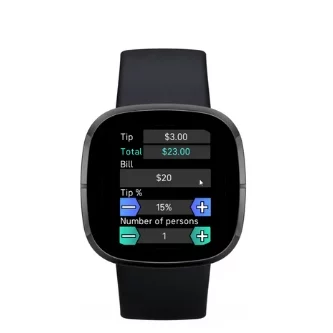 Supported Fitbit: Sense, Versa, Versa 2, Versa 3, and Versa Lite
Tip Calculator+ is a tip calculation app where you can enter your final bill amount and it will show you 3 different tip values. The default tip values are 9%, 12%, and 15%. It has a very simple and easy-to-use user interface.
On opening the app, it will directly take you to the calculator where you can enter the total bill amount. You can go to the Tipper app on your smartphone and change the values of low, average, and high tip percentages.
Tip Calculator + can be very useful for people who eat out frequently and need to calculate how much tip they should leave.
2. Flipboard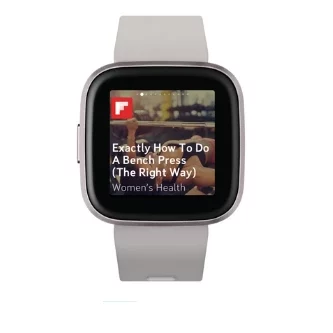 Supported Fitbit: Ionic, Sense, Versa, Versa 2, and Versa Lite
Flipboard is a news app that lets you see snippets of news, stories, and conversations relating to any interest you have. Upon opening the Fitbit app you will be able to see small excerpts from news stories. If you would like to read more about any story you like, simply swipe up and it will show you a summary of the entire story.
On the mobile app, you can choose the category in which you want to view the news. The only downside is that you can only watch one category at a time. To change categories, you have to go into the smartphone app every time to change it.
3. TweetFit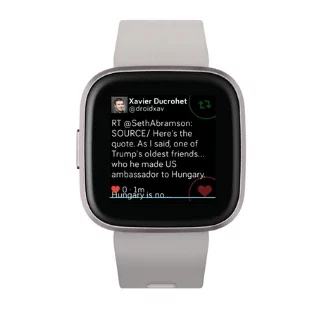 Supported Fitbit: Ionic, Versa, Versa 2, and Versa Lite
TweetFit is a Twitter client app, TweetFit, shows your latest Twitter timeline directly on your wrist. To use this app, you must log in to your Twitter account in the settings of the app on your smartphone. As a result, your entire Twitter feed will appear on your watch.
You can like, retweet, and tweet without using your phone. How cool is that?
4. Count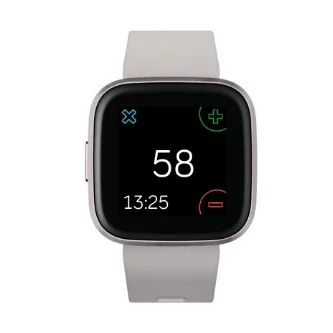 Supported Fitbit: Ionic, Versa, Versa 2, and Versa Lite
With this count app, you can count anything from apples to melons, and it has a colorful and minimalist design. This works well in situations where you need to count people or measure occupancy. For example, You can count how many people enter and exit a building.
You can add a count by tapping the top right button and removing a count by tapping the below right button. To reset the counter app, there is a reset button on the top left corner.
5. Treasure Trek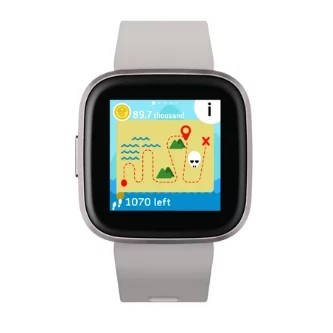 Supported Fitbit: Ionic, Versa, Versa 2, and Versa Lite
Treasure Trek enables you to use your steps to power your pirate ship on a quest to find sunken treasure. The app uses your daily steps as a measure of how many coins you'll earn. With these coins, you can buy crew members, ships, and pets.
Eventually, you will come across different monsters to battle with the crew that you have assembled. Still, this app is fun to kill a little bit of time.
Recommended: 9 Best Games for Fitbit Smartwatches to Kill Time!
6. RHR Report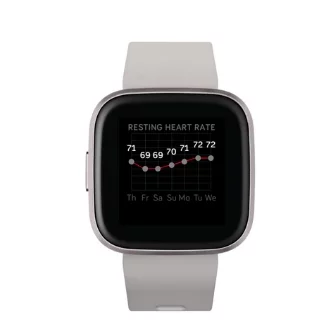 Supported Fitbit: Ionic, Versa, Versa 2, and Versa Lite
With the RHR Report app, you can see your resting heart rate on different days of the week and over the last seven days.
It's an easy way to know if your resting heart rate is high so you can consult a doctor if you have any heart issues. The graph represents the data visually so that it's easier to read and get useful insights.
7. SPO2 Tracker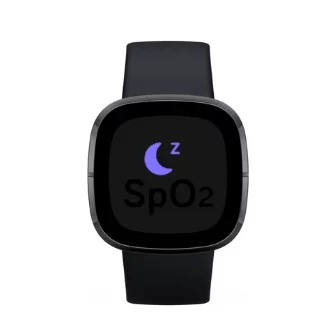 Supported Fitbit: Sense and Versa 3
SpO2 app tracks your blood oxygen saturation levels while you sleep and displays them in the Health Metrics tab on the Fitbit app. After installing this app, it will not appear on your Fitbit device, but it will run in the background.
To see an on-wrist SpO2 value, select one of the clock faces from the SpO2 category in the Clock Face gallery. And to see the SpO2 data, you just need to tap on the Health Metrics tab.
8. C25K Trainer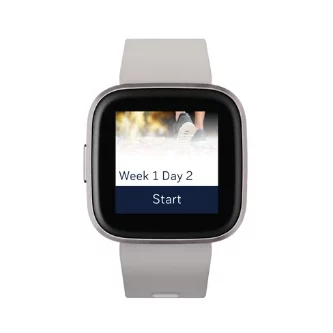 Supported Fitbit: Ionic, Sense, Versa, Versa 2, Versa 3, and Versa Lite
The C25K Trainer is a workout program that makes it easy to turn couch potatoes into mid-distance runners within two months with its structured approach that prevents new runners from giving up while at the same time challenging them to continue.
C25K gradually builds strength and stamina by combining running with walking. The app reminds you of the day of the current program every day. The workout starts with a gentle warm-up and gets increasingly intense over time.
9. Switchr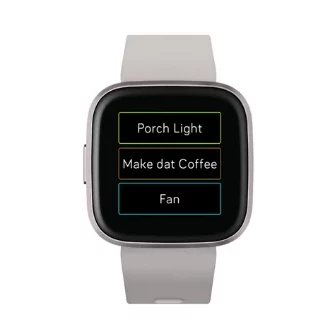 Supported Fitbit: Ionic, Versa, Versa 2, and Versa Lite
When you use your smart gadgets, having your phone in your hand isn't always convenient, that's where Switchr comes in. Switchr is a free app that automates as many smart devices in your home as possible using IFTTT's WebHooks.   
By using the power of IFTTT's WebHooks, it can send a command from your Fitbit Smartwatch directly to your web-enabled appliance, letting you make your life easier by automation.
More Fitbit Related Posts