A wide range of smartwatches in the market support WearOS out of the box. This includes popular brands like Fossil, Suunto, Polar, TicWatch, Michael Kors, Emporio Armani, etc. Rumor says the upcoming Galaxy Watch 4 might feature WearOS instead of TizenOS.
Wear OS has gained popularity over the years because of its staple features, including global app support, fitness & health tracking, Google Assistant, and more. Apart from that, the excellent hardware support makes it stand out in terms of performance.
If you own a smartwatch powered by Wear OS, then you might be aware of some in-watch features, watch faces, and apps, but not all of them. Once you start digging into it, you get to discover more.
So after exploring, I found some amazing Wear OS tips, tricks, watch faces, and apps that can bring the most out of your smartwatch.
A Must Read
Best Wear OS Tips and Tricks, Watch Faces, & Apps
Customize Hardware Buttons
Most of the Wear OS smartwatches do have more than one button on its body. What if you can use those buttons to make tasks easier? Wear OS smartwatches allows you to customize their hardware buttons to set up apps for quick accessibility. For example, you can quickly access Spotify with one button tap. How cool is that?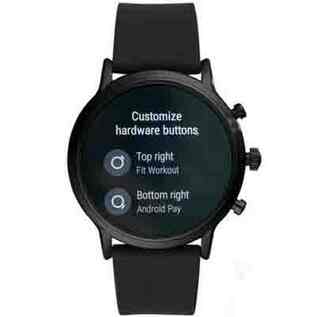 How to Customize Buttons on Wear OS
Swipe down for the notification panel.
Select Settings > Personalization > Customize Hardware Buttons.
Select Buttons & choose which app to launch on button tap.
Besides, this can be even more interesting by installing an android wear app called Button Launcher. With this app, you can set up to two-button press combination. For watches with a single button can use it for more flexibility. It can set up to two shortcuts; the first one is long-pressing the primary button, and the second one is pressing the button two times in a row to trigger an app launch.
Activate Wrist Gestures
There might be specific situations where you become unable to operate your smartwatch with touch. A good example is when cycling; suppose you want to check the time or want to know who texted you, then it requires an awkward position of your hands to access your watch, which is quite inconvenient to do. But activating wrist gestures on Wear OS can solve this issue.
Activating Wear OS wrist gestures enables you to scroll through notifications & take action, open the apps menu, open the settings menu, and navigate back to the main screen or cancel an action.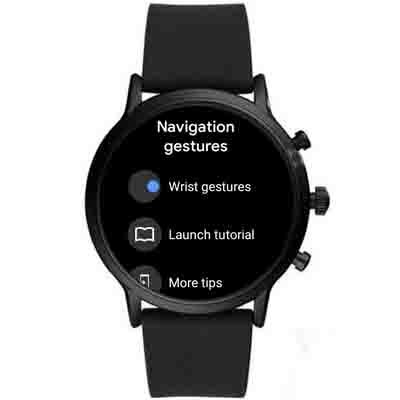 To activate Wrist Gesture feature, follow the steps below:
Swipe down for the notification panel.
Select Settings > Gestures > Wrist Gestures > Turn it ON.
Check this guide to know all the navigation gestures.
Quick Access Emoji Reply
One of the quick ways you can respond to messages on Wear OS is by Emojis. If you don't know there is a quick way to access these Emojis. You don't have to go through all the emojis available; draw the one you're looking for, and you're good to go.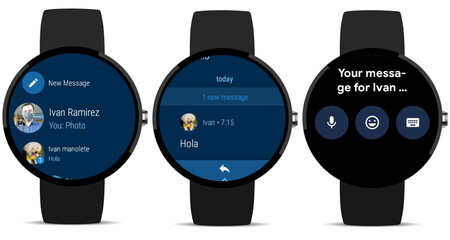 When responding to messages choose the Emoji icon. Now, it will prompt you to draw the emoji, so draw the one you want using your fingertips. After that, your watch will start looking for relevant emojis that match your drawing.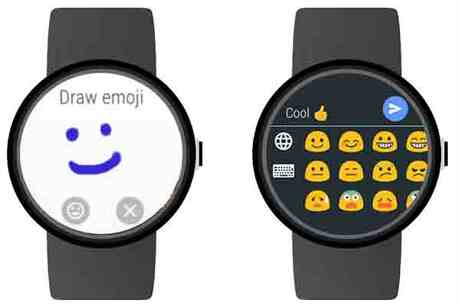 Most of the time, I found exactly what I was looking for, so no doubt about its accuracy.
Auto Launch Media Control
If you like to control music playback from the watch, then turning on auto-launch media control is something you should definitely do. When you play music on your Wear OS watch, the media controls don't appear automatically. It is turned off by default, but you can enable it right from your watch.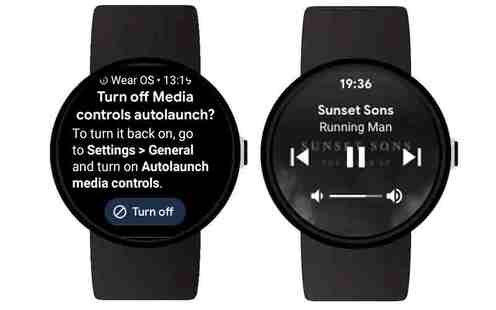 To enable Auto Launch Media Control, all you have to do is:
Swipe down for the notification panel.
Go to Settings > General > Auto Launch Media Control.
Select and Turn it ON.
Now, as you start playing music on your phone, your watch will show up the media controls immediately, showing you options to switch songs, play/pause, and increase/decrease volume.
Set Up Screen Lock
If you are concerned about the security of your smartwatch, setting up a screen lock is possible on a Wear OS watch. This gives your watch security against snooping partners and thieves. The main goal of setting a screen lock is to keep your information safe from spying eyes.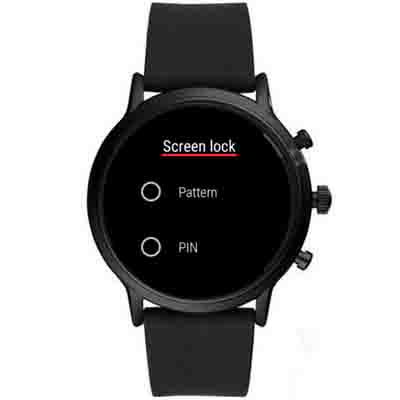 Tu set up a screen lock on Wear OS smartwatch, follow the steps below:
Swipe down for the notification panel.
Go to Settings > Personalization > Screen Lock.
Now, it will prompt you to set up lock type; choose between Pattern, PIN, and Password.
From now, when you try to wake up your watch, it will ask for PIN, Pattern, or Password depending on what you have opted for.
Change Watchfaces
Watch faces are the best thing in smartwatches. If you ever feel bored by using the same watch face and want to try some new ones to get yourself a new look, you can find thousands of watch faces on the Wear OS official app.
Wear OS lets you use customized third-party watch faces by adding some amazing ones from the Wear OS official app. To add & change watch face using the Wear OS app, all you have to do is:
Launch the Wear OS app > Select Watch Faces > Scroll and tap Get More Watch Faces.
Besides, there is another dedicated watch face app called Facer. This app offers thousands of free and premium watch faces to personalize your Wear OS device. The best part is you can even make your own custom watch face & share them with people globally.
Have a look at this video below to see how it's done.
Play Games on Wear OS
Can you play games on the Wear OS watch? Yes, it is possible to play games on any Wear OS smartwatch. To be clear, Wear OS is an operating system similar to Android but is primarily focused on Android Wear devices. It support apps installation from the Google PlayStore, so many developers also create mini-games that are playable on the watch.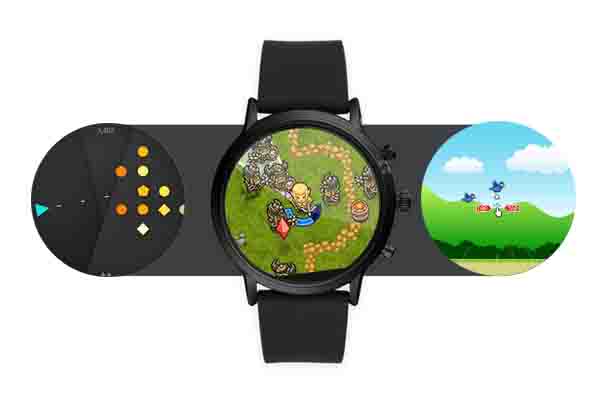 You can play some of the best popular Wear OS games like Snake, Infinity Runner, Wolf & Egg, PetQuest, and more. To find and install Android Wear games, all you have to do is:
Press the power button to see the list of apps available.
Scroll and find PlayStore. Then, open it up.
You can either search your desired game or scroll to an option called Play Time.
On selecting Play Time, you'll find a list of amazing games to install.
Take Screenshots
Another awesome thing about Wear OS is you can take screenshots of the watch's screen. Screenshots are quite useful in scenarios such as reporting an issue or creating a set of instructions.
Operating System like Tizen OS has an in-built screenshot feature on the watch. However, Wear OS uses its official app for capturing screenshots. All you need to do is follow the steps below:
Make sure you have your smartphone connected with the official Wear OS app.
Navigate the watch screen that you want to capture.
On the Wear OS app, tap on the three dots from the upper right corner.
On tapping, it pops up a menu. Select Take a Screenshot to capture.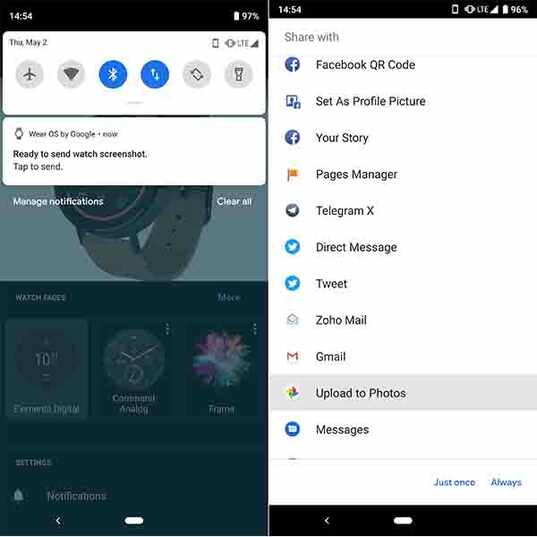 Where do Wear OS screenshots get saved? After taking a screenshot, your watch doesn't save it automatically. As soon as you capture it, you will see a notification informing you that your Android Wear screenshot has been captured. Next, you'll need to tap that notification which opens up a Share menu. Still, there is no option to save, so you can only share & upload it to Google Photos.
That's quite an indirect method to save.
Install Third-Party Apps
Every day there is a new release of apps, but before making it to the play store, developers upload their apps on forums so that users can test and give feedback. On Wear OS, we can install any third party by sideloading it. Meaning, you can install apps from your Android phone to your WearOS device. To execute this, you'll need an app called Wear Installer.
Wear Installer lets you install apps directly from your Android phone to your WearOS device. This gives you the freedom to download apps from various other sources.
To Install apps manually, follow ther steps below:
Download & Install the Wear installer on both your phone and watch.
On watch enable debugging by going to Settings > System > About. Then tap on build number until you get a toast saying "you are now a developer".
Next, go to Settings > Developer options and enable "ADB debugging" and "Debugging over Wi-Fi".
On the phone open "Wear installer". You will find 2 tabs, the first tab contains all the apps installed on your phone, and the second tab is the list of the apps you have downloaded to the phone (APK files) and found in the "Download" folder.
Now, you can select the app to install on the watch. But make sure the app is compatible with the Wear OS platform. So once you accept the debugging on the watch, Wear Installer will extract the component & installs it on your watch.
Looking for More Wear OS Apps. Checkout: