Your Galaxy Watch battery life may drain so fast after purchase which is normal because it is trying to obtain predictable data.
For instance, your Galaxy Watch will use lots of energy while utilizing a cellular network and GPS to track your activities. After storing maps and GPS data the heavy battery consumption will reduce after a few months. Because it will utilize the GPS data and stored maps to track your activities and thus lowering battery consumption.
Well, there are several reasons your Galaxy Watch battery is draining so fast or experiencing decreased battery life. Before we jump to a conclusion, it is advisable to use only Samsung-approved chargers and accessories because they are specifically designed for gear.
Do not use third-party chargers and accessories because they do not charge properly and thus your watch battery life is draining so fast. Before we look into how you can fix this issue, below we have listed the reasons your Galaxy Watch battery is draining so fast.
Why Does Galaxy Watch Battery Drain So Fast?
Aside from the two reasons we have mentioned above; there is a listicle of reasons why the Galaxy Watch's battery is draining so fast. They include:
Defective Charger: Your charger may be defective causing your Galaxy Watch not to charge properly thereby causing it to drain so fast.
Hardware Issues: Hardware damage including physical damage can also cause the Galaxy Watch battery to drain very fast.
Running Outdated OS: Using older OS and app software versions drains a lot of battery power because it has bugs that lead to memory leaks. Due to a memory leak more battery energy will be pulled to recover the memory.
Background Running Apps: Third-party apps running in the background including health trackers pull lots of energy from your battery while trying to sync and exchange data with your phone.
Over Use of In-Watch Features: Enabling GPS, Bluetooth, Cellular network, and Wi-Fi connection also drains more battery power in an attempt to exchange data and access data from the browser and other devices.
Not managing notifications: Failure to manage notifications on your Galaxy Watch also drains lots of battery power because it utilizes cellular, Bluetooth, GPS, or Wi-Fi connection functionality.
Enabling Bixby & S Voice: Turning on voice wake functionality in Bixby or S Voice also drains your battery life.
In-appropriate Temperature: Exposing your Galaxy Watch to extreme temperatures (both extreme cold and hot temperatures) shortens your Galaxy Watch battery life and could lead to damage.
Always On Display: Enabling the "Watch Always On" functionality on your Galaxy Watch is one of the culprits that cause battery draining issues on your watch.
9 Tips to Fix Galaxy Watch's Battery Draining Problems
Here is what you can do to fix your Galaxy Watch's battery if it is draining so fast:
Inspect if your Watch and its Charger are Broken
As we have mentioned above, do not conclude battery draining issue is caused by the battery itself. Instead, inspect your Galaxy Watch and its charger if it is broken.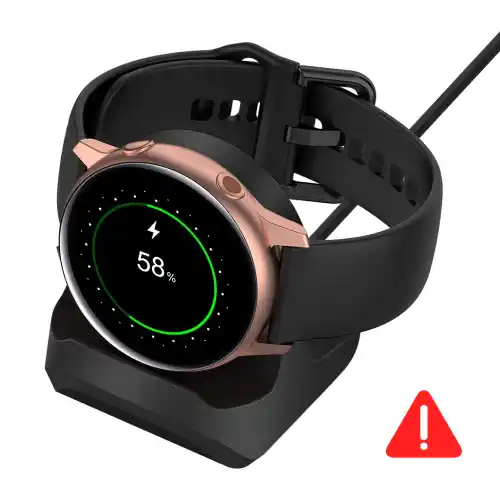 Look for any physical or liquid damage. If your Galaxy Watch hardware is broken you should take it nearby to the certified Samsung store for repair. And, if it's the charger, we strongly recommend purchasing Samsung-approved chargers.
Update to the Latest Software Version Available
Using an older software version on your Galaxy Watch causes a memory leak/software glitch because it has bugs that cause your Galaxy Watch's battery to drain so fast.
Updating both OS (operating system) and apps to the latest software version available can fix battery draining issues. That's because they come with improved functionalities and several bug fixes that will improve the battery life and performance.
While updating make sure your Watch is connected to the charger because below 30% you won't be able to perform software updates. Rather than checking for software updates open the Setting tab and enable the Auto-update button or Download updates automatically.
To update your Galaxy Watch OS, open the Galaxy Watch app > Settings tab > tap About Watch/About Gear > then tap Update Gear Software.
You can also update your Galaxy Watch's apps by launching the Galaxy Store > tap Settings > tap three vertical dots in the top right corner > tap My Page > Update.
Close Background Apps
Besides draining battery power, background apps including unused health trackers can cause your watch to overheat because your watch's OS is using too much energy to process the data.
It would be wise to close them to reduce battery consumption and prevent overheating issues before your screen turns dark/black. You can turn off unused health trackers you are not using by that time and turn them on when you need them.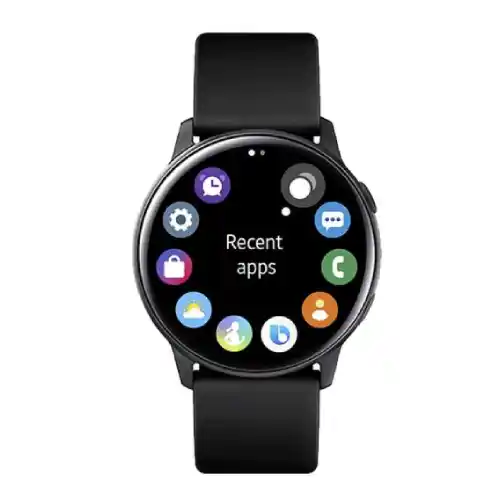 The straightforward way of closing the background apps is; Swipe up from the bottom of your Galaxy Watch's face and tap "Recent apps". Then swipe up the list of apps displayed on the screen until the end and then tap X to close all the background apps.
Turn off Network Connections
Do not enable Bluetooth, GPS, Cellular network, and Wi-Fi, and let them run continuously when you are not using your Galaxy Watch. However, turning them off will deprive your Galaxy Watch of maximum functionality and disconnect your watch from your phone.
Consider this solution if you are not using your Galaxy Watch. Then check if the battery life has improved.
Manage and Customize Notification Setting
Continuous notification pop up on your Galaxy Watch drains more battery power and it is, therefore, recommendable to manage and customize notifications to your advantage. That is turning off insignificant notifications from apps you do not use.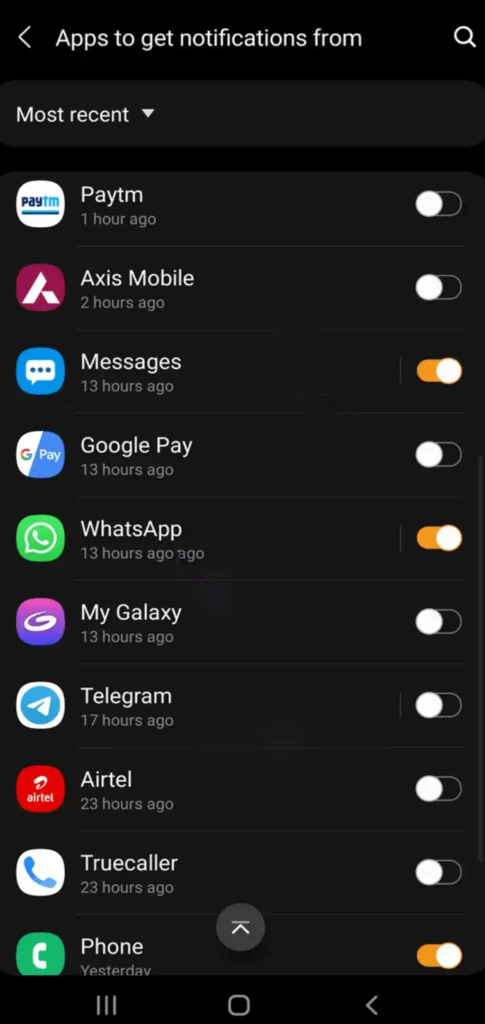 To manage and customize notification settings to your preference, open your Galaxy Watch App > Watch settings > Scroll down to Notifications > disable apps you do want to send notifications on your Galaxy Watch screen.
Turn Off the "Watch Always On" functionality
To turn off this functionality, press the power button> go to Settings > Display > Watch Faces > Watch Always On > then swipe the toggle leftwards to turn off the feature.
Turn off Voice Wake-up in Bixby or S Voice
Turn off the voice wake-up feature either in Bixby or S Voice. To turn it off, open either Bixby or S Voice from the Apps screen > tap three buttons at the top on the right side of the screen > Voice wake-up > toggle the button leftwards to turn it off.
Enable Power Saving Mode
Remember activating power-saving mode will limit/turn off all the functions that automatically accept messages, calls, and notifications, but are effective in preserving battery power.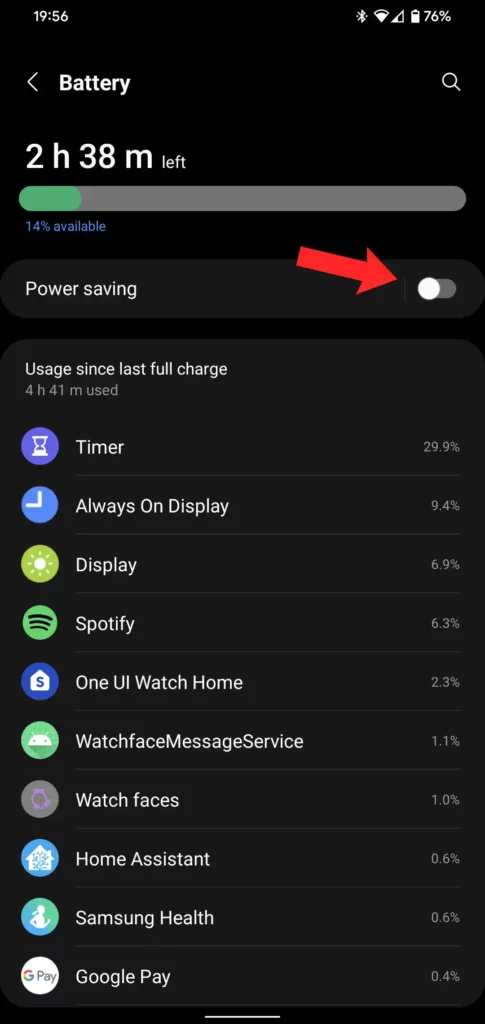 To enable power-saving mode, Open the Galaxy Watch app> Settings > Battery > tap the power saving slider/toggle to turn it on or off.
Restart your Galaxy Watch
This is the last option you should try if all of the above troubleshooting tips aren't fruitful. Secondly, we recommend this solution if you suspect a software glitch is causing your Galaxy Watch battery to drain so fast.
If you want to restart your Galaxy Watch; press and hold both the power and back buttons for about 6-9 seconds and release your finger when you see the watch power cycles. Wait for a few seconds for your Galaxy Watch to start restarting/rebooting.
You are done.
Wrapping Up
Generally, we strongly advise you to take good care of your Galaxy Watch battery by employing the tips we have mentioned above. However, do not expose your Galaxy Watch to either very hot or cold temperatures because it can shorten or damage your Galaxy Watch battery.
If any of the above tips do not work you should consider replacing the battery, but make sure you purchase from a Samsung-approved store near you.
Explore More On Galaxy Watch