Samsung Galaxy Watch 4 succeeded Galaxy Watch 3 with a bigger and brighter display, longer battery life, and Wear OS 3 on board. Besides, offering multiple and essential functionalities, Galaxy Watch 4 is also an entertaining device for gaming enthusiasts.
However, not all smartwatch games can effectively pair/be compatible with Wear OS operating system. Considering that, don't download and install smartwatch games before checking compatibility.
To help you sift easily on Galaxy App Store or Play Store, here is the list of the best games for the Samsung Galaxy Watch 4.
Get More On Galaxy Watch 4
9 Best Games for Galaxy Watch 4 You Must Install!
General Knowledge Quiz
Like trivia, General Knowledge Quiz is a general knowledge fact type of question that covers topics from history, geography, technology, science, arts, humanities, etc.
However, the general questions are not hand-selected from popular culture and thus, this game provides a true test of your knowledge or level of education. You can play this game online if you want to compare your skill against other players and use Elo number to track your progress.
The endless questions come with four choices answers for you to select the right answer. If you get the correct answer, it lights up in green while wrong answers are lit up in red.
Single Tap Games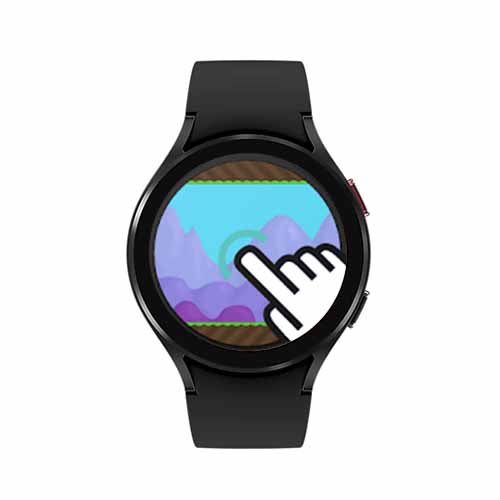 This is a casual multiple Wear OS game app designed for everyone by White Cat Studios. Single Tap Games include short simple games that are enjoyable for both kids and adults.
You will find it thrilling and addictive if you try out the soccer game because this game offers leaderboards to compete against other players. In addition, the game doesn't push annoying ads. Simply tap and play directly on wrist-display without a companion phone app.
Snake for Wear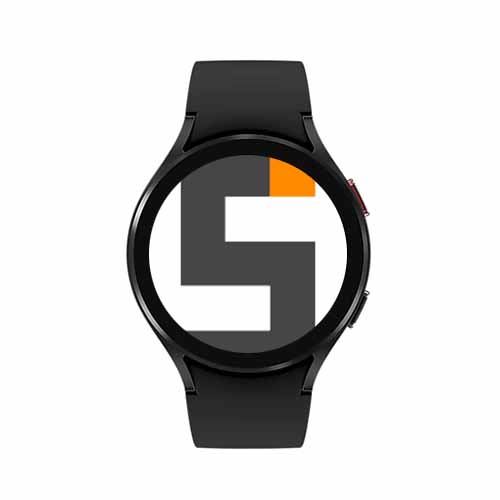 Snake for Wear is the minimalist version of the Classic Snake arcade game, which is suitable for everyone regardless of age. Pass time navigating the snake to eat the blue dots to extend the snake's length while avoiding the deadly square wall edges.
The game is absolutely easy to control as it features sensible controls that are well customized for watches to give players rich and simple control. For a more challenging experience, you can adjust the overall speed of the snake, just as in the original game.
In addition, always try to beat your high score.
Infinity Loop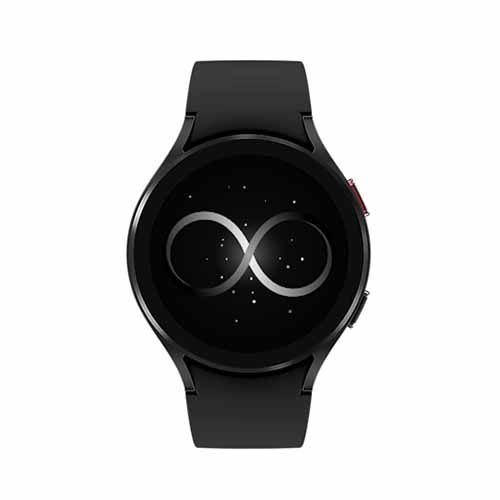 Do your want to improve your logic skills? Well, InfiniteGames.io brings you Infinity Loop, supported on Wear OS which you can also play on a standard mobile phone. It is a puzzle-like game about connecting a loop to create an intricate looping pattern.
Simply, tap the screen to flip around the bunch of lines in the game to join them perfectly and create an infinite looping pattern. Besides, the game is 100% free for endless levels with a great zen mode.
If you want to clear your mind from tension or stress, then the infinite loop is the best choice. Nonetheless, it is also great in increasing your logic skills because it requires skills for solving puzzles.
3 to 9 – Tic Tac Toe Extension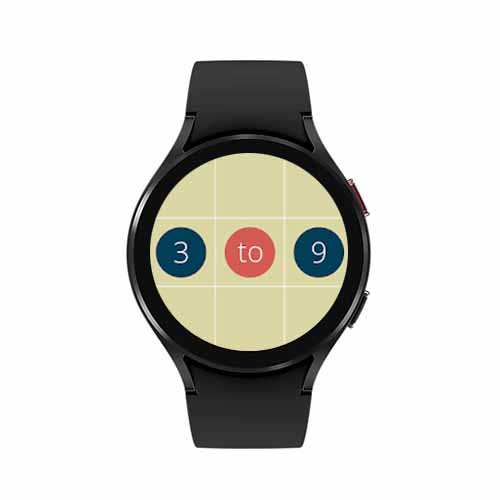 If you want to improve your ordinary Tic Tac Toe game experience, then include this long adaptation of the original Tic Tac Toe game in your list. In this game, the initial 3 by 3 grid is increased to a 9 by 9 grid and the player who garners the most points is declared a winner.
That also includes; being the first player to build up to a 9 by 9 grid by placing three of their marks, in a vertical, horizontal, and diagonal row. The concept of this game is similar to an original Tic Tac Toe, but longer because the initial version has a 3 by 3 grid to build up.
2048 Original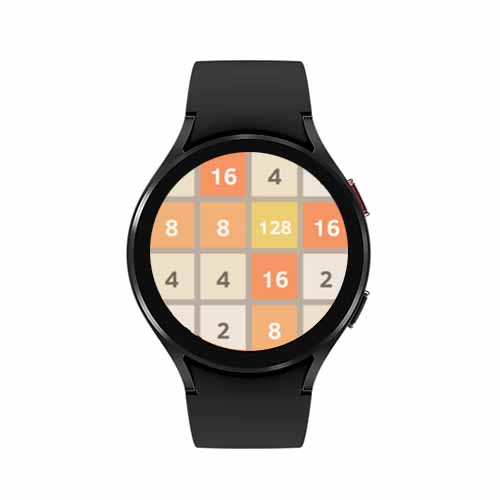 2048 is also a puzzle game to combine similar tiles to create a score of 2048. The concept rule in this game is simple, but it can take hours to win making it a brain-teasing game. To play this puzzle game, slide the tiles and merge them to reach the 2048 tile.
Simply start with 2, 16, 32, 128, and continue until you merge up to 2048. This game is free and you can play it offline or without an internet connection.
The game can also be played in different square and rectangle board sizes, so the preference depends on how much time you want the game to take. You can build the tiles beyond 2048 tiles provided you use either the biggest square or rectangle board size.
Wear Maze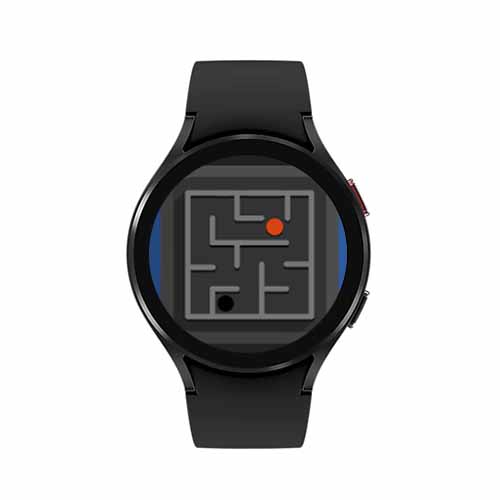 Wear Maze is a casual labyrinth game that is simple and fun with 25 levels to complete and get the maximum stars. Each level in this game grows progressively more complicated while trying to find the right path before the time runs out.
The game is about guiding a ball to reach the hole by using the accelerometer of your watch. It is also super simple to control the ball and thus, ideal for both kids and adults.
My Fitness Racer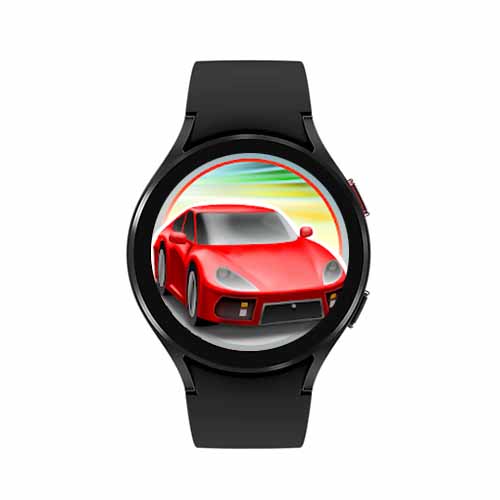 My Fitness Racer is an endless 8-bit style arcade racing game, yet simple, engaging, and challenging. When playing this gamer you will compete against your initial highest score while solving the challenging in-game quests within every single race to unlock mighty power-ups.
Start the game by hitting the asphalt and controlling the car by tilting your wrist in the right direction to avoid crashing into or colliding with other cars. You can also unlock more power-ups by mastering various fitness quests.
Despite being an old game, it is only playable on a Wear OS/Android Wear device.
PetQuest Virtual Pet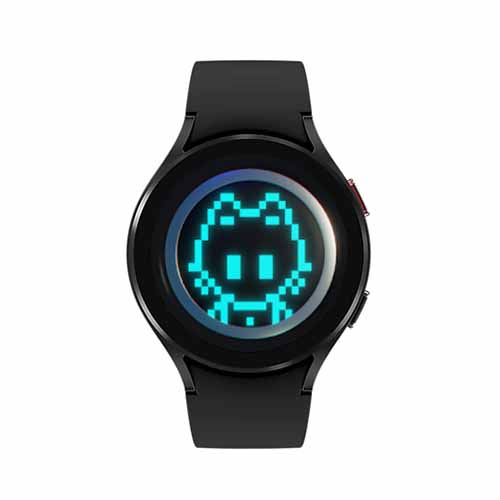 PetQuest Virtual Pet is also free to play casual pet games designed for Galaxy Watch 4. The game is about raising virtual pets, feeding and taking care of them while teaching them new skills and talent to help them fight a perilous monster and unlock vast treasures.
You can send your virtual pet on a neighborhood adventure to unlock valuable treasures and new activities. However, it is not that easy because many dangerous monsters are awaiting outside and you must overcome them.
Nonetheless, the game also includes a feedback system that tells you how your virtual pet is feeling making it an interactive and emotional pet game. If you have limited resources, you can also play mini-games with your pet to get charged up resources.
Explore More On Galaxy Watch