Strava is an application for professional athletes and people interested in the field of health and sports activity. A wide range of devices is compatible with Strava, include Smartwatches like Garmin, Fitbit, Apple, Samsung Watch, and more.
This application is available free to use and tracks all your records, including walking, cycling, heart rate, and calories.
With pros, Strava also has some cons associated with it. For instance, Strava lacks privacy. Your address can be easily spot on the route map. So knowing some of the alternatives of Strava will be beneficial.
There are plenty of alternatives for Strava applications available on the internet. However, we have enlisted the top 9 Strava app alternatives for your smartwatch.
Related Strava Posts
9 Best Alternatives to Strava for Walking, Running & Cycling
Google Fit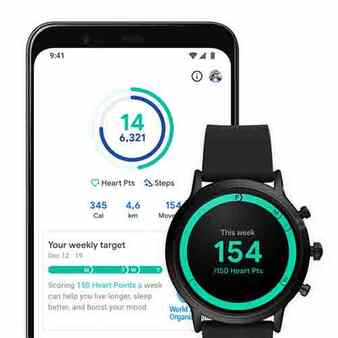 Compatible Smartwatches – Android Wear, Samsung Watch, and Apple Watch.
For fitness freak and health-conscious people, the Google Fit application is the best to use. In collaboration with WHO, Google follows a standard to meet WHO's recommendation to develop its heart point technology. Google Fit awards you with a heart point for the activity you do.
Google Fit is available for both Android and iOS. So compatibility won't be an issue.
What I like about this app
Store Data: You can see the workout you have done in previous days or weeks.
Maps: Google Fit has amazing graphics and features of Google Maps to show you the direction while workout.
Measurement: Heart rate and calories burned can be easily measured by this application.
Set Goals: You can set goals and achieve them with the help of the Google Fit application.
TrainingPeaks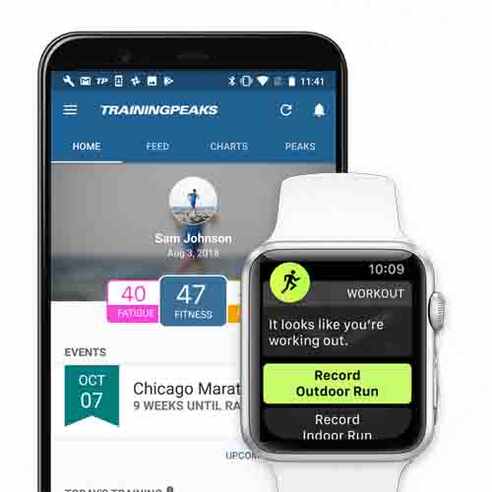 Compatible Smartwatches – Apple Watch, Garmin, Wahoo, Suunto, Polar, Withings, WHOOP, TomTom, and Android Wear devices.
If you are a hardcore athlete, then TrainingPeaks is the way to go. According to TrainingPeaks, the right way to train yourself is by deliberate practice.
You can start up by setting a goal; TrainingPeaks will match a coach to guide you throughout your fitness journey. It is powered by many advanced tools that help in achieving goals effectively. For instance, it features an analytical tool that generates a complete breakdown of your training helping you with getting valuable insights.
Always stay updated with your progress by keeping an eye on your performance history. It shows you details about your fatigue, fitness, and form. Overall, If you're an athlete, I recommend you explore this platform and get an impact on your fitness journey.
What I like about this app
Personal Coach: Matches a personal coach to guide you in every path.
Powerful Tools: Offers amazing tools to better analyze your data.
Stay on Track: Offers colorful workout cards that show how close you're to complete your goals.
Keep Track of Progress: This shows a complete performance history.
Komoot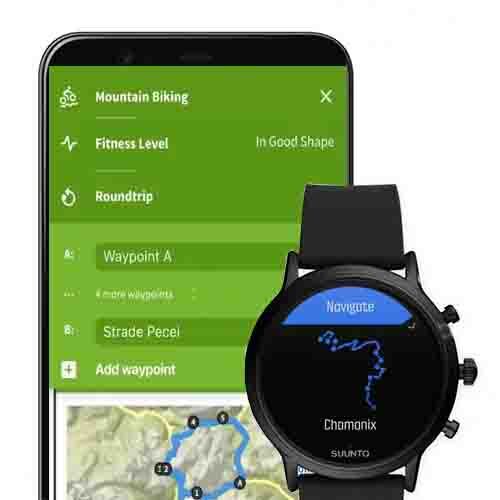 Compatible Smartwatches – Garmin, Polar, Samsung Galaxy Watch, Suunto, Apple Watch, and Android Wear devices.
Komoot is primarily focused on hikers and cyclists, this is mainly because it shows commonly known trails and tracks along with user-based data, which are shared on this platform. Komoot can cover every inch of the trail, including elevation, distance, speed, and plenty of standard features.
One thing I really love about this app, you can download offline maps for future use. This will save you a ton of data if you use these types of apps often.
What I like about this app
Offline Maps: Download maps offline, use them without worrying about the internet.
Voice Navigation: Komoot guides about the direction verbally with its voice navigation feature.
Customizable: You can add custom start and endpoint with Komoot.
Preloaded routes: Komoot has preloaded routes to find a perfect adventure.
Adidas Runtastic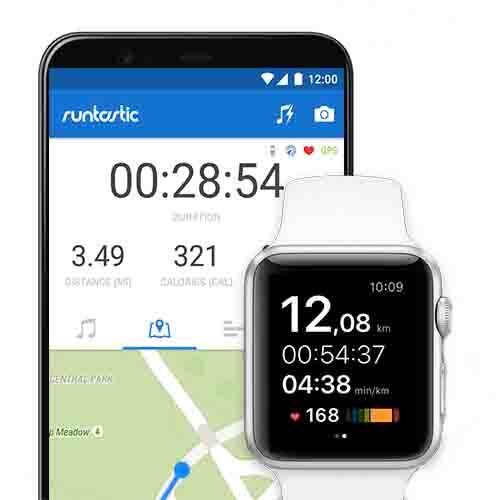 Compatible Smartwatches – Apple Watch, Coros, Garmin, Polar Watch, Suunto, and Android Wear.
The highly-rated and most used application for running activities is Runtastic Running Pro, developed by Runtastic. In 2015, this app was acquired by Adidas. Now, Adidas entirely owns the app.
It is specially designed for running, compatible with every device. Some of the features are free to use, but some features require a subscription to unlock. The app is suitable for running, cycling, gym training, walking, hiking, and even skateboarding.
It covers almost every outdoor sport, recording your workouts precisely that can be reviewed at the end of the day. Moreover, it records your distance, pace, elevation, calories, and more.
They also have an awesome community that helps to push your training and exercise. Overall, it's a great all-rounder & perfect for someone involved in multi-sport activities.
What I like about this app
Map Feature: The map feature of Runtastic running pro will track your GPS and let you know the distance you have covered in the map.
Diary: It stores your daily data of running.
Graphics & Statistics: This feature will let you know about your performance daily
Voice Coach: You will have a coach to guide you in training.
Set Goals & Plans: Set your training plans and goals on a daily and weekly basis.
Cyclemeter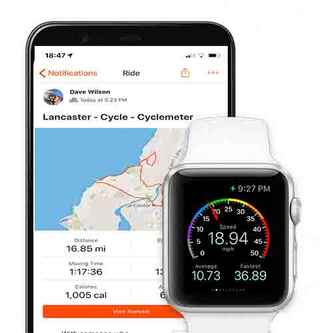 Compatible Smartwatches – Apple Watch and Android Wear.
Cyclemeter, like the name suggests, is mainly used for the exercise of cycling. The app is launched by the Abvio fitness expert company and is priced for free to use. On the app, you can choose an activity matching your planned workout. And the stop detection algorithm does everything for you by calculating intervals, targets, and plans. Overall, a great app for cyclists.
What I like about this app
Tracking of Records: Cyclemeter tracks all your records of cycling, running, walking, and hiking, let it be either indoor or outdoor.
Stores Data: Cyclemeter application stores your daily workout data and displays stats to keep you motivated to work more.
Voice Command: Pair with apple watch & use Siri to control Cyclemeter.
Social Use: You can share your achievement or daily workout plan with your friends and family with the Cyclemeter application.
Sensor Feature: Cyclemeter application monitors your heart rate, displaying the speed of a cycle, bike, or walking.
Bikemap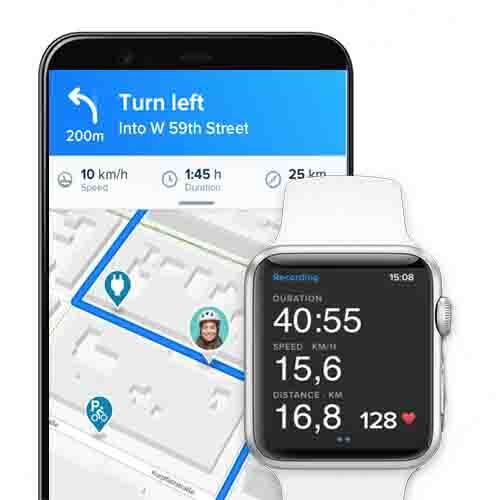 Compatible Smartwatches – Apple Watch and Android Wear.
Bikemap is another great alternative for every cyclist out there. It features more than 5 million cycle routes, which is pretty insane. Once you have planned out your route, you can download routes & start your adventure saving you data and battery life.
This app allows you to optimize your routes based on the type of bike you're riding. Besides, the community is full of bikers around the world.
What I like about this app
Offline Maps & Navigation: Save Maps offline and prevent data usage.
Fall Detection: It can detect falls and sends an emergency message.
Advanced Cycling Maps: Get advanced map layers specially made for cyclists.
Optimized Routing: Easy to avoid unpaved sections or hilly trails while navigating.
Zombies, Run!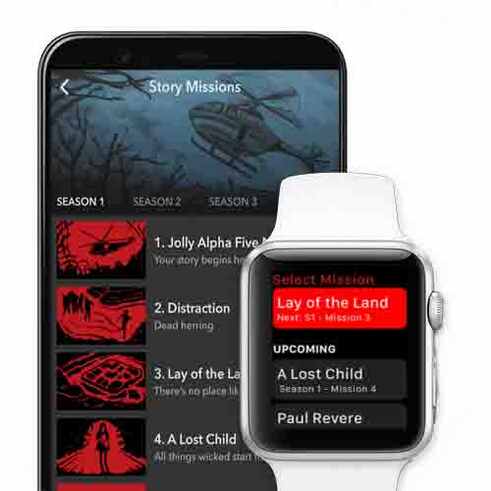 Compatible Smartwatches – Apple Watch and Android Wear.
Want to make your fitness journey fun and exciting? The Zombie Run is quite an amazing app that adds joy back to your fitness. This app primarily focuses on every runner out there and does its job perfectly.
Using this app makes your run a mission of survival. If you are going to use it with a smartwatch, you will need a smartwatch with earbuds support. Meaning, the watch must be capable of pairing Bluetooth earphones.
In zombies run, you'll put your headphones on, and immersive audio plays in the earbuds that put you in the heart of zombie apocalypse adventure.
Zombies Run is not only for runners; you can walk and jog and have fun using this app.
What I like about this app
Online Syncing: Tracks your running and shares your progress.
Flexible: It can be used while jogging and walking.
200 Missions: Try a new mission every day.
Use Anywhere: The app can be used to run everywhere, whether it's indoor, outdoor, or gym.
MapMyFitness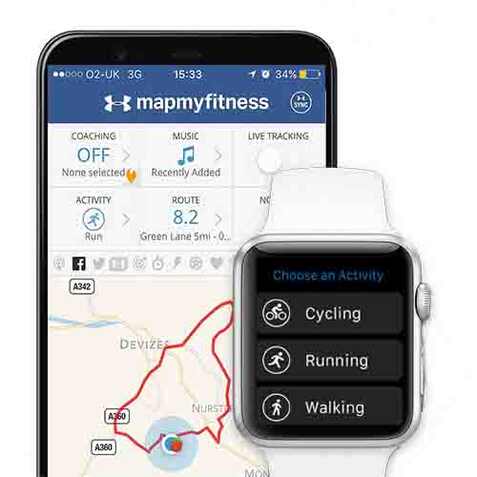 Compatible Smartwatches – Apple Watch, Samsung Gear, and Android Wear.
MapMyFitness is another great Strava alternative, which tracks real-time routes, pace, distance, and more, using GPS. It can track different workouts with your smartwatch, including Running, Cycling, Walking, Gym, Elevation, Calorie Burn, and more.
MapMyFitness allows you to plan & create your own personalized routes by creating a starting and ending point of your journey. Additionally, you can also discover popular routes shared by people around you.
Track Gym Workouts: It offers detailed tracking of gym workouts by showing the progress of logging load, sets, and reps. tracking your load, sets, and reps per exercise.
Live Tracking: You can share live location.
Personalized Routes: Create your own routes or discover new ones.
Challenges: It includes challenges to keep you motivated.
Exercise Tracker by VimoLabs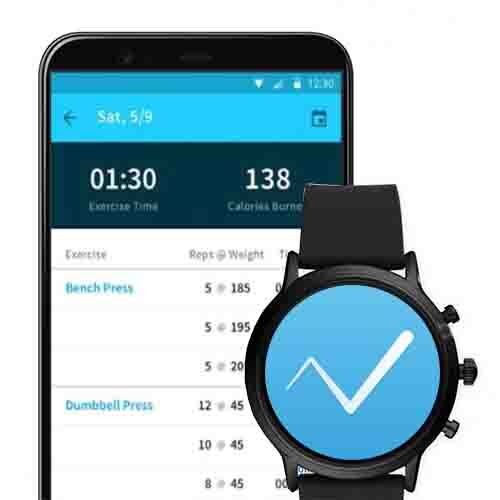 Compatible Smartwatches – Android Wear
This application is popularly known as Wear Fitness, specially designed for Android Wear and Apple Watch by Vimo labs. Its advanced technology identifies & self learns new exercises to help you better track activities. The VimoFit application is compatible with both Android & iOS.
What I like about this app
Calories Count: Precisely counts the calories you have burned in your workout and daily basis.
Guide Mode: The Guide mode feature of the VimoFit application, record and compare your fitness level. As per the analysis, set goals for you to help you achieve great fitness.
Coach Feature: You will get coaching of workout from the fitness trainer Coach Kozak for free.
FAQs: Best Alternatives to Strava
What is the one best alternative for a Strava app?
If you are looking for the best alternative over a Strava app, then you should go for the Google Fit application. Google Fit application has all the features you are looking for.
Like the Strava application, it can keep your daily record, analyze your stats, measure your heart rate, and burn calories during the workout. It has a feature of live tracking of GPS and display of maps to show you suitable routes for running, walking, and cycling.
These features make the Google Fit application the best competitor of the Strava application.
What is the best Strava alternative for Cycling?
If you are looking for a specific app only for cycling, then Cyclemeter is the best application and the best alternative app to a Strava application. The Cyclemeter has sensor features that measure your heart rate and speed of the cycle. This feature is lacking in the Strava app.
Along with the sensor, the Cyclemeter also keeps your daily activity record and shows you an analysis of daily stats to let you know how you are performing. The voice command feature makes this app seamless and convenient to use. You can share your performance on social media using this app.
What is the best alternative to the Strava app for Running?
The best alternative to Strava for running is Runtastic by Adidas. This app is specially designed and aimed at runners. You can set your goals and complete them with Runtastic running pro.
The feature of a voice coach from Runtastic Running pro will guide you to set your goals and plans for running. This app features a map to track your daily record of running and store it.
It analyses your daily record and gives you statistics and graphs so that you will know your performance for a week, month, or year
Read More