Samsung Galaxy Watches is one of the most preferred wearables because of their attractive design, user-friendly interface, and long-serving battery life. Recently, Samsung released its new Galaxy Watch 4, combining the custom Wear OS and previous Tizen OS features.
When it comes to providing addons on the watch, Samsung as a leading brand is never left behind. The official Galaxy Store has a collection of exclusive apps, widgets, and watch faces to install on your Galaxy Watch.
Talking specifically about watch faces, they are great for customizing and giving a fresh look to your Galaxy watch.
Many third-party developers create watch faces that are being published on sites like WatchMaker and Facer store regularly. You can explore these sites to find out a great collection. Despite any Galaxy Watch model you own, this article will make your task a lot easier.
Here's a list of eleven best watch faces for your Samsung Galaxy Watch.
Let's find out what suits you the best.
11 Best Watch Faces for Samsung Galaxy Watch
Matveyan Sport – Sporty Watch Face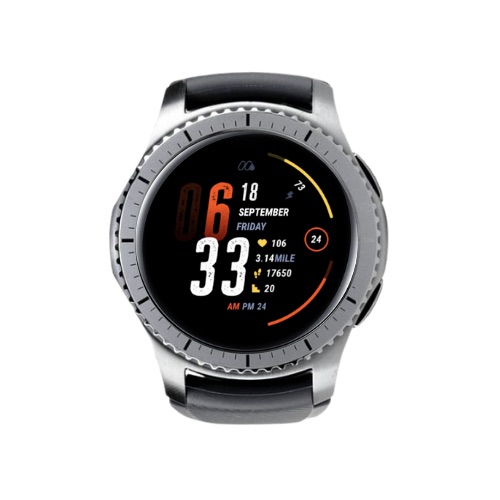 Matveyan Sport watch face is a real treat for those looking for both sporty and minimal in a single watch face design. You will notice four quarter circles on the watch face. Each circle fills based on your four goals, such as step count, calories burnt, heart rate, and battery level.
A good thing about this concept is they change color as you progressively reach your goals. Moreover, you get insights regarding your daily water intake, which helps you easily track your water intake at regular intervals. To change the color of the watch face, you can double-tap twice in the middle that will bring all the color options available.
Pixel Minimal – Best for Minimal Looks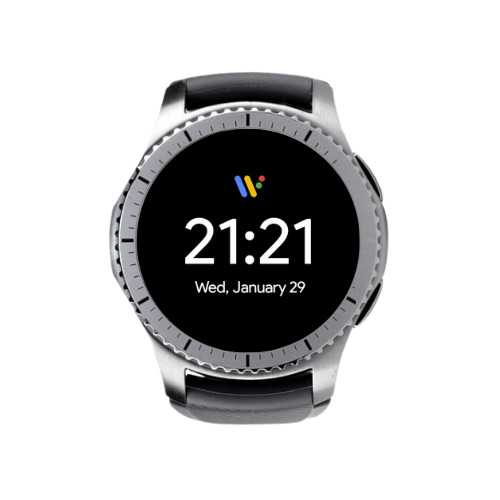 Are you searching for a sleek and minimal watch face? The pixel minimal watch face is the best choice, offering you a google pixel-like feel to your watch. Moreover, the watch face shows basic details such as the time, temperature, date, etc. It includes an additional feature to add widgets to the watch screen, showing your real-time heart rate, calories burnt and battery percentage.
Overall, If you like a simple and uncluttered look, having a premium feel to it, then Pixel Minimal watch face is the one you should consider.
Your Beast Friend – Animated Watch Face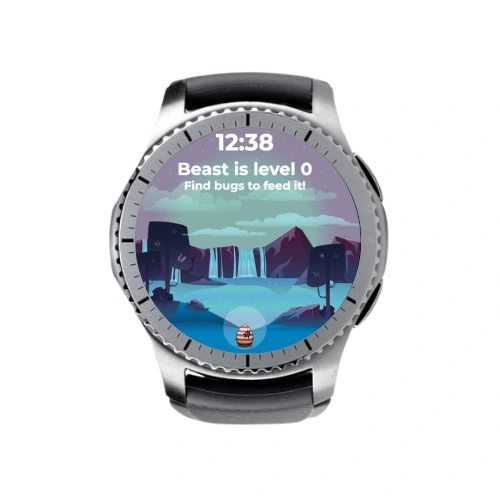 If you like a cartoonish watch face, then your Beast Friend Watch face might be the right one for you. The watch face has a little creature that appears randomly on your screen. All you have to do is feed bugs, the more you feed the beast, the more it grows and evolves.
A pretty interesting concept that helps you kill boredom. Must try if you're traveling or want to try something unique of all.
MD135 W – Sporty Watch Face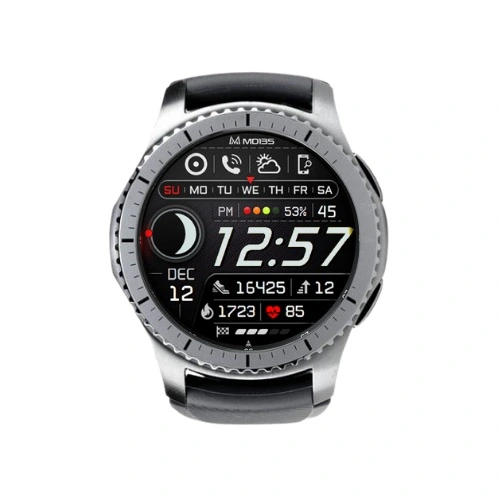 Looking for an informative and sporty-looking galaxy watch face? Install MD135W, an informative watch face that shows details regarding incoming calls, weather, along with activity tracking details such as steps, calories, heart rate, etc.
The find my phone icon on top helps you locate your phone whenever it is lost somewhere around. It also includes preset app shortcuts, customizable shortcuts, changeable backgrounds, and many exciting features.
Besides, it shows 12/24 hour digital time based on your phone settings. Note that, the Always-On display feature is supported on Gear S3, Sport, and Galaxy Watches.
MPC15 White – Watch Face for Formal Occasions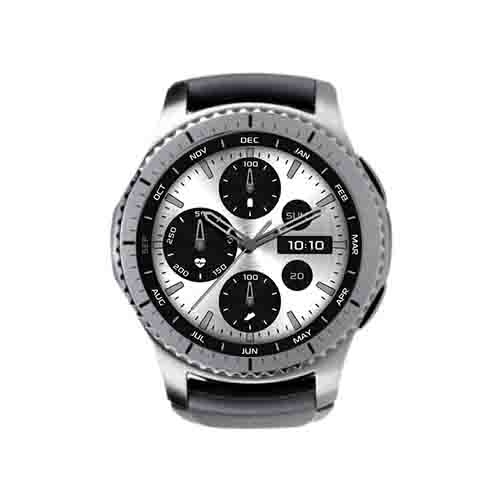 MPC15 White is one of the best analog faces out there, having a classy and traditional vibe to it. As the name suggests, the watch face is white and has a silvery tone to it. Its look makes it perfect for formal occasions like an office party or wearing it casually if you're an offing going.
Like other watch faces, it displays basic informative data such as steps, heart rate, and battery percentage. Along with that, it shows today's date/day in both analog and digital formats.
Overall, a decent watch face with a realistic look, sharp and subtle details.
Earth Rotation – Animated Watch Face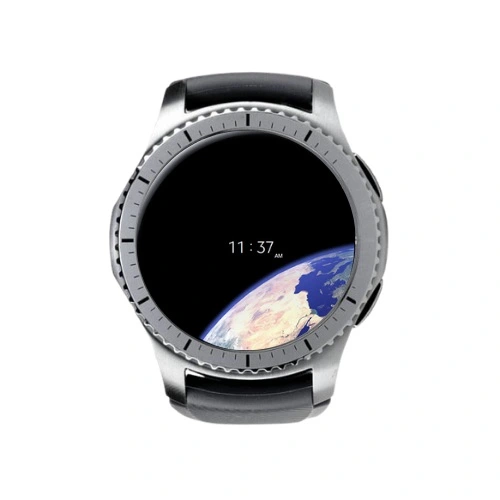 Earth rotation is a simple animated watch face that has rotating earth on your wrist which looks visually stunning. It offers high contrast and a super clean look which shows just the time. If you like a more simple and minimal watch face.
It also has an ambient minimal mode. Turning it on enables the watch to show only time on the middle of the screen, blacking out everything else.
Fresh Galaxy Watch Face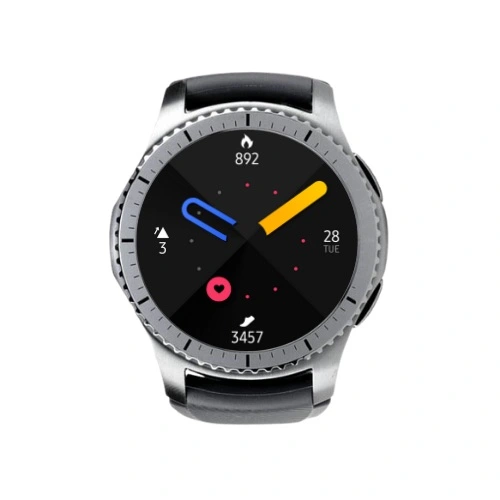 Fresh is packed with a super clean, minimal, and colorful design, suitable for geeks out there. At first glimpse, it will remind you of Google. You will love the blue and yellow color scheme watch hands against the black and gray background.
The data shown on the display is well arranged. You will find calories on the top, steps at the bottom, floors climbed on the left, and date/time on the right of the watch face. Taking a closer look, you'll find a heart icon rotating around the clock face, making it look visually stunning.
MD 210 – Battery Saver Watch Face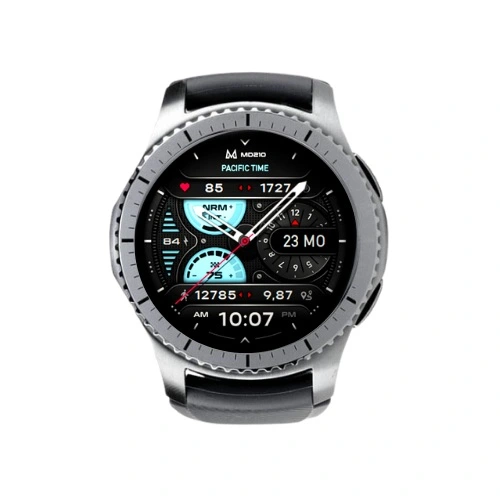 Do you want a galaxy watch face that saves battery? MD 210 watch face has a pitch-black background, allowing you to save more battery life.
On the left, you'll find heart rate, step goal, and a battery percentage indicator, indicating current battery status. And on the right side, it shows the day along with the date. You can easily change the color of text showing time by double-tapping on the bottom of the watch face.
Also, change the color of the heart rate by double-tapping on the left of the watch face. It contains three preset app shortcuts, six customizable shortcuts, changeable background colors, and more. Overall, a decent watch face with battery-saving capability.
Hourglass Watch Face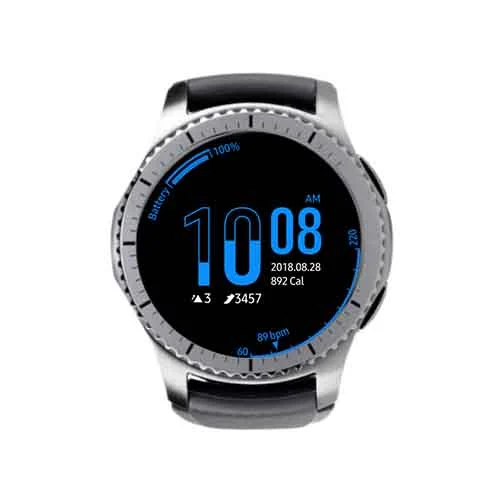 Hourglass is a digital watch face crammed full of useful information such as battery life, steps, calories, heart rate, and more. Like earth rotation, this watch face also has an Ambient display mode, which still shows calories and steps.
On the top, you'll find a battery indicator, indicating; how much battery is left. And at the bottom, an indicator showing live heartbeat per minutes count.
GWK 02 – Customizable Watch Face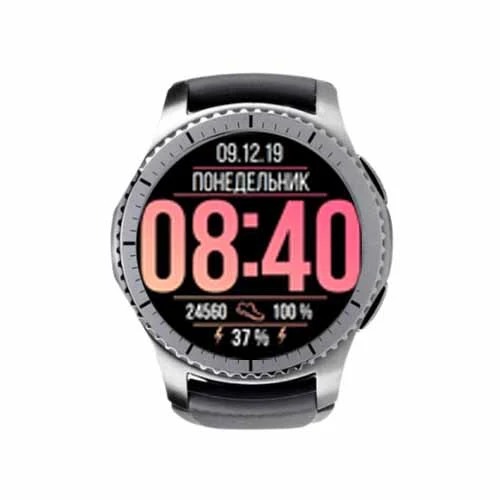 GWK 02 is a customizable watch face showing data metrics in a much-organized manner. Maybe you're planning to go out on a date and do not want to show a lot of data on the screen. In such a case, GWK 02 shows basic information like date, day, time (centered with large text), steps, and battery life. Leaving that aside, you can choose your preferred text color.
Double tapping will cycle through a wide variety of color options, including beautiful gradient mixtures. Overall, the watch face seems essential, but the utility you get from this watch face is worth giving it a shot.
Galaxy 3D Time – A 3D Galaxy Watch Face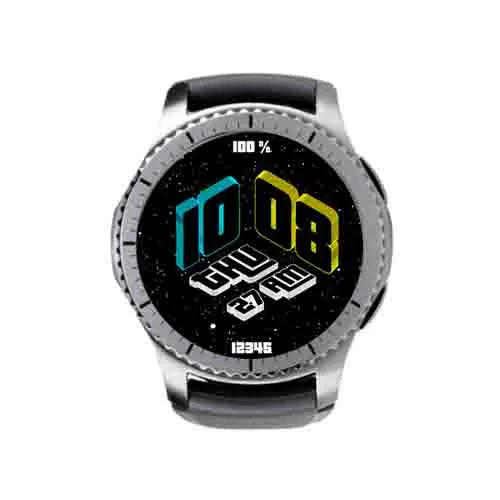 Do you want a galaxy watch face with a more funky look? The Galaxy 3D watch face has an abstract and funky design, having a blue and yellow color scheme to make it look more attractive.
The typography on this watch face looks more like 3D objects placed on your watch face. Much more like a theme of the galaxy, where the background has a cool hyperspace effect. It doesn't provide a lot of data metrics except battery percentage and steps.
Overall, a pretty decent eye-catching watch face for nerds out there.
Related Posts