The Samsung Galaxy Watch Active 2 is one of the most popular smartwatches in the market, released back in 2019 but still competing well with smartwatches in the same price range. This beautiful wrist device can do all things, from tracking more than 30 workouts to answering calls & messages.
If you own a Galaxy Watch Active 2 or planning to buy one, then knowing these nifty tips gonna be helpful. There is so much the watch can do that finding some of the less obvious features can be tricky sometimes.
Once you learn these tips, no one can stop getting the most out of your Galaxy Watch. Therefore, we have made this list of 10 cool things to do with Galaxy Watch Active 2.
Don't miss a single thing. Let's dive right in…
Similar Post to Read Later
10 Cool Things to Do with Galaxy Watch Active 2 (Secret Tips & Tricks)
1. Enable Rotating Bezels
The Samsung Galaxy Watch Active 2 is the first wearable to introduce the touch bezel functionality. It was rolled out with a new software update that brought the touch bezel functionality from the Watch Active 2 to its predecessor, allowing the watch to respond to the touches on bezels. However, it isn't enabled out of the box. Once the option is enabled, you can simply swipe on the bezels to navigate.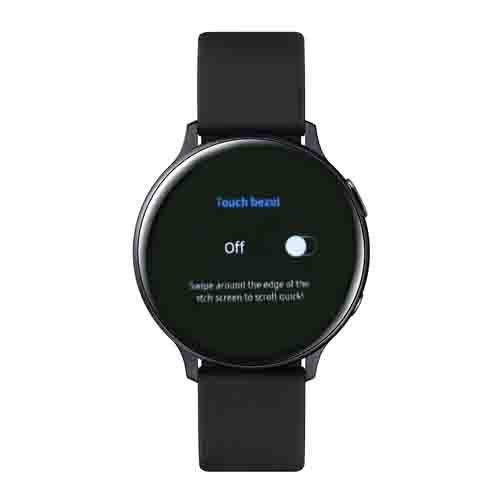 To enable, Go to Settings > Advanced > Touch Bezels > Turn it ON
The Galaxy Watch Active 2 doesn't come with a rotating bezel, but the support of a touch bezel functionality makes it feel like having a true rotating bezel.
2. Two Finger Triple Tap
This "Two Finger Triple Tap" option is an Accessibility feature on Galaxy Watch that is quite handy to get the job done by triple tapping the screen with two fingers. To enable, Go to Setting > Swipe to Accessibility > Advanced Settings > Turn On Two Finger Triple Tap feature. After this, you have to specify what the watch should do on triple tapping the screen with your two fingers.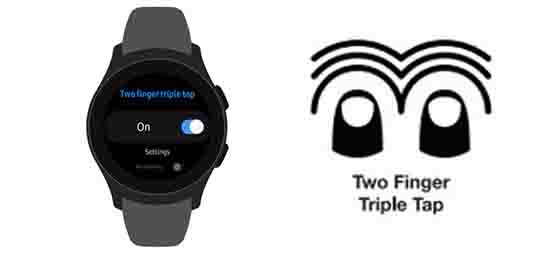 There are pre-loaded commands such as launching accessibility, Bixby voice assistant, dark screen, or Greyscale. I would prefer to set up the Greyscale because it works like a battery saver mode by turning the entire watch color back and white.
3. Auto Detect Watch Face for Outfit
Matching your smartwatch to what you are wearing can be difficult sometimes. With so many available watch faces, it becomes tough and confusing to figure out what suits your style. One of the cool things you can do is auto-detect the watch face to match your style based on what you're wearing.
Yup, that's completely possible. To do this, you need to follow these simple steps:
First of all, make sure that the watch has the "My Style" watch face selected.
Launch the Galaxy Wear app and from the bottom, select watch faces.
After that, on the top right, you will find an option to customize the watch face. Select it.
From the background option, select camera or you can import a picture from the Gallery.
Once you select the camera, take a picture of what you are wearing.
Tap on OK. And you're done.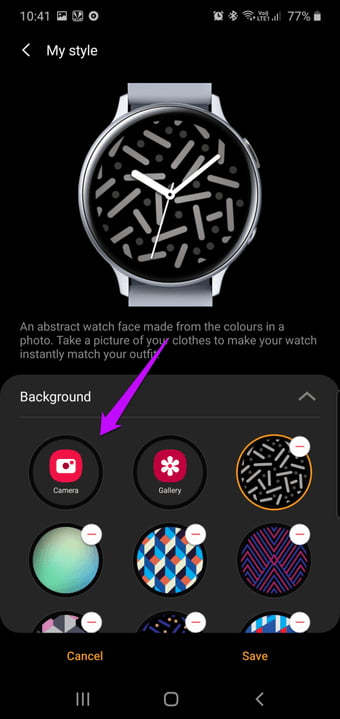 What this will do? By completing the above steps, generates a bunch of watch faces based on the color palette of the dress you are wearing. This is quite an amazing feature, which I personally love the most. Give it a try at least once.
4. Inactive Time Alerts
Being inactive is a risk factor of inviting diseases and other conditions. It also increases the chances of developing high blood pressure. This is mostly like living a sedentary lifestyle with no physical activity. What if your watch can prompt you when it's time to get up and go? For that, the watch has one of the coolest features to remind when you have been inactive for a while.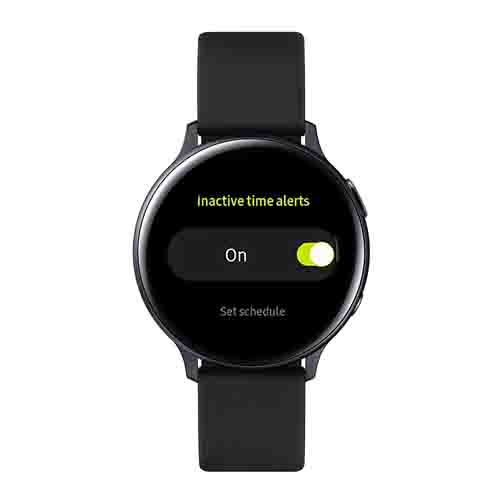 To get alerts with your Galaxy Watch, follow these steps:
Open Samsung health app on the watch.
Go all the way down to the settings.
Then, look for an option called "Inactive time alerts". And Turn it ON.
Also, set a schedule on what time to get alerts.
5. Theater Mode
Theater Mode is a third-party application feature that comes integrated out of the box. It is basically helpful in the environment such as theaters where you don't want to be get disturbed by alerts, system sounds, and alarms. You can access the theater mode from the notification shortcuts and turn it on by specifying a time duration for avoiding unwanted sound alerts.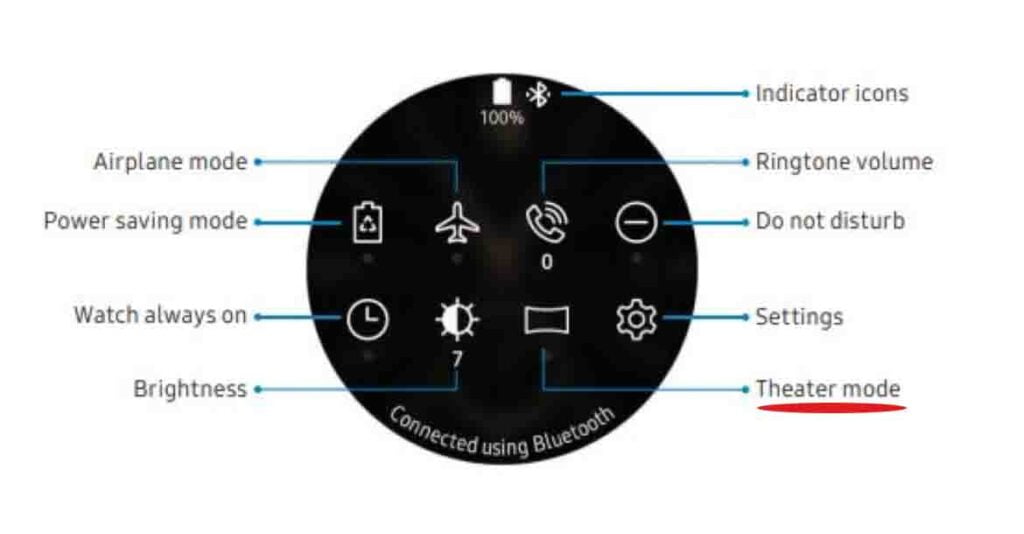 Once this feature is enabled, it keeps your watch silent & turns off the screen. Besides, it mutes all types of alerts, alarms, and system sounds. Along with, it turns off wake-up gestures & an always-on display. This is helpful because it keeps you away from getting distracted and allows you to enjoy your time.
6. Good Night Mode
Similar to Theater Mode, the Galaxy Watch Active 2 comes with a Good Night Mode. If you are someone who wears the watch to their sleep, then Good night mode is one of the most useful features for them. Once you turn this feature on, it prevents disturbances by turning off some of the features including Notifications, Always-on display, Wake-up gestures, and touch to wake up. The good part, you will still be able to get alarms.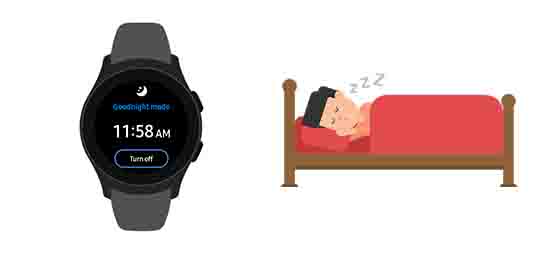 How the Good Night Mode turns Off? You can turn it off manually. However, the watch can detect your sleeping patterns, then automatically turns the mode on and off based on your sleep patterns.
Recommended | 8 Amazing Advantages of SmartWatch you will Love to Know
7. Take Screenshots
Like smartphones, the Galaxy Watch Active 2 can take screenshots and save them to the gallery. How cool is that? But first, you need to turn it on by going to Settings > Advanced > Screen Capture > Enable.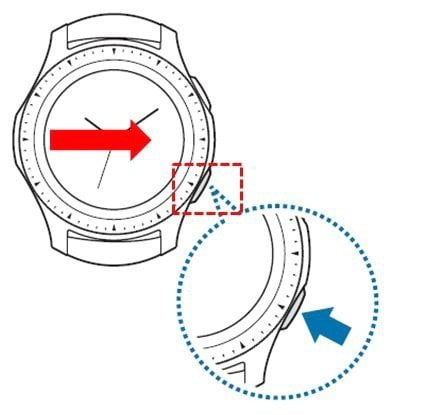 To capture a screenshot, hold the watch horizontally, then press the Home button and swipe on the screen towards the right & you're good to go. Besides, there is an option to send the captured photos to the phone.
8. Control Phone's Camera
The Galaxy Watch Active 2 supports an app that allows controlling the phone's camera. This application is called "Camera Controller", available on Samsung Galaxy Store for Free. Once you install and open it up, it triggers the smartphone's camera and opens it up on your phone. With the help of this, you can capture photos remotely from your wrist. It is quite handy to take a stable photo from the wrist.
Note – Swipe on the screen to choose between front and back camera.
9. Play Offline Music On Spotify
If you want to go out for a walk or gym and don't want to carry your smartphone around but also don't want to miss out on your favorite music. In this case, you might be wondering if it's possible to play Spotify offline from Galaxy Watch Active 2? Well, you can play all your favorite music on Spotify and that too Offline.
To Turn on this feature, follow these simple steps:
Open up the Spotify app from the watch.
Go to Settings > Playback.
From the Playback section, choose "Standalone"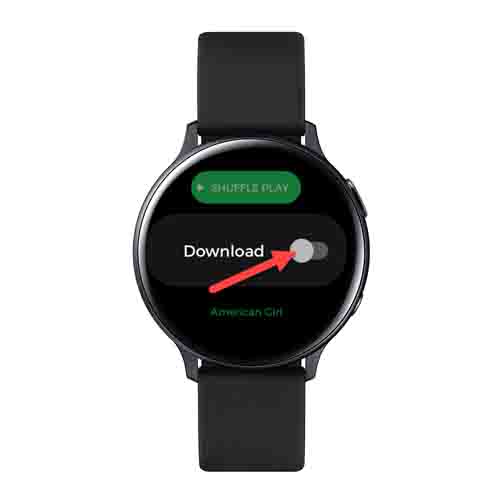 What this will do? Now you will be able to play all the songs directly. But before that, make sure you have downloaded your playlist. To do that, go to Music & download all your favorite songs.
A Quick tip – You can Switch off the WiFi or Bluetooth to Go Offline.
10. Setup SOS Messages
In case you don't know, an SOS message is helpful if there is an emergency. There might be certain situations where you don't have access to your phone. In this case, you can use the watch to send SOS messages to selected contacts instantly.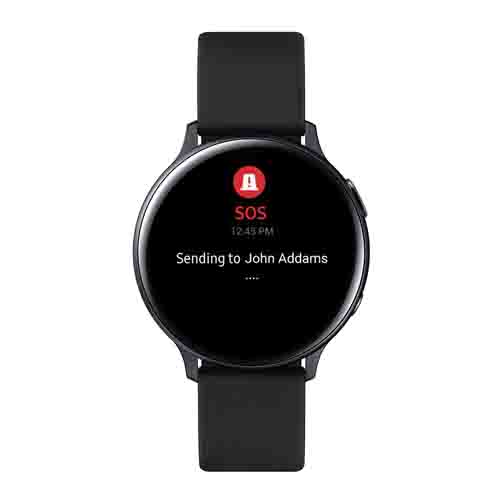 To set up the SOS, follow these steps:
Open the Galaxy Wear app on the phone.
Navigate to Send SOS requests. And Enable it.
Then, set up the contacts to whom you want to send SOS messages.
An additional tip is to keep the location services enabled on your watch as it sends your current location to the selected contact.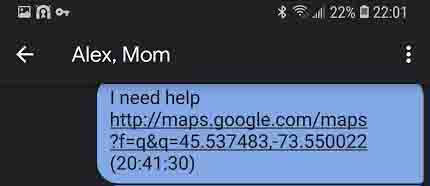 How to send an SOS message? After completing the above steps, now you are ready to send the SOS messages. To send, tap the power button three times and the SOS message will be sent to the selected contacts along with the current location link.
Thanks for reading! Be safe and have a good day.