Controlling music from your wrist is just one of the many benefits of having a smartwatch. You'll be thrilled to know that Spotify has made its way to Fitbit finally.
Before Spotify, only Deezer and Pandora music apps were compatible with Fitbit, so having Spotify music app on the list is a delicate appreciation.
In this guide, you'll know how to set up Spotify on your Fitbit. While this only works with Fitbit high-end smartwatches, it makes working out more fun if you have a compatible device.
Let's look at some of the Spotify-compatible Fitbit devices.
Note – Only Spotify premium members can stream music on their Fitbit. Unfortunately, regular ad-listeners won't be able to take advantage of the integration.
Which Fitbit Devices Are Compatible With Spotify?
Spotify music playback is compatible with a few Fitbits that are listed below. If you don't have any of these Fitbit smartwatches or their special edition, then you're out of luck.
Fitbit Versa / Fitbit Versa Special Edition.
Fitbit Versa 2 / Fitbit Versa 2 Special Edition.
Fitbit Versa 3
Fitbit Versa LITE Edition
Fitbit Sense
Fitbit Ionic
Fitbit Charge 4
How to Connect Fitbit to Spotify? (Step By Step)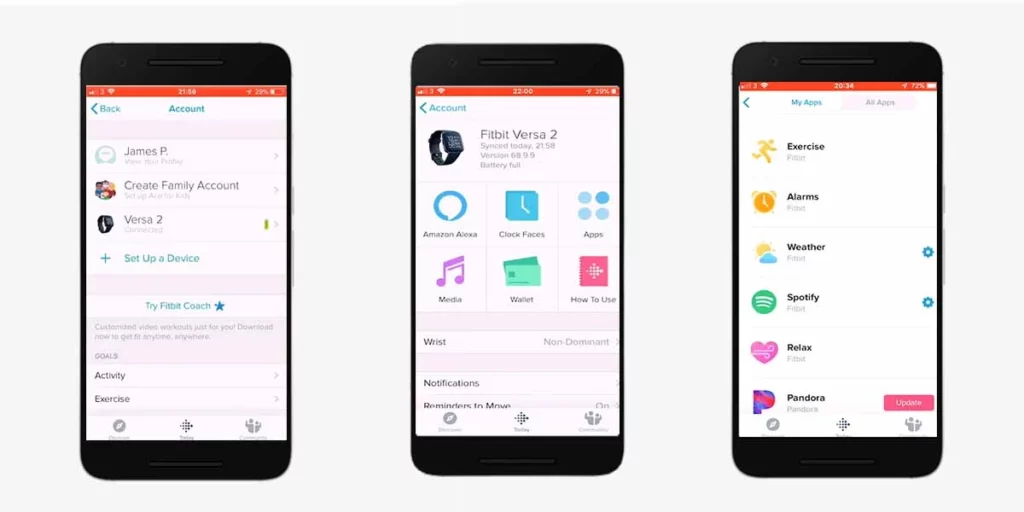 To get Spotify music playback on your compatible Fitbit device, follow the steps below:
Grab your smartphone, open the Fitbit application.
On your Fitbit app, tap the profile icon at the top-left corner.
Then, tap on the device you are connected to. In my case, it is Versa 2.
Next, tap on the Apps section and scroll down to Spotify.
Tap on Install Spotify.
After installation, log in to your Spotify Premium Account.
Lastly, accept all the terms and conditions.
Well Done! Now you're ready to go.
You Might Like | 15 Best Fitbit Clock Faces to Install (Free/Paid)
What Can You Do With Spotify On Fitbit?
On connecting your Fitbit smartwatch to Spotify, some of the features and functions you can operate are:
Control the Music Playback
Controlling the music playback ranks top in the benefits of connecting Fitbit to Spotify. You can play, pause, skip as well as switch over next and previous songs.
In addition, you can shuffle the playlist or album to mix up what comes in next. Quite a good feature to have if you are having a long playlist and you don't want to follow the order.
Add Tracks to Spotify Library
You can add your favorite tracks to the Spotify library for future listening. To add, tap on the heart icon present in the top right.
Connect External Speakers
With the help of Spotify Connect, you can broadcast music to nearby external devices and control music playback from your wrist.
From the Spotify Fitbit app, connect your external device such as speaker, soundbar, AV receiver, etc and start playing/controlling the music directly from the watch. To do so, tap on the left icon and select the external device you wish to connect and play music from.
Start Playlist Directly From Fitbit
You can start playing your favorite playlist or the ones suggested by Spotify itself. To do so, swipe left from the music control screen. On the next page, you will find the most recent playlist playbacks. Or selecting library, shows you all created & recommended playlist.
Tap the one you want to play.
What Are the Cons of Spotify on Fitbit?
Drains Battery: Streaming music in the background drains battery much faster.
No offline playback: Connecting your Fitbit with phone is mandatory. Same with Spotify Premium account.
No Built-in Speakers: Fitbit watches doesn't come with built-in microphone or speaker, so you won't be able to walk and play without your phone.
No Manual Playlist Creation: Cannot create a new playlist manually from the watch.
No Search Option: Cannot find songs, artists, and albums.
FAQs: How to Connect Fitbit to Spotify
Can You Listen to Music on Fitbit Without A Phone?
Fitbit doesn't come with an in-built speaker. Therefore, you cannot listen to music independently on your Fitbit. Fitbit watches allow you to pair your phone so that you can only control the music playback (play, pause, skip, change songs).
How Do I Get Spotify on My Fitbit Without Premium?
Currently, only users having a Spotify Premium account can take advantage. Fitbit Users without Spotify Premium cannot connect and control music playing on Spotify. For information on Spotify Premium, visit spotify.com.
How to Fix Fitbit Charge 4 won't Install Spotify?
Fitbit Charge 4 is compatible with Spotify. But, if your Fitbit charge 4 fails to install Spotify, then it requires a firmware update. Usually, the update automatically gets downloaded in the background. Just make sure the app is open and syncing in the background.
For manual action, Open Fitbit app > Tap Profile > Select Charge 4 Device > Click "Update Tracker" message. (Works for any Fitbit device)
Related Posts