Are you Looking for the best smartwatches for traders to buy & sell stocks or cryptocurrency? Before we dive into the list, you have to understand what things you should notice before selecting?
Not every smartwatch out there in the market support trading as there is a basic requirement to follow. For instance, the smartwatch should be running on a compatible operating system such as Wear OS (Android) or Watch OS (Apple) to install a compatible app for trading.
Robinhood is the most popular watch app used for investing in stocks, options, and funds. Additionally, it is possible investing in cryptocurrencies like Bitcoin, Ethereum, Dogecoin, and more from this app.
We'll talk more about this app in this post.
Cryptocurrency is the present & the future, so investing in them having a long-term mindset can give amazing results.
A smartwatch will help you keep an eye on the correct price to buy independently of your smartphone. That's why I have prepared this post on the best smartwatches for trading from your wrist.
Additionally, I have shared some important properties to consider before purchasing a smartwatch for trading purposes. This will help not ending up buying the wrong watch.
But if you are in a hurry, then I will recommend you to check out the smartwatch below.
Are You In Hurry? Check this out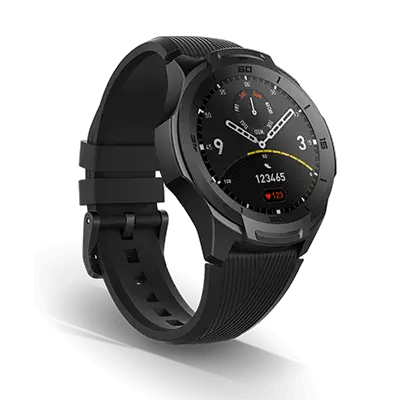 TicWatch S2
The TicWatch S2 is an affordable option, offers the Wear OS platform that unlocks plenty of features for you. By Installing the Robinhood app, you can invest in stocks and cryptocurrency on the go. Overall, it fits best for the budget & purpose.
How to Choose the Best Smartwatch for Trading?
1. Operating System
As I have said earlier, Robinhood is the most popular trading app available for investing in stocks, options, funds, and cryptocurrency. So installing this app will require a supported platform. This is where picking the right OS is necessary. The Robinhood app is compatible with smartwatches running on Wear OS (for Android) or Watch OS (for Apple).
If you are going to purchase an Android smartwatch, you'll probably find it running on Wear OS. Although, Watch OS is for Apple series watches that cost much higher than Wear OS devices.
Curious? Can you have Wear OS on any Smartwatch
2. Display
The size of the display helps in responsive touch. So the minimum display should be 1.3-inch, which provides enough space for interacting. With that, it should have a touchscreen display to make interaction easier.
Besides, the smartwatch should have adjustable brightness because this helps you to have better visibility under bright light. Also can be adjusted to the normal lighting conditions.
3. Battery Life
A good watch should go for at least a day or two on normal usage, but this depends on the usage. While participating in trading activities, you'll be turning the display ON multiple times, increasing the battery consumption.
If your primary reason for buying a smartwatch is for stock trading activities, then a day of battery life is sufficient.
4. Price
What is your budget for the smartwatch? Keep in mind that the Wear OS & Watch OS will cost more than 100 bucks. So, this should be your minimum budget to match the above requirements.
So you need to decide how much you can spend on it. Generally, a better smartwatch for stocks comes in $100 to $150.
Best Smartwatches for Traders to Invest on the GO
1. TicWatch S2 –

Best in Budget
Operating System: Wear OS by Google
Display: 1.4-inch Touchscreen
Battery Life: 1 day (normal usage)
Supported Trading App: Robinhood
The Reddot Award Winner TicWatch S2 comes powered with Wear OS by Google out of the box. In terms of style, this watch has a sporty look that fits perfectly for outdoor activities. It has bands that feel soft on touch, uses silicone as the band material.
With MIL-STD-810G certification, TicWatch S2 can easily survive the shock, vibration, heat, cold, humidity, and more. For extra protection, the watch is using durable polycarbonate as its case material. And Gorilla Glass 3, protecting it from scratches.
Besides, the watch has plenty of health & fitness tracking features to deal with your daily activities. This includes monitoring heart rate, steps, calories, etc. Additionally, it comes pre-installed with the primary fitness tracking app called Google Fit. However, apps like Strava, Runkeeper can also be installed for better tools & improvement.
Although the TicWatch S2 is water-resistant up to a depth of 50 meters, using it for activities like swimming is much less recommended. Do not submerge it in hot water to avoid damage.
The battery life on this watch is decent. Mobvoi claims that the watch offers a battery life of around 1 day in normal mode and 18 hours (may vary) with excessive usage.
For stock trading, you can install the Robinhood app from PlayStore. This will allow you to invest in stocks, funds, and cryptocurrency on the go. To install, go to app list > Scroll & Tap PlayStore > Search "Robinhood" > Install.
Or, Speak up to the Google Assistant, asking "What's the stock price of the Tesla" to know the details at a glance.
What I Like About TicWatch S2
Overall, the TicWatch S2 is an impressive smartwatch on a budget, having Wear OS as its platform unlocks plenty of possibilities. For instance, we can now install various useful apps such as Messenger, Spotify, Uber, Strava, etc.
This smartwatch also offers numerous advanced features for outdoor activities, as well as has the potential to survive different environmental conditions. It combines built-in GPS, Glonass, Beidou for better navigation while running and cycling.
It has an exceptional amount of watch faces to customize and personalize the display, up to thousands of watch faces to install from Google Play.
Besides, google assistant makes tasks super easy. Raise your wrist & speak up; Google Assistant will always be ready with an appropriate answer.
What I Don't Like About TicWatch S2
Indeed, Google Assistant makes it possible to access the information & perform tasks within seconds but does not respond with a voice. The TicWatch S2 lacks an internal speaker; Mobvoi could have integrated an in-built speaker at this price.
2. Fossil Gen 5 Carlyle –

Best in Mid Range
Operating System: Wear OS by Google
Display: 1.7-inch Touchscreen
Battery Life: 1-2 days (normal usage)
Supported Trading App: Robinhood
Smartwatches from Fossil nearly deliver quality in every aspect. Whether it is about performance, customizability, or aesthetics, Fossil stands out from the rest. The brand is recognized the best because it comprehends what to offer that will make the device worthwhile.
The Fossil Gen 5 Carlyle is another wearable on the list that runs on Wear OS out of the box. If there is one thing that stands out is its fashionable design. Because of its fashionable design, the watch can go with any outfit, making you look stunning on various occasions. With this design, the watch is ideal for formal occasions.
Fossil Gen 5 brings a larger display with a much more improved performance from its predecessor. It offers a 1.7-inch display which is quite large, providing you enough space to interact. Brightness won't be an issue as the display is clearly visible in daylight.
On its battery, the Fossil Gen 5 provides up to one to two days of operation. This is quite impressive to get these results because most of the other Wear OS smartwatches has 1-day average life before it needs to be recharged again.
As it uses the Wear OS platform, it is recommended to use the Robinhood app for stock trading. Installing it requires you to follow up the same process, go to app list > Scroll & Tap PlayStore > Search "Robinhood" > Install.
Like TicWatch S2, here you can also speak up to Google Assistant to know the current stock price in seconds by saying something like: "What was today's closing price for Walt Disney?". Thankfully, the Fossil Gen 5 has internal speakers so that you can get a response with a voice. After all, Getting a voice response is quite convenient than reading the whole text.
Overall, If you are looking for the best smartwatch for business use, Fossil Gen 5 can easily stay above the list.
What I Like About Fossil Gen 5
In terms of stock trading, the Fossil Gen 5 serves its best performance. It is featuring Snapdragon Wear 3100, the fastest processor from Fossil to date, so there won't be any lag or performance issues. Besides, download amazing apps from the store till the 8GB onboard storage fills up.
Moreover, answering calls becomes more convenient because Fossil Gen 5 offers internal speakers that allow you to answer calls independently of your smartphone.
Fossil gen 5 provides all of the essential features that you'll need: built-in GPS, Activity Tracking, Health Tracking, Contactless Payments, Bluetooth Calling, and more.
But there are a few things that we don't like about the Fossil Gen 5.
What I Don't Like About Fossil Gen 5
I agree, the Fossil Gen 5 offers amazing features and functionality, but if your primary reason is to use it for stock trading, then the price doesn't do justice. In my opinion, only bet on it if you have enough budget to spend.
3. Apple Watch Series 5 –

Premium Choice
Operating System: Watch OS
Display: 1.78-inch Touchscreen
Battery Life: 1 day (normal usage)
Supported Trading App: In-built Stock app, Robinhood, and more.
Apple sets a remarkable position among the premium wearables available in the market. A lot of features already exist independent of app installation. To track stocks, Apple Watch Series comes with a pre-installed stock app for monitoring the market on the go.
It basically displays all the stocks found in the Stocks app on your iPhone but opens a possibility to manage them right from your wrist. There is a full guide on how to use the stocks app on the Apple Watch. Make sure to check it out.
Can I Install Robinhood App on Apple Watch Series 5? Of course, you can. As mentioned earlier, the Robinhood app is compatible with devices running on either Wear OS by Google or Watch OS by Apple as the app is available for respective platforms.
The Apple Watch Series 5 runs on Watch OS 6 right out of the box. Apart from the Robinhood app, there are several other investment apps supported by the Watch OS, including Personal Capital, E-Trade, Fidelity, Openfolio, CNBC, Morningstar, and more.
That's an advantage of possessing a premium device.
To install apps on Apple Watch, Open App Store on Apple Watch > Tap on the Search Bar > Say or Scribble the App Name (i.e Robinhood) > Tap Done > Once you find, Tap on "Get" to install the app > Then, confirm by double-clicking the side button.
Another way to check stocks on Apple Watch is to ask SIRI, say something like: "What was today's closing price for Tesla?". And SIRI will serve you the accurate information.
On its features, the Apple Watch Series 5 comes with a fall detection feature that detects if you ever fall hard; it notifies your family members of an emergency. Apple Series 5 offers an average battery life of 18 hours and might be somewhat less depending on what you use the watch for.
What I Like About Apple Watch Series 5
The display size is incredible on the Apple Watch Series 5, provides 30% extra space from its predecessor. It is great to have a larger display area for texts, making it effortless to read & interact.
Apple Watch Series 5 can track health and fitness data, including steps, calories, hourly movement, hours spent standing, relaxation, VO2 Max. Along with, workouts including swimming, biking, yoga, fishing, and elliptical training.
Moreover, the Apple Watch Series 5 encourages you to live a phone-less experience by letting you answer incoming calls & text messages directly from the wrist.
But the issue I noticed is with the Battery.
What I Don't Like About Apple Watch Series 5
Most of the Apple Watch models including Series 5 doesn't offer long battery life. Generally, an average of 18-19 hours of battery life can be found. The main cause could be the Always-on display or apps operating in the background draining the battery much faster.
According to HowToGeek, this can be improved by disabling AOD, reducing notification, using the power-saving mode, and following few other tips.
Apple has its own ecosystem, so Non-iOS smartphones are not compatible with Apple Watch. This means you cannot pair an Android smartphone with your Apple Watch.
FAQ: Best Smartwatch for Traders
What is the Best Watch Face to Monitor Stocks on Wear OS?
For monitoring stocks on Wear OS, there is an Android wear app called MyStocks, available on Google Playstore. It works as a watch face that helps you to stay updated on the stocks & financial markets right from the wrist.
How to Display Stock Information on Apple Watch Face?
To display stock information on Apple Watch, follow these steps:
1. First, Add the Stock Complication to the watch face.
2. Open Apple Watch App on your iPhone.
3. Tap My Watch > Stocks > Choose default Stock.
4. Now to choose the data you want to be shown, tap Current Price, Points Change, Percentage Change, or Market Cap, which is present below the default stock option.
Note – The Apple Watch will only display the recent stock you viewed.